Greetings Steemit - I have another watercolour for you! I painted this little octopus a few months ago after taking Ana Victoria Calderón's Skillshare class on Watercolour Textures. She's a fantastic teacher and taught me all the basics of watercolouring, so I really recommend all her courses. Apologies for the bad photo quality, but I don't own a scanner yet so I'm having to use an iPhone "scanner" app to photograph my work at the moment. Hopefully I will be getting a scanner for Christmas - fingers crossed!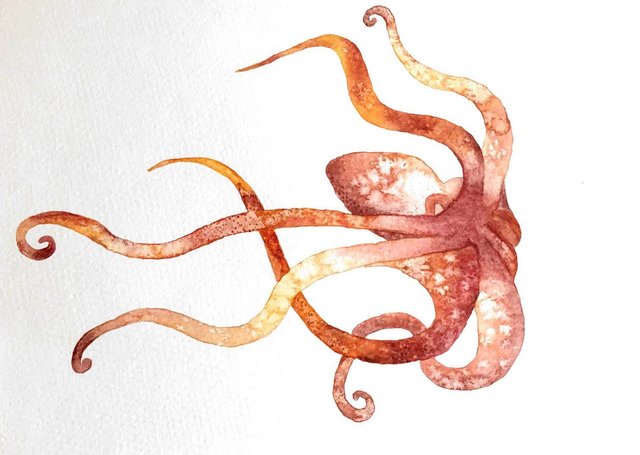 He was painted exclusively with Winsor & Newton watercolours, with a little salt added as he was drying to achieve that rough, barnacled effect. I think it works really well for sea/ocean themed paintings. I feel like he's not quite finished yet, but I'm at that stage where I'm worried about spoiling him and am too scared to continue! Any feedback or recommendations for finishing touches would be really appreciated.
I'd love to connect with the artist community on Steemit, so please comment below if you'd like to chat, or can point me towards any resources or good people/groups to follow.
---
Thanks for reading :)
I will be posting more watercolours every week, so be sure to follow if you'd like to see more. I also write posts on cosmology, virtual reality, consciousness and philosophy, if that floats your boat. You can also find me at: