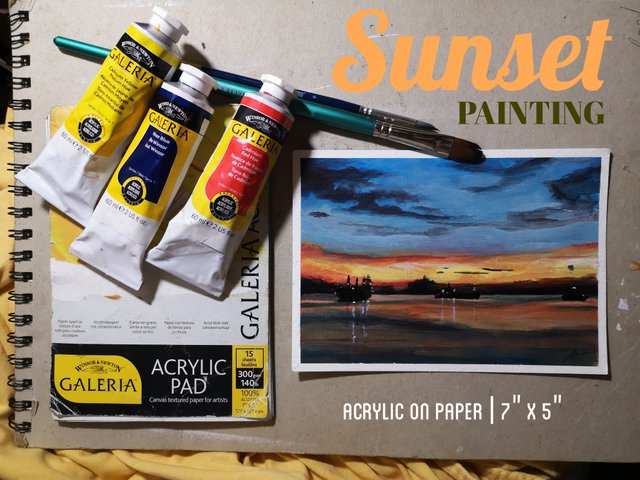 Hello!
It has been a while eh? It's no secret that I feel intensely and sometimes it takes its toll that I only find myself in deep sorrows a little too late. The last few weeks had been no different. I spent my days eating, sleeping, and binge-watching YouTube videos. I watch a lot from makeup to room makeovers and, of course, to art tutorials.
Luckily, I found myself in Katie Jobling's channel which led me to pick my Acrylic paints again. A little disclaimer, I am not good with colors yet. The past year was dedicated to drawing alone, although of course I touched acrylic and watercolor here and there, failing most of the time.
If you are interested, you can watch her YouTube videos first which I'll be listing down below. These are the videos I watched before I started my very own Sunset Painting.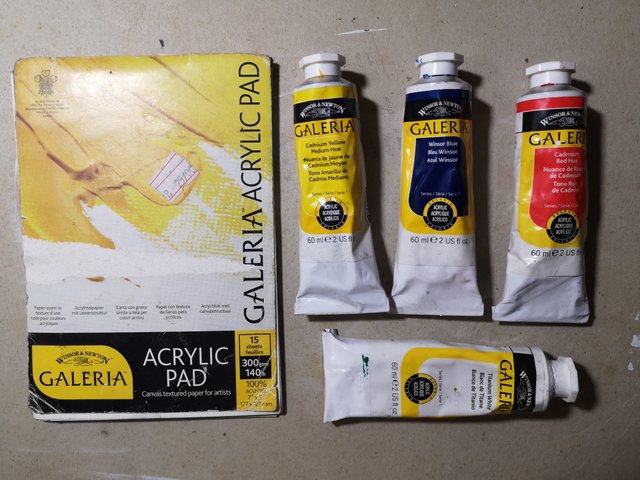 I didn't really notice that I've been kinda loyal to Winsor & Newton's Galeria until I took these photos. I got them in Dubai in an art store called Emirates Trading, but if I remember correctly, they closed last year which was really sad because they were my favorite along with Canvas art store.
The last time I went there, I travelled from Ajman to Dubai for an hour and walked from metro station to the store for roughly 15 minutes only to see it closed for good.
(Ah, the good old days of visiting it in winter time just to browse through their stuff until they closes at 8pm. I really miss it.)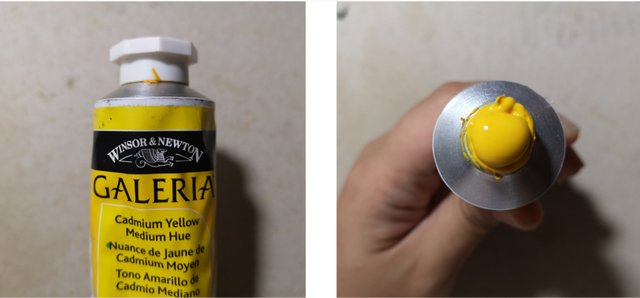 For the art materials I used —
Galeria Acrylic Pad: 300 gsm, 100% Acid Free, 7" x 5"
Galeria Titanium White
Galeria Cadmium Red Hue
Galeria Cadmium Yellow Medium Hue
Galeria Winsor Blue
Galeria Burnt Umber
Brushes: Filbert #14, Round #2, Liner #3, Flat #6, Prang Watercolor Brush in Round #6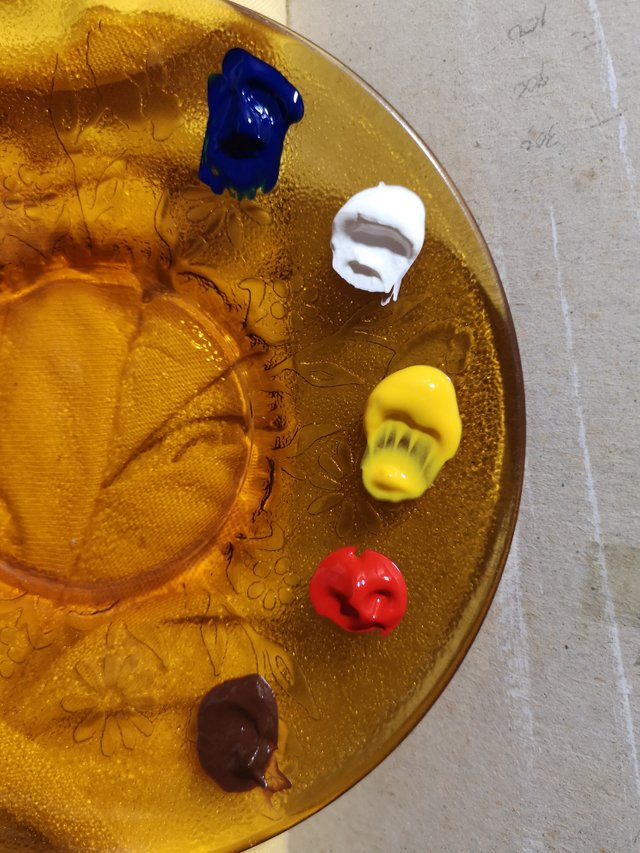 Back in 2015, I used to have this rectangle glass for mixing colors because it is transparent so it's easier to see colors when you're mixing, and it's easier to clean as well. This small brown plate gave me headache specially when I was trying to get the correct shade of orange which I mostly failed.


---
AGAIN, A LITTLE DISCLAIMER, I AM NOT VERY FAMILIAR WITH ACRYLIC SPECIALLY IF IT'S DONE ON PAPER, BUT I WILL STILL TRY TO EXPLAIN MY PROCESS AND MISHAPS. ✨
---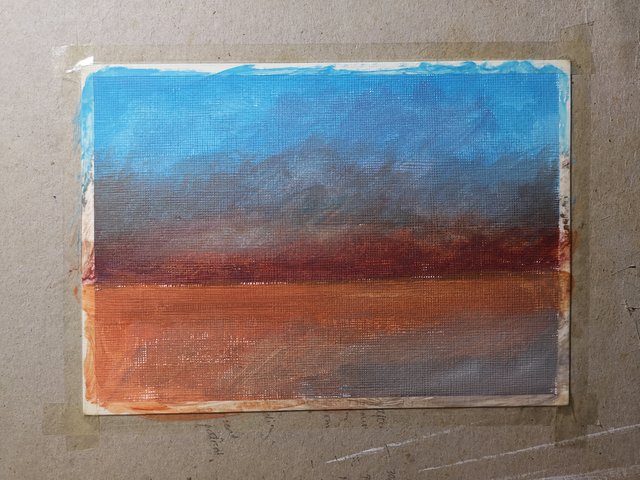 I loved this!
I was too tempted not to continue this first base because I loved how it turned out despite not being nicely blended. Although it looks more of an autumn day than a seascape eh?
Here's how I did it —
The thing about doing the foundation of a sunset painting is that you must render the transition or gradiation of colors well. There are several ways to achieve that and you can read this thorough article about Gradiation by www.explore-acrylic-painting.com to fully understand the fundamental skill in blending two colors smoothly.
What I personally did though was I used the wet on wet technique. We know that acrylic is a fast drying paint, so you really need to work faster in order to have a seamless surface. It was hard for me because I am not used with working on paper because apparently, acrylic dries more quickly on paper specially if it's not coated with good old Gesso.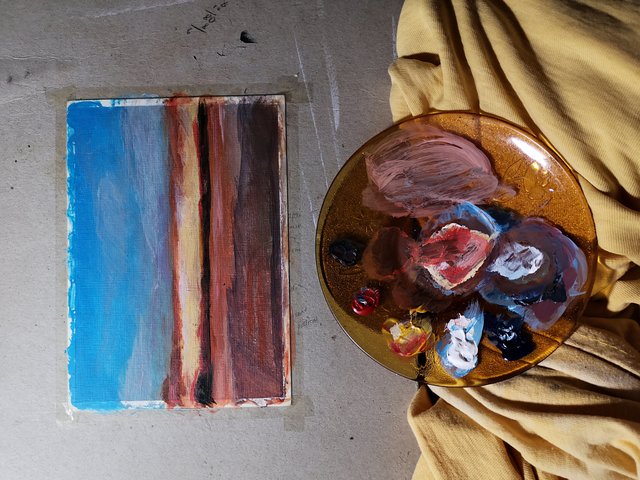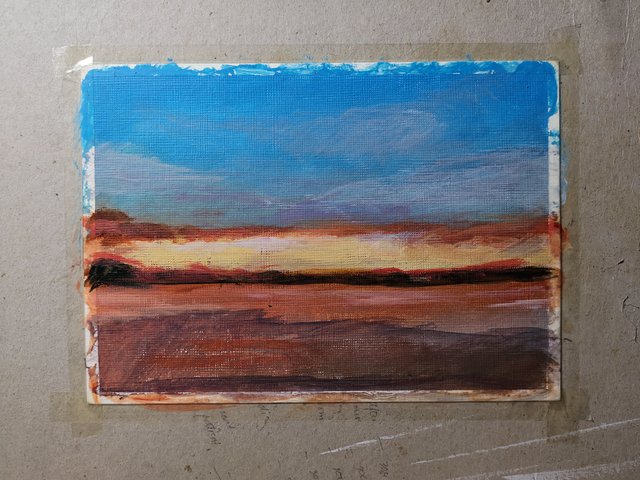 I added more colors in this stage, and knew right away that I messed it up. All's good though. I just continued doing it anyway because I thought the contrast and intensity ain't so bad to begin with.
The hardest part was my transition from light blue to orange because: 1) I couldn't get the right orange by mixing my available yellow and red, 2) the paints were drying way too fast, and 3) I was afraid to drown my paper with water in order to get that nice gradient, because again, I was using the wet on wet method.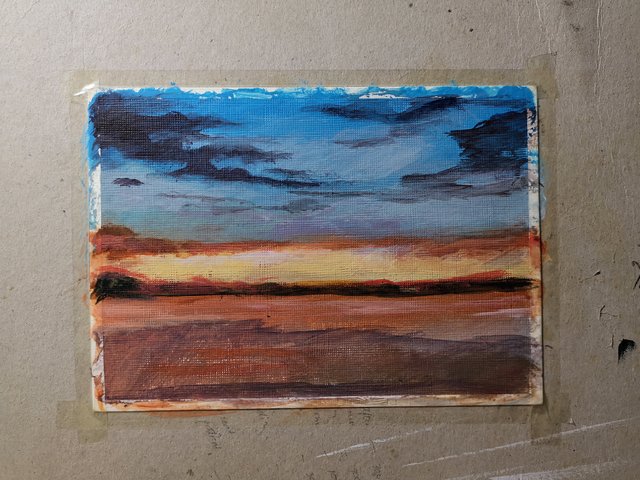 Another problem set in when I realized I don't have black. Of course I know I can mix all of the colors available in order to achieve some dark paint close to black, but I actually find it muddy which I am not very fond of. But then again, I didn't have a choice, so I mixed burnt umber, blue, and red to come up with a relatively dark violet which looks close to black, and started painting the clouds in the sky.
Muddy.
The sky was acceptable, but when I tried putting the pseudo black in the lower areas, I regretted the decision instantly.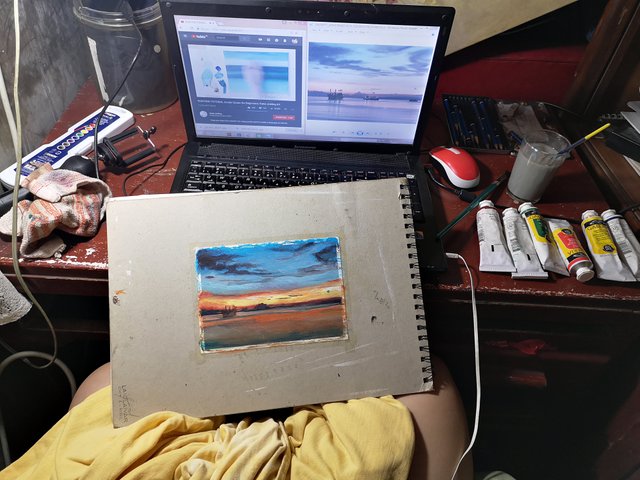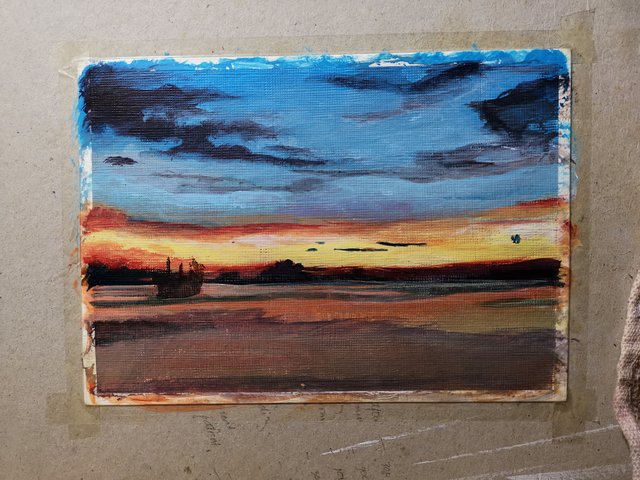 I tried putting greens in the deep water, and light oranges in the reflection, but it only made things worse. One of the reasons is that I painted what I thought it should be rather then what I see, and that is basically a fault by default. Often times I rush to finish a painting, not thinking about each stroke and value, which eventually leads to looking rather forced than natural/realistic.
One of the lessons I learned in studying Bargue is to always take your time. You are probably failing because you want things in an instant without even thinking. In art, it should be look, see, and think.
Look at the painting as it is, like a bigger picture;
See what lies beneath each strokes, and;
Think about how you can translate that into your masterpiece.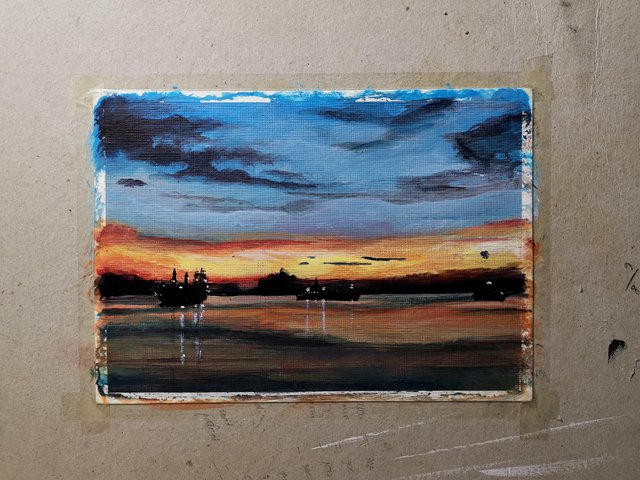 By this time, I totally abandoned the painting. My urge to find black for painting the ferries led me to use black watercolor from Prang. With the tiniest amount of water, I painted it, and used acrylic Titanium White for the lights in ferries.
The water is muddy.
The sky looks warped.
The colors are too intense.
It was everything I do not like, but fortunately, it turned out okay in the end.
Here are some more pictures of the finished painting—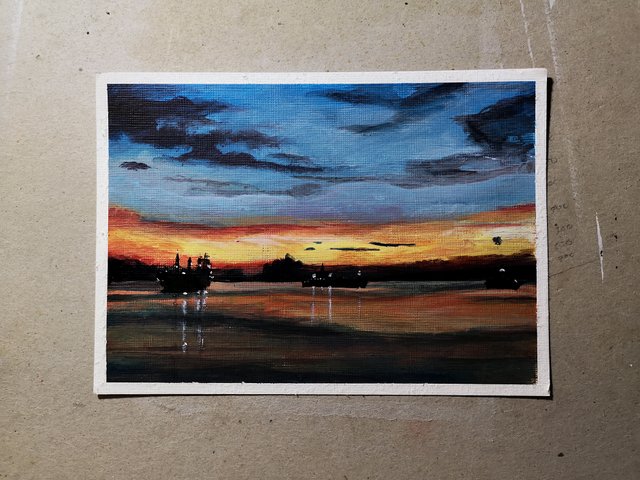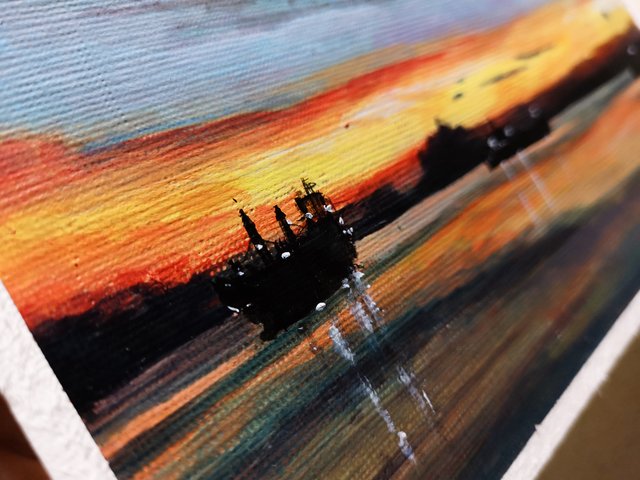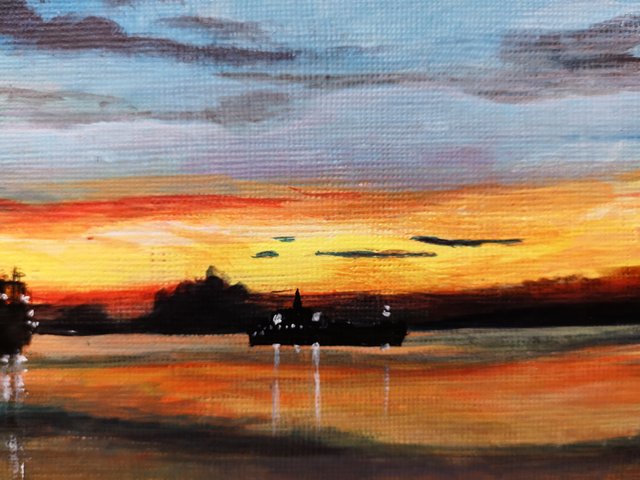 How is it? Tell me what you think!
I welcome constructive criticism by the way.
Hopefully I can record a video later of me painting another sunset. I am really motivated today after what I have achieved in watching 3 acrylic tutorials online.
For the most part I am still broken, but painting again made things a lot more bearable.
---
Regards,
Lai ✨