Desert – In memoriam of the red clay elephant
Acrylic on canvas
80 x 60 cm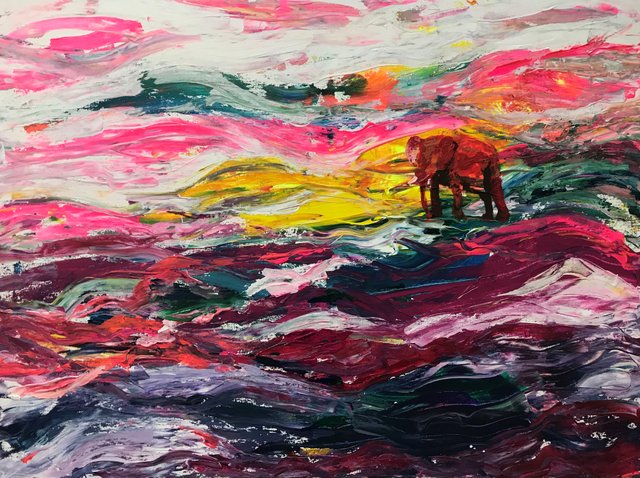 I cannot comprehend what I see, but I understand.
I cannot explain the white noise in my ears, are there words?
I cannot move my feet, I am gliding.
Colours caress my hair. Tears are crawling slowly in my eyes.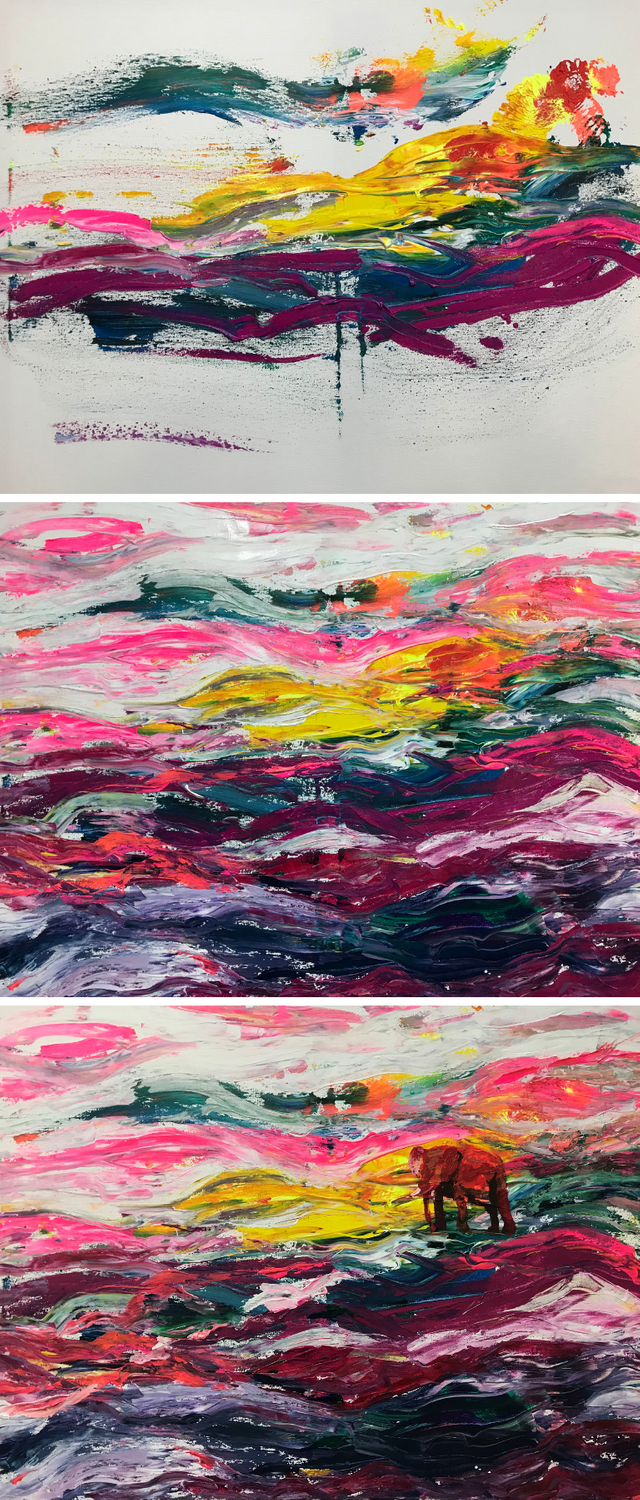 I never experienced a desert. The farthest south I went was Sicily. The barest landscape I visited was in Sardinia. Burned earth with dead remnants of bushes and grass. But I never saw planes of sand or rock without visible plants. I do not know how the wind moves in the desert, which sounds you hear and how it smells.
But I know, this landscape on my painting is a desert. Perhaps on an alien plane in another universe where Euclid does not apply, and lines need space and a ball not. I know that all these colours are waves of sand and heat. And can sense the burning heat of a sun whose rays billow through a thick atmosphere. I am sure, but I do not know why.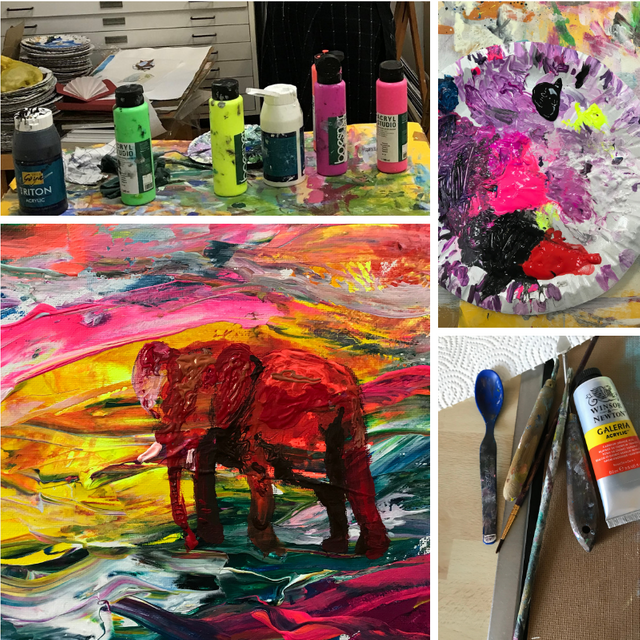 Backstory and process
As many of my latest works, this painting started with a random mix of paint which was left on my palette from another now finished artwork. I started by distributing what was left and then added more and more new paint to formulate a diffuse, unstable and surreal landscape. A landscape which could be interpreted as water, sand, as undulating hills, or discoloured grass. I added a hint of sun-yellow and used lighter colours to create the possibilities of a sky.
Being finished with this step, I reflected the painting and there it was. The elephant. Half visible inside the swirling colours. And this Elephant is a friend I made some weeks ago in an exhibition of 'museum global. Microhistories of an Ex-centric Modernism'. I found him on the painting 'The red clay elephant' of Amrita Sher-Gil. This painting, being a unique mixture of glazed paint and flatness reminiscent of Mughal miniature painting combined with a style which was modern in Paris at this time, deeply speak to me. I also am impressed by Amrita Sher-Gil who reflected the European colonialism and achieved to leave the role of muse behind to become the author.

Her red clay elephant now walks the plains of my swirling and colourful desert.

As mostly I used acrylic paint on canvas, a small palette knife and a wooden stick for the details.

Thank you @juliakponsford and @vachemorte for organizing and keeping this wonderful contest up <3
And thank you @erh.germany for inspiring me to reflect about inner landscapes <3