Greetings to my beloved steemit friends!, because I want to be part of the conglomerate of users who enjoy participating and expose their sketches on this platform, which undoubtedly enrich and fill this contest with life INKTOBER 2019. I present my participation for the theme of day 28 - RIDE.
EXTREME TRAVELING ON KAYAK AND OAR, AGITATION AMONG THOSE OF THE WAVES.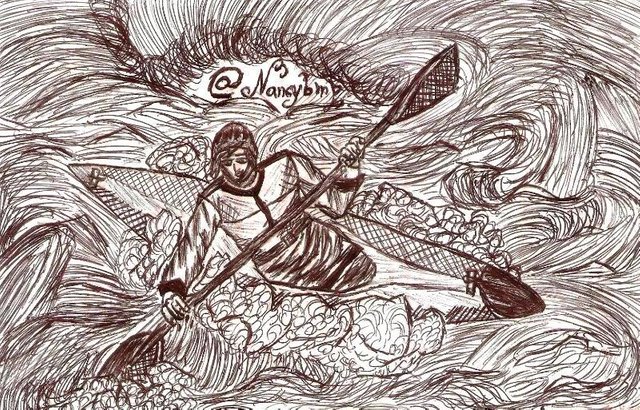 Original illustration by @nancybmp
¡Friends, I invite you to take a walk! I promise you that it will be a journey full of adrenaline and euphoria from the beginning to the end. Mounted in a kayak and with its respective paddle. Heading to know and explore the wonders of nature and the sea. The thrust and intensity of the sea will not be a limitation to enjoy the moving waves.

Among the materials used we have:
- Blank sheet.
- Pink Pen.
- Black Pen.
- You want to express myself through the drawing.
- Affinity for having fun.

I present the drawing process, posed in an orderly and sequential manner. Enjoy it!

To begin with the magic of drawing, it is very important to focus on capturing the sketch of the drawing.

Originate the sketch that expresses the excitement of this adventurer and lover of extreme sports. Eager to continue walking in the sea.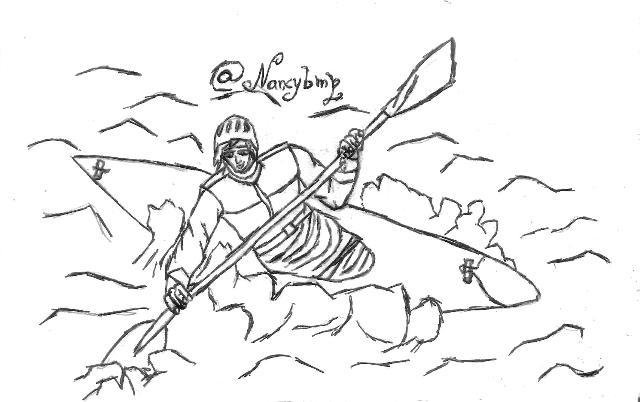 Original illustration by @nancybmp

Reflect with fine and dark lines the body and facial structure of the adventurous man. Then with dark and crisscrossed lines, give shape and shadow to the water suit, kayak and paddle.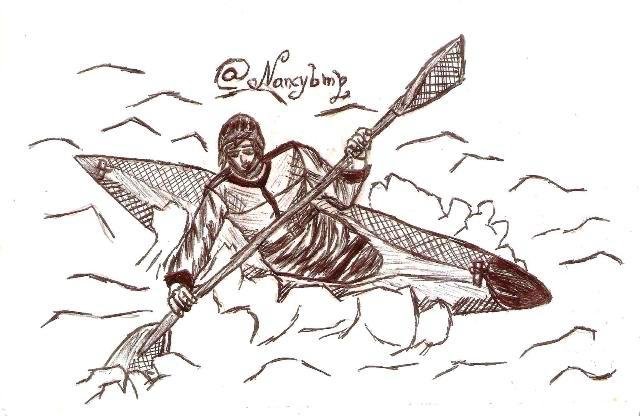 Original illustration by @nancybmp
I concentrated on making the waves' friction with thin lines and curves when it touches the kayak hard and the thrust it exerts with the oar.
To express the abrupt movement of the waves, I achieved it with thick wavy lines that had continuity with each other.
Leaving my style and seal, I can say that I finally finish the drawing.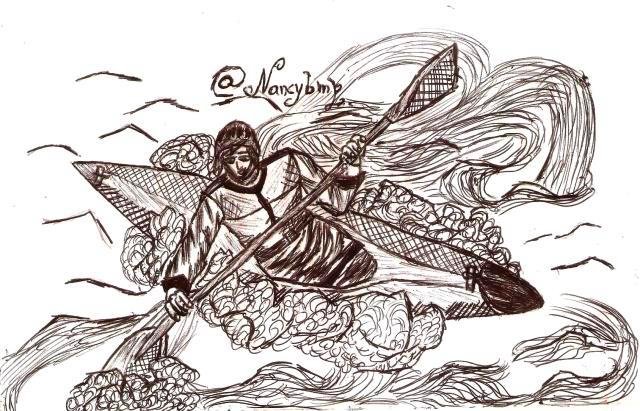 Original illustration by @nancybmp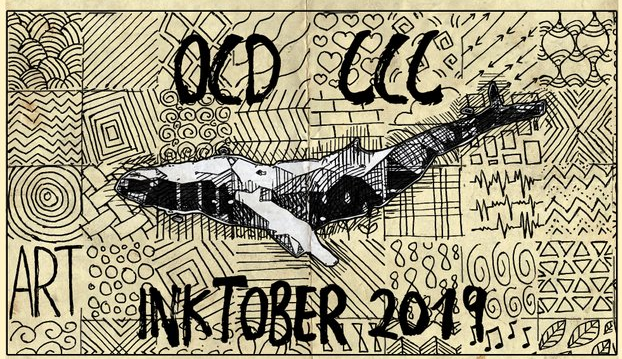 Thank you very much for the support of these communities to the variety of artists on this platform! @helpie, @ art-venture @curie @ ocd-resteem, @artzone, @c-squared
Copyright @nancybmp - All rights reserved
MY INTENTION IS THAT YOU ENJOY MY POST!
THANKS FOR YOUR SUPPORT!
DO NOT FORGET TO FOLLOW ME AND VOTE ME!
A HUG! @NANCYBMP