Beyond The Streets NYC Graffiti Gallery Review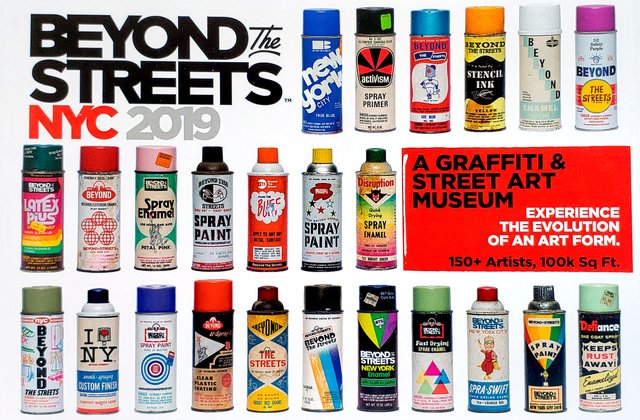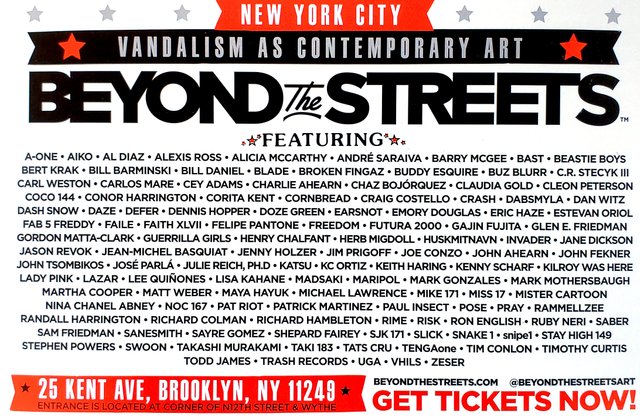 The other day I got a text message from world renowned graffiti artist BG 183 giving me heads up that Beyond the Streets was free next Wednesday. I had no clue what he was talking about and I replied "where @?" as I assumed there was an outdoor graffiti gathering. But then he sent me the link and HOLY COW!
I had no clue there was an exhibit in celebrating graffiti in Brooklyn New York City.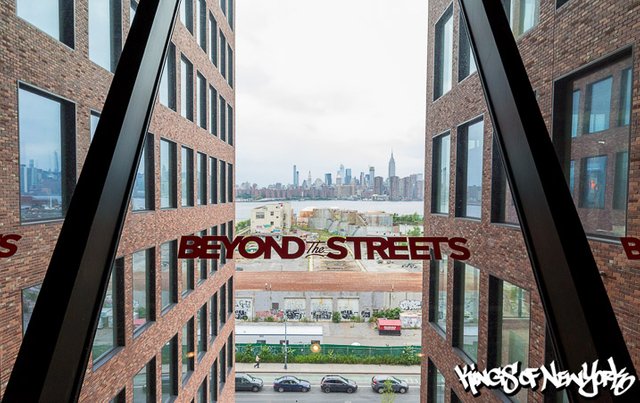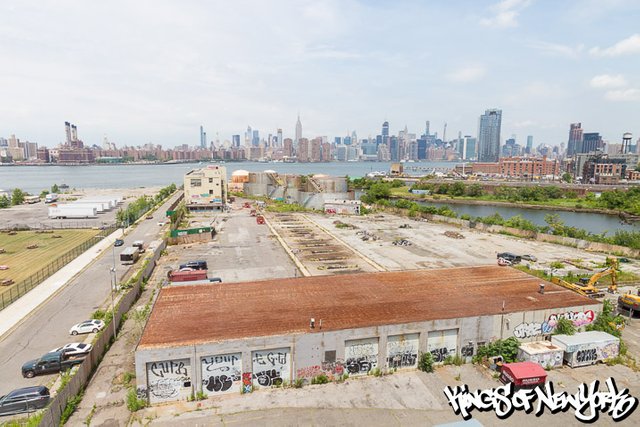 Over 150 artists and 100,000 square feet. Yes that's not a typo - I said 100,000 square feet!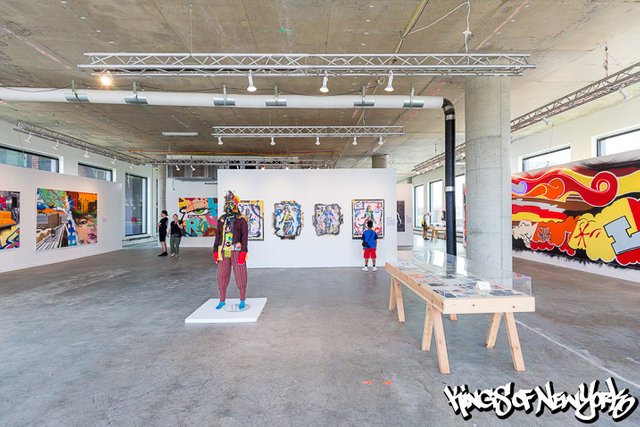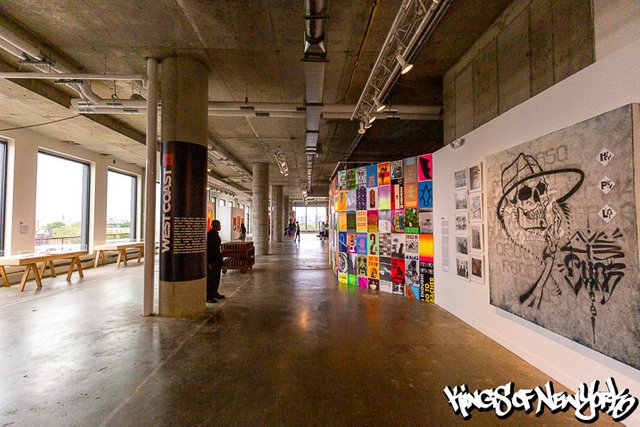 My plan of action was to capture photos first then backtrack to film a walkthrough. I chuckled when someone said I looked very prepared as I must have looked like a Japanese tourist. But as I tried to stay the course it got to the point where it was almost too much to cover!
And I couldn't soak it all in as it didn't help I was with my nephews. Imagine what it's like having to watch an 11 and 9 year old at a museum where the works of art are touchable (if that's a word). Of course I gave them a preemptive talk about not fooling around - but you know how boys are.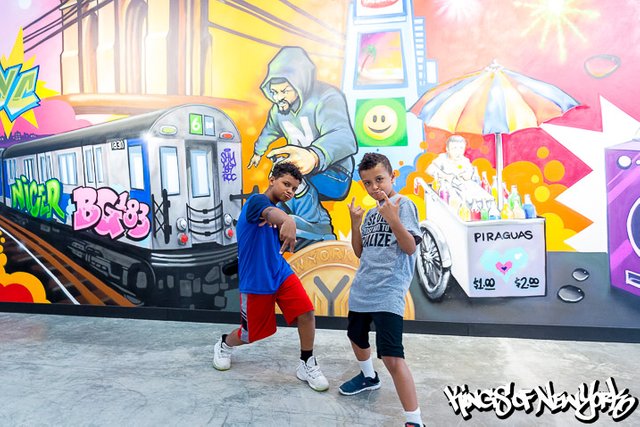 SHOW NOTES
As I mentioned earlier - Wednesday July 10th 2019 was free for the first 100 people but I had to pick up my nephews at 2:30am in JFK airport Tuesday. Factor the heat wave we've had in NYC and I was pretty wiped out.
Plus I figured it'd be less packed the next day and I'd be able to get photos without many people in the shots. And thankfully it wasn't packed Thursday morning (around 11ish). I had to wait perhaps a minute or two to get a clean shot which was really nice!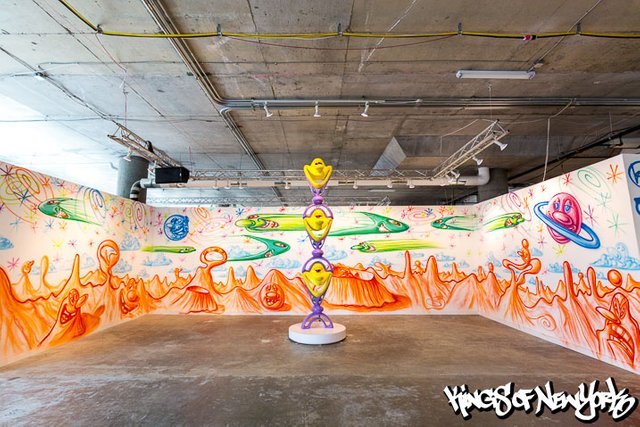 And if you're on your mobile device - I apologize for the slow load time as this post has over 130 images and it's weighing in at a but under 30mb. I took a lot of photos but I didn't shoot everything as I would have been there for hours. But I did capture the art that resonated with me.
And finally don't kill me as I'm not going to caption each and every image (as I'd be here all day). Most of these artist need no introduction as their art is very recognizable - at least for those initiated in New York City graffiti culture but I'll sprinkle in my two cents here and there.
Now with all that being said walk with me as I take you to Beyond The Streets NYC graffiti art exhibition...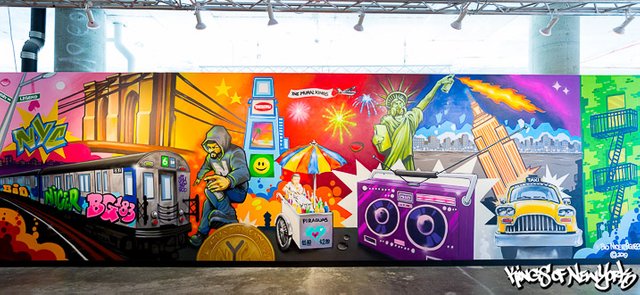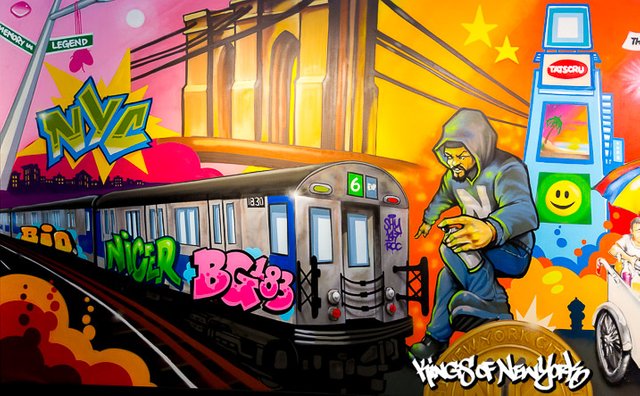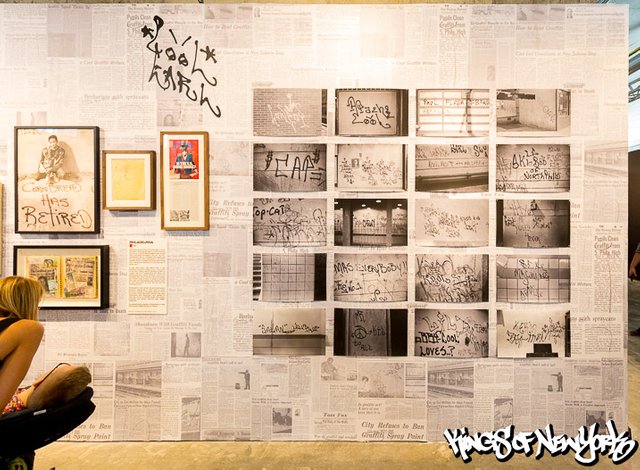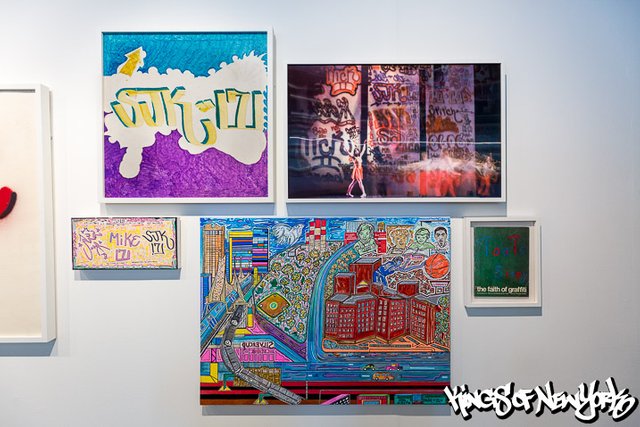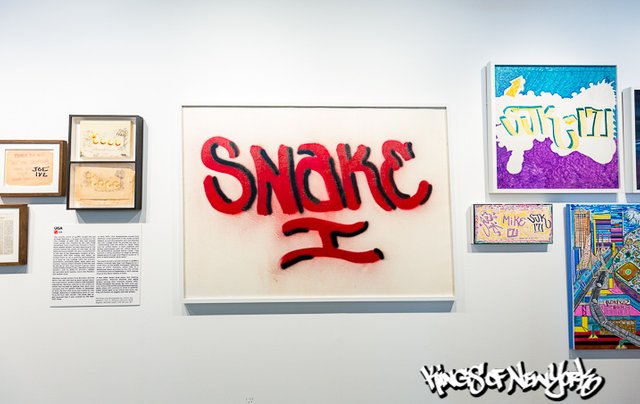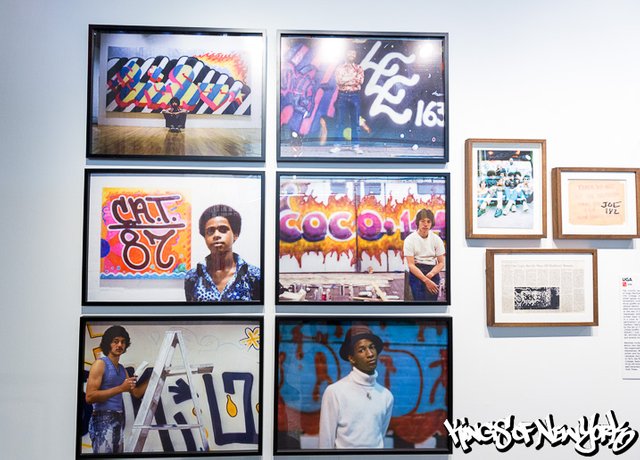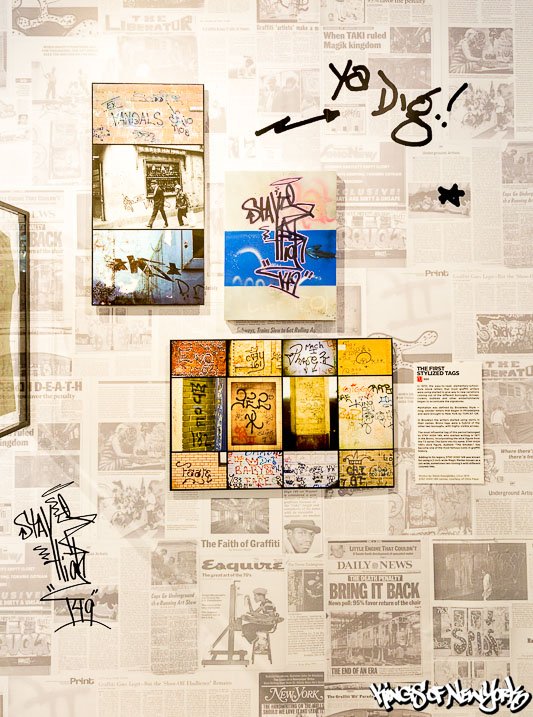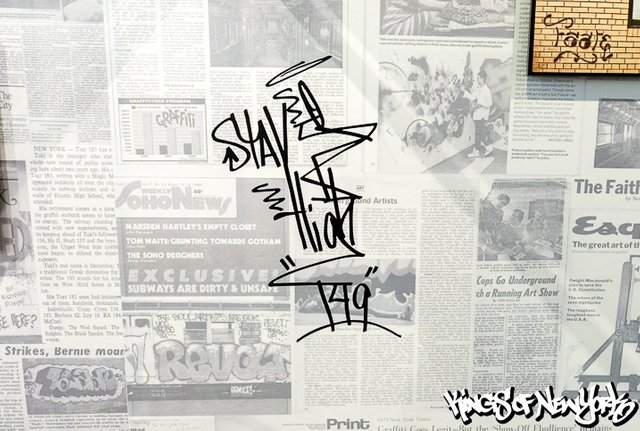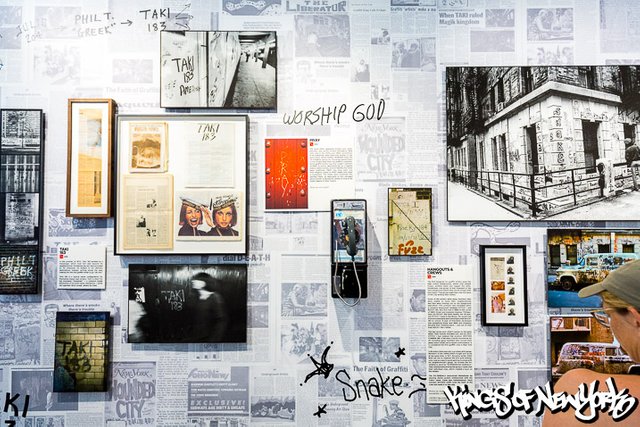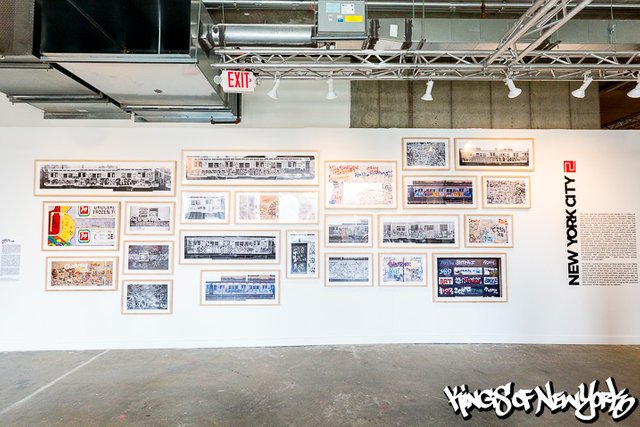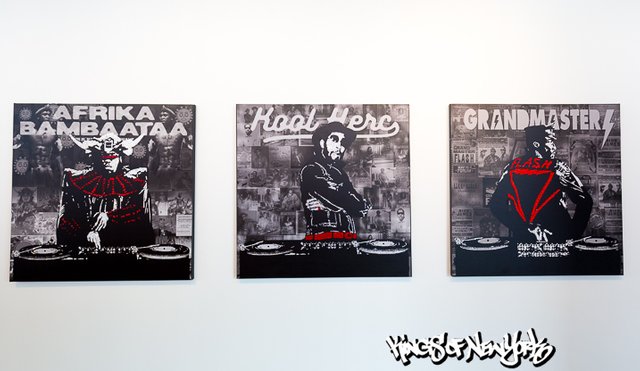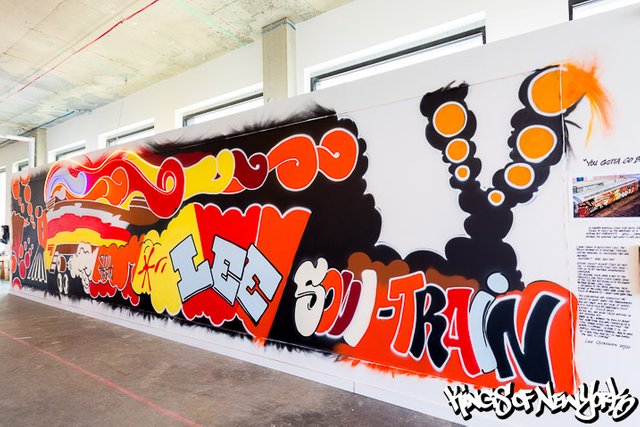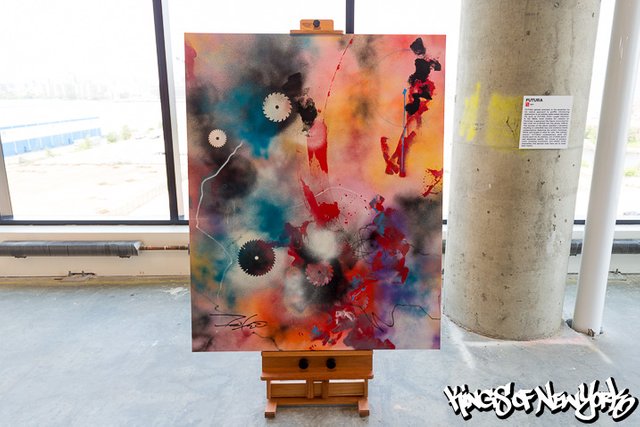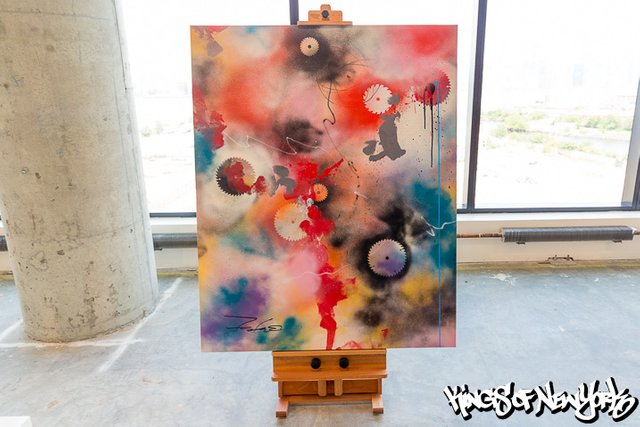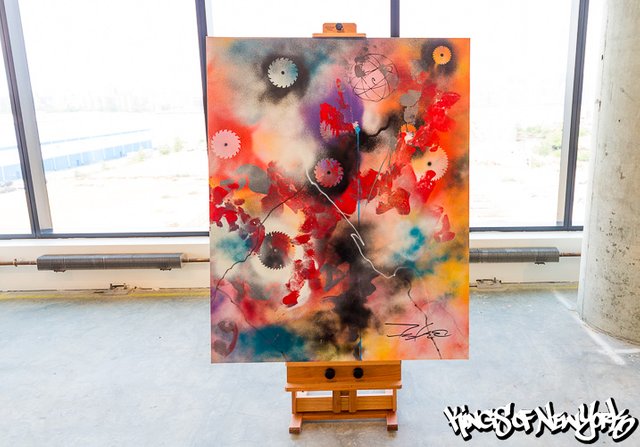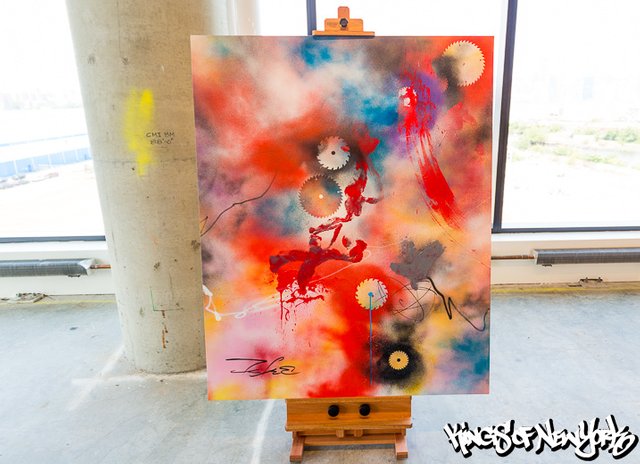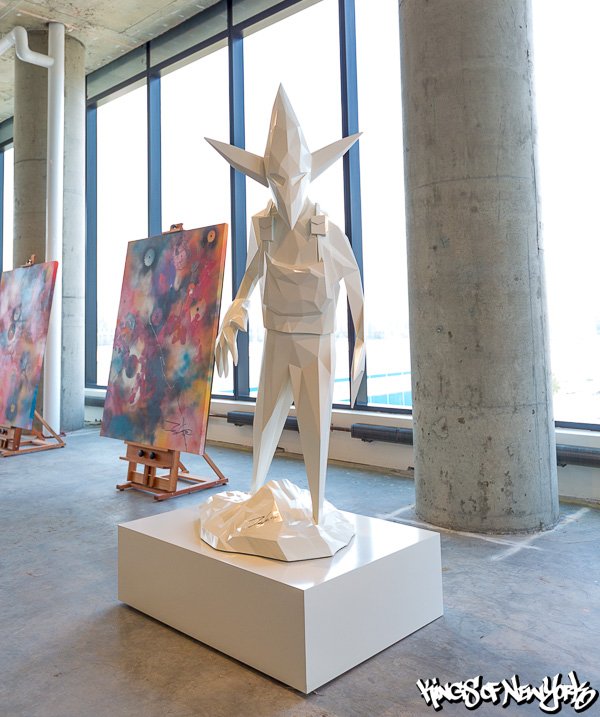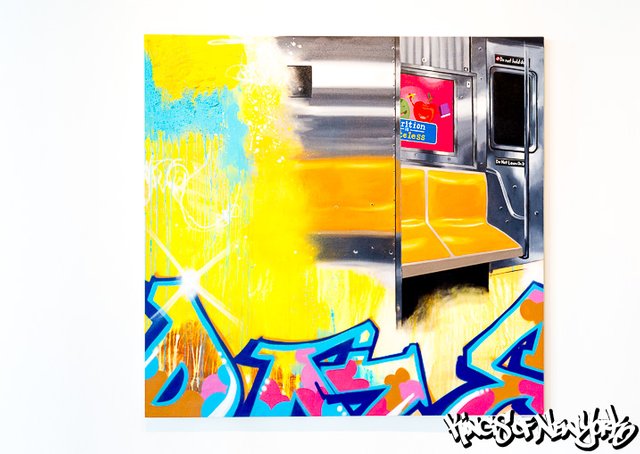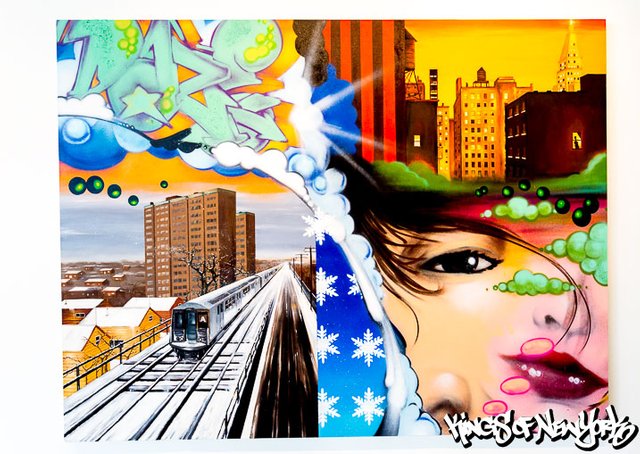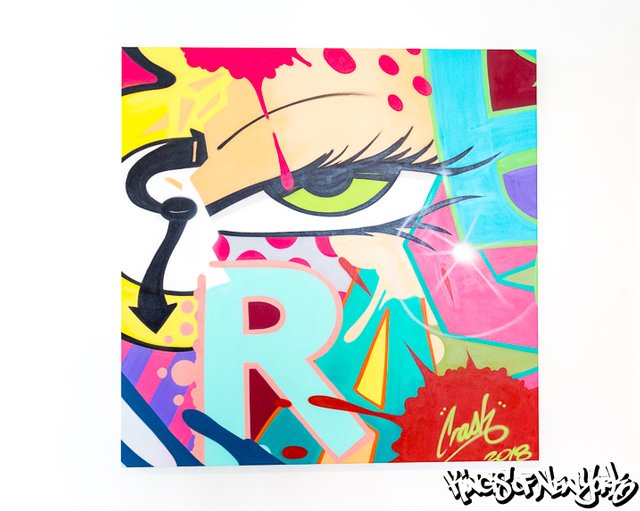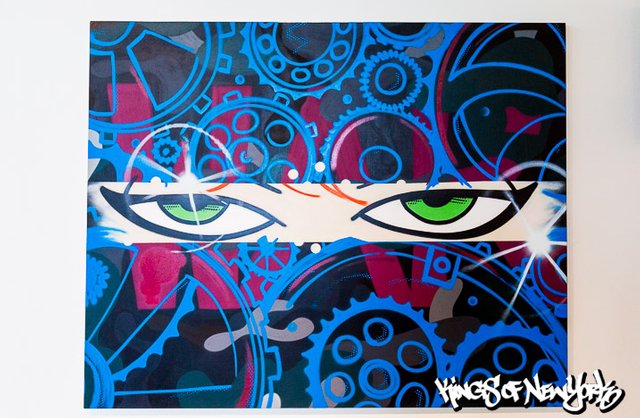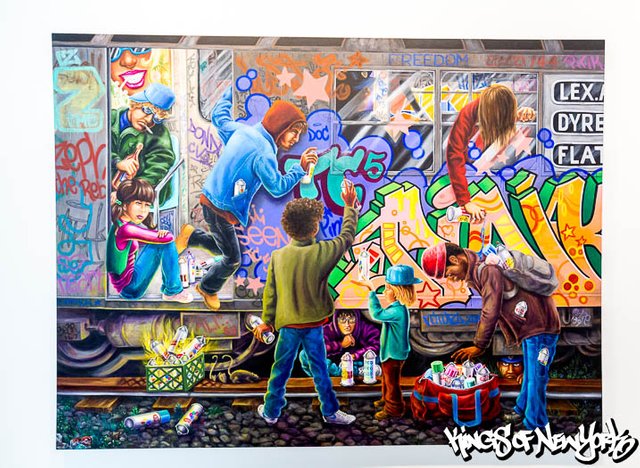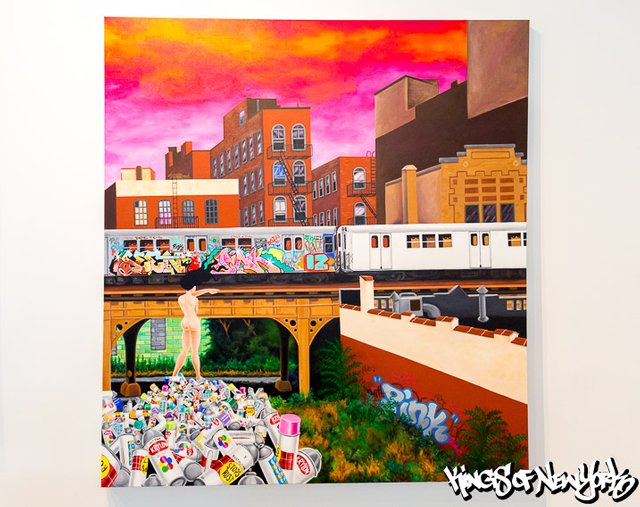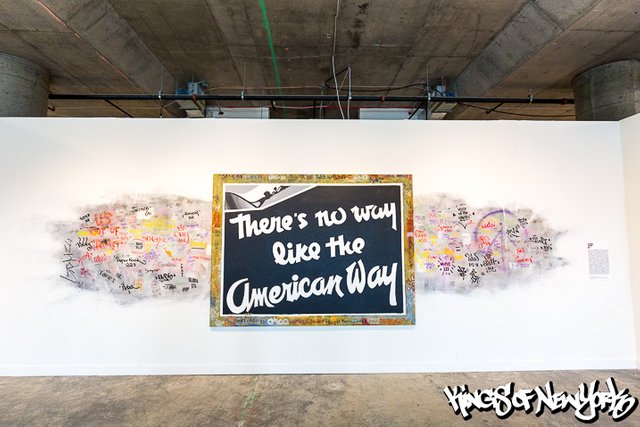 Now I'm going to pause here for a second - as these tags may look rudimentary. But these are some of the pioneers of graffiti. Many of these people are no longer with us - so it's safe to assume that someone forged (for want of a better word) these tags. And whomever did - great job! 👏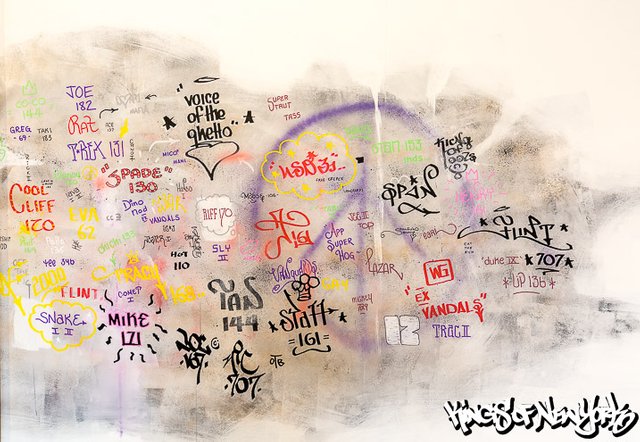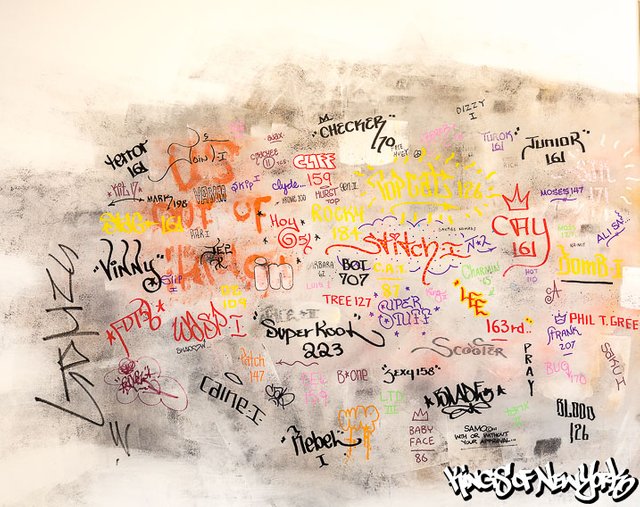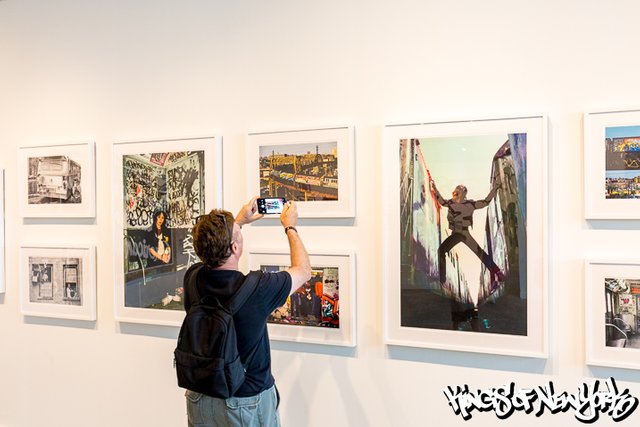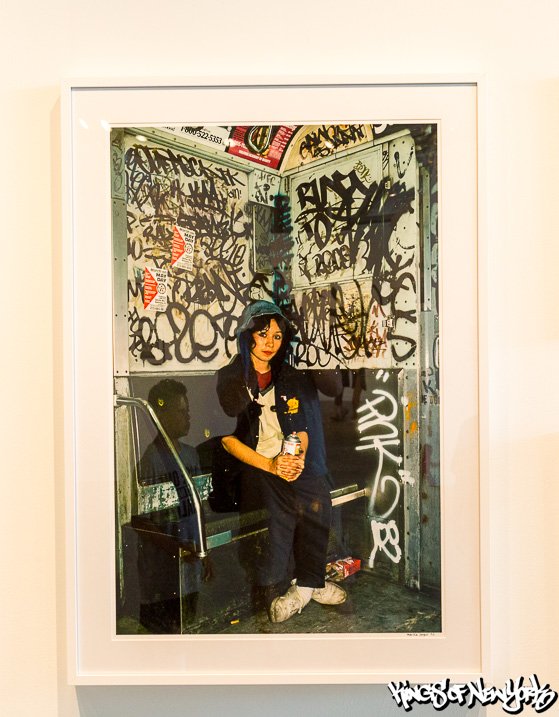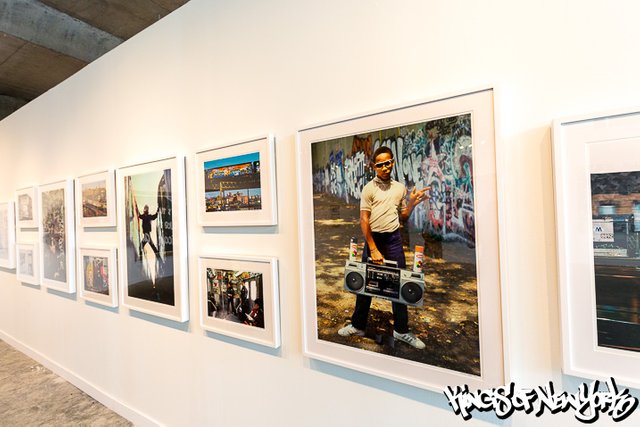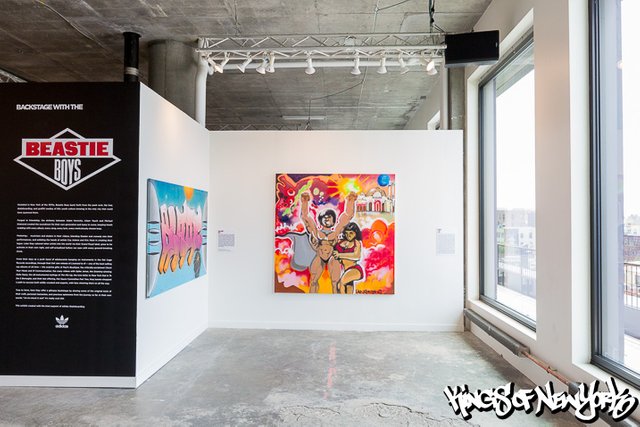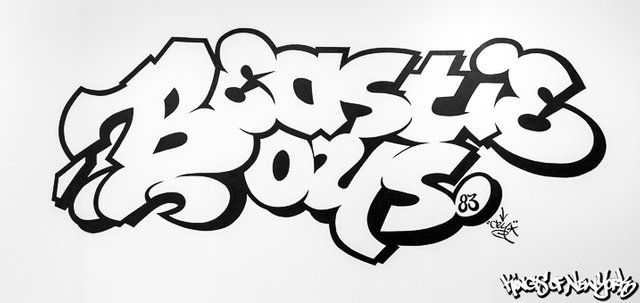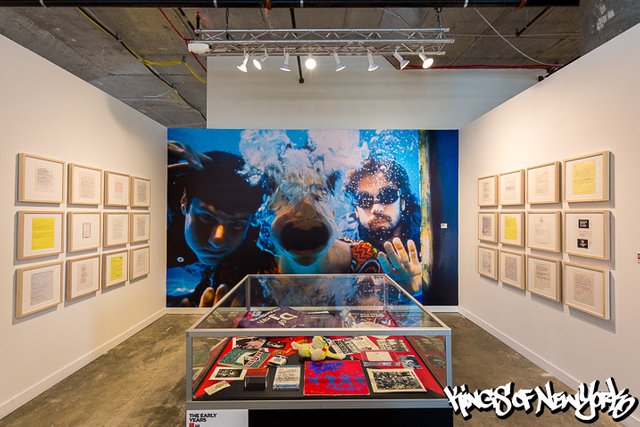 To my surprise there was a section where you can select classic hip hop records and dj them!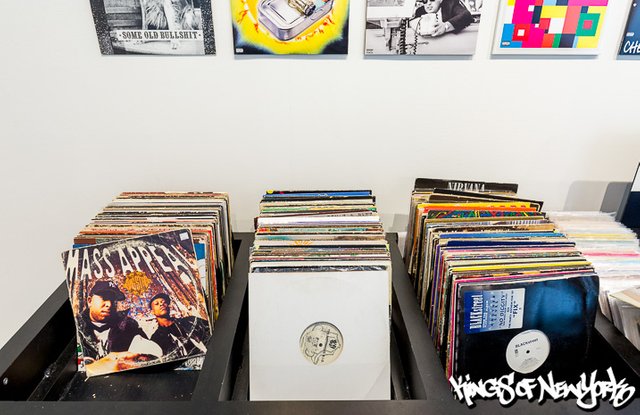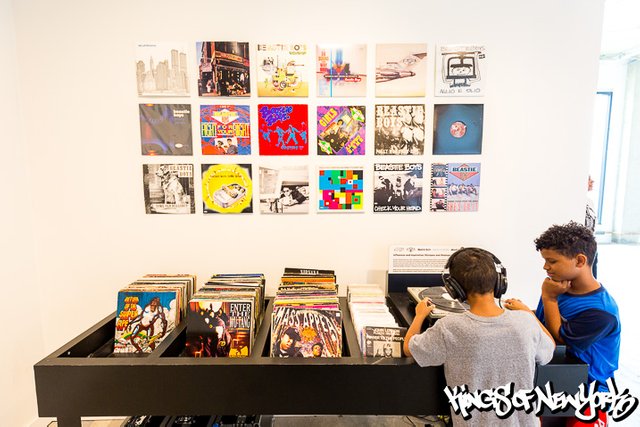 Now for this next installation since it wasn't packed with people I decided to shoot a panoramic image. I took 6 images and merged them into Lightroom then finished the edit in Photoshop. Click on the image below to see it extra large!

The next installation is one of my favorites. It's a bedroom decorated with pages from black books (books where graffiti artists would sketch and college autographs from other writers.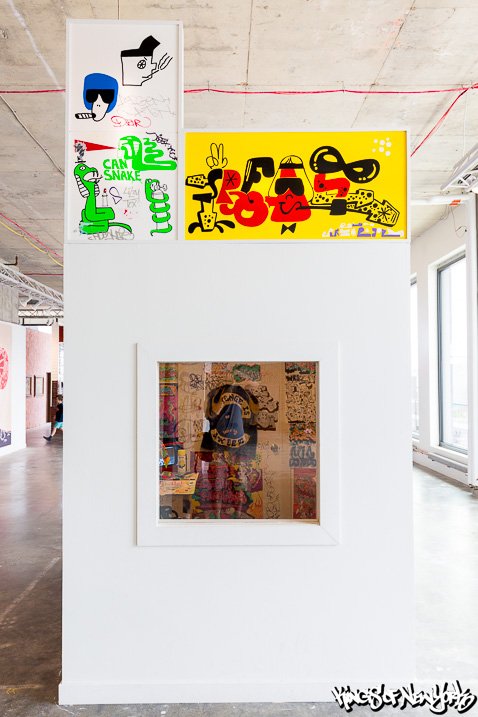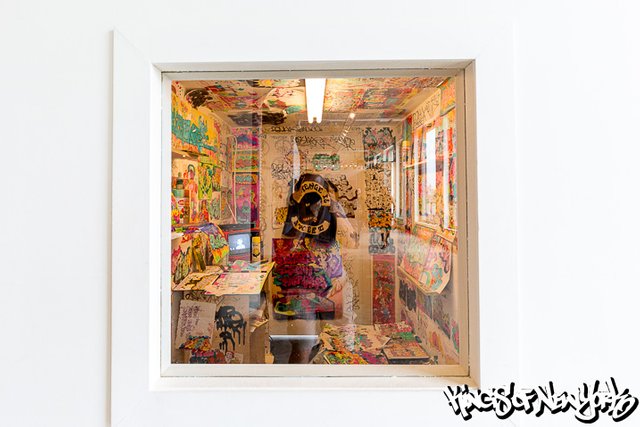 Quick tip: as you can see shooting through glass there are a lot of reflections. So the key is to put your lens right on the glass! This also works when you're trying to shoot through windows.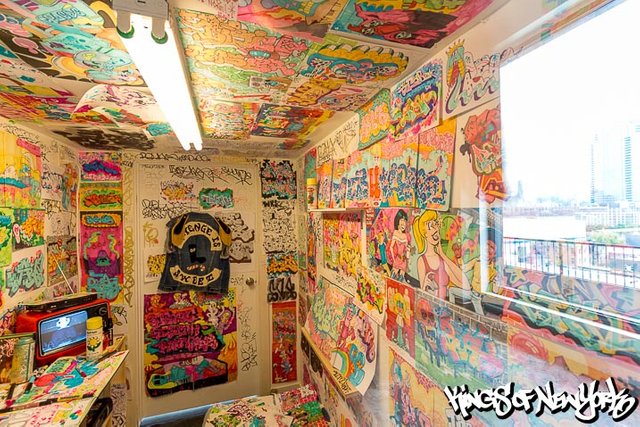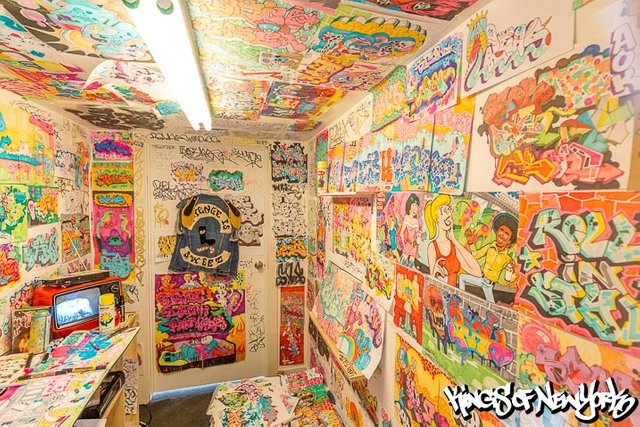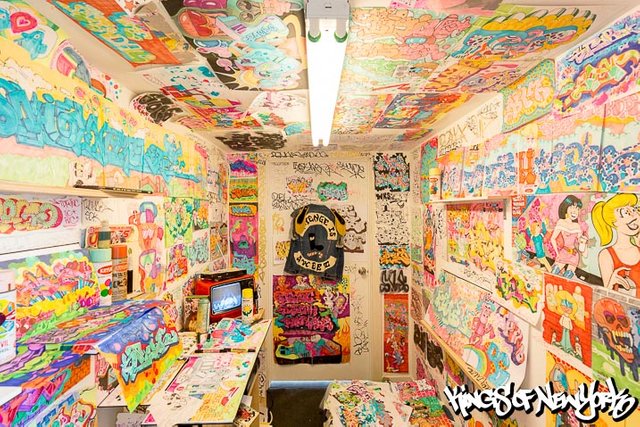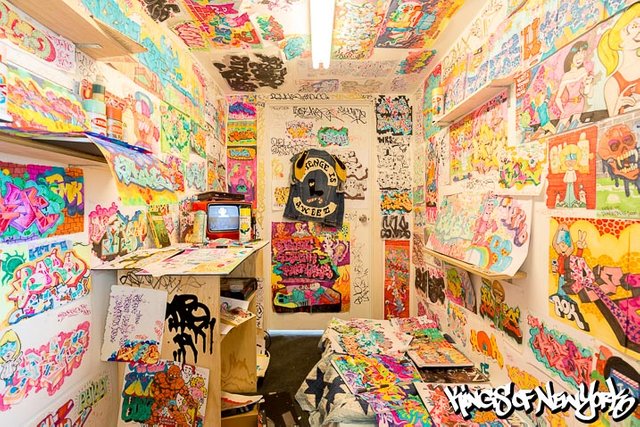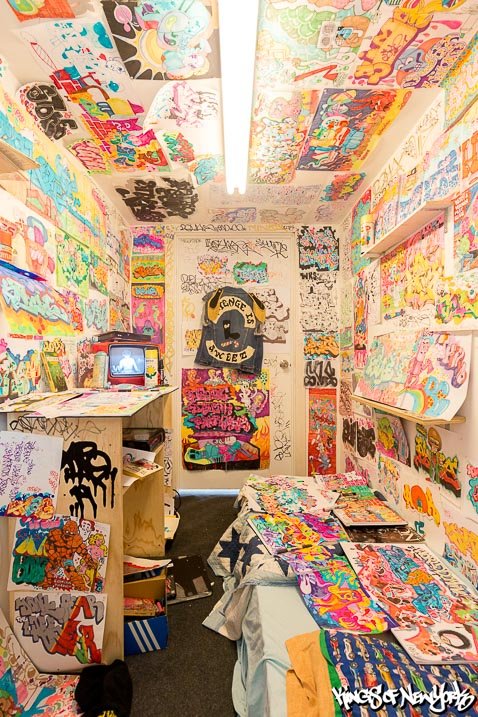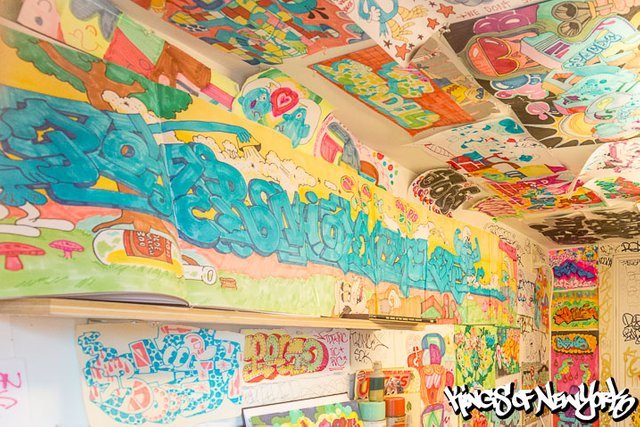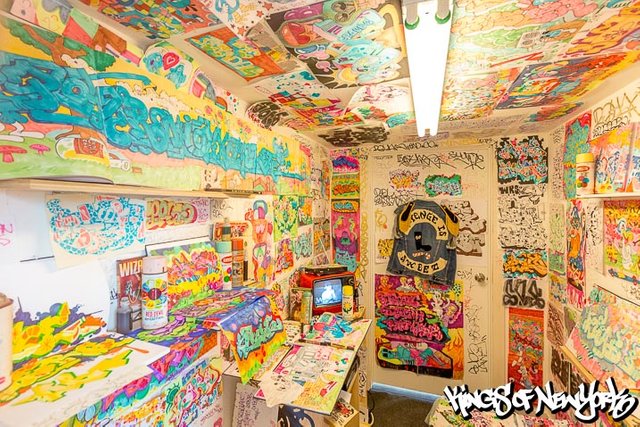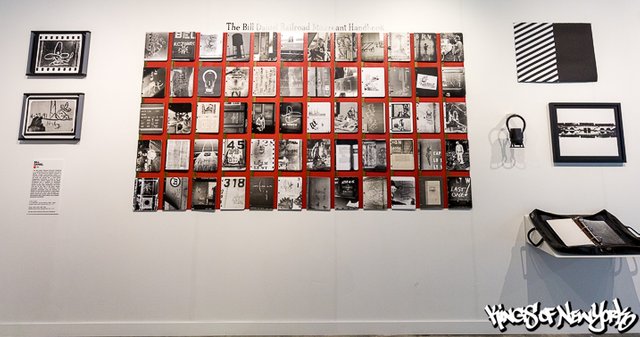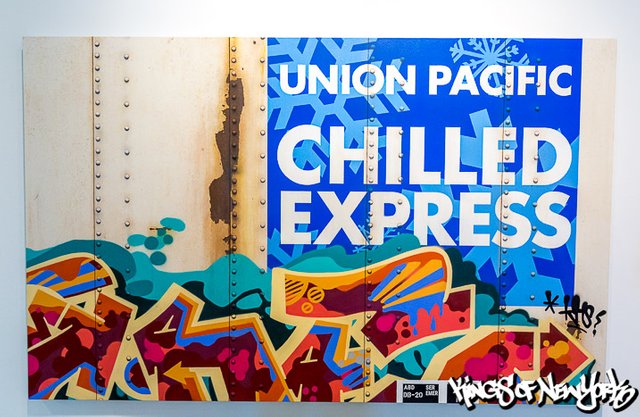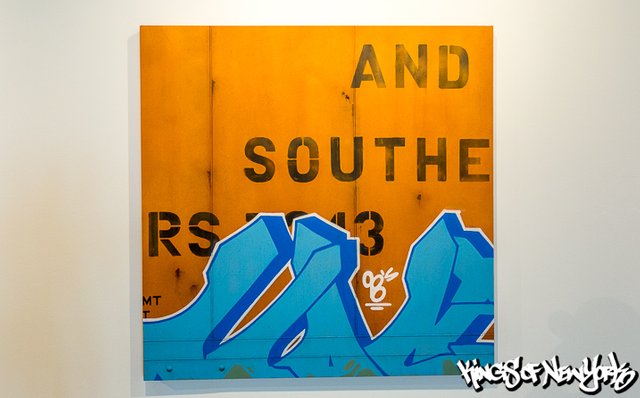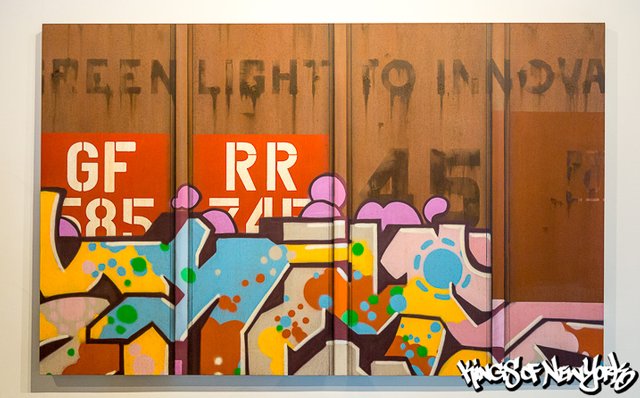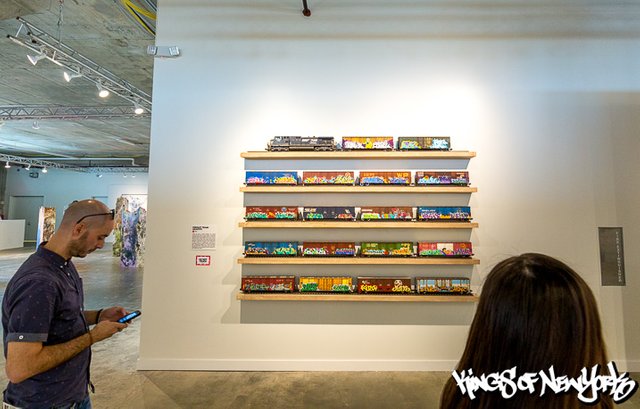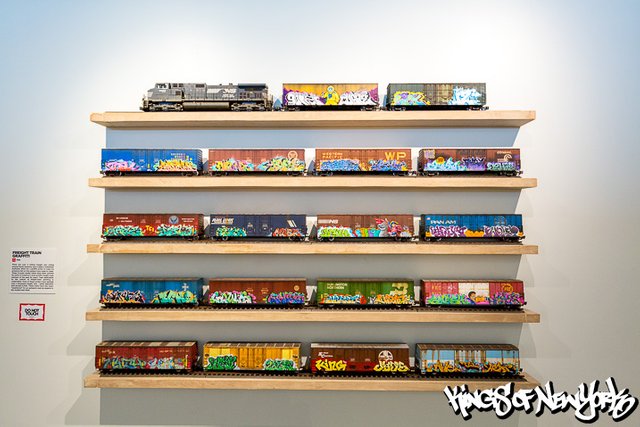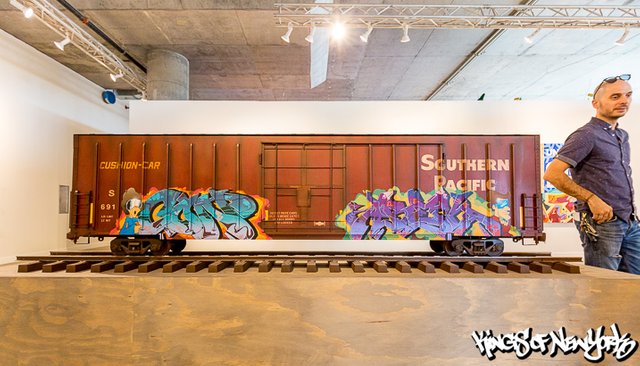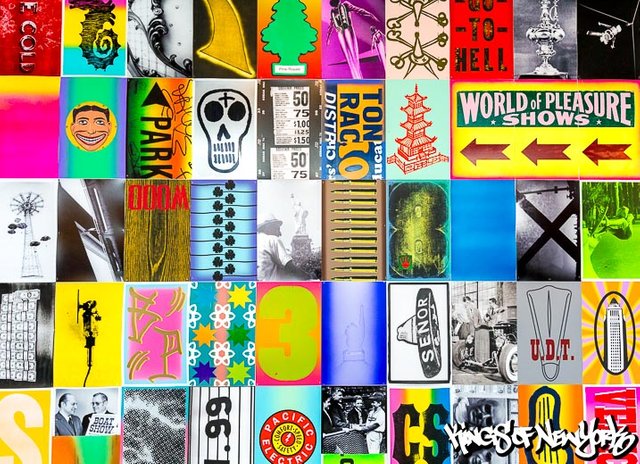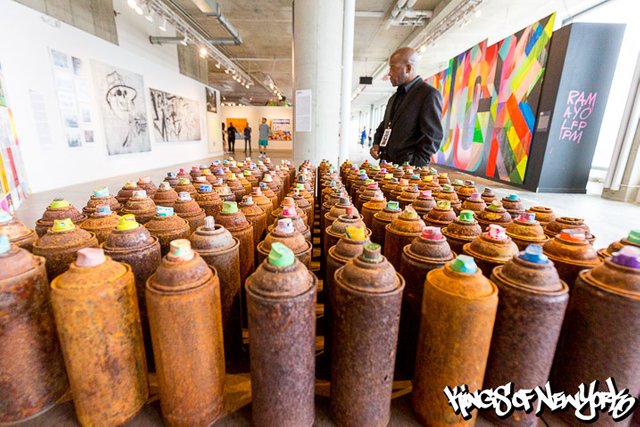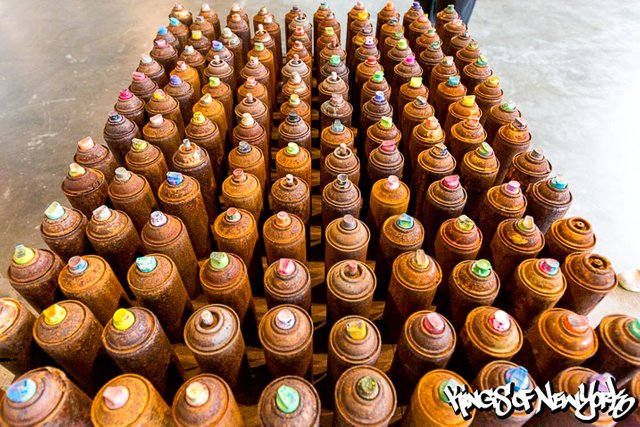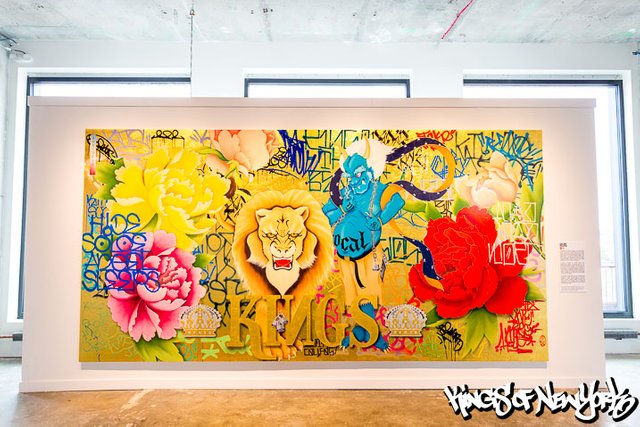 Now take a minute and guess what the theme is in this room...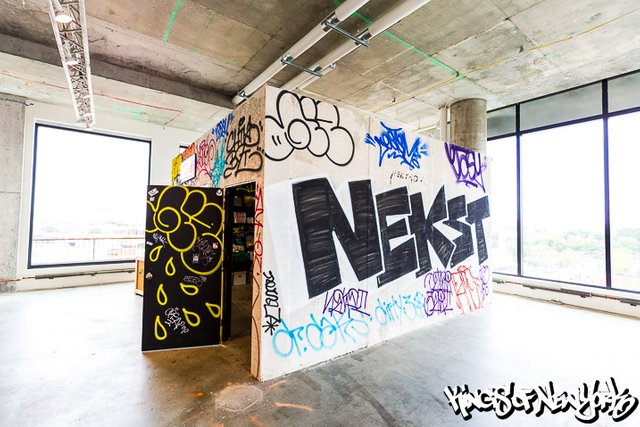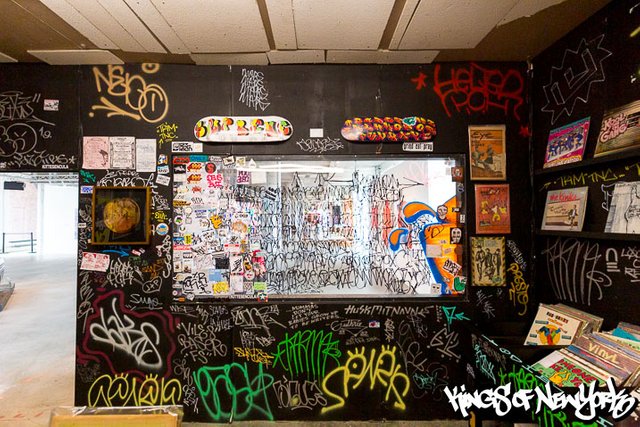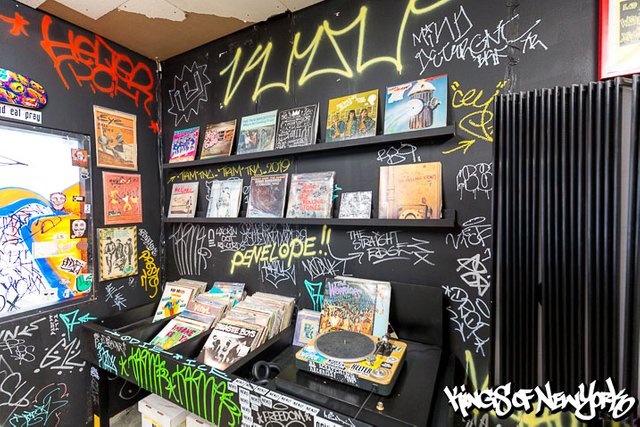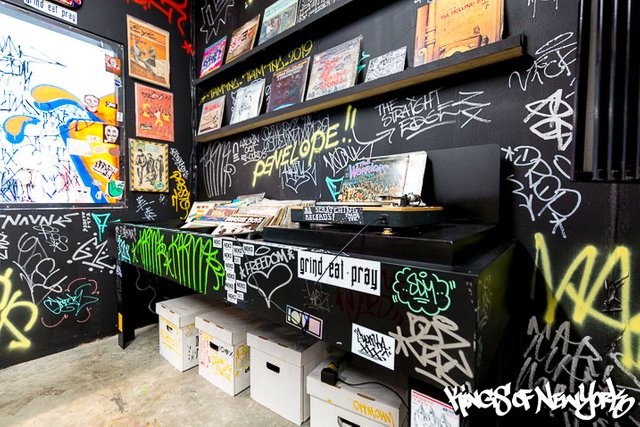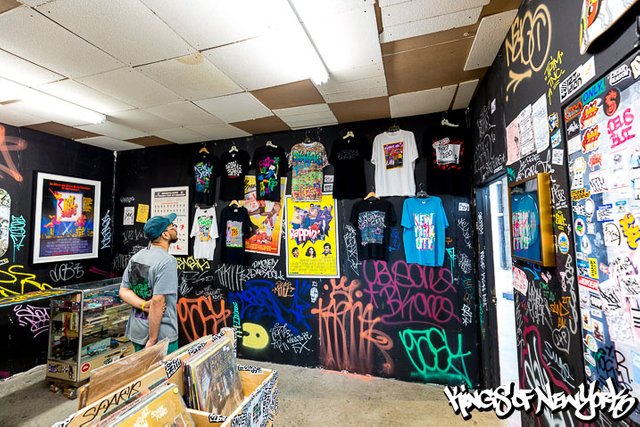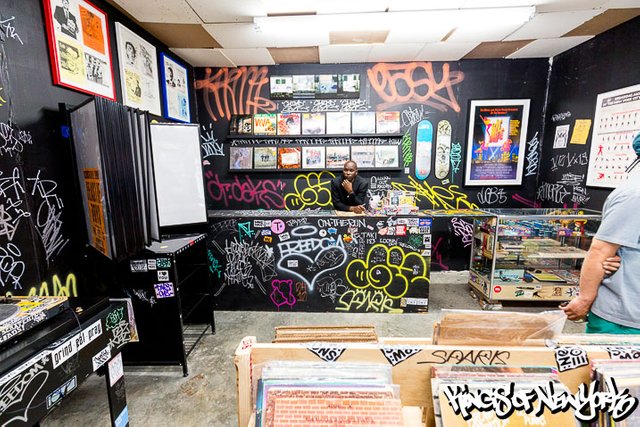 Now if you guess a record store - you are correct! Anyone out there remembers Phat Beats?!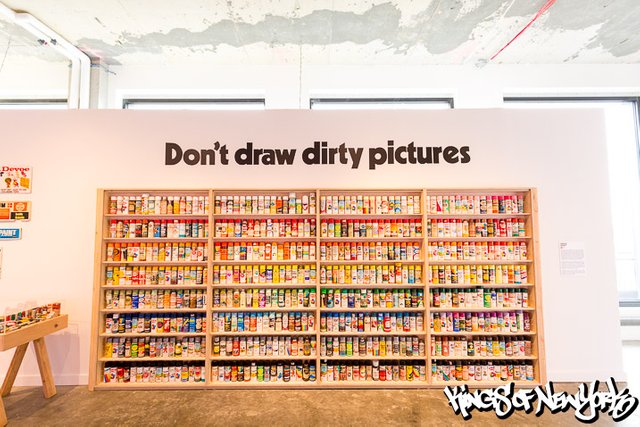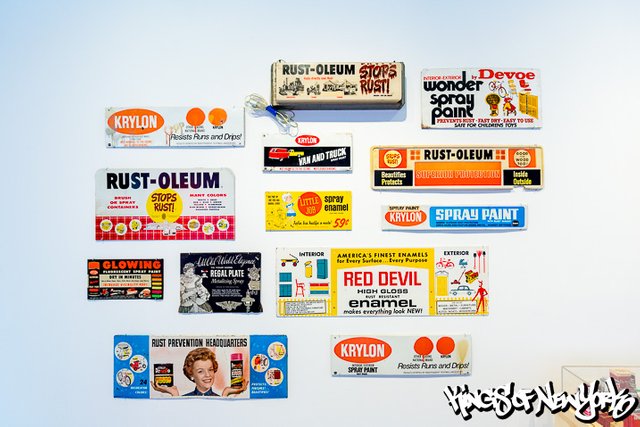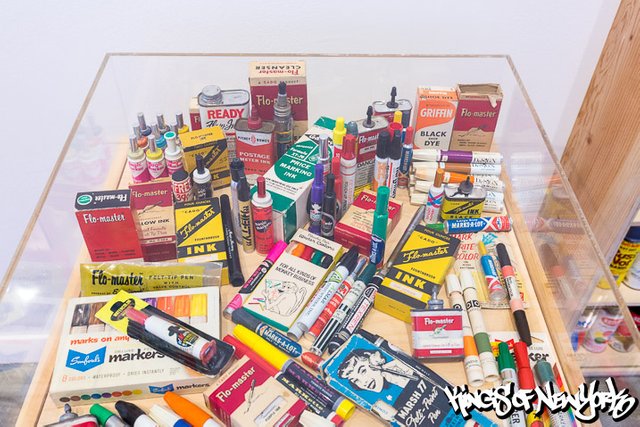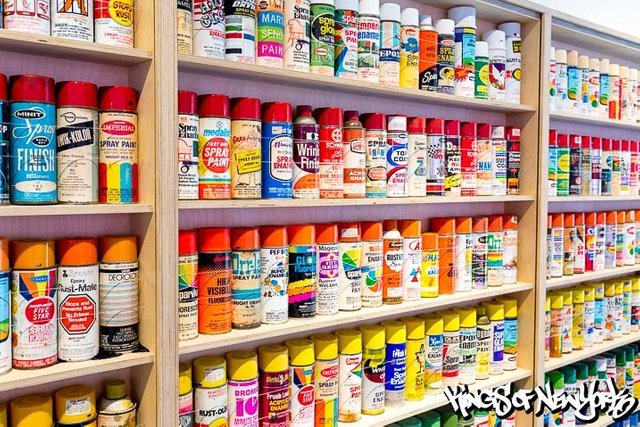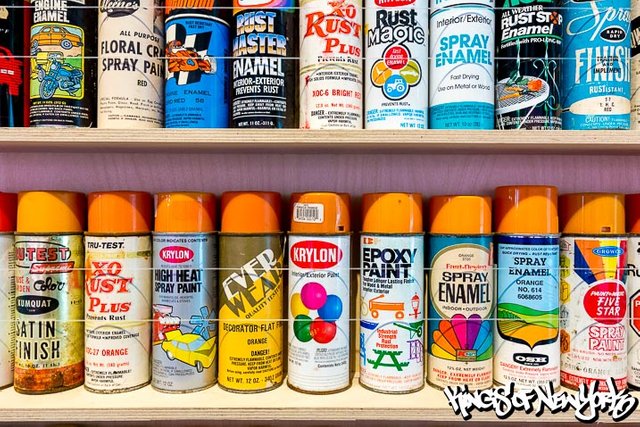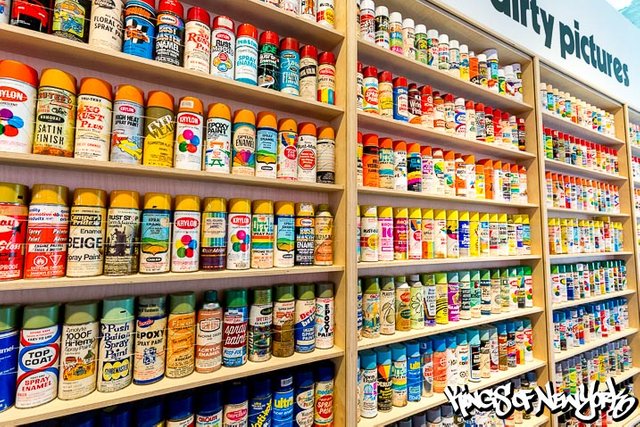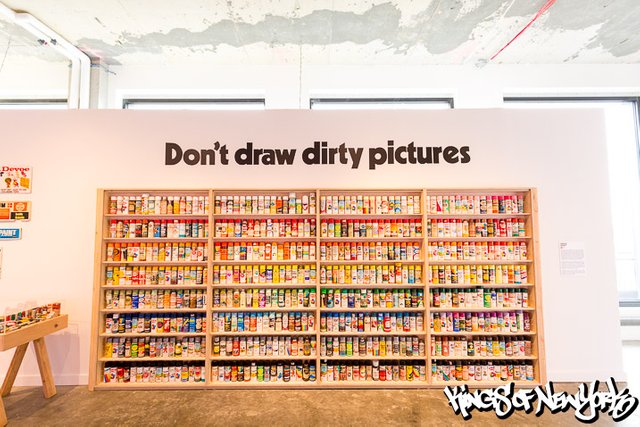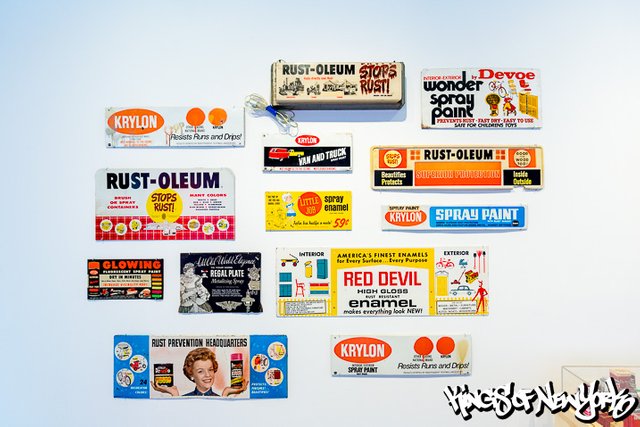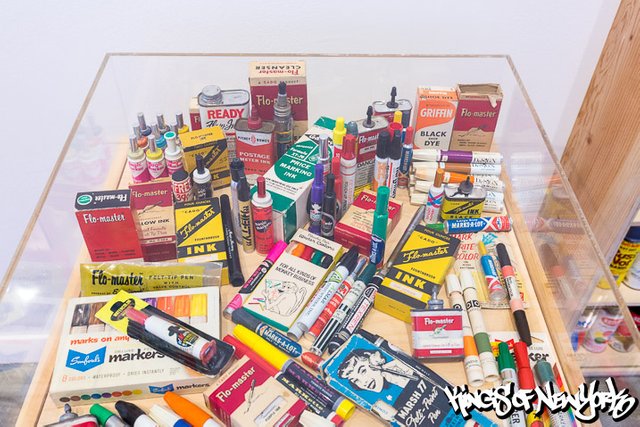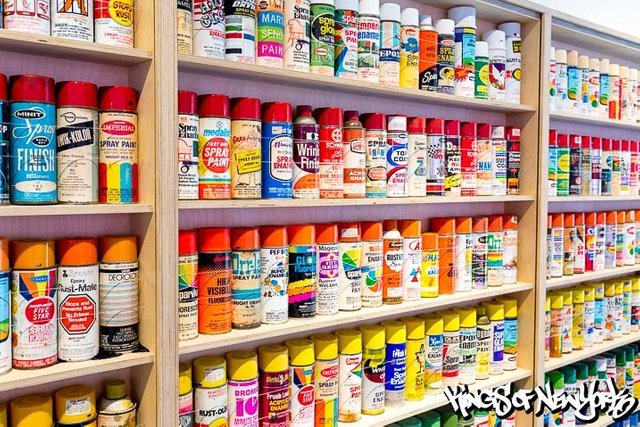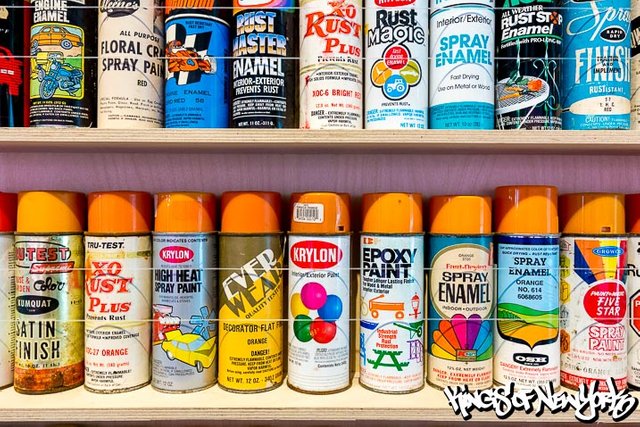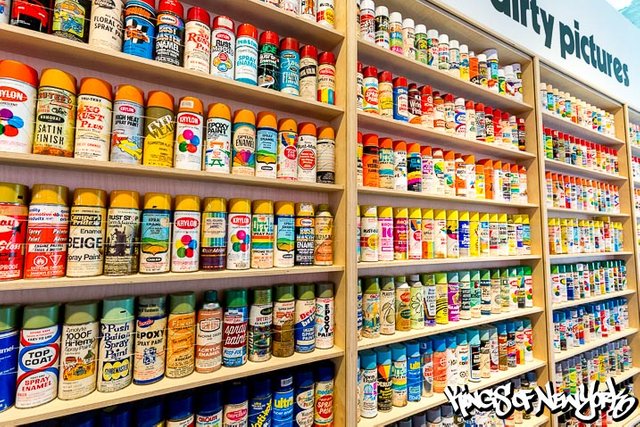 Any Doze Green fans out there?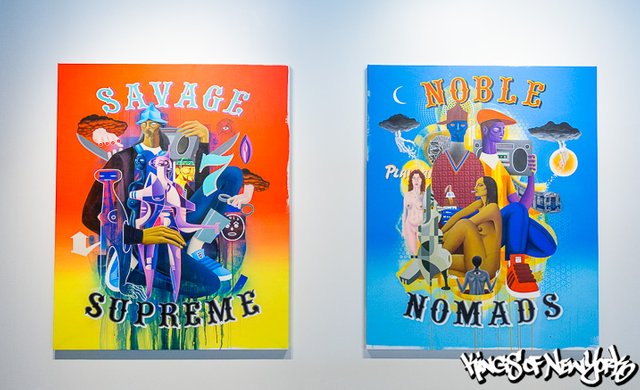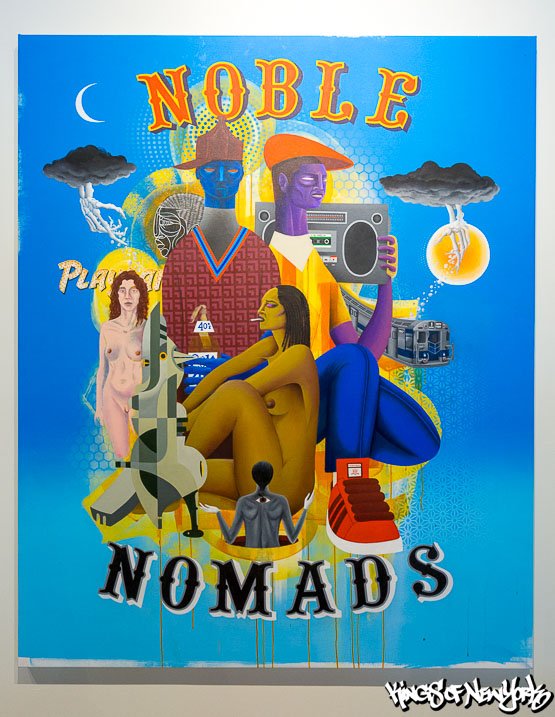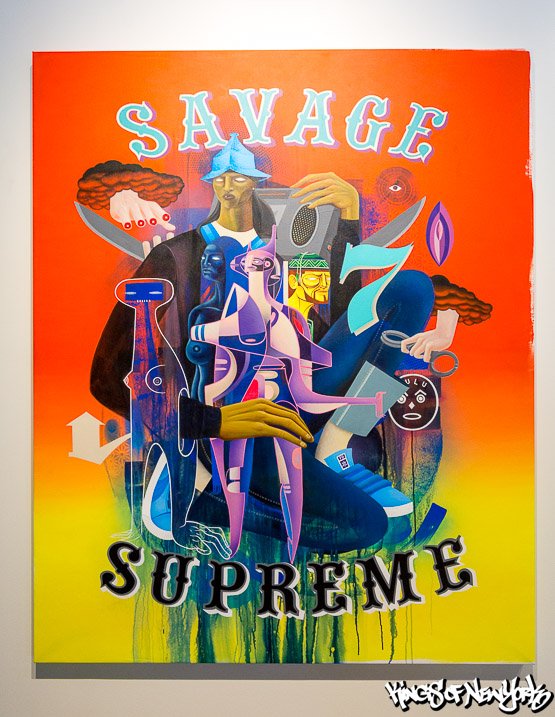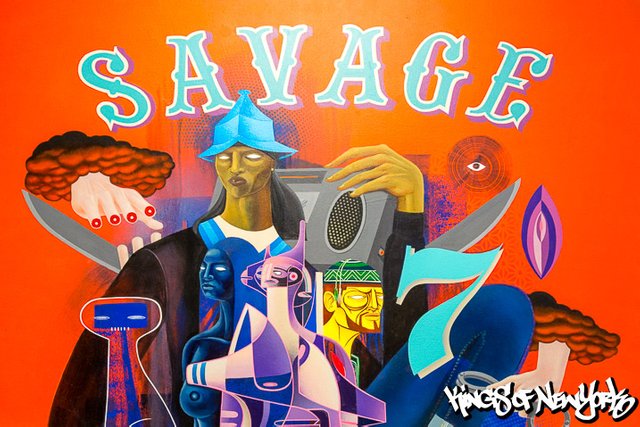 At this point in his art career I wouldn't be surprised if his canvases are going for $60,000 now!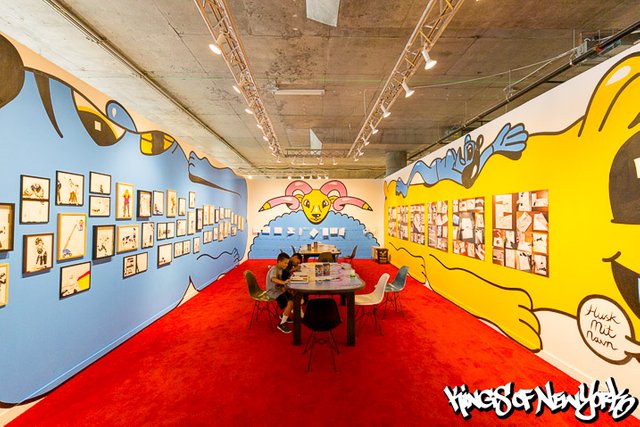 Another nice touch was this room where children can sketch...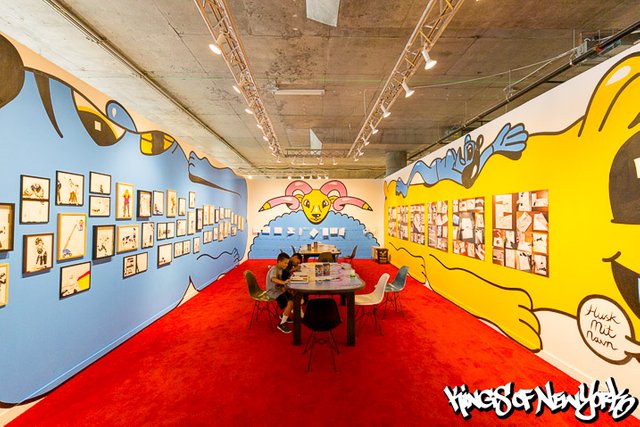 One thing I didn't mention was that there are 2 floors there! Off to the 6th floor we go...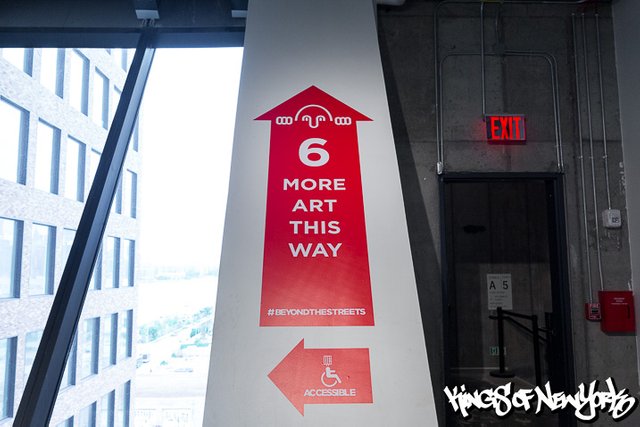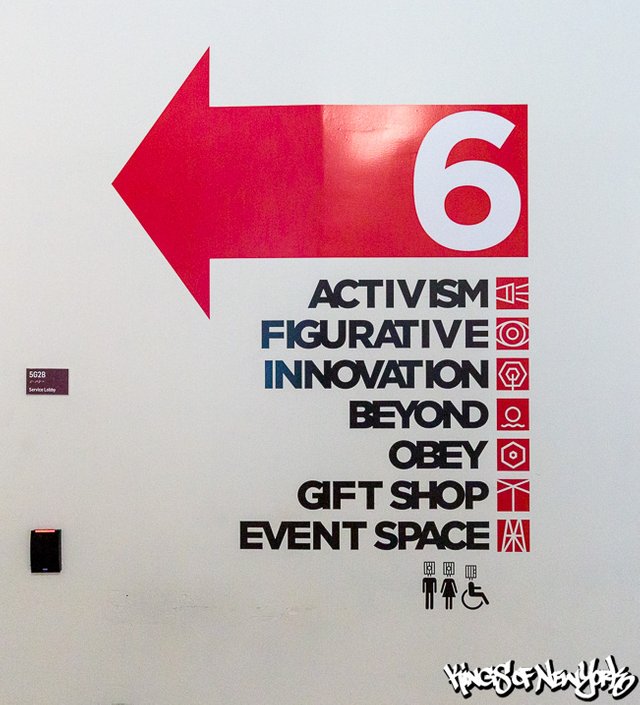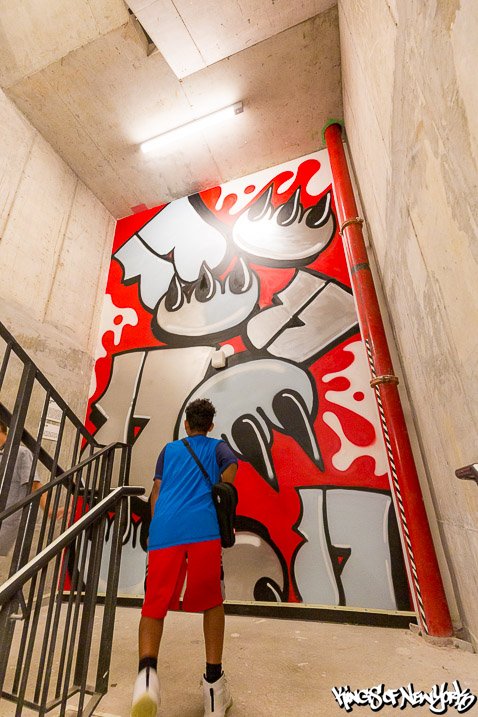 Now when it comes to graffiti art - I'm a New York snob. The art has to be really phenomenal for me to appreciate it. With that being said I wasn't crazy about the second floor as things got political and modern artsy...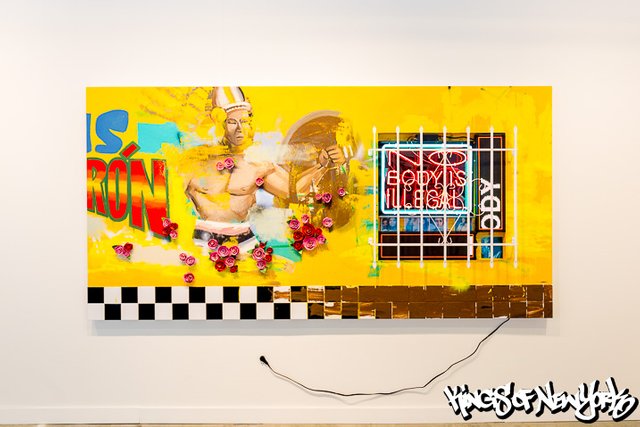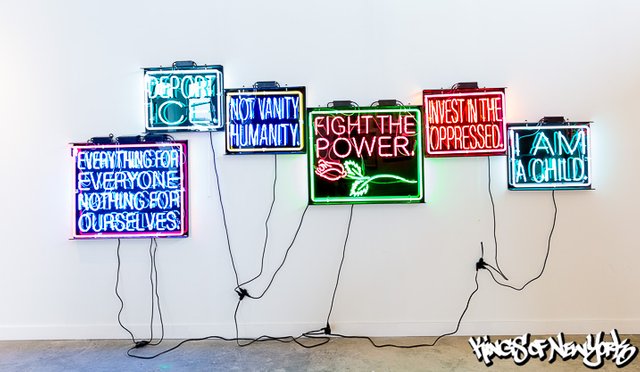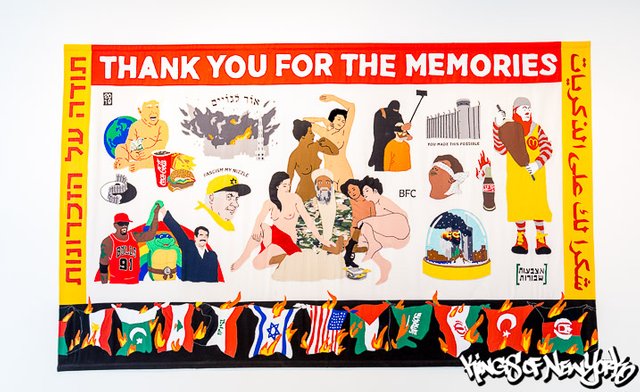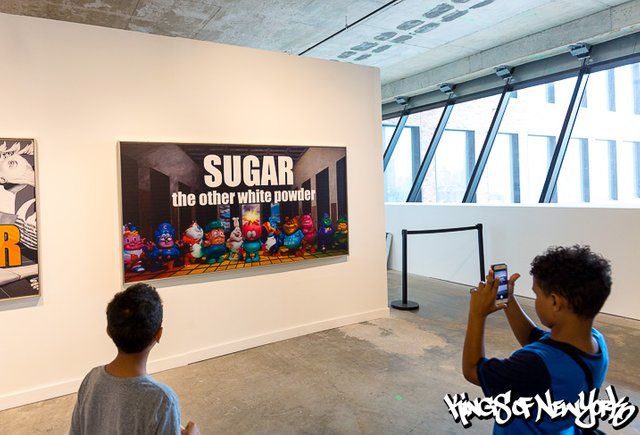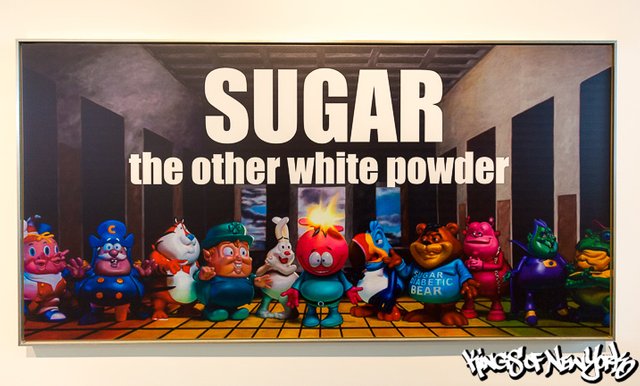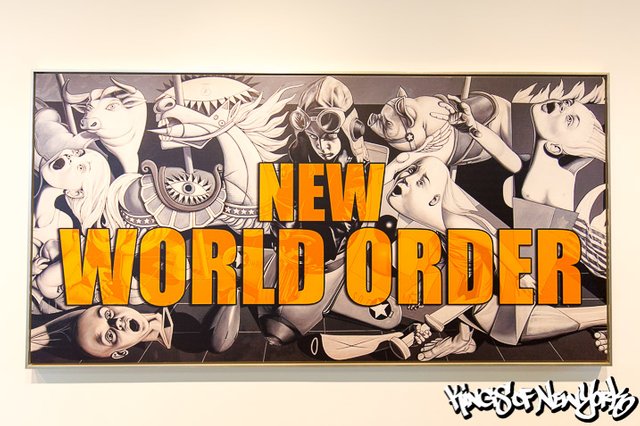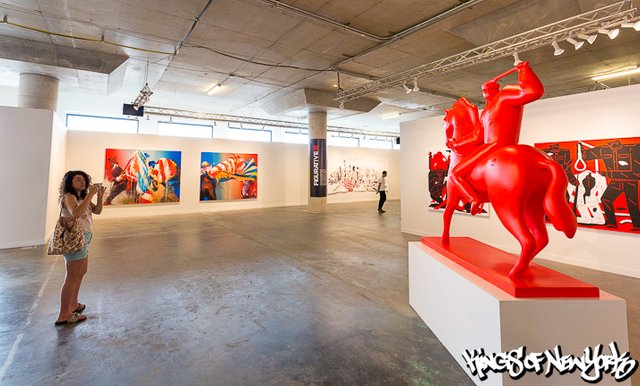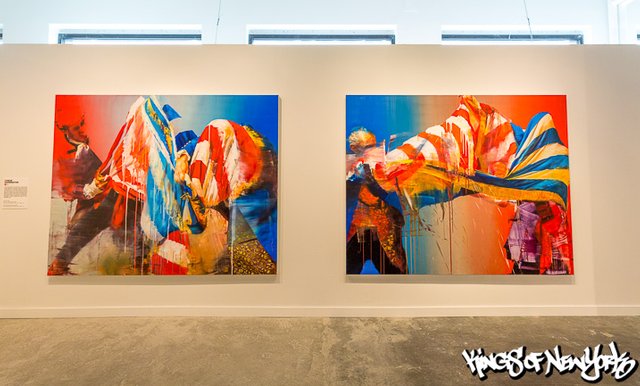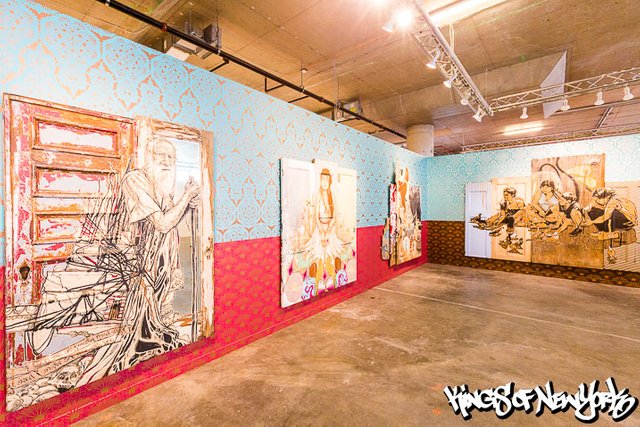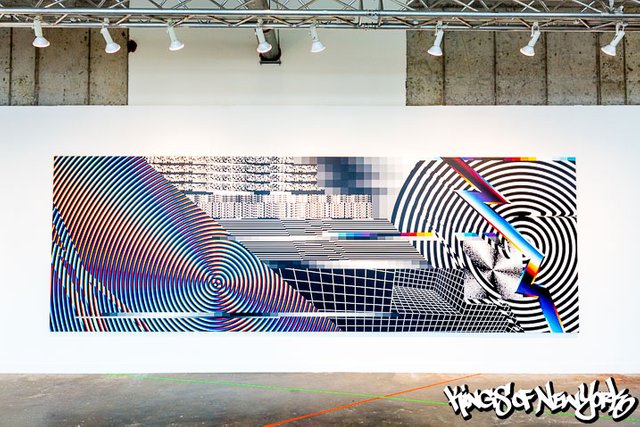 ...but I was pleasantly surprised that they gave Shepard Fairey aka OBEY GIANT practically an entire wing!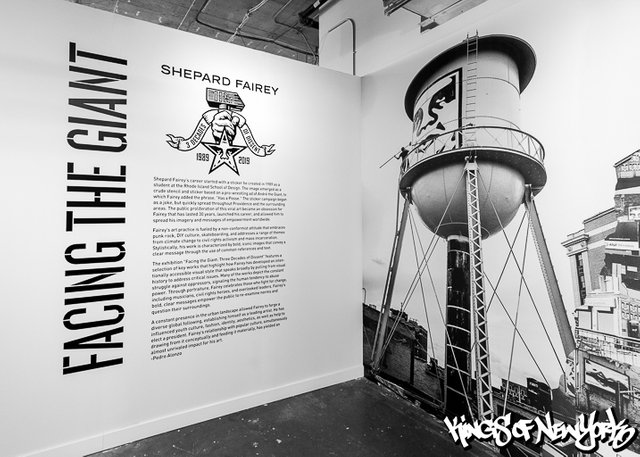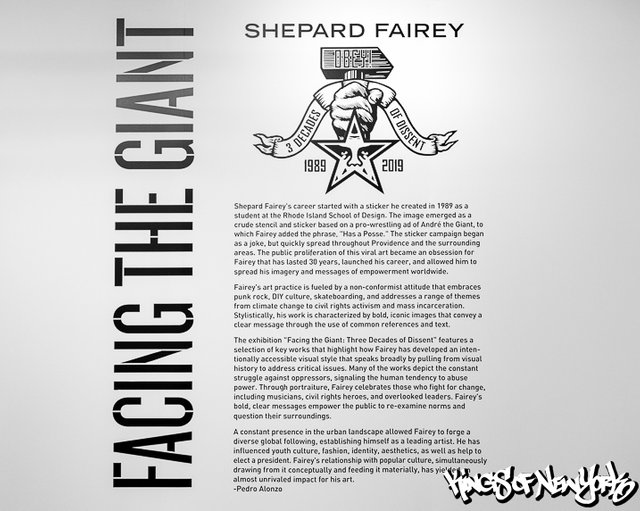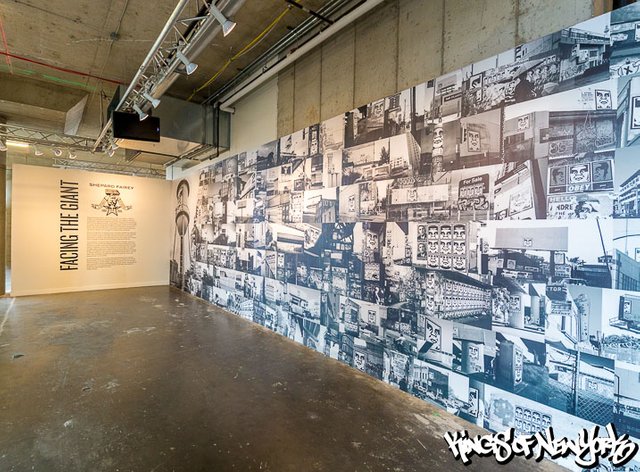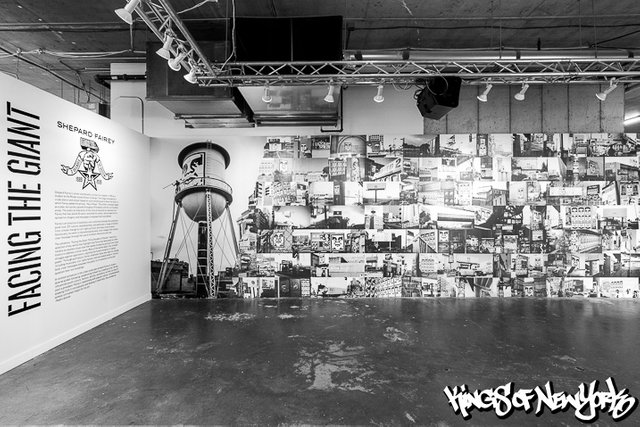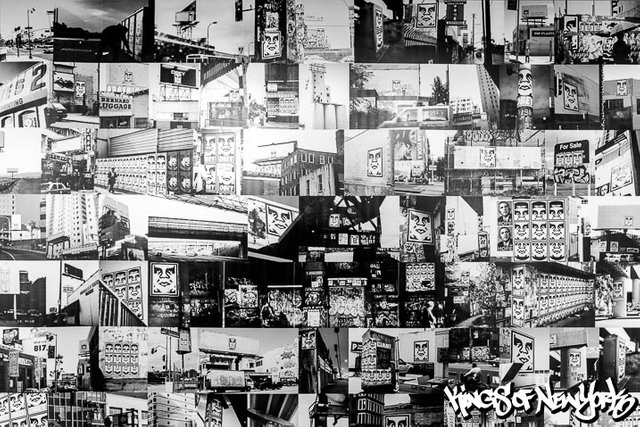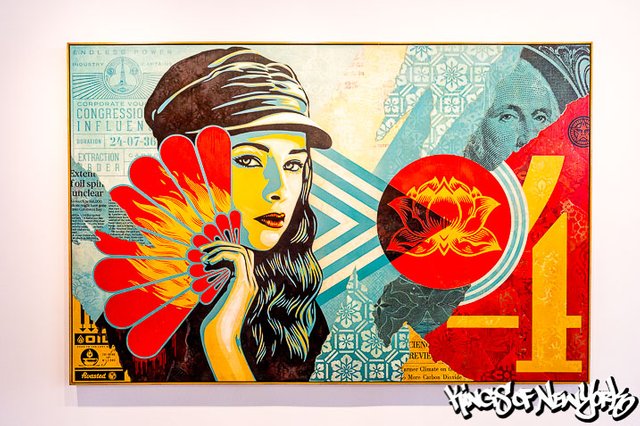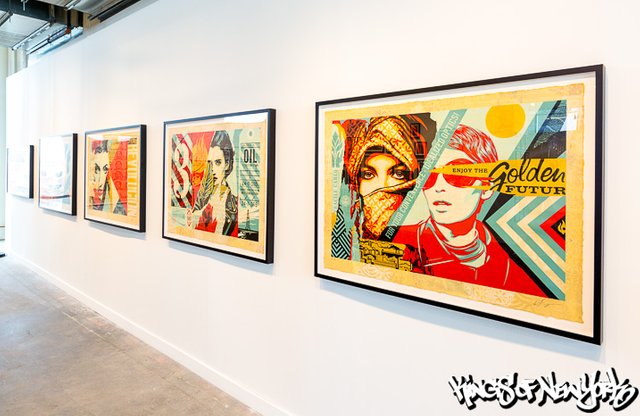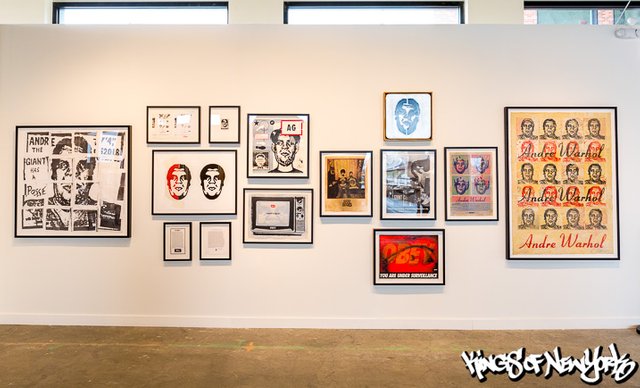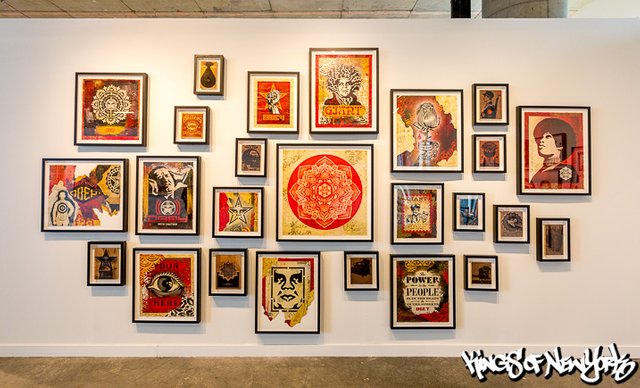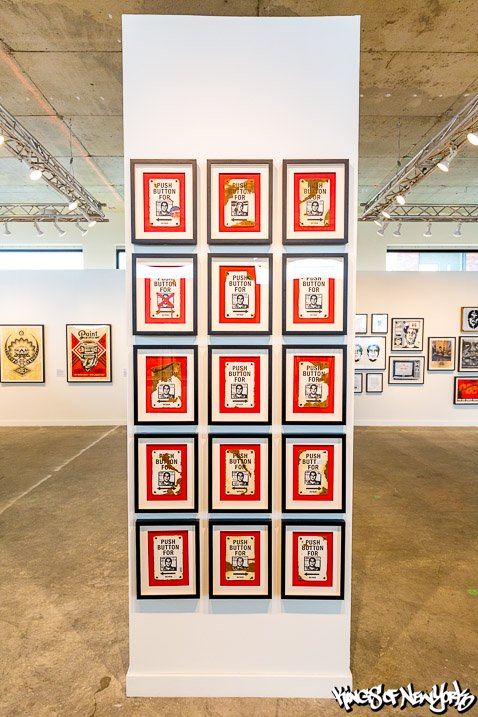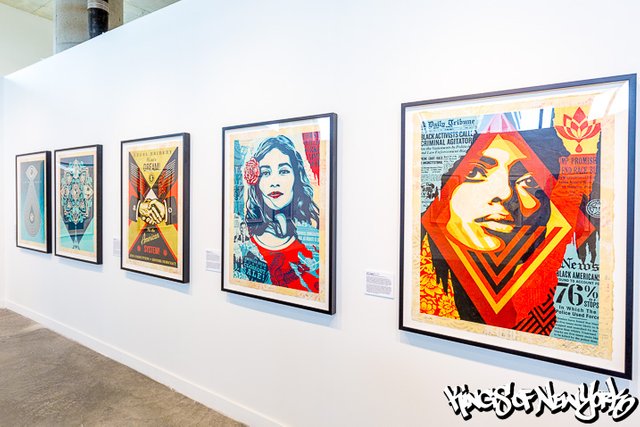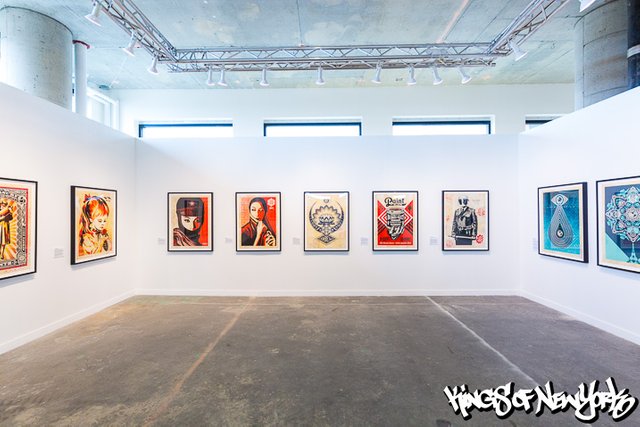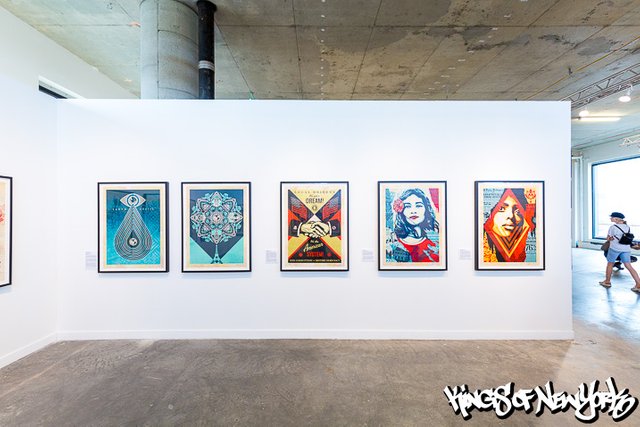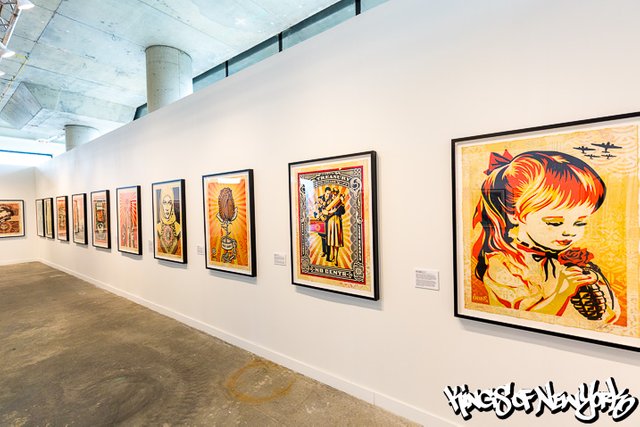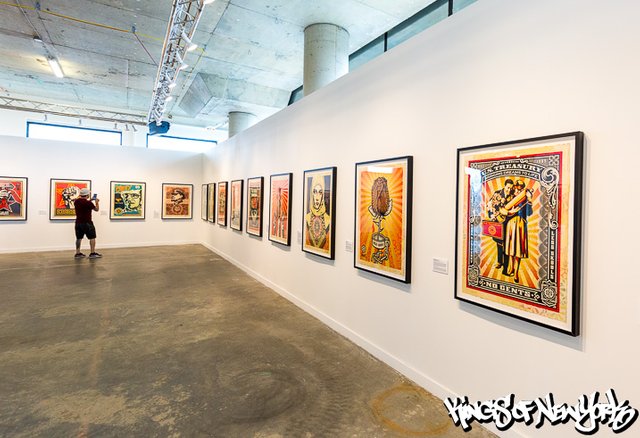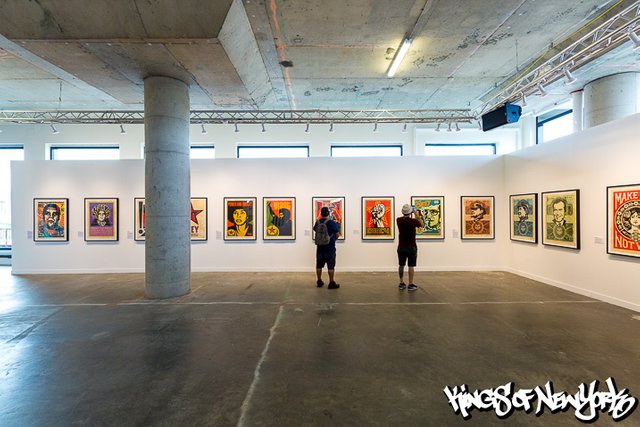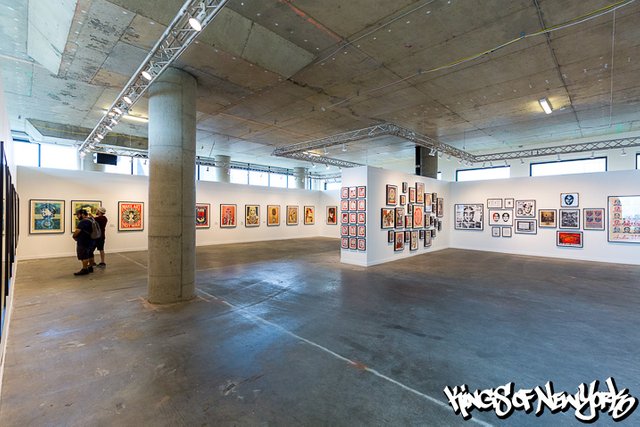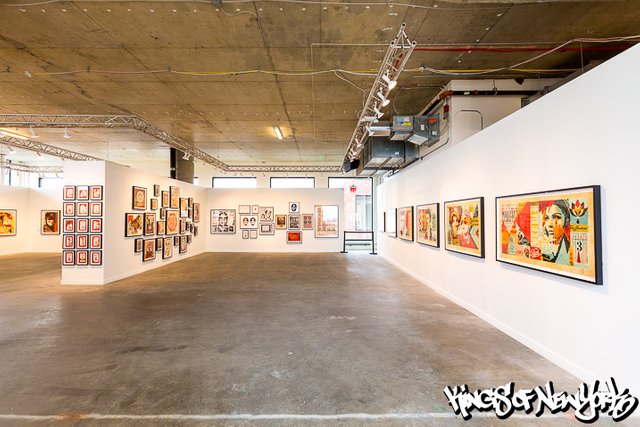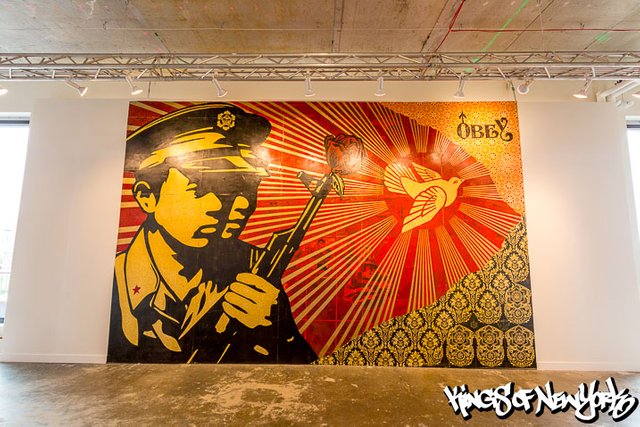 Sometimes you have to separate the art from the artists as unfortunately some of my graffiti heroes can be really arrogant and jerks. But Shepard Fairey is one of the kindest and most humble artists you can meet and this installation was well deserved!
Another quick tip I can give you - is to notice what's going in with your background. Moving a few feet you can hide people from your photos.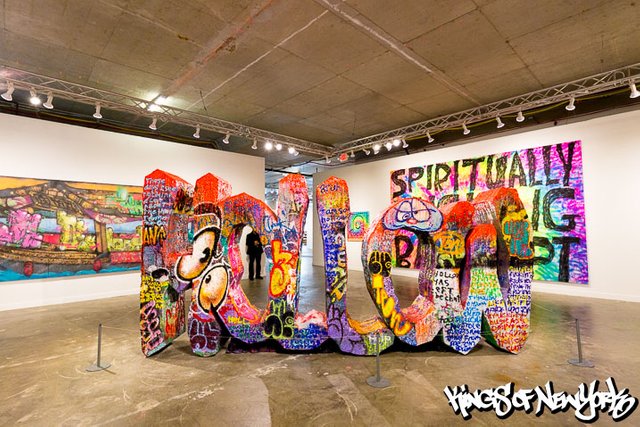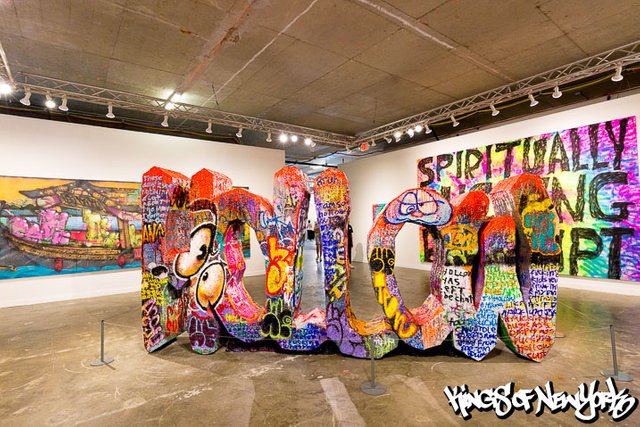 Since the curators did such a phenomenal job and I was nearing the end, I started thinking about artists that weren't showcased. One of them being CES aka Wish4. When I saw his artwork I was really happy for him!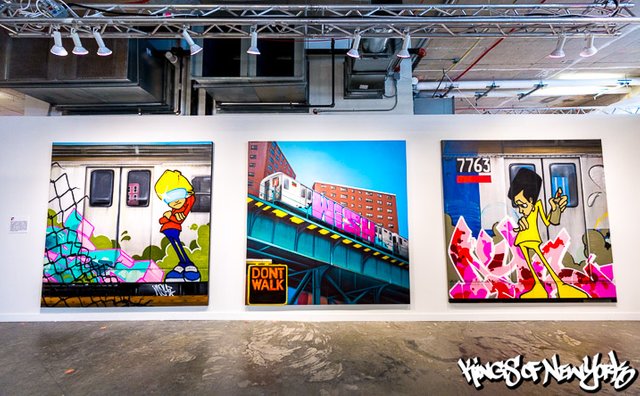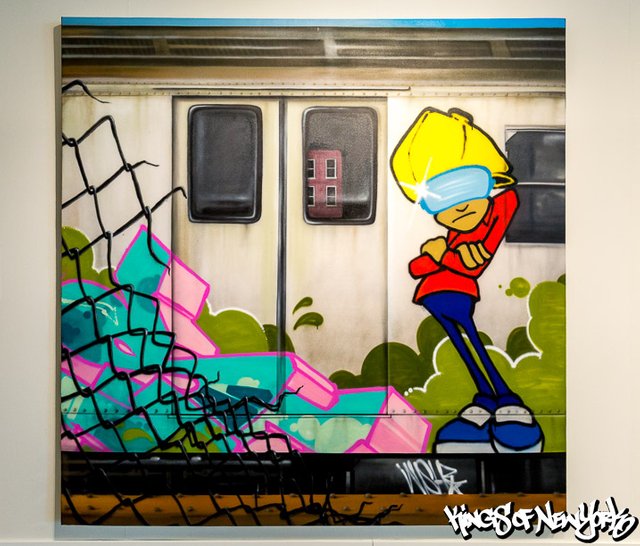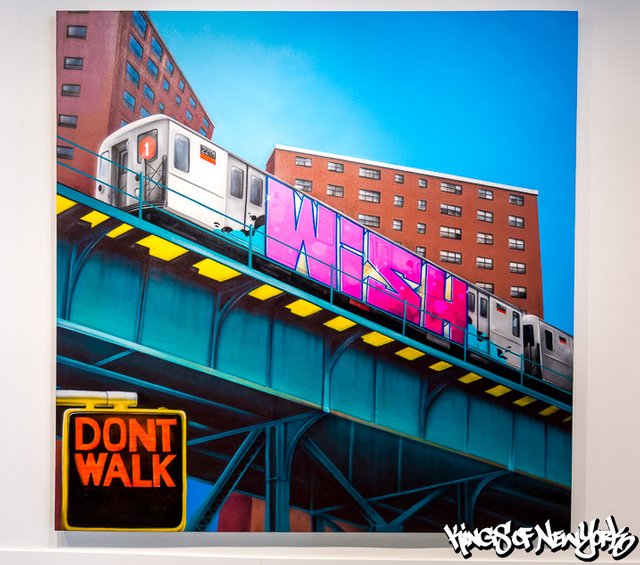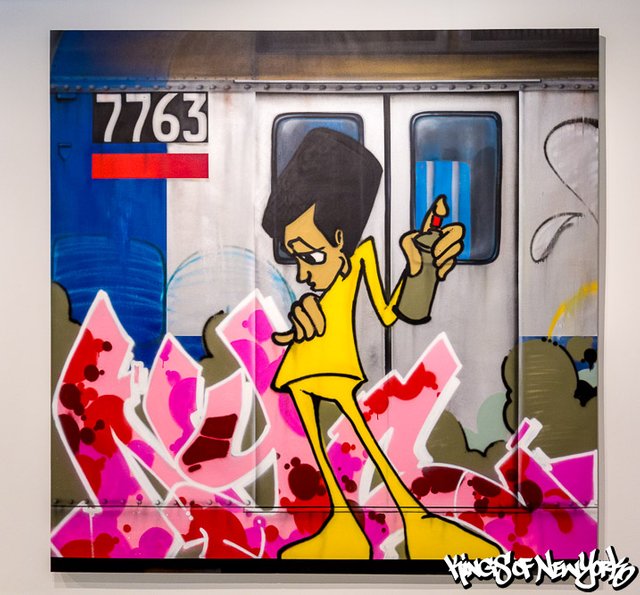 Now there were a few artists that "should have" or "could have" been featured but there are A LOT of politics between artists. Many as they've gotten older and wiser and they've squashed their beef and matured. But let's just say some people haven't gotten there.
I asked a staff member about one writer in particular and I was told they were banned from attending due to conflict with other writers. I'm not going to name names as I'm not about that so lets exit through the gift shop...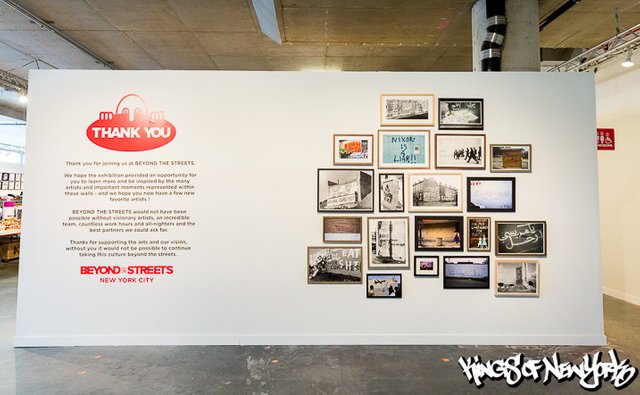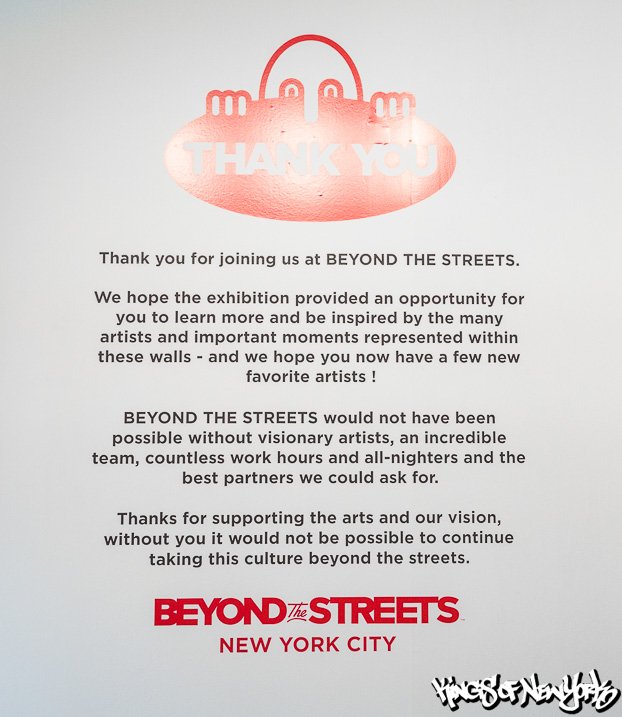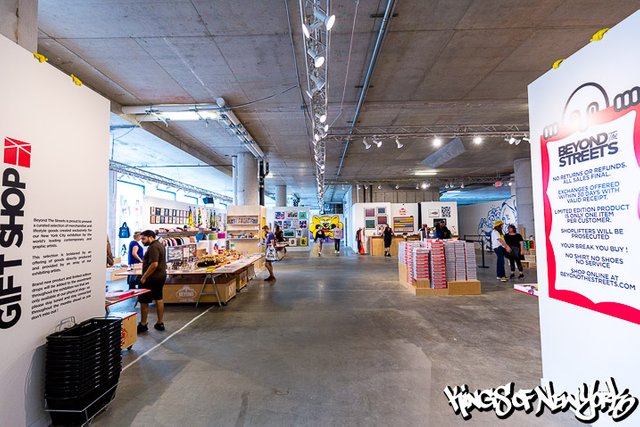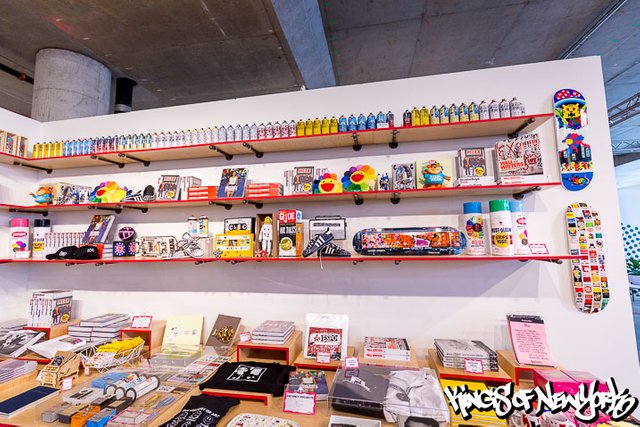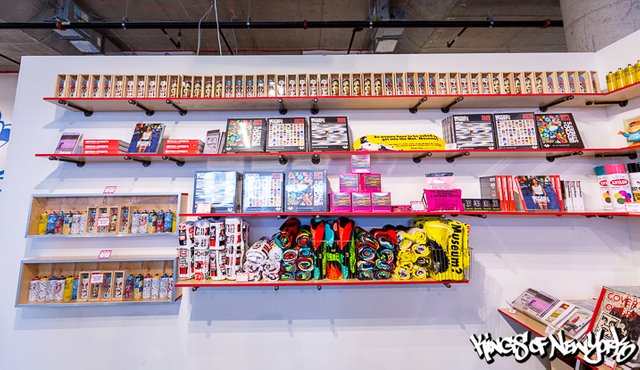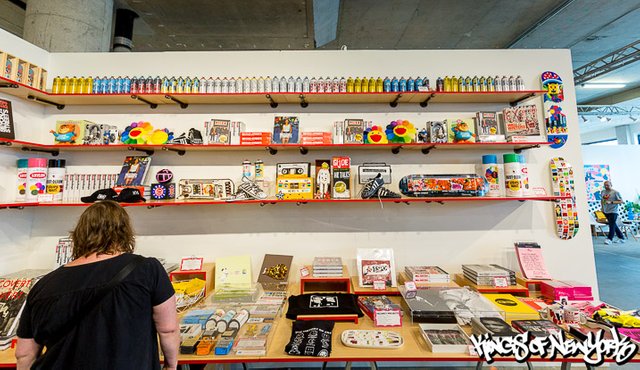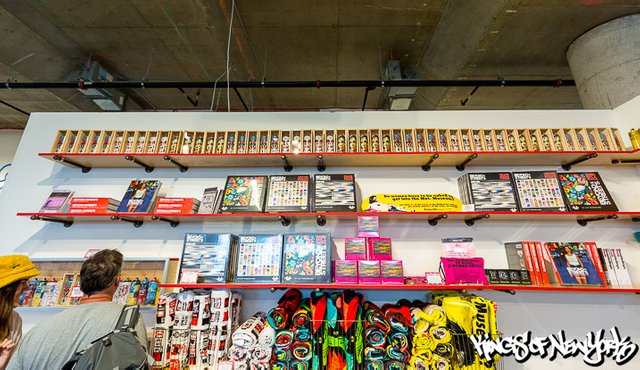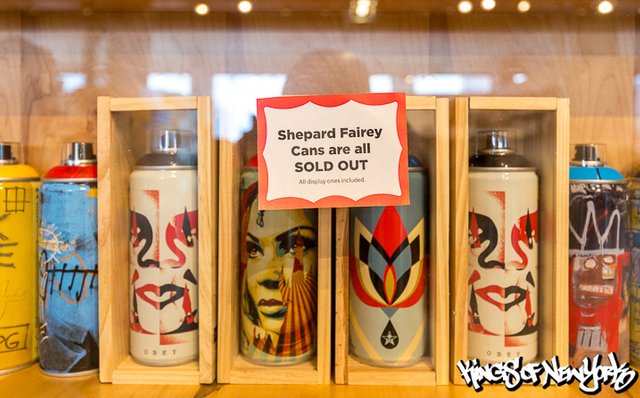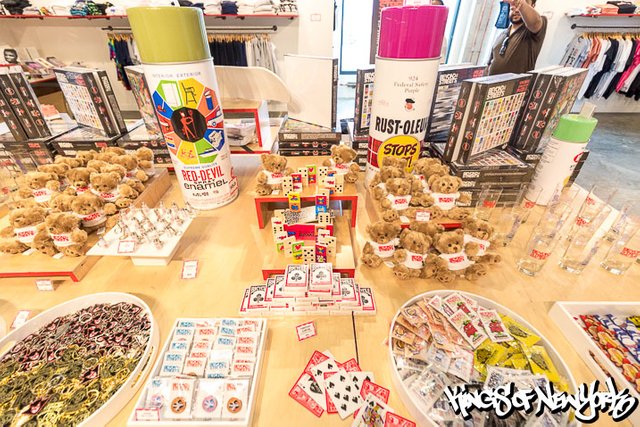 I must say there was a lot of cool merchandise for sale and it was overwhelming. They had everything from skateboards, keychains, stickers, shirts, official books printed, spray cans and even trading cards. Many of these goods are sure to be collectables!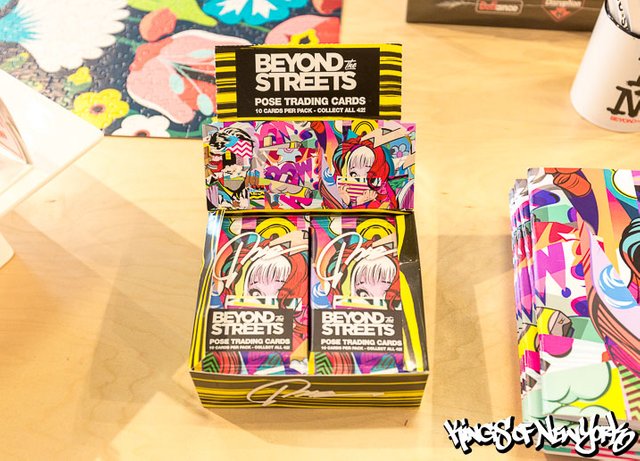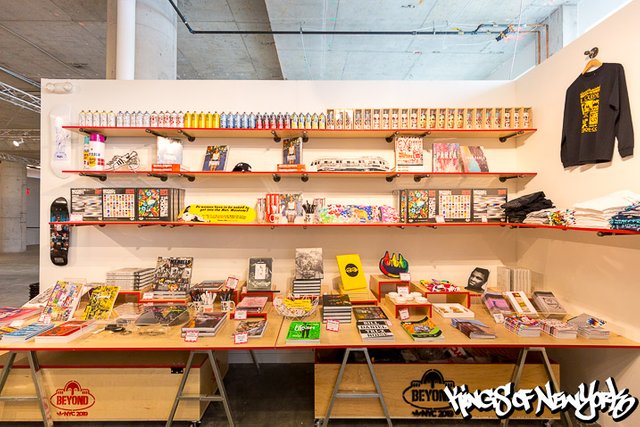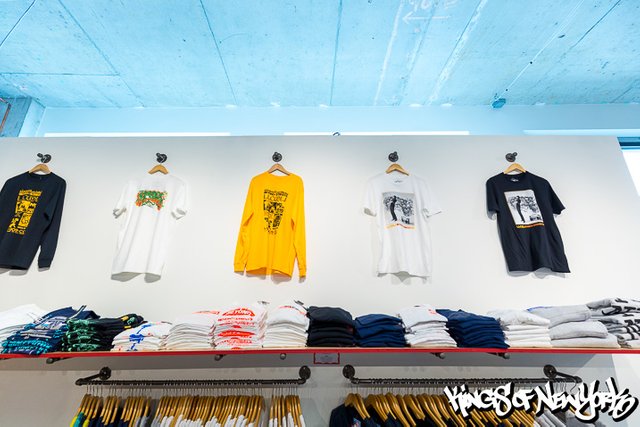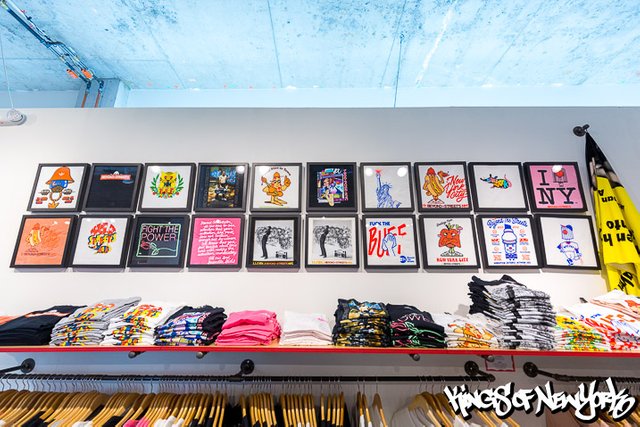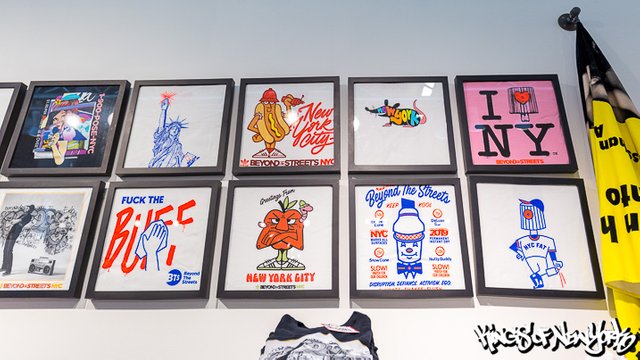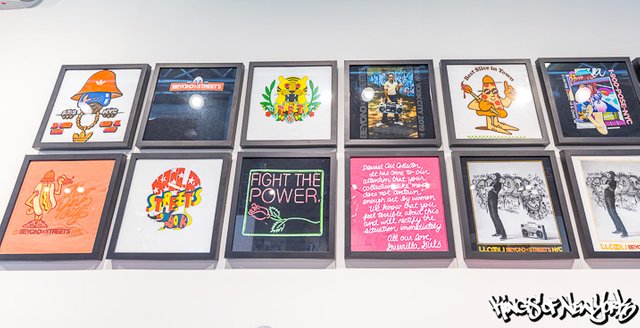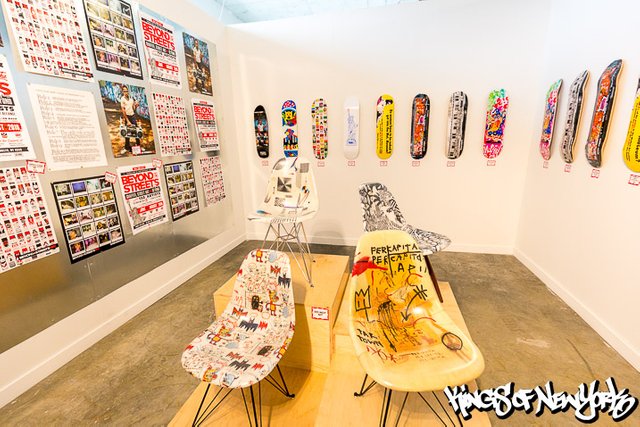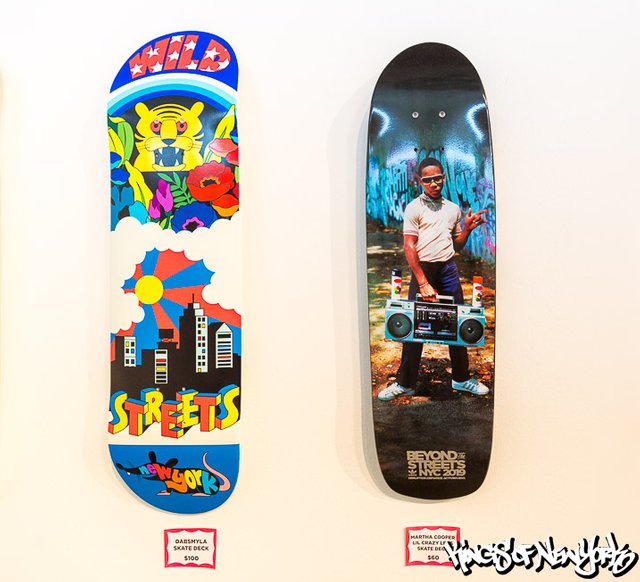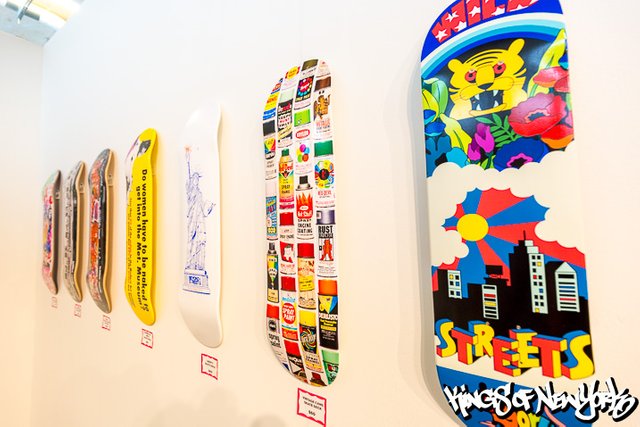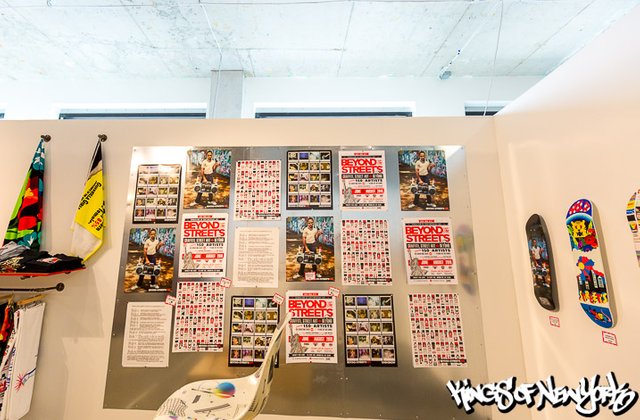 SALUTE!
A big salute and thank you goes out to the organizers and curators that put this show together! I can't imagine the amount of work it took. I know it was a massive undertaking and your collective efforts showed in the final product.
Everything was first class and I can't praise you guys (and gals) enough!
The show is running through August 25, 2019 and if you happen to be anywhere near or in New York City I encourage you to go. For more information and to get tickets click here: https://beyondthestreets.com/
ON A FINAL NOTE
You may be wondering what the Kings of New York watermark is on the images is about. Well after a 5 year hiatus I've decided to bring the Kings of New York site back! I still have to start a new website; but for now you can consider this the first official post I put out there.
I'm going to write a separate blog post on why in the near future - but I have to get back to babysitting my nephews as I only have a few days left with them.
Have a good weekend everyone - PEACE!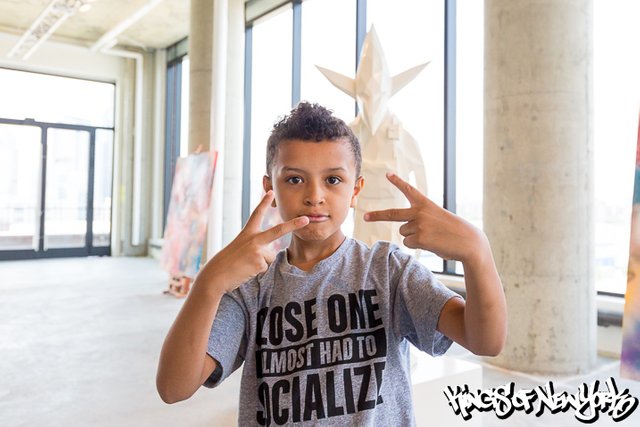 PS
Thanks to BG 183 for letting me know about this and congrats on getting TATS Cru featured at the exhibit!
PSS
Here are 2 videos I filmed for Kings of New York featuring BG 183...