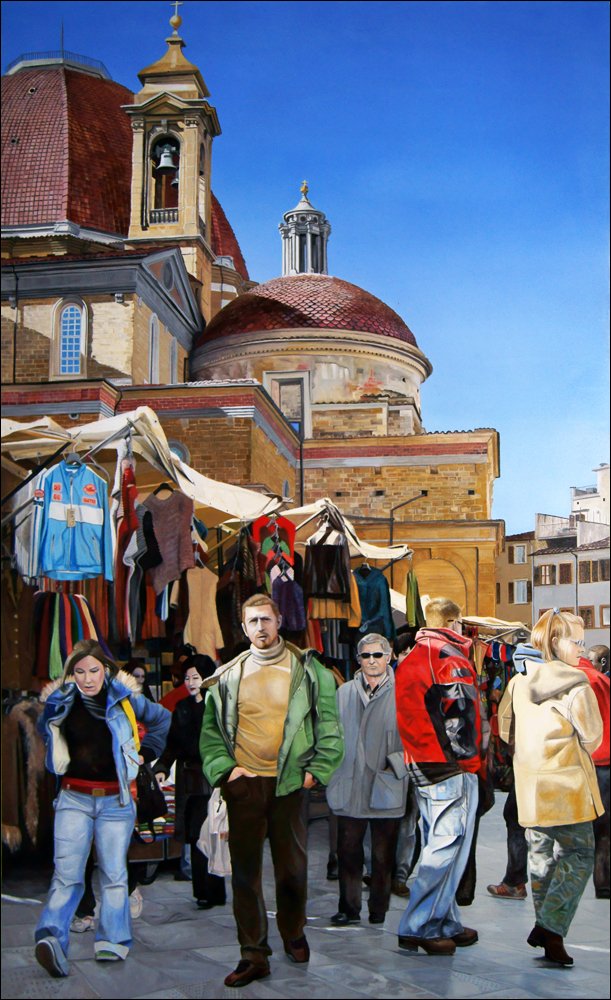 "Mercato di San Lorenzo" Oil on Canvas - 110cm x 180cm ©️Matthew Holden Bates, All Rights Reserved
Some of my paintings are more epic than others. This painting, which I made in 2006, is a very large subject, and has been a feature in my living room ever since it was finished. The dome of the church is so high I had to get on a ladder to paint it. The sky was made by masking out the buildings and airbrushing with oil paint the entire upper right hand side. I rarely use an airbrush in my work, I loved it for a time, but I have learned that most effects that you can get with an airbrush you can get with normal painting techniques. The airbrush is great for skies because it evenly coats everything and it is easy to make gradations just by changing the color of the paint. I say use everything that you can to get the results you want, even if it takes a long time and an enormous effort.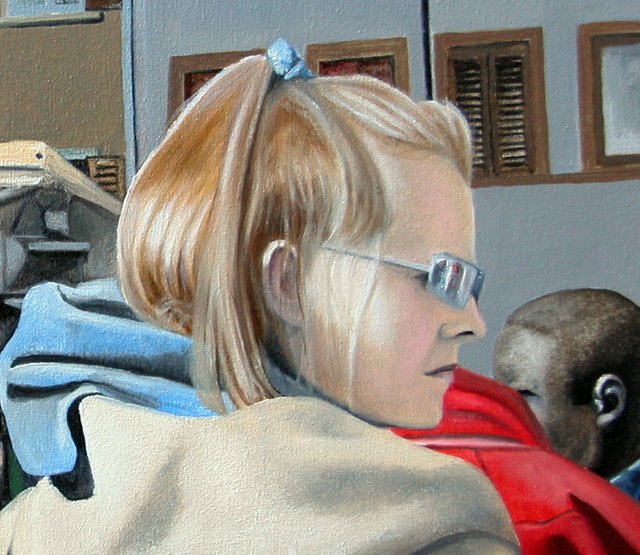 "Mercato di San Lorenzo" detail
There are many people in this painting, each one with their own personality and motivations. I found that working so big it was easier to capture their essence. Of course, these people are not portraiture. I often make modifications to allow for a bit of fictional drama to immerge. Many times I am asked, "but what if someone recognizes themselves in your painting?" and I respond, well, it isn't them because I made the people in my painting to look how I wanted them to be. It is a type of realism that doesn't get too hung up on appearances, this is not photorealism, it takes it farther into the metaphysical realm, a place between real and made up.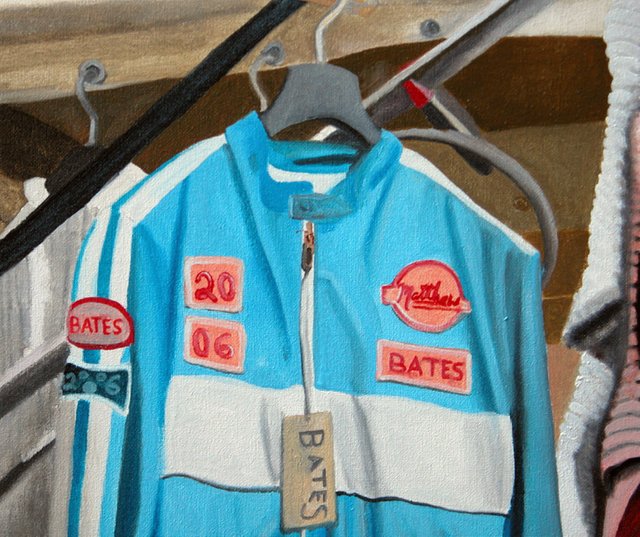 "Mercato di San Lorenzo" detail
If you look closely at this detail you can see that I found a fun way to sign the painting. I was able to manipulate the logo on the jacket adding my name, and even adding the date as well. I love this kind of intrusion into the design, instead of signing over the painting, my signature is part of the painting in an un obtrusive way, almost unnoticeable. It is these kind of Easter Eggs that make the painting lighter, and less serious, while maintaining the theme and overall design.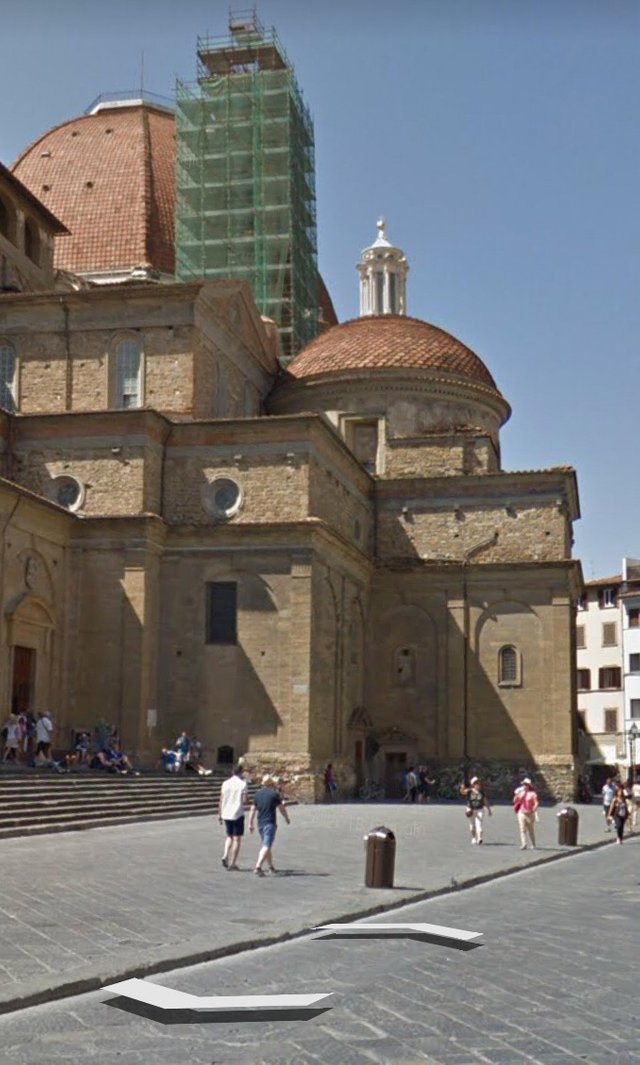 ©️Google Earth
Since I finished this painting in 2006, Firenze has already changed. This photo, taken from Google Earth, shows that the market is no longer there, and the tower is covered in scaffolding, (for years now). That makes my painting a part of Florence's history. Strange to think that in a city heaped in its own culture with a history that goes back millenium, that one of my paintings would actually show something that is no longer there.
Thanks for stopping by, I am really happy to share my art with you. Resteems and likes are always appreciated, if you like my artwork, feel free to follow me on Steemit @matteopaints and visit my website at http://www.mattbates.net
Limited edition prints are also available at Curioos: https://www.curioos.com/mattbates
I look forward to reading your comments!