Hello mortals!! HO HO HO!! Merry christmas folks! How are ya today? Excited? I hope so, Here Malu-sama reporting for the last time in this year with a drawing full of christmas vibes!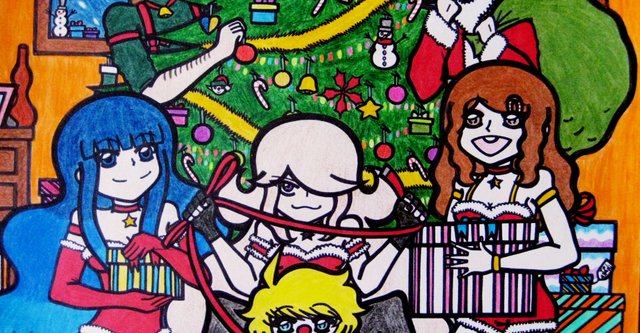 Tonight, Imma show ya two things, this brand new drawing that I made specially for this day but also, a drawings summary of 2018 (only serious drawings 'cause doodles are like millions HAHAHA).
(I'm reporting the end of the year from Venezuela, so, if you're in 2019 already or if its still morning in your place, it's not my problem. HAHAHA, Just kidding, enjoy christmas anyway)

(I highly recommend to listen to the music posted here to get in the mood, if you don't want to, it's ok :'I)
Anyway! The year's about to end so I guess it's my duty to say some uh... encouraging words to uh... make my followers feel uh... Special, right? Yeah...
First of all, I wanna thank @celosia for her colors haha, hope u come back soon. I wanna thank all of you guys for all your support, all your votes, your comments and all, I discovered steemit this year and I have to say that it has been amazing, I discovered so many talented artists which I pretend to keep supporting and voting because their art is awesome (some of them are @veryspider, @scrawly, @luki38o, @napa... Keep on guys, you're amazing haha :'v)

But of course! Because I'm really bad at this... Let's go now with the piece of art.
Sketch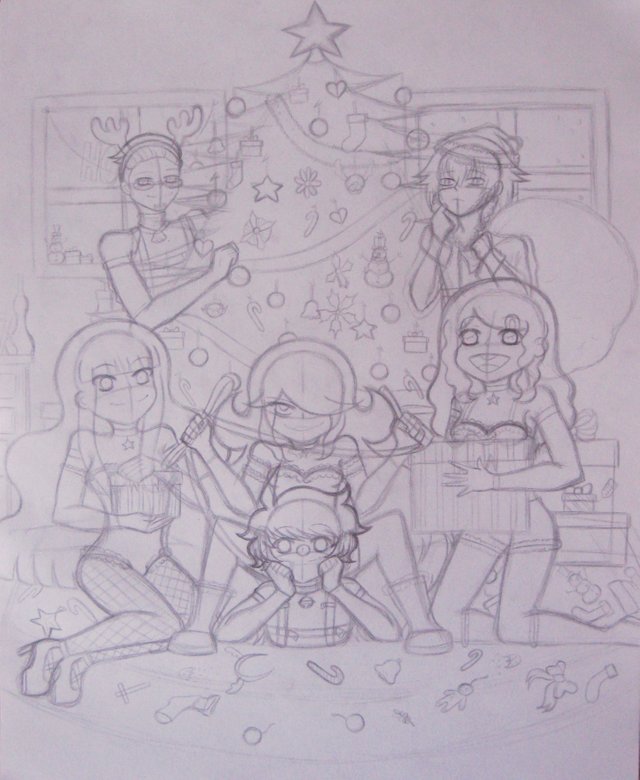 Lineart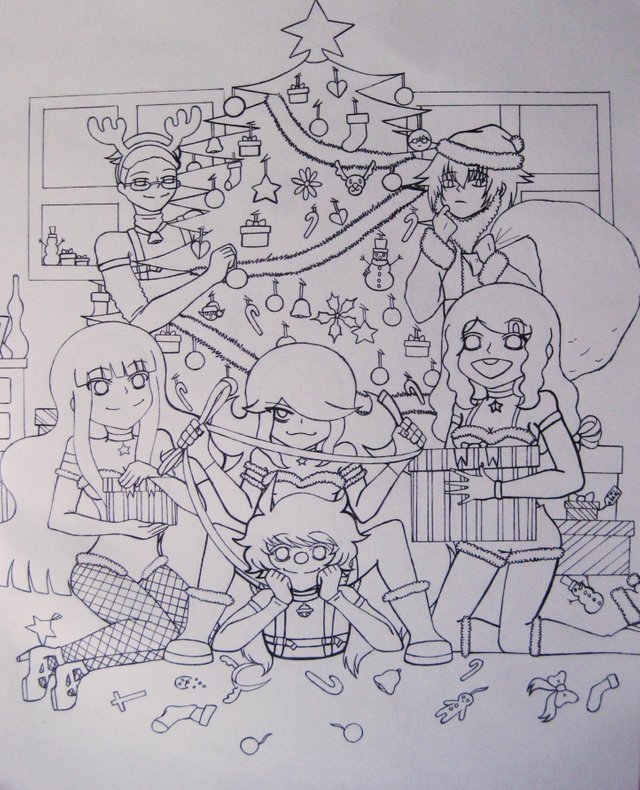 Final result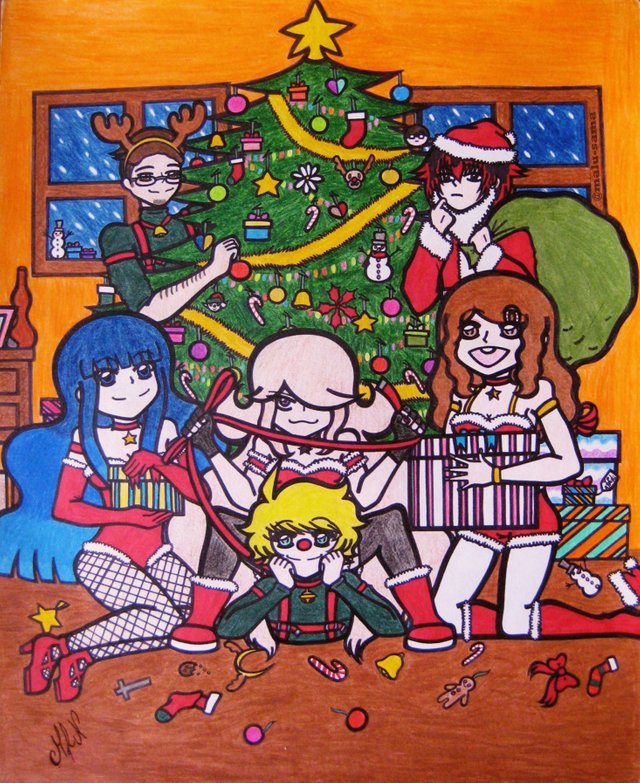 (Look at how bad I am drawing stars HAHAHA)
Here's a gif showing a more detailed drawing process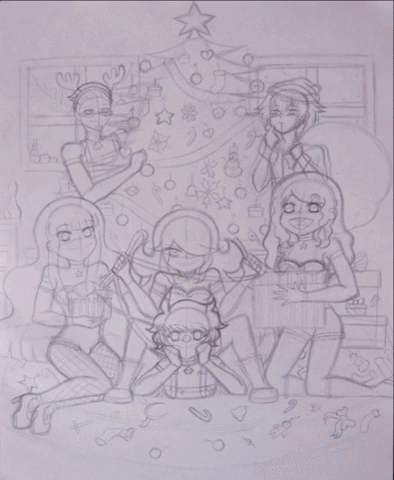 The whole Emulovich staff wishes you a Merry Christmas and a Happy new year!!
(Emulovich is the name of the story were this characters participate)

But hey! We haven't finished. All the staff wants to say some words for ya kids, words that they want YOU to keep in mind for this new year full of surprises (it isn't like I obligated them to say something haha... Of course not). Anyway, here we go!
Ayari: Um... Well... All I want to say is: please take care of yourself. Analyse yourself and your mental health and if there's something wrong, something that you know you must change... Please, please fight 'til you change it. Don't give up and don't hurt yourself ok? not physically nor mentally alright? Your body is important. You are important. Don't forget it ok?
Kera: Hey. You. Yes. You. Stay strong. Stop being a crybaby. Life is hard. It hits hard, but when it does what's our duty? Hit twice as hard. Fight 'til we die. So stop feeling sorry about yourself and stand the fuck up alright? I don't want any cowards following my creator. So keep that in mind. I'm watching you.
Haruka: Hello darling!! How is it going?? Having a happy night? 'Cause I am!! Ok! Advice time! Take care of your body but don't cross the limit ok? Your health is important honey! Love yourself and rock the house baby! OH! I almost forgot: don't forget to be happy! take a glass of orange juice and move all those negative thoughts away sweetheart! ok? bye bye! love ya!!
Tadashi: Oh. Well I... What can I say? I know you're strong and that it seems like you can do so many things at the same time and that you look so perfect and all- but please, remember that you don't have to keep everything to yourself. We all need a friend. We all need help sometimes. Don't carry everything on your own ok? It could get dangerous and all those thoughts could hurt you. Please remember my words, hope they help... bye bye.
Momo: HO HO HO My friend!! Welly well, all that I can say to you is... Stop fighting!! Even when you know that you're in the wrong path why do you keep fighting? Aren't you tired? What about some recognition of our mistakes? What about reconciliation? What about love? That's what we need! Support! Joy! Happiness! Love! We were born to love and to be loved... SO DON'T FORGET IT OK? I'm kinda passed of sugar so I gotta go... See ya around!!
Takayashi: Hello. My name is Takayashi. This is my first time on a post like this. Bet you guys haven't seen me before, have you? Anyway... Yes. I'm the one with the reindeer headband, it's kinda embarrassing but... All that I want to say is... Stay as you are ok? You're perfect the way you are. Love yourself and take care alright? Have a nice year.
Suit yourself with the one that you like the most.

Anyway, now that we have that cursi shit out of the way... It's time to show ya te summary!!
Starting with the cool guns, here are the most cool drawings that I made this year!!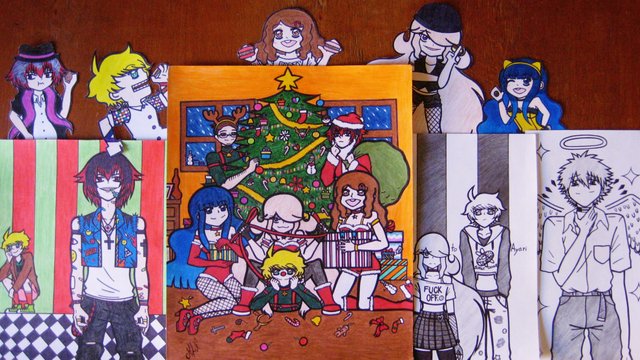 Honorable mentions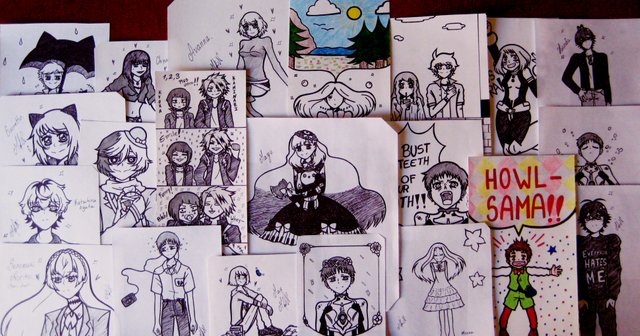 I must say that this year has been one of my best years. My drawing has improved so much that I'm shocked HAHAHA (Maybe it's because of the colors. Probably). I'm really glad with my recent results and I hope I can keep improving and showing you my drawings next year.
Anyway! This is all for now. If u liked it you can leave your vote or a comment telling me how much u liked it or how much u hated it.
By the way, I'm active on twitter now! Follow me, I'll be posting my art there too.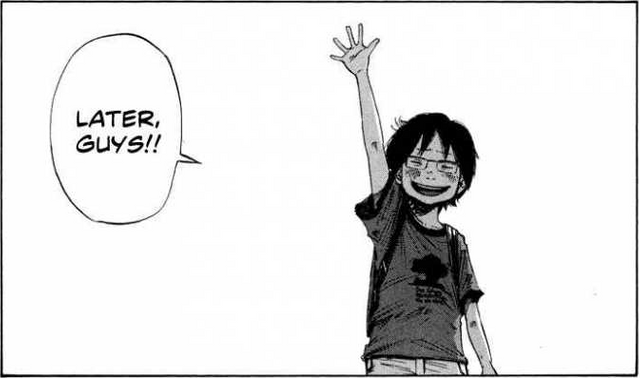 All rights reserved @malu-sama