One of my favorite modern artists in the world is Diego Rivera. Not only was he a talented and passionate artist, but his art made you think about the social issues of his time, something painfully lacking in many contemporary artists today.
He regarded artists who made paintings to hang in museums as "elitist art", only accessible to those who could afford to pay the entry fee of museums. For this reason, he preferred to paint murals in public spaces making it accessible to all and chose topics that common people could relate to.
Rivera made the painting of murals his primary method, appreciating the large scale and public accessibility—the opposite of what he regarded as the elitist character of paintings in galleries and museums. Rivera used the walls of universities and other public buildings throughout Mexico and the United States as his canvas, creating an extraordinary body of work that revived interest in the mural as an art form and helped reinvent the concept of public art in the U.S. by paving the way for the Federal Art Program of the 1930s. source
His work can be found throughout the world but the bulk of it is scattered like Easter eggs in public spaces in Mexico City. Searching for it felt like going on a treasure hunt for masterpieces. I spent days just sitting there in awe and as his passion poured off the walls it spoke to me on a humanitarian level so profound it evoked a feeling of knowing him personally. As I walked around those murals I imagined walking in his footsteps and could see him in my mind's eye applying the paint that created his vision.
Here's a video I took of some of his murals in Mexico City.
Diego Rivera Murals In Mexico City
"Looking back upon my work today, I think the best I have done grew out of things deeply felt, the worst from a pride in mere talent." - Diego Rivera
The sheer scale of his work echoed his larger-than-life character and fearlessness in portraying revolutionary social issues of his time in his work, which famously hit a nerve in 1932 when industrialist tycoon John D. Rockefeller Jr. commissioned Rivera to do a mural in the middle of Manhattan's Rockefeller Center. The piece, titled "Man at the Crossroads" was so politically charged that Rockefeller, after paying the legendary artist for his work, had the mural chiseled off the wall. Political correctness, it seems, has always been a part of our culture and it's certainly nothing new.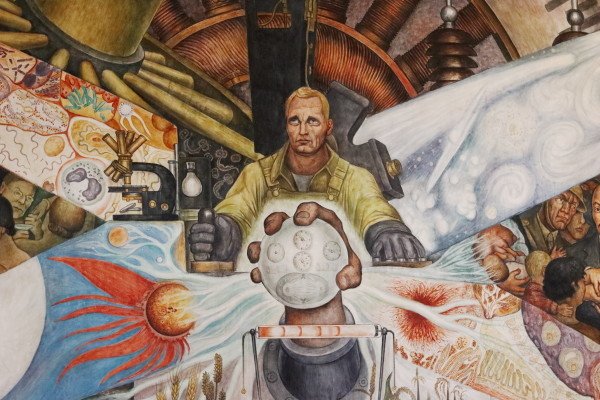 | | |
| --- | --- |
| Mural | Man at the Crossroads |
| Artist | Diego Rivera |
| Settings | 1/250sec, F/2.8, ISO-6400 |
| Camera | Canon EOS T7i/800D |
| Lens | EF50mm F1.8 SMT |
| Location | Palace of Fine Arts, Mexico City |
"An artist is above all a human being, profoundly human to the core. If the artist can't feel everything that humanity feels, if the artist isn't capable of loving until he forgets himself and sacrifices himself if necessary, if he won't put down his magic brush and head the fight against the oppressor, then he isn't a great artist." ― Diego Rivera
The tension that has always existed between art and politics reached a crossroads during his life and Rivera tended to push it to the extreme, eliciting the wrath of the elite who were challenged by his art while gathering praise from the common folk who he flattered in his work.
The rich and powerful lean towards controlling cultures and while they recognized his talent, they much preferred he stuck to painting beautiful flowers rather than challenging the status quo with images of social subjugation of the weak by the powerful. Rivera, and artists like him of the era, quickly lost support from wealthy patrons who began buying art of a new genre called abstract art which, while beautiful, doesn't make one think of politically relevant issues at all.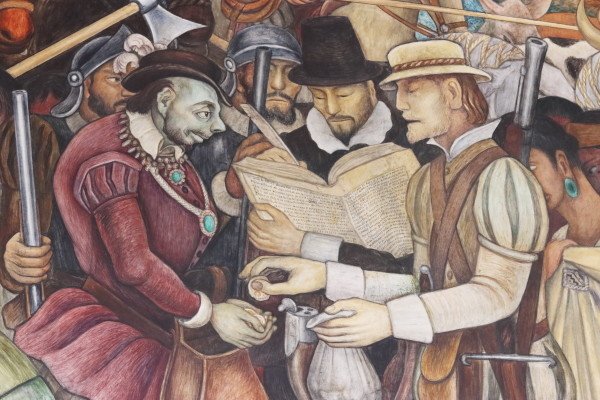 | | |
| --- | --- |
| Mural | Unknown |
| Artist | Diego Rivera |
| Settings | 1/80sec, F/8, ISO-3200 |
| Camera | Canon EOS T7i/800D |
| Lens | EF50mm F1.8 SMT |
| Location | Secretaría de Educación Pública (SEP), Mexico City |
"Fidelity is a bourgeois virtue and it exists only to exploit people and to obtain an economic gain" ― Diego Rivera
I remember standing in the gallery of the Museum of Modern Art in New York, like a fly on the wall, listening to high-society types droning on about some abstract painting from an artist I can't remember, babbling about how the piece spoke to them of the struggles of depression in the modern era. To me, it just looked like a mess of black and brown paint someone needed to clean up and the only depression I could find in it was the fact that these socially well-to-do people could find any meaning in it at all.
By contrast, Rivera speaks to you through his art loud and clear while leaving plenty of room for multitudes of interpretations for the observer. The piece in New York is what I imagined Riveras' drop cloth looked like while making his masterpieces.
Rivera was an atheist. His mural Dreams of a Sunday in the Alameda depicted Ignacio Ramírez holding a sign which read, "God does not exist". This work caused a furor, but Rivera refused to remove the inscription. The painting was not shown for nine years – until Rivera agreed to remove the inscription. He stated: "To affirm 'God does not exist', I do not have to hide behind Don Ignacio Ramírez; I am an atheist and I consider religions to be a form of collective neurosis source
If you were to calculate the total area his murals covered it would equate to thousands of square meters of canvas making him one of the most prolific artists of his time.
While he did create some paintings on canvas, his murals made him world renowned and revitalized the art form to this day. Murals in the art world, like the street artists of today, are the equivalent to open source in software, making it available to all, and hints to his passion for creating art for art's sake as opposed to attempts to monetize it. For this, he has earned the respect of artists for generations to come. Mexico, rightly so, regards his work as a national treasure and though it is open to the public, no graffiti artist, out of respect, would tag his art.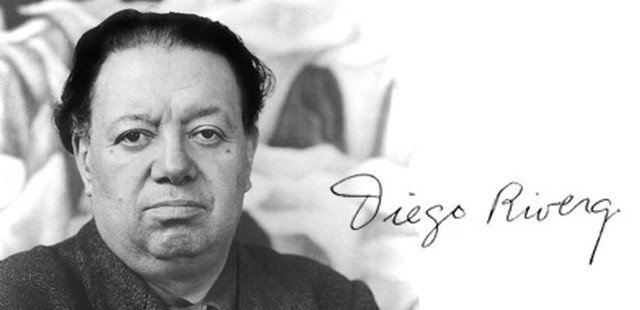 "I've never believed in God, but I believe in Picasso."- Diego Rivera
---