Last week, I went to the Museo Universitario Arte Contemporario in the south side of Mexico City, on the UNAM campus. I went because of this exhibit I kept hearing about, Carlos Amorales causing a scene with butterflies and swear words and death. I went and it was overwhelming and beautiful. There were two large rooms and then some smaller rooms adjoined. The first and biggest room was the butterflies. It was bright, and black paper butterflies were scattered across bright white walls. The ceiling was as high as any ceiling could be, perhaps. In a small corner, an old box television was playing strange images and the song "Pretty Woman." Attached and sort of inside this room were two smaller, darker rooms. One room with gray clothing hanging on the walls to look like bodies hanging. Another pictures with ghost hands sort of painted around them. Then the other bigger room was also bright white covered from floor to ceiling in rectangular drawings on white, stick drawings-ish, and words formed around the figures in the drawings in English and Spanish saying all the disgusting, negative, profane words you could think of.
So there was this balance of dark and light, both in terms of feeling and actual. Black and white everywhere. It was one of my favorite things I've seen in a museum ever. Because it made me think and feel without knowing exactly what I was thinking and feeling, something on the more indescribable side of the things, the dichotomy of life. In each moment there can be so much darkness and light at the same time, and its an incredible thing to be able to portray in a work of art, and exposition of art. I came up with that after I left, discovered that that was what I was feeling and thinking there.
I made a piece for my physiopoetry project Skin on Sundays while I was there, because I had to. Art inside of art.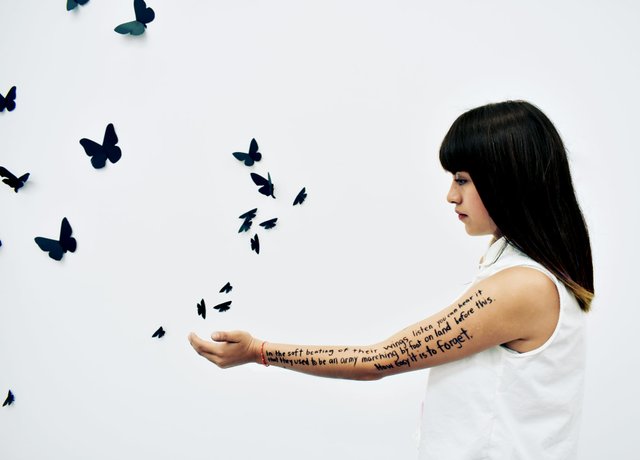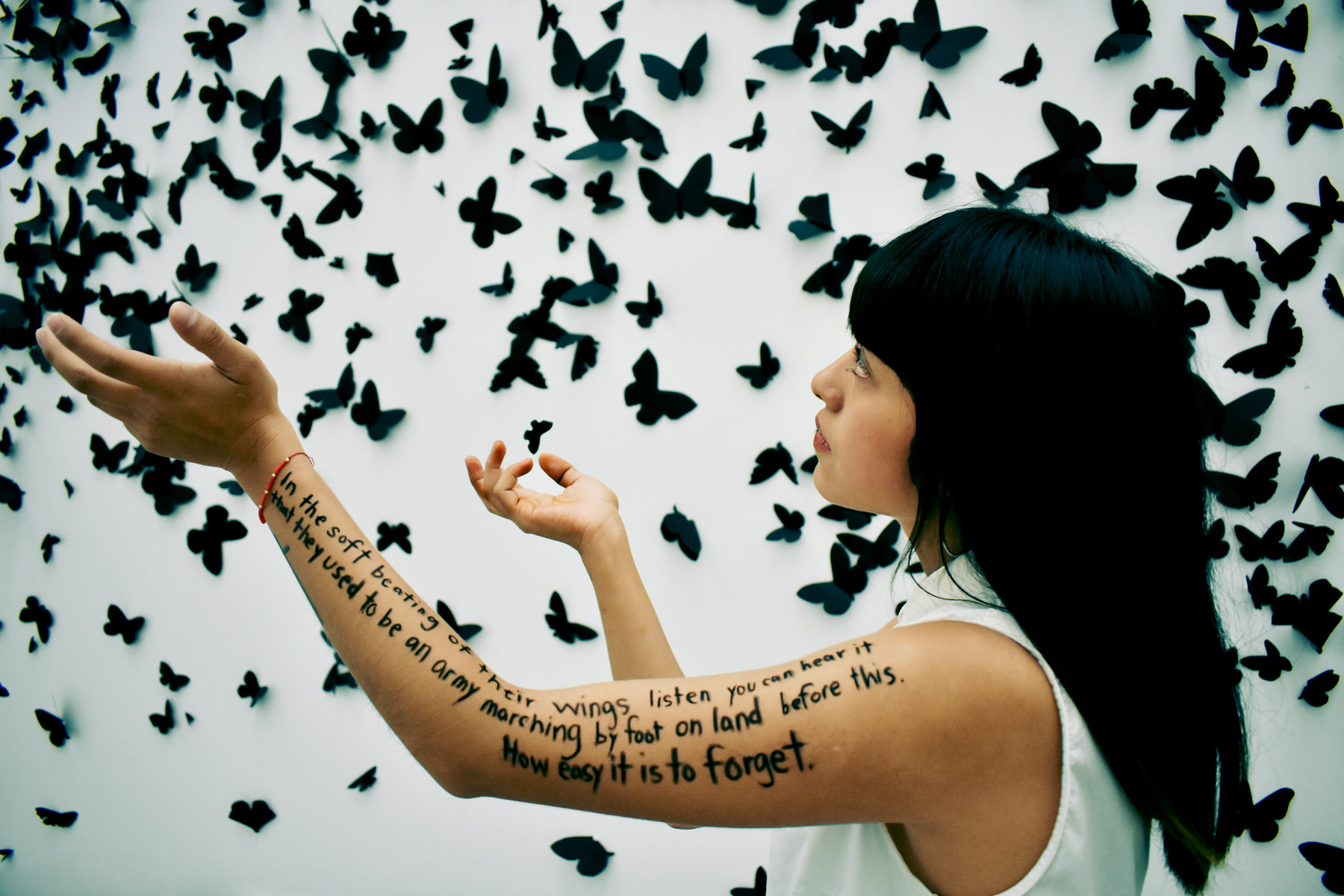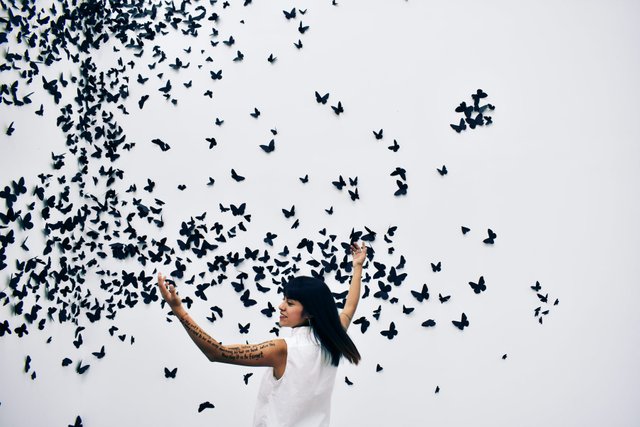 It is called "The Kaleidoscope of Butterflies" because that is what a group of butterflies is called, because I couldn't know that and not call the episode that, because I was feeling a kaleidoscope while I was there, turned my eyes one way then the next to see everything around me so quickly changing.
The Kaleidoscope of Butterflies
In the soft beating
of their wings
listen
you can hear it
that they used to be
an army
marching by foot
on land
before this.
How easy it is
to forget.
Also, the girl in the photos, Arely, she is always open to seeing things from another angle, and isn't it interesting how just a little movement of the mind can drastically change the way things look. Bam. There's something else in there too. How easy it is in our growth, or evolution, our metamorphoses, to forget where we came from, just like it's easy to forget the butterfly used to be a caterpillar. Sometimes, we forget to learn from our mistakes, we forget to use our experiences consciously as tools for how we think and act and are. Because Arely is so deeply motivated by growth, I thought this poem could be a heartful reminder (as it can be to us all) to remember to use those tools.
Here are a few more scattered pictures from the exhibit too, because damn.