Being one of the speakers at Anarchapulco this year was definitely one of my dreams coming true. I also did some considerable efforts and brought 7 paintings with me from Vancouver, 6 of them being large size.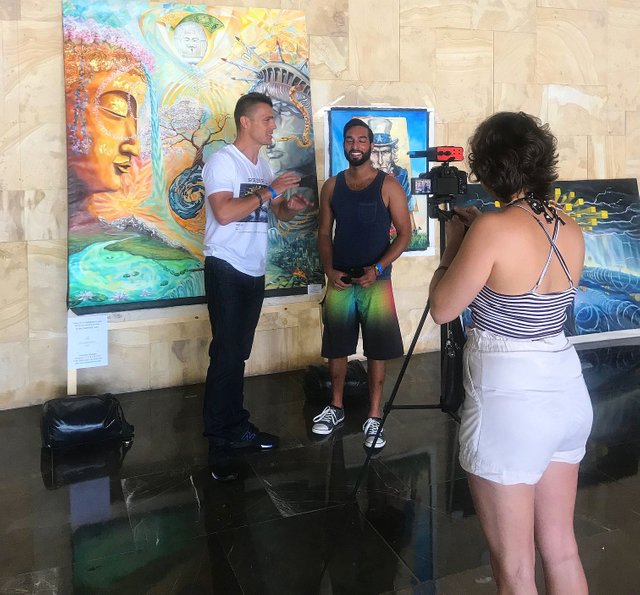 IT's a long way from Vancouver to Acapulco. And large paintings are not easy to transport. I first have to get them off frame, which alone is a lengthy process, then roll them up and cover them up in a way that they don't get damaged when checked in. The bulk weight of the roll was heavy, almost 40 pounds.
When I finally got them all the way to my hotel room at Anarchapulco I found out that I could not staple them to the wall or use anything to attach the canvases to the wall at all. I was told to buy wood and build frames and lean them against the wall. That was another expense and many hours of labor to make it happen.
@lukestokes gave me a hand to build the frames
while my buddy and co-founder of The Dollar Vigilante Edmond Bugos supplied the beers like any great buddy should do:)
:)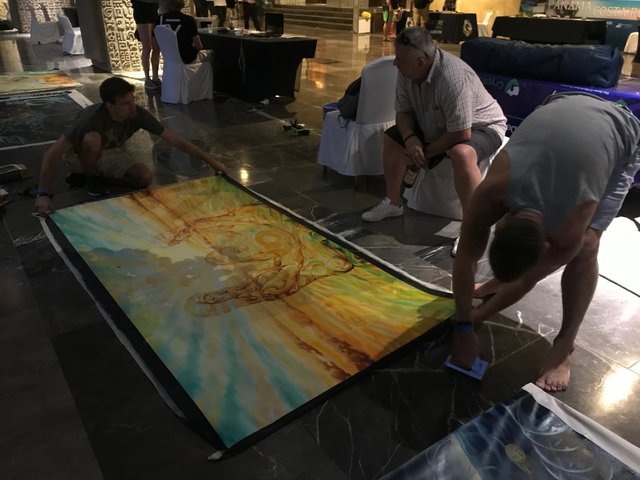 Ed Bugos keeping guard over us:)
But hey, it was all worth it in the end.
People absolutely loved my art display and I connected with many amazing free spirited libertarians and cryptonauts.
I also got interviewed by none else than the great Omar Bham from crypt0 youtubechannel ( https://www.youtube.com/user/obham001 )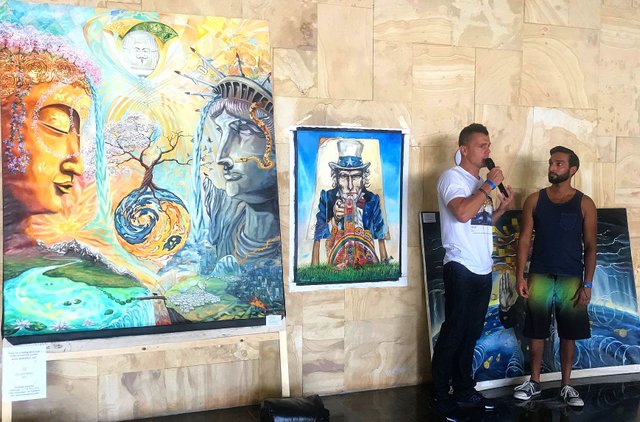 Talking about my Crypto Neo stopping the $dollar bullets.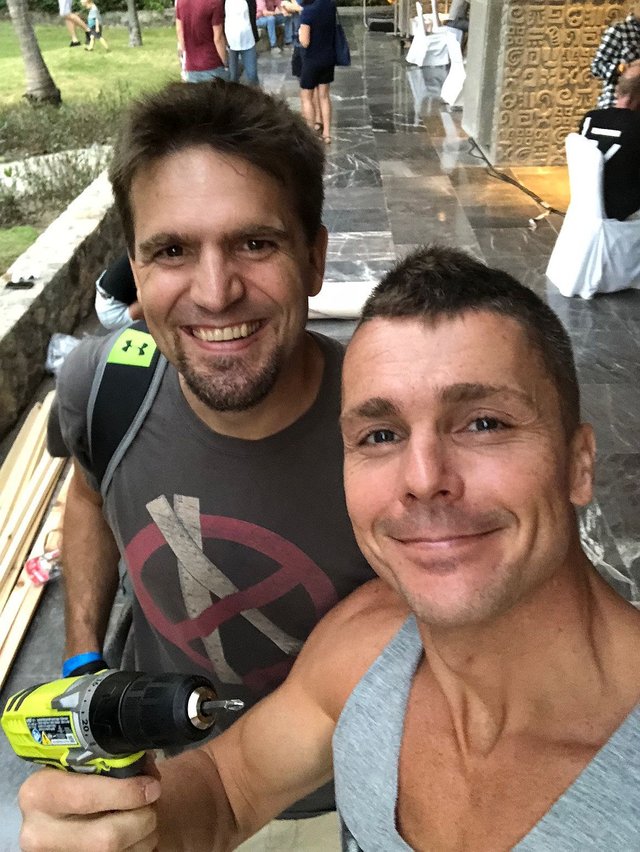 Luke and me in action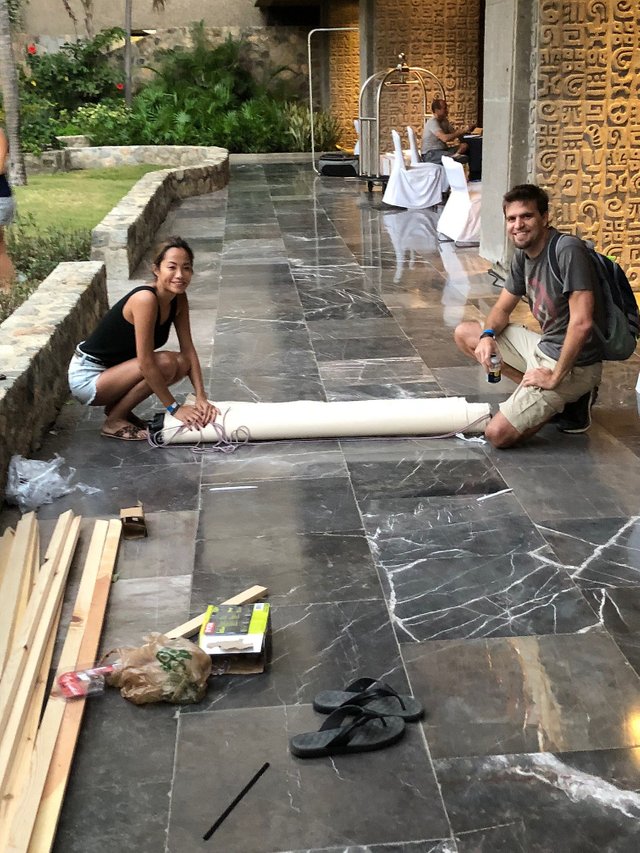 @lukestokes and @gladysmak , what a lovely team of helpers!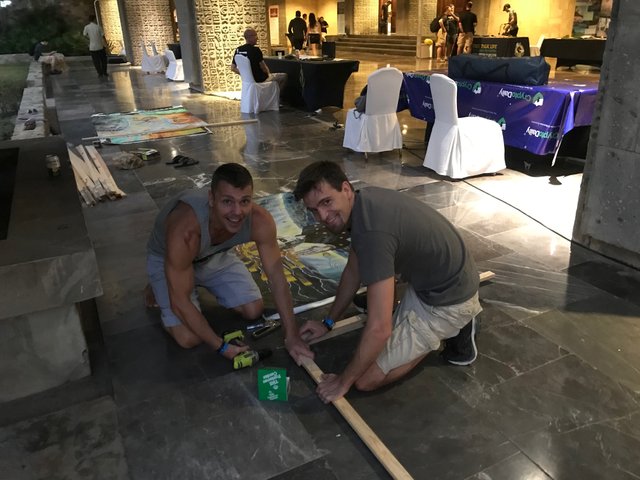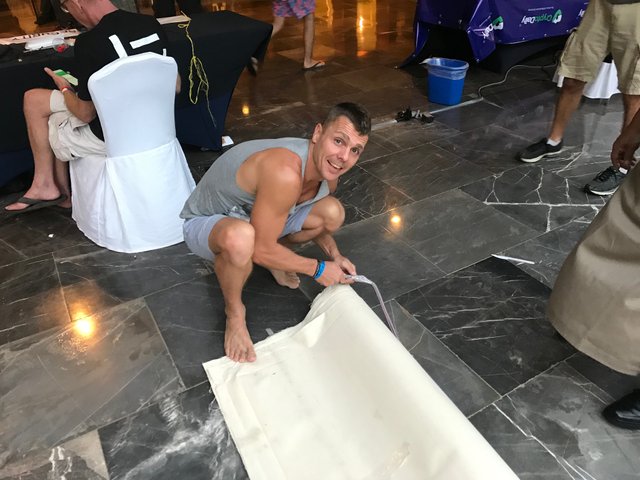 President of Liberand Mr. Vit Jedlicka stopped by and we talked about potential festival including lots of arts in Liberland this summer.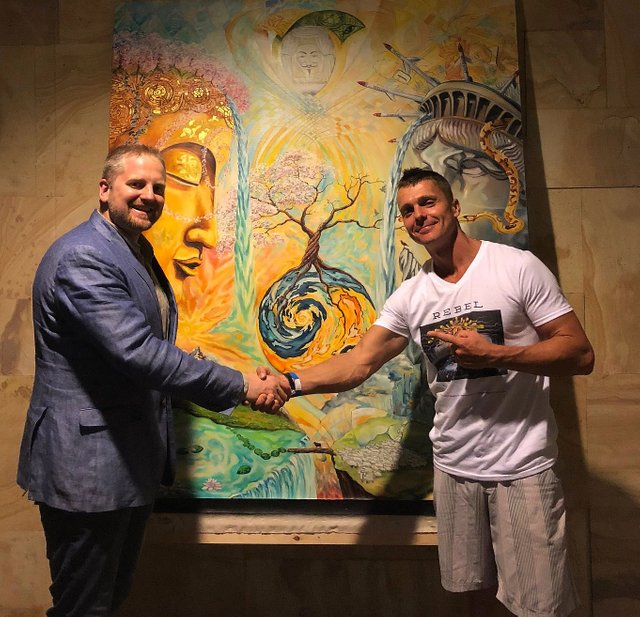 Jeff Berwick, the founder of Anarchapulco and co-founder of TDV stopped by with his wife to check out my paintings, which he has been collecting over past 3 years. I think at least 5 of my originals hang at their house by now!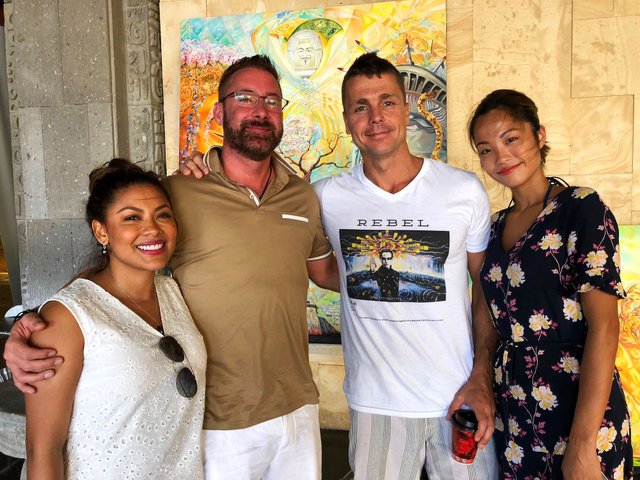 I'll finish with what I said on my social media (Fbibook):
What a magnificent week! Spoke at the greatest Freedom fest in the world= Anarchapulco, connected with many amazing people and presented the vision behind my art. Two of my milestone paintings (Liberty & Destiny) now hang at the house of the great Joby Weeks. Thank you Jeff Berwick, Dayna and the rest of the team to pull off such an epic conference, despite the bears in the market. Can't even imagine where we headed next year 🚀Nothing but great news my friends. G <3 R <3 A <3 T <3 I <3 T <3 U <3 D <3 E 🙏🙏🙏
Thank you all for reading and for your support!
Much Love,
Hope to see you at Anarchapulco next year!
Jan
follow @jankasparec