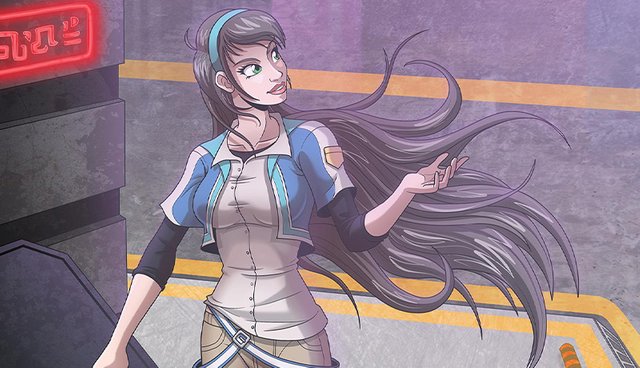 I love accepting character commissions, especially for OCs (original characters). This week, I'm sharing with you a character by the name of Enora Morgan, commissioned by Spencer Morrison. Enora has gone through multiple redesigns, all part of the evolution of a fictional character. This includes not only rounding out their personality and backstory, but also their appearance.
The Wire Frame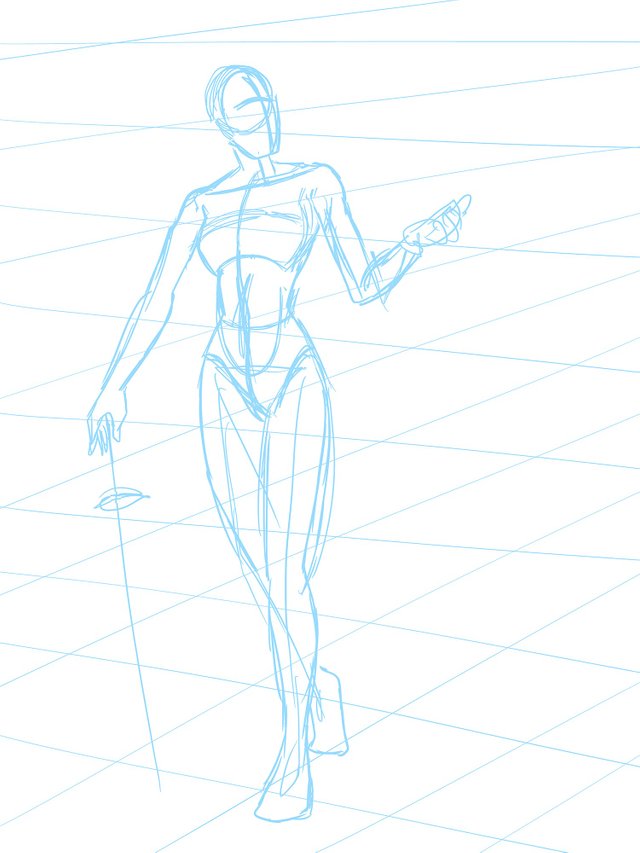 The commissioner provided a drawing of Enora he made to use as a reference. This always makes my job much easier. Otherwise, I have to interpret what the author sees in their mind and manifest it to the best of my ability. She has a sword in her reference drawing, so I wanted to include that in my version as well. The pose is quite simple, but it is very important to structure the body using lines and shapes.
The Sketch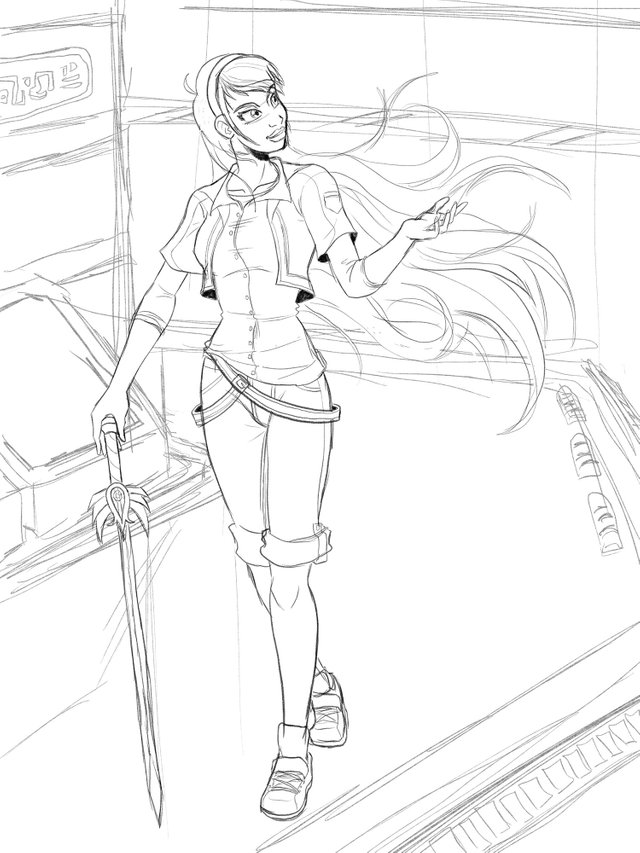 Using the wireframe as a skeleton of sorts, I draw on a new layer to add the meat to the bones. This is also where I add the clothing and facial features. She lives in a futuristic city, so I decided to draw her on a street corner. Her design is very simple but I really like the asymmetrical harness on her hips and badge on her sleeve to make it more interesting.
The Line Art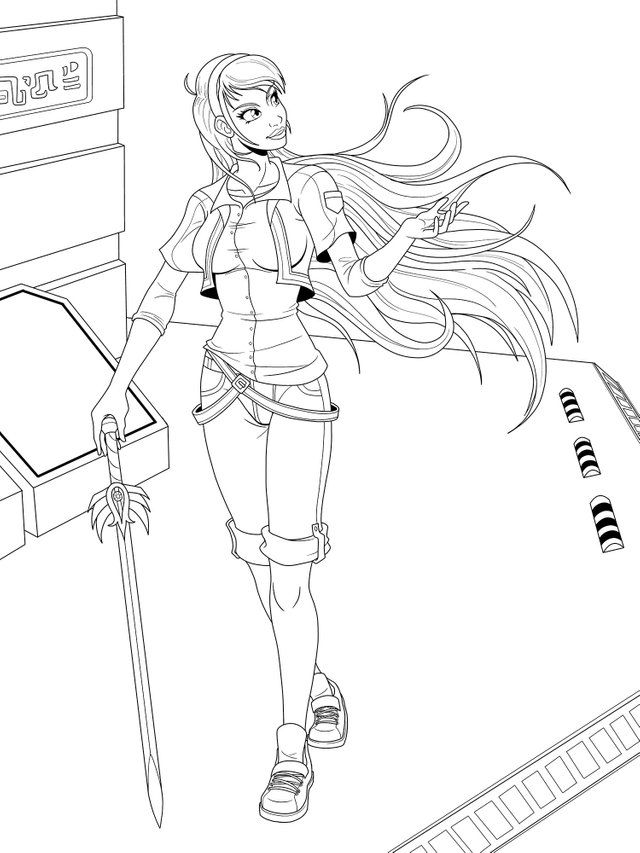 Enora Morgan is a young aspiring Tharian woman who swears allegiance to her people and serves them alongside her fiance, Josiah Larester as a Police Officer. Because of her age and personality, I gave her a very friendly and inviting smile. She may be a law enforcer, but she is very approachable. Look how casual her work uniform is, she's sporting sneakers of all things!
The Flat Colors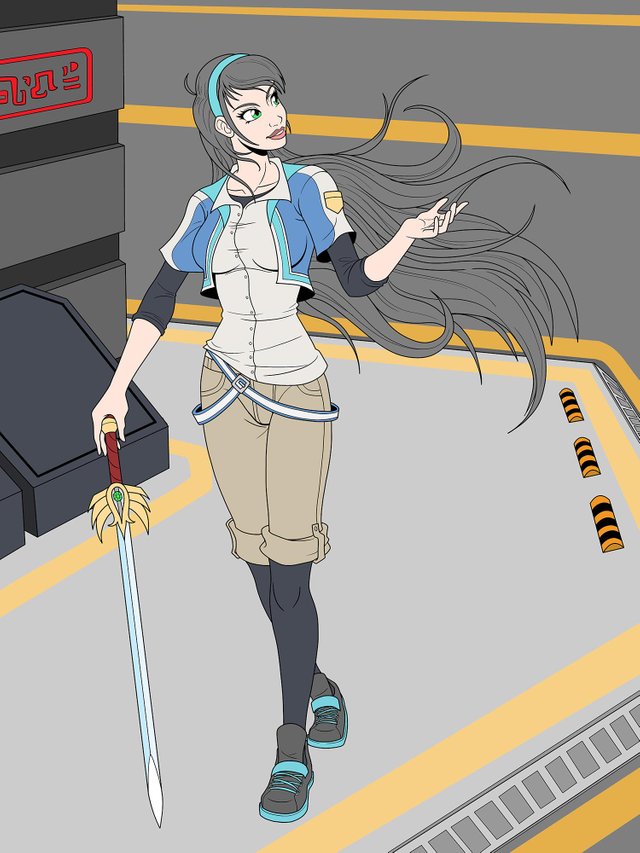 She also serves as the 18th wielder of the ancient relic, Lydinmar. She joins Team 219 after the Advent of Nerich Chrade and continued to fight with them following his defeat. Blue is commonly associated with law enforcement, which is why her hair band, vest, and even show laces contain blue accent colors. Black is used for her leggings and medium-length sleeves, to complete the traditional black and blue look of a cop.
#The Finished Illustration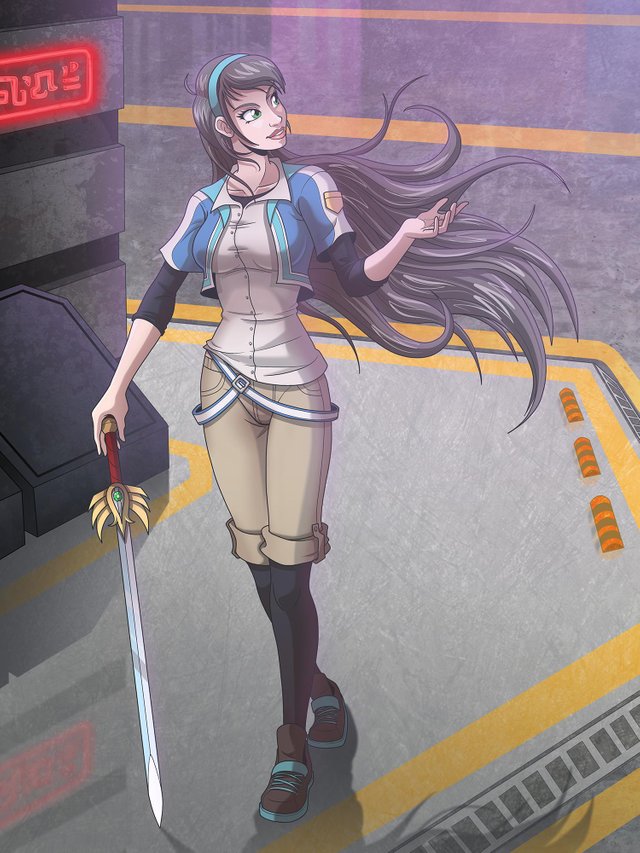 Enora enjoys fantasy movies and reading books, but the majority of her time is spent in service. I wasn't sure if the futuristic setting of this world was dystopian or not, so I went for a middle-ground. The ground isn't littered with garbage, but the heavy textures and neon lights keep it from being too sanitary and idealistic. The use of yellow road lines also emphasize the idea of law and order.
If you like what you see, let me invite you to commission me to illustrate your own original character(s). I am open for character commissions with many options to fit any budget. I will continue to share with you all of the commissions I finish, always on Steemit first!