I drew my very dear and close friend.
She is traditional and religious and wears a veil to church. I've successfully drawn her in a few hours.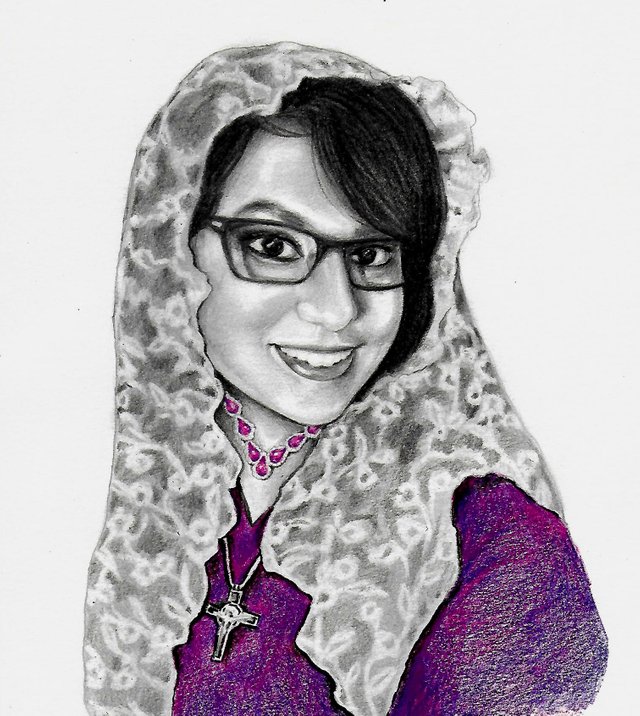 She loves purple and she was wearing purple. I used my usual style of black and white plus color.
✏️Title: untitled
✏️Medium: Graphite pencils, prisma ✏️colored pencils, Sakura black brush pen
✏️Time: estimated 3 hours
✏️ Date: July 10, 2019
🚨Please do not copy, save, repost without proper credit or permission🚨
Process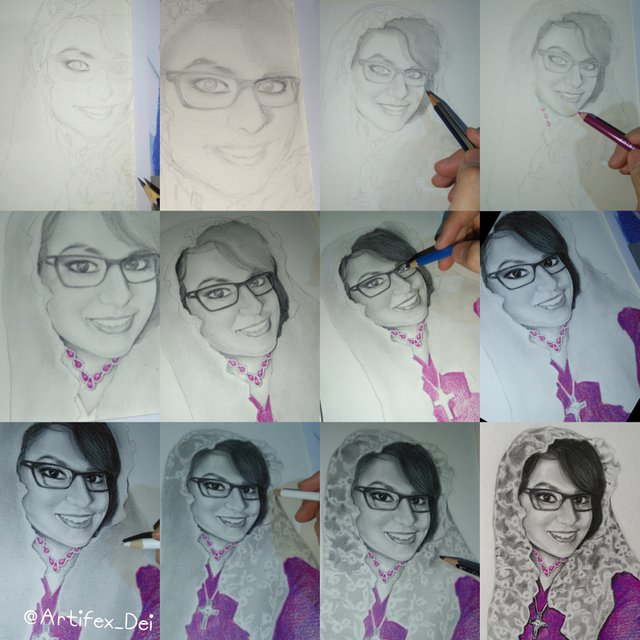 Before I explain my drawing process, I found this portrait rather easy. I used a new tool, a pencil eraser! Yes a pencil with an eraser core. It helps erase better and erase small strokes. Amazing!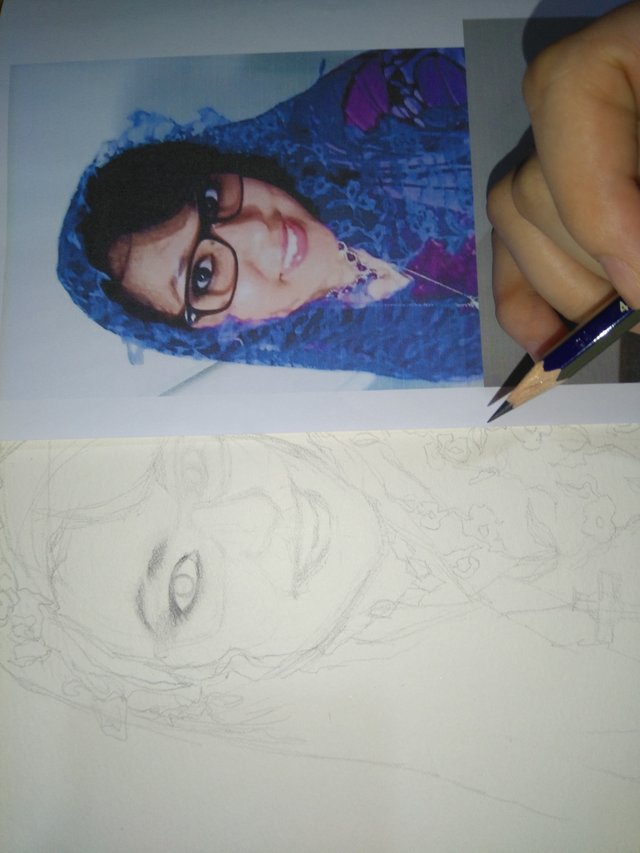 SKETCH
✏️ I start with a sketch though unsure as usual, I still get doubts but I managed to achieve her look and improved it as I went on.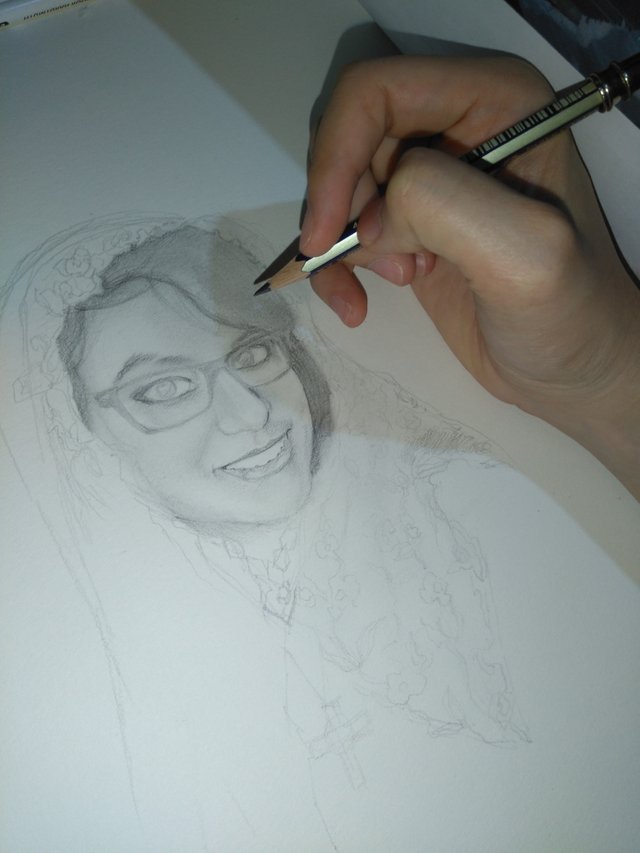 SHADING
✏️ So here I use a 3b for sketch and shading. I just smudge it to smoothen the graphites appearance using tissue.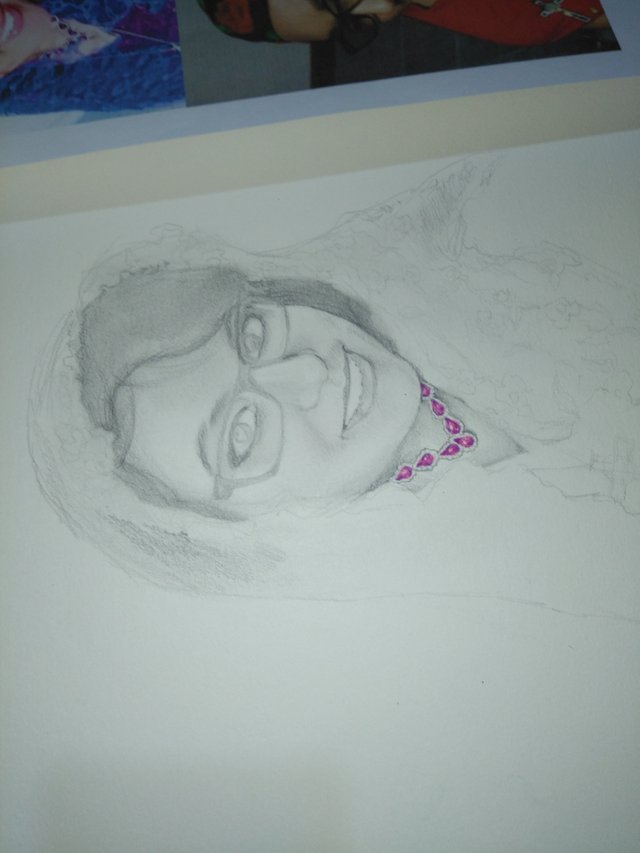 COLOR
✏️ I used shades of purple, pink and blue violet for the necklace so it's vibrant. Sometimes I put the colors in advance so it's not messy.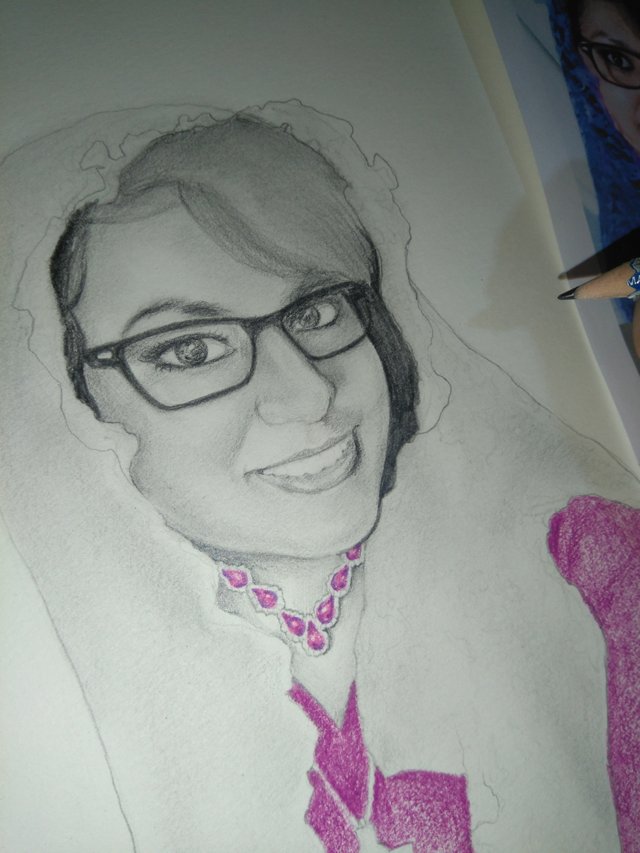 MORE SHADING
✏️ There's second layer shading. Mid tones. This will make up the volume of the subject and values.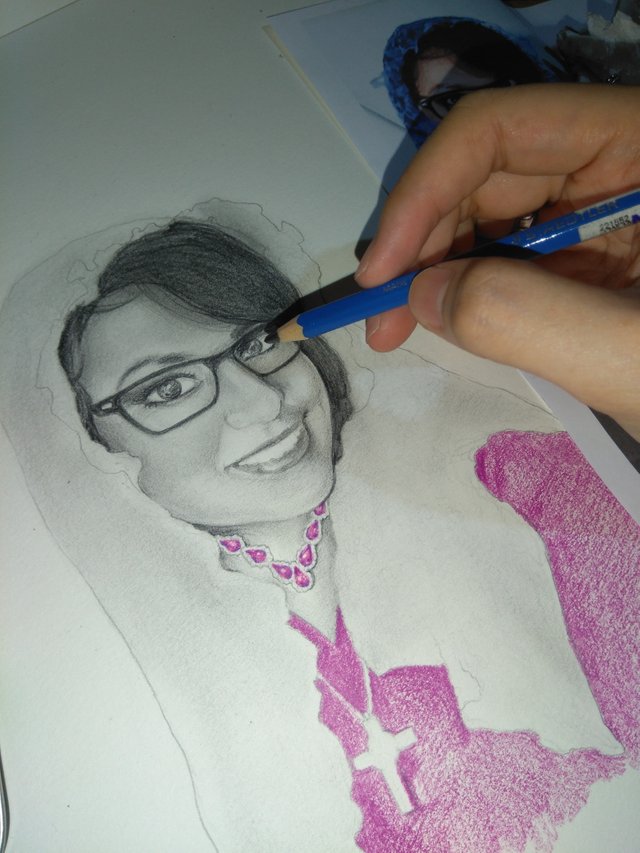 Looks better with added shading.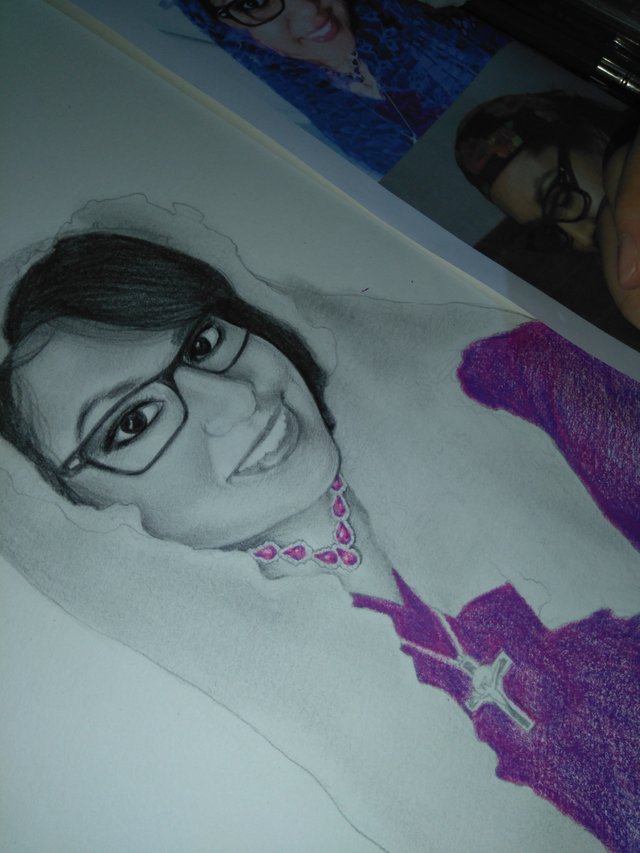 SHADOWS
✏️ These are the really dark hues, near black color. To emphasize shadow and 3D. I know this pic is kinda dark but you'll see it in further examples how it is. I used 5b and 6b pencils.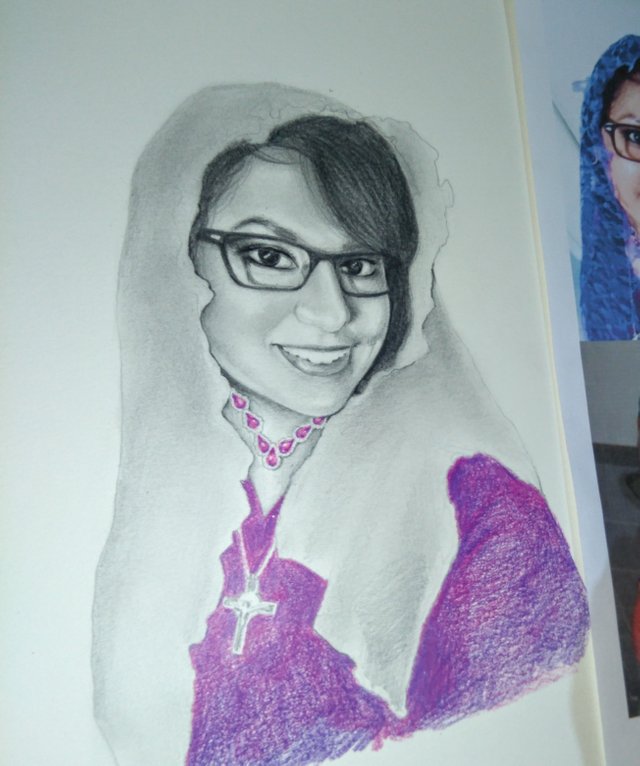 SHADING THE VEIL
✏️ This is my first time doing a veil and using a pencil eraser. So instead of using the leave out method I can use the dark to light method. Or simply just erasing the light patterns. In this picture I already shade the veil lightly.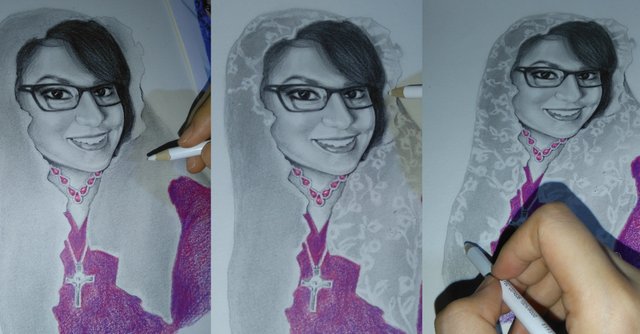 ERASING THE PATTERNS
✏️ I just erase.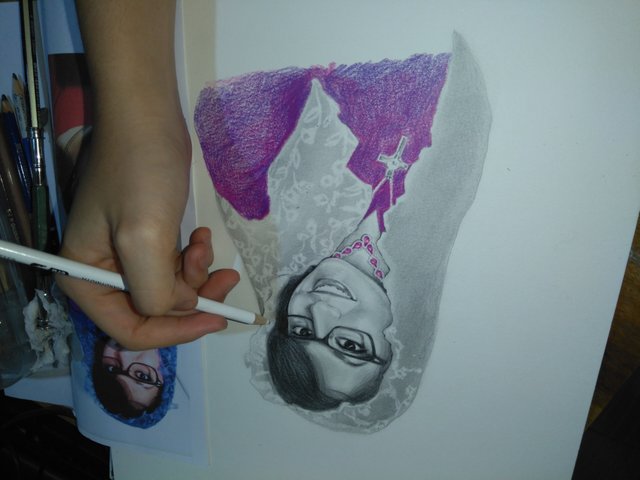 I like upside down pictures. It looks more real. Haha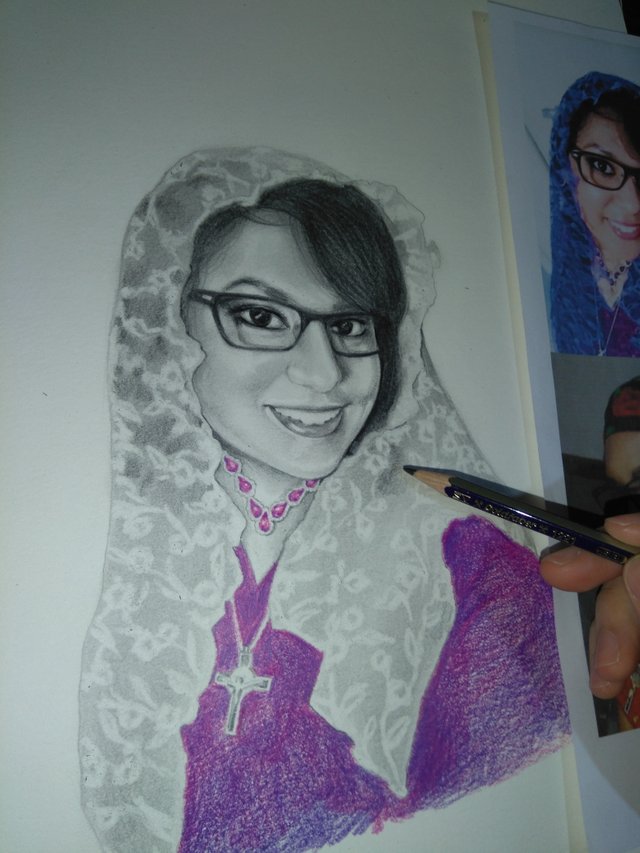 RESHADING THE VEIL
✏️ Why? Because some parts need a darker shade to make it more see through and also, to make it textured. No smudging needed.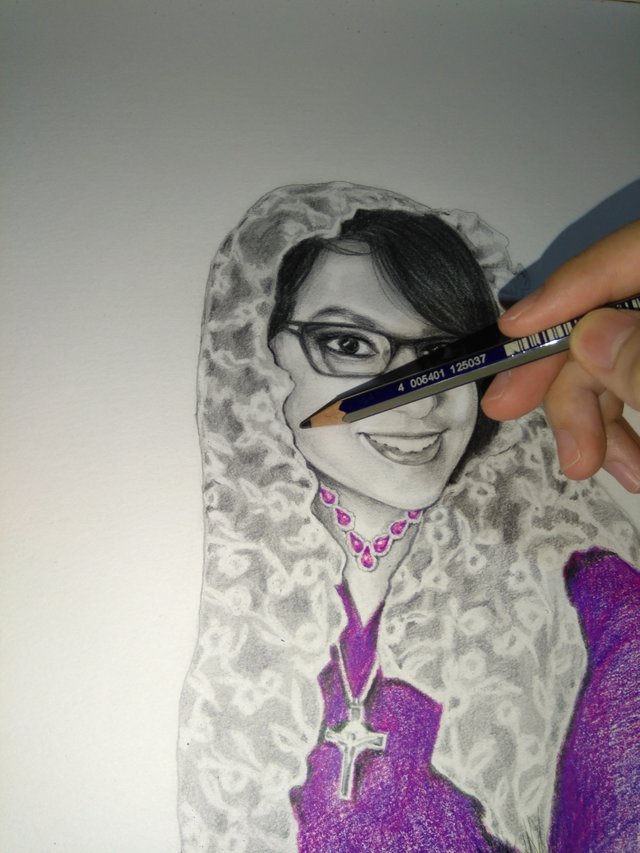 ADDING DEPTH WITH MORE SHADOWS
✏️ I used an 8b and some brushpens for the shadows and eyes. Makes it more real and pops out.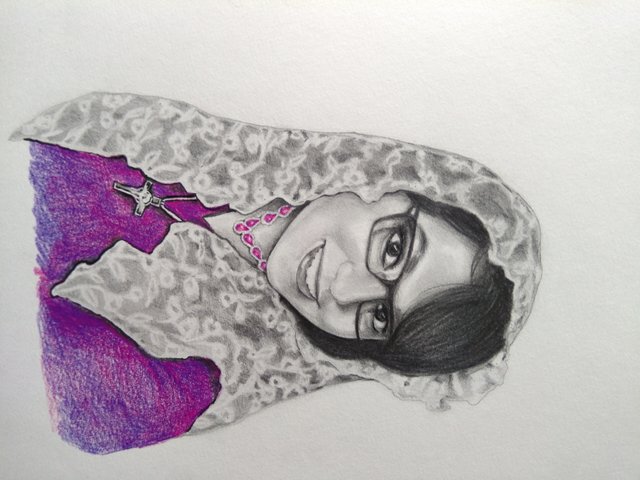 ADD DARK GREEN
✏️ To put shadow on the colored part of her shirt I put dark green, not black, green is an opposite color so it'll be noticable and blend better for shadow.
FINAL OUTPUT
📷 Here's a cellphone capture, slightly edited.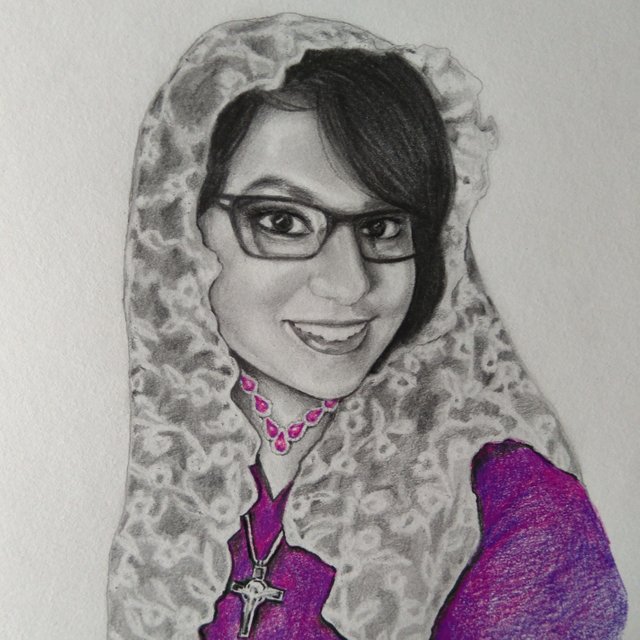 📷 Scan of the drawing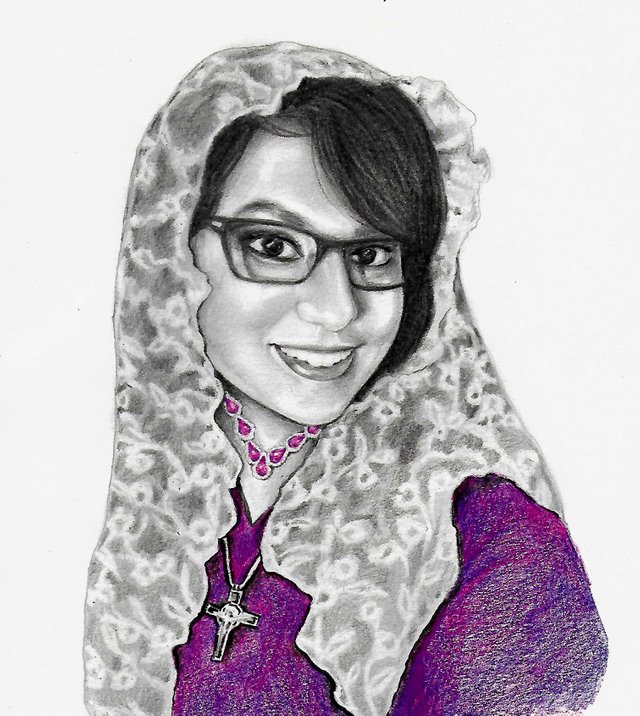 I'm pretty happy with the outcome and am doing more of these. I just recovered from an art block and I'm doing more art soon. God willing!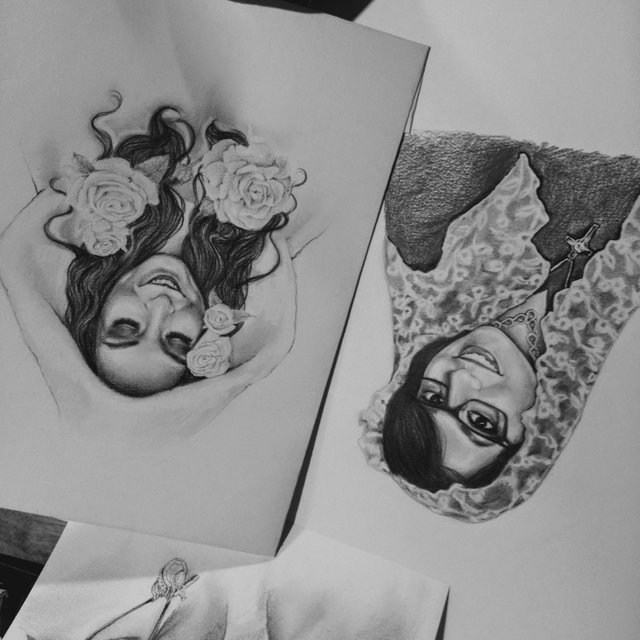 Hope you enjoyed the work in progress pictures and thanks for stopping by!
God bless and guide you 🙏⚜️🌹
KEEP MAKING ART AND KEEP STEEMING!

🌍🌎🌏
THE ENVIRONMENT CALLS FOR YOU
HELP SAVE HER ♥️✨🕊️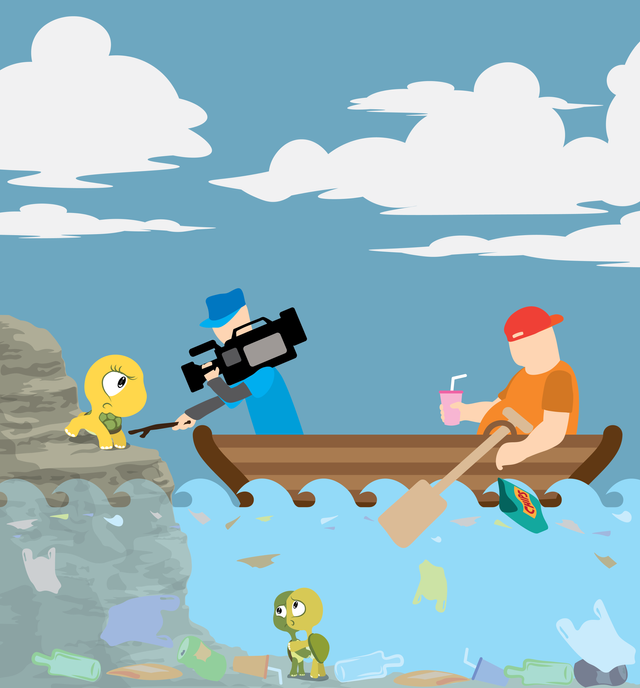 Protecting the Wildlife has never been so essential in the history of humanity as it is now. Bring awareness worldwide!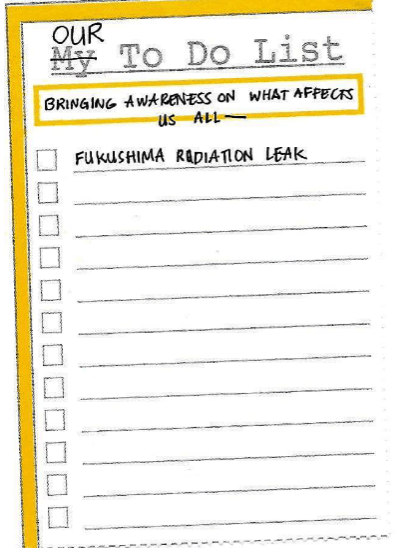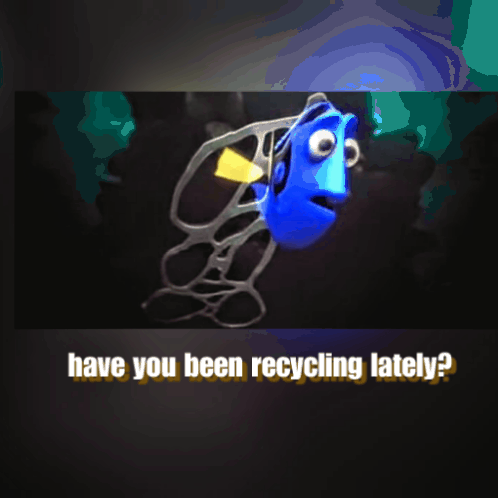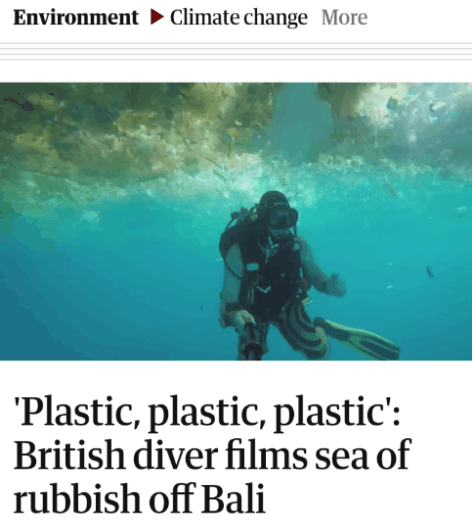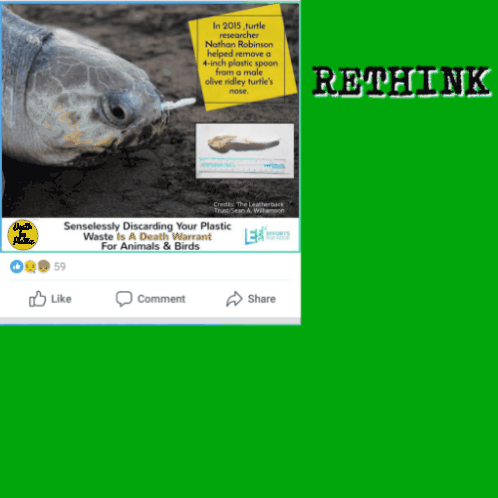 WE DO NOT INHERIT THE EARTH FROM OUR ANCESTORS, WE BORROW IT FROM OUR CHILDREN
🌏🌎🌍

😱IT IS IMPORTANT TO VOTE FOR WITNESSES☝️
I recommend:
@steemgigs
@blocktrades
@precise
@cloh76.witness
@ausbitbank

SOME AWESOME BLOGGERS
You don't want to miss😉
@gems.and.cookies
@anomadsoul
@surpassinggoogle
@topkpop
@hiddenblade
@deveerei
@korinkrafting
@fukumineko
@sethlinson
@mattphilleo
@deemarshall

That's all folks!
XOXO 💋
@jacinta.sevilla