Artists inspire: Paul Gauguin - my stories about artists of the past, vol.7. Biography, paintings, stories:)
In my introduction I said that I graduated as an art critic. How a few years I worked at the museum in my city, but finally I became an artist myself. But I still have full head of interesting fakts and storys about great artists of past, which got me thinking: why not to share my knowledge here?:)
My previous story was about Van Gogh, and today I'll tell you about his friend Paul Gauguin.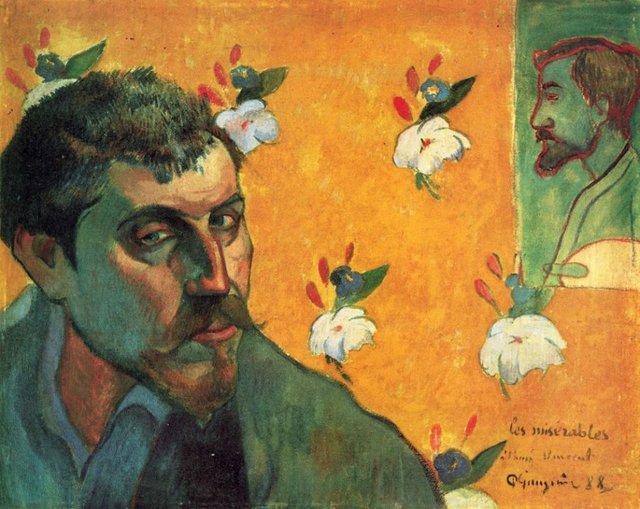 Paul Gauguin was born on June 7, 1848 in Paris. He will come to a painter only at the age of 26, before that he was a successful broker on the stock exchange.
Gauguin hopes that he will succeed in painting as quickly as in the market, but these hopes have not materialized. By that time he was already married and had six children. After bankruptcy, his wife's parents cursed him, and his wife left with five children. Only son Clovis remained with Gauguin.
Young artist can not find means of subsistence. He has no money for paint, food, medicine for a sick son. To earn a bit Gauguin stivks posters. By that time, his work has already been successful, but never the less sometimes he remains without food for three days.
For the time being, Gauguin was fond of impressionism, but soon he became cramped in this style. He moved to a small town of Pont-Aven, where independent artists lived, mostly americans and british. Later he will say:
-"I love Brittany. Here I find a wild, primitive. When my wooden shoes knock on the local granite, I hear a deaf, indistinct and powerful sound that I'm looking for in painting"
Material difficulties and the pursuit of independence make Gauguin go to the construction of the Panama Canal. It was spring, year 1887. In a letter to gis friend he wtites:
-"As an artist I become more and more famous every day, however, I stay for three days without food. This destroys not only my health, but my energy. I would like to restore the energy and I'm leaving for Panama to live there as a savage."
In Panama Gauguin becomes ill with malaria and dysentery. He leaves for Martinika, where he stays till Novenber. There he creates a few exotic landscapes. Then, in winter in Paris a selling of his paintings will be provided. There he meets Teo and Vincent Van Gogh. You can read a few about their friendship in my earlier blog post. After thet he moves to Brittan again, where he сreates the basis of synthetism - a new painting stylem which is based on creating huge one-color spots, underlined with a well-defined contour.
So, the artist has found his style and his way. Gauguin dreams of tropical countries. He wants to organize a "workshop in the tropics, in a land of ecstasy, tranquility and art." His choice falls on Tahiti. There, despite the lack of money and poor health, he holds the two most prolific years of his work. He draws more than 80 paintings.
He returnes to Paris, and there he reads to other artists fragments of his book "Noa Noa". By the way, nowadays this book is aviable to buy:) After a 6 months break he leaves Paris for Oceania to be never back again.
He dyes 8 May, year 1903. Gauguin did not live up to the recognition of his art for just a few years.
Now, as usual, let's have a look to some of his brilliant paintings.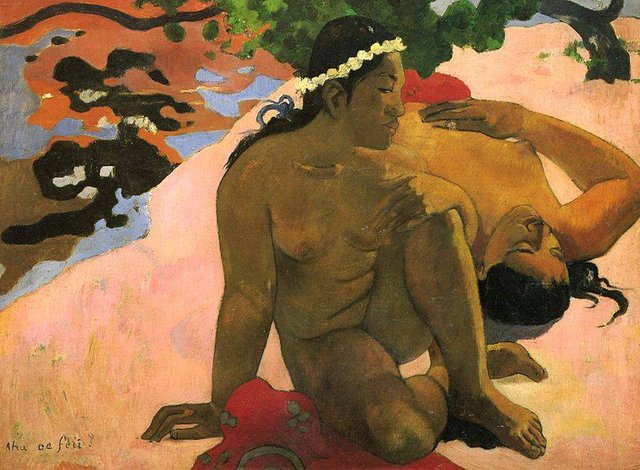 "Are you jealous?"
This painting was created during his first Thaiti period. He was really impressed with the beauty of thaiti women, so different from european. He said:
-"I was captivated by this land, and its people. They are so simple, not spoiled by civilization. To create a new, one must turn to the sources, to the childhood of mankind. Eve, which I choose - almost an animal, so she remains chaste, even naked. All Venus exhibited in the Salon look indecent and disgustingly lascivious next to her."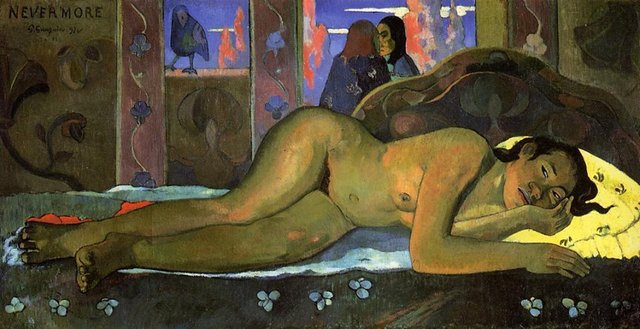 "Never more"
Here artist depicted his Thai girlfriend. She has just lost their child, who was born dead. She looks at Gaugin with sorrow and mistrust. And with this painting he tryed to tell her, that he will never again make her feel this way.

"Where did we come from? Who are we? Where are we going?"
This is the most famous one. The artist put all his feelings in it, after finishing this painting he planned to commit suicide. Watch it from right to left, from the new born child to the old woman, thinking about death.
I hope you enjoyed my short blog post:) If you did, please resteem, upvote and follow, it would be great to know that I'm not just talking to myself here:)
Thank you for watching!:)
Love, Inber