🎨 La génèse de Téhérine - Original Painting + Detailled progress
Carving herself out of the nourishing poly-nano-substrata.
Hatches, rises and increases the meta-haedron's inner shell.
Expected to de-atomise, un-modelize, she is a high rank Téhérinae.
---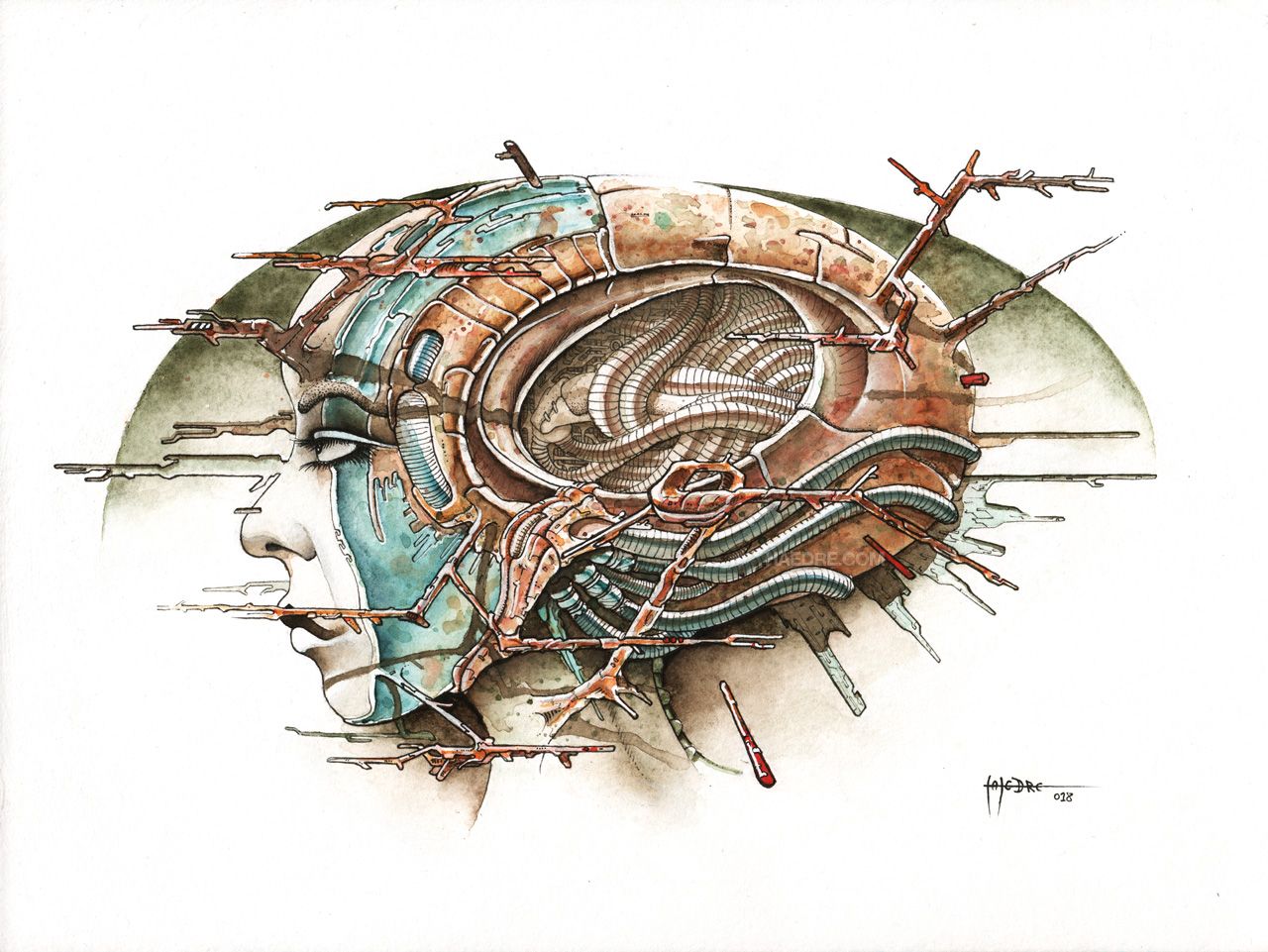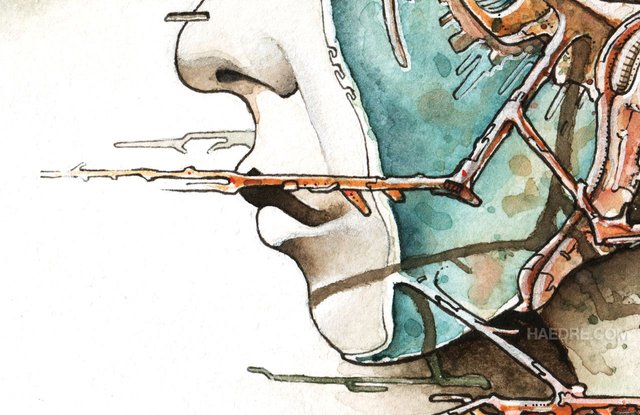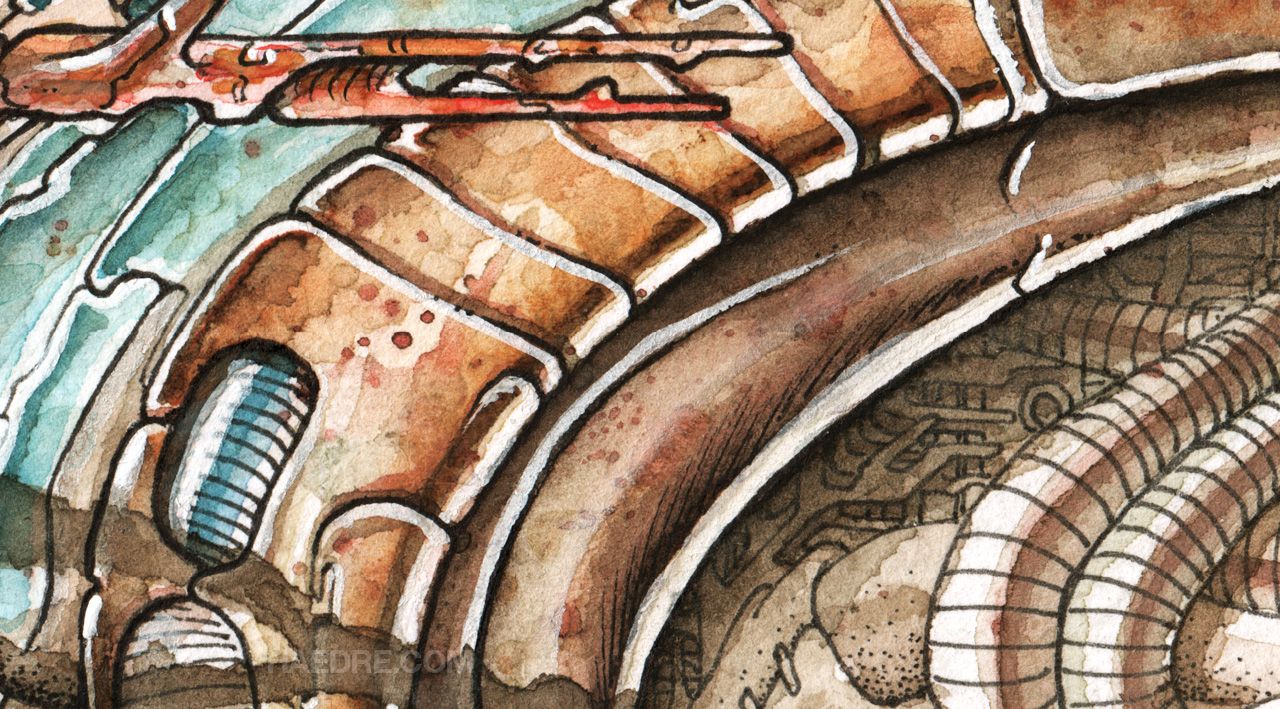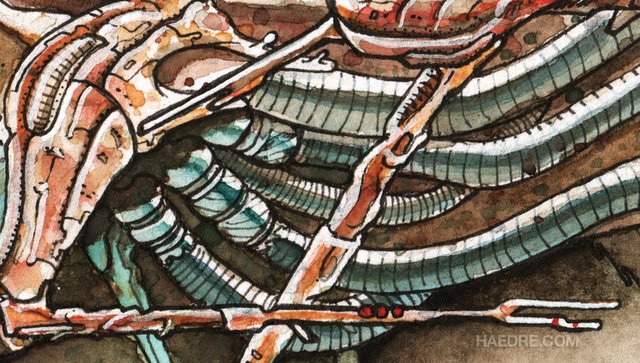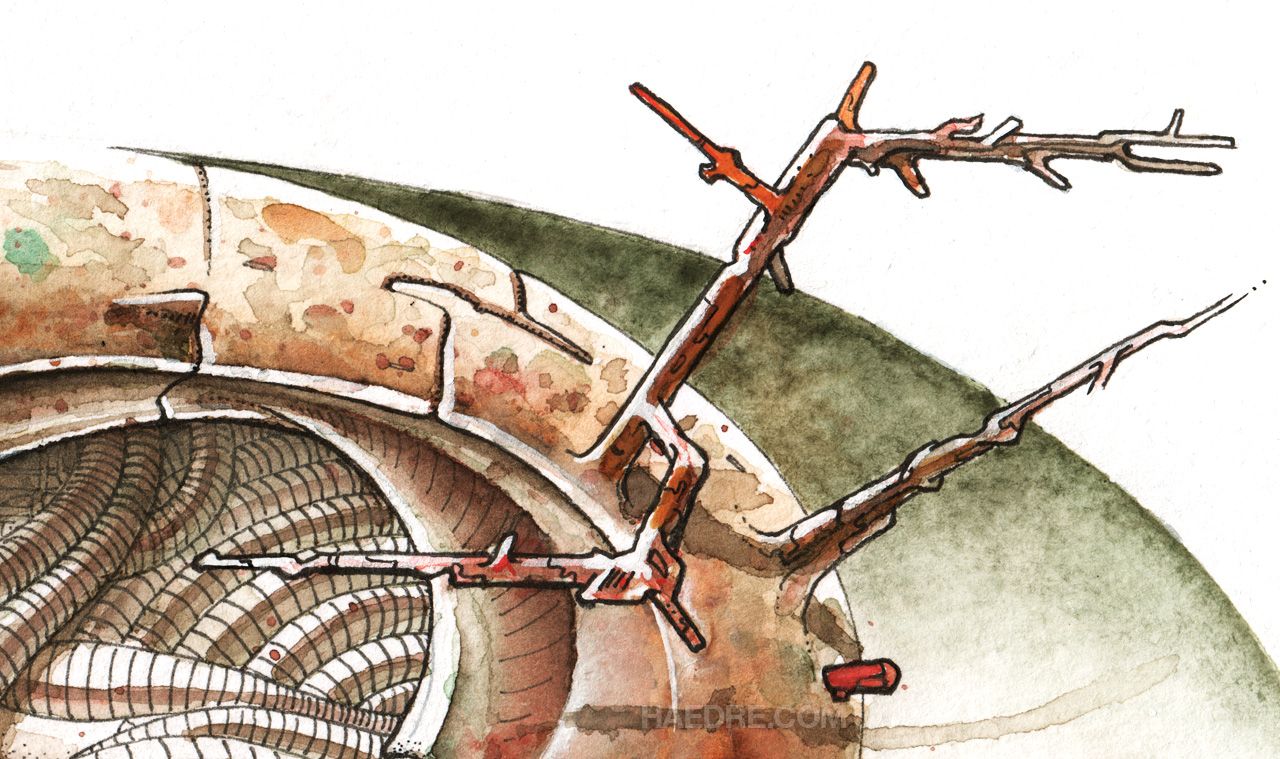 La génèse de Téhérine
(Teherine's genesis.) 2018
Watercolour and black thinliners. 32 x 24 cm - (12,5 x 9,4 in)
Hi, welcome back to my blog. Looks like I just finished a new piece! Let's have a peek at its process!
Like a few of my last works, I used that rather cheap, side glued watercolour paper block. Started with a pencil from an idea that was going on in my head for a week. I went pretty deep for some details already which I don't always do. And devised some of the shadows because I wanted the shape to have a somewhat impossible, surreal or illogic. Basic preps were necessary while at the same time letting space for further mind schnorkelling.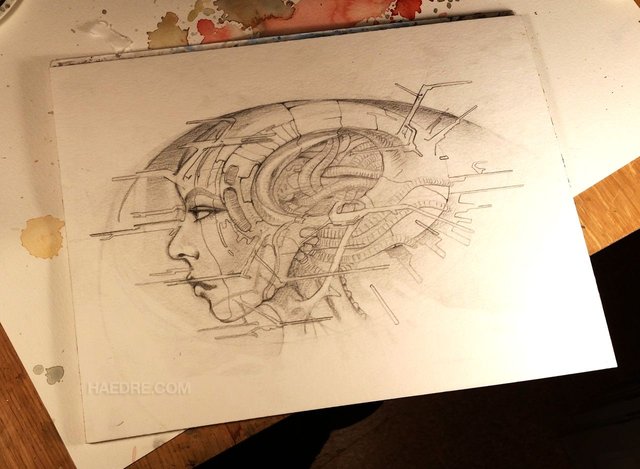 I also went more detailled with the ink this time, as usually I just put the very lines I need.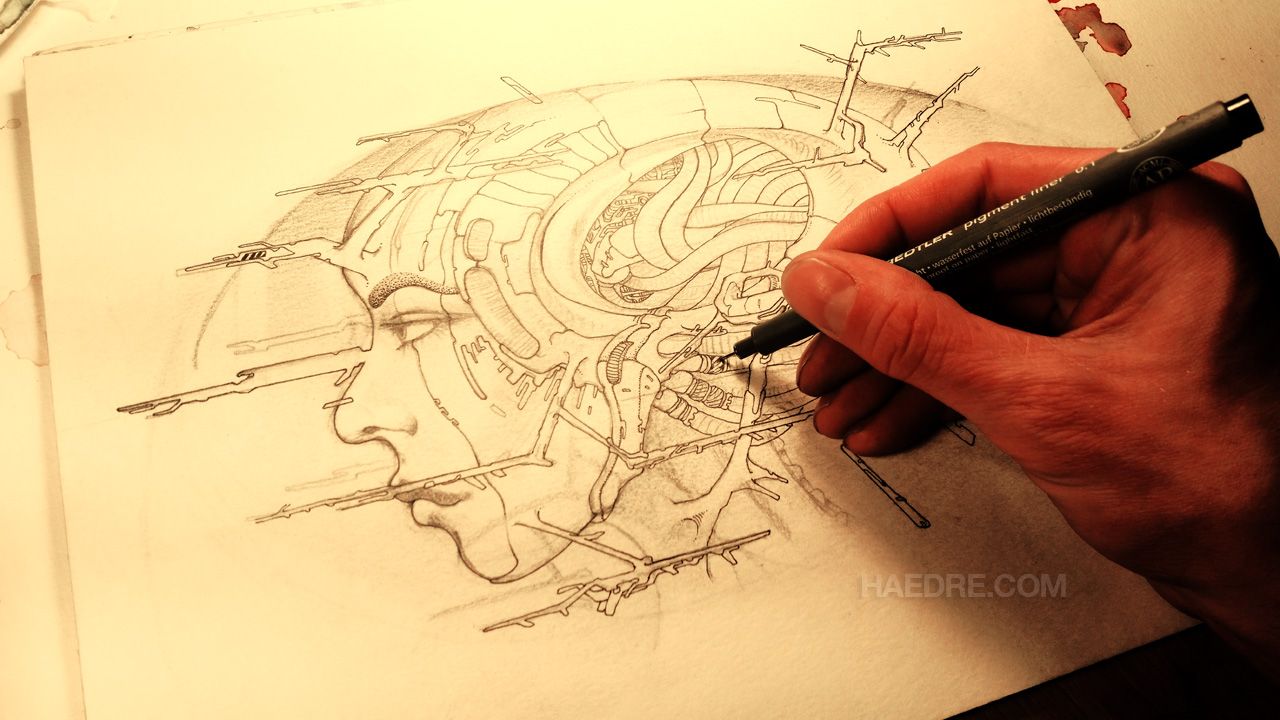 Ink done, pencil erased. Since the block is small I also scanned it (when it's tensed on a woodboard it's often too large or too thick formats which then don't pass in my scanner) . It's a while I am thinking about re-applying the inked outlines over the painting after the definitive scan. However that's a technique I'd prefer to reserve for comics so I won't do it here :D
Who knows maybe I try later. But in this case I want the piece to look how it looks in real.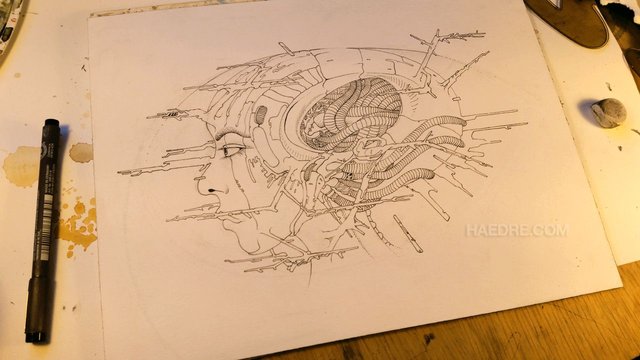 To pre-texture the epidermis, I threw random, rather colorfull drops ans splats. Ochres, siennas and reds for the "skull". Paris Blue and light yellowishes for the metallic part of the visage. The greenish shadow is "Terra verde".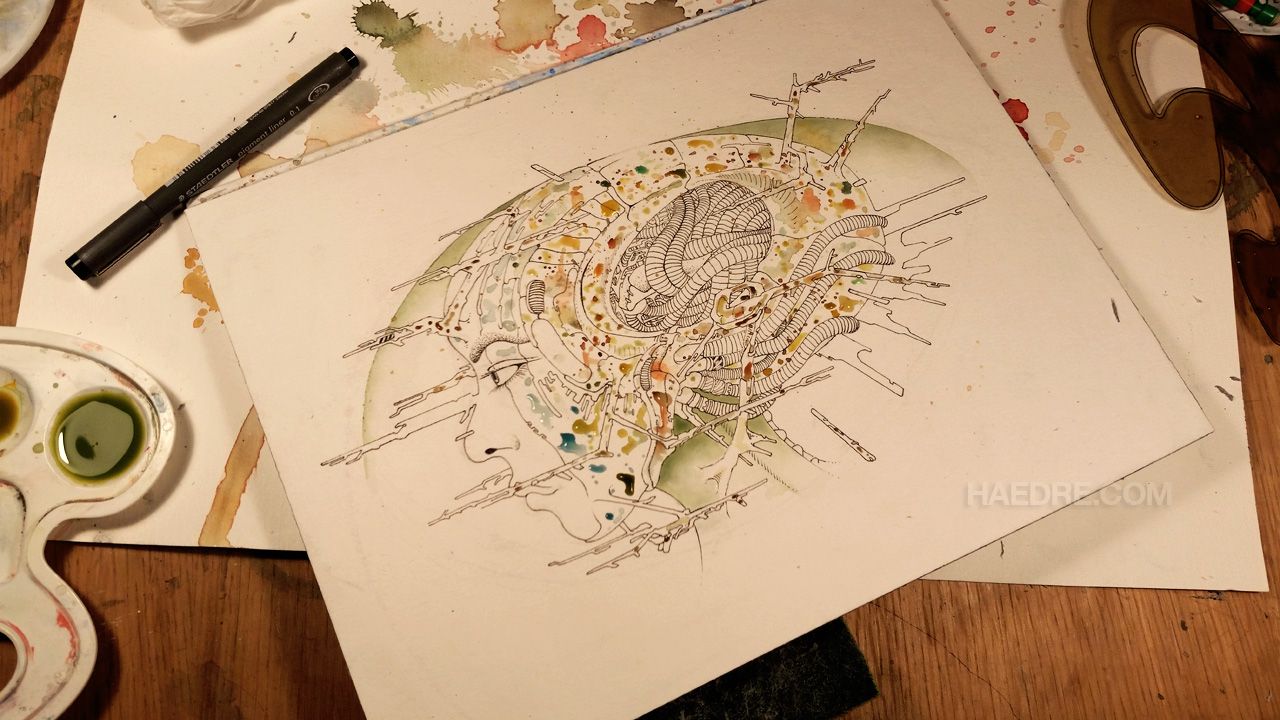 Enhanced close vision.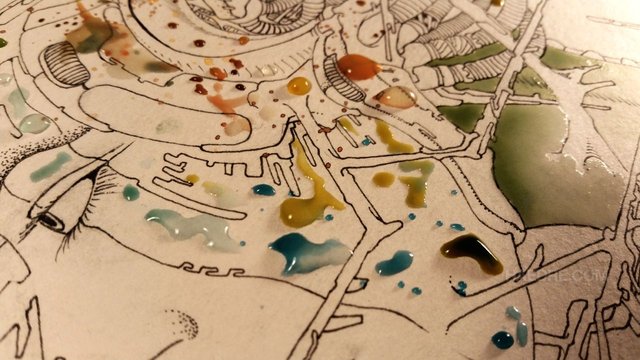 When I start colouring, I often have a primary idea of working with specific tones but most of the time I get caught in trying complementary colours. Beyond this point, there's enough colours, so I bring back the thinliners, exacerbating some outlines, making new details, textures, pointillism. I add white, ink, color, white, ink, color and so on. I also added red on the arrowish antennae shapes and bits that are on a foreground, as warmer colors tend to appear closer. Cast shadows were the last step.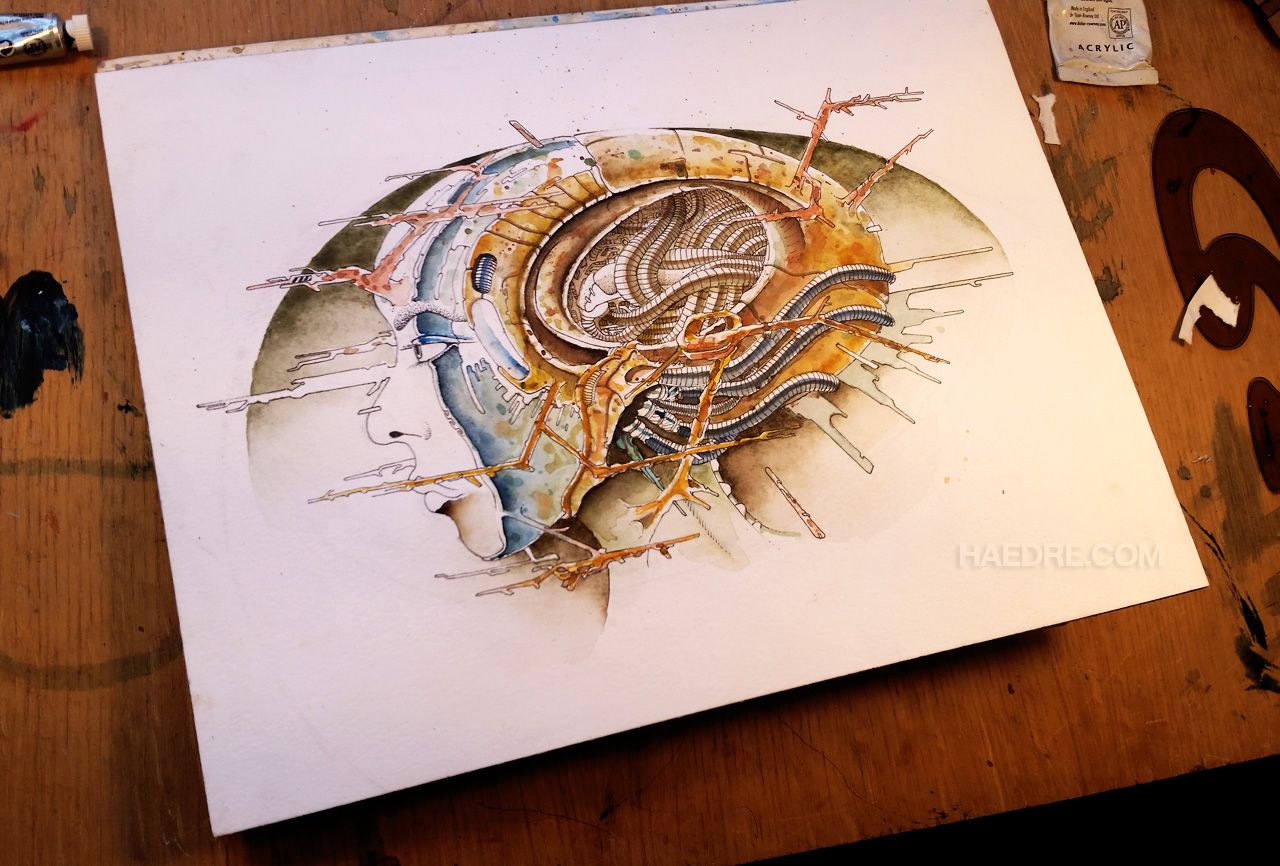 Take a closer look.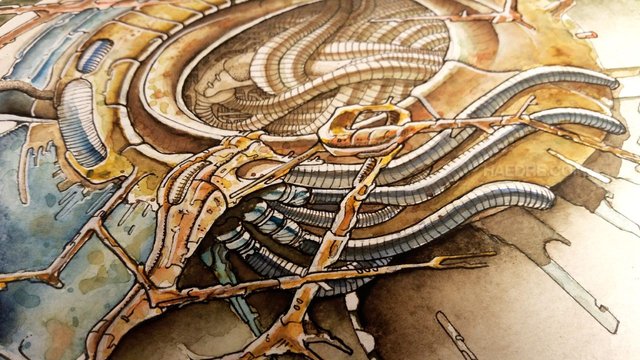 If you have carefully observed some of the pictures with an enhanced cybo-eye (Type Owl TZ98), you might have wonder where did the smudgy curve of pencil stain that was on the left side go. Well, I was indeed finding it irritating but didn't really know what to do about it. Final decision was to cover the complete surrounding with white gouache. Which seem to have worked fine!
And so it's been finished and signed!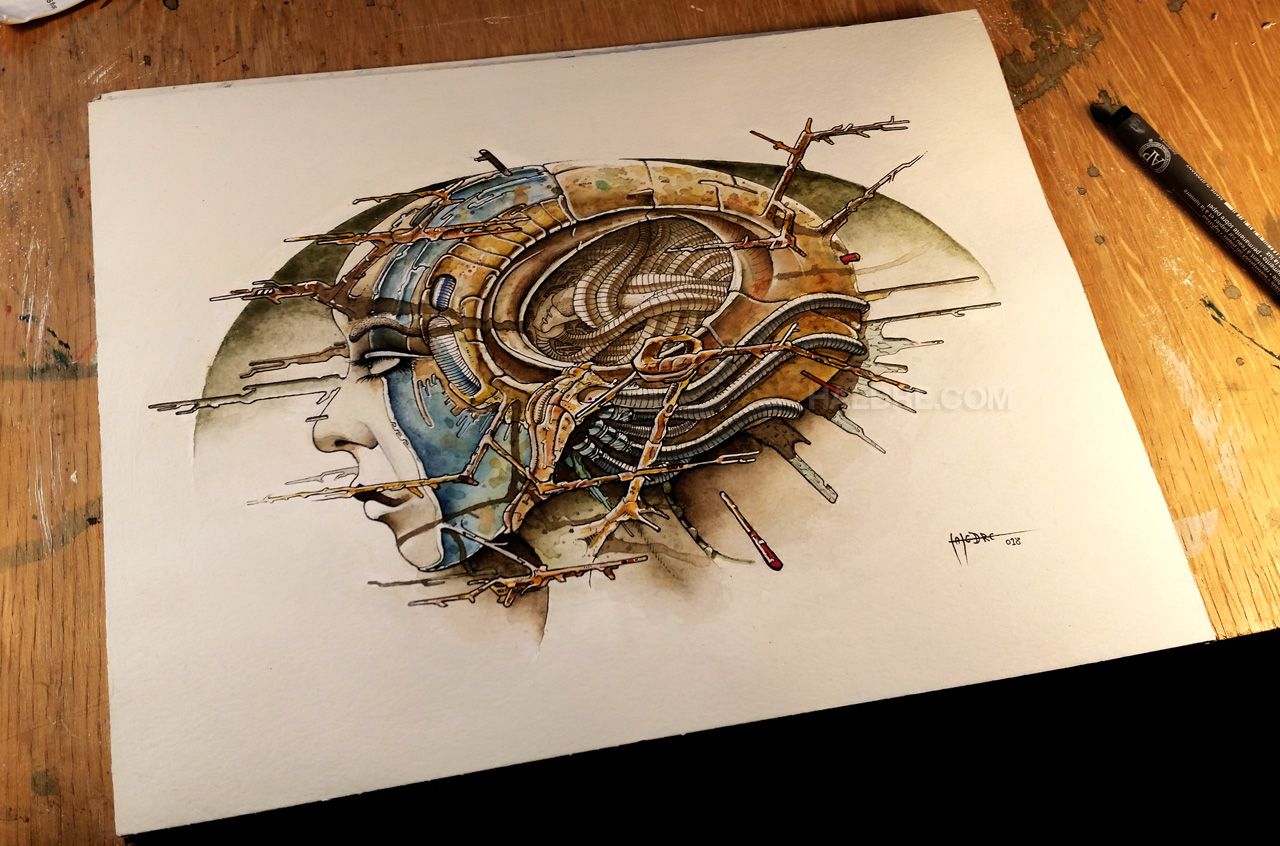 While the job, I was listening to Lovecraft's audio books "At the Mountains of Madness", "The Shadow Out of Time" and "In the Walls of Eryx".
---
Thank you for having checked my post, I hope you enjoyed it!
---
Check my official website for more art! http://www.haedre.com
Dedicating to art in a rentability driven world is tough! Consider to support me through http://www.patreon.com/haedre
And/or directly with cryptos!
BTC: 13crkJP7G23sPeud2WnBmM9hbjze57f4o9
ETH: 0xa7B61e88d8ce1aBD543f80924F5f6D9f33E85648
Thanks again! Please don't forget to