Hello Steemians,
Back in highschool I used to make fractal art a lot. I used to have my own style and put my spin on every graphic I made. I am trying really hard to dig up all the ones I made, I have them somewhere backed up. So far I can't find them. I know they are on my old computer which is dead, I might be able to slave the hard drive to recover them. I really hope I get them back. I'd really like to share it with the Steemit community. In the mean time I used my buddies old computer to make this one tonight. The computer is really shitty I tried my best dealing with the slowness and frequent freezing. When I used to make them I could sit at the computer for hours working on the same one. I had a method to my fractal madness.
(smaller sized image about 100 dpi)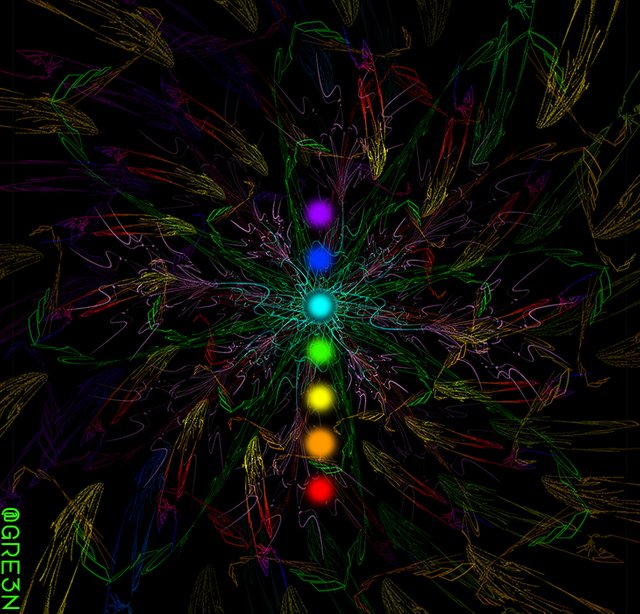 If i can recover the older ones I did you can clearly see my sense of style in each one, but they all were different and unique. This one I spent about 2 and a half hours because of the dam computer, couldn't dial in to much especially with the blur after messing with the same shapes over and over again. Let me explain briefly how I make my fractal art.
Kick up photoshop. Choose a very dark background. The style and pieces I put together always started from one shape or shapes. I would mash them together and they would be the size of the canvas. Once I liked the shape I tune it into a fractal like pattern. I take that pattern and make it smaller. That would be the center. I would repeat this process over and over and over again. Until theres a poster sized image thats unique to my liking. Theres tons of steps you can take in between to make it even more in depth. But thats pretty much it. My old ones were very detailed, I remember spending days on the same one. They were all showcased when I was in high-school. If this made no sense to you, I'm sorry. Maybe in the future, when I have a decent computer I'll make a video on how to make these. There easy in the beginning and can get very involved. Its almost therapeutic.
(300 dpi)
Here is the full sized image if you like to see it.
I really wanted to change the pace tonight instead of my traditional drawings and cartoons. I hope you all enjoyed this as much as I did making it! I'll make more in the future.
Edit: I also entered this into the ArtExplosion contest! This is perfect for the theme of time in an intellectual sort of way. I hope they all like it, shout out to @juliakponsford ! Keep up the good work! :)

Previous Post:
the secret to the whale club :)
Mars's Answer To Tide Pods. YES, they are real!
*The mars pods post above is actually a coincidence but still odd.