Paintings on Handmade Paper
"Dropkick"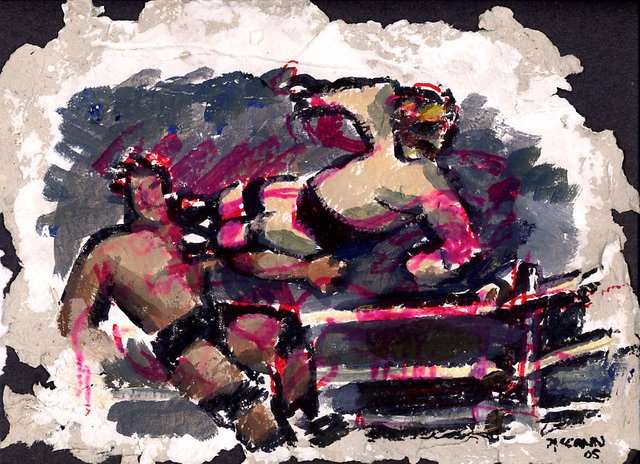 These are some paintings that I created on my own handmade paper.
The first thing I want to let you know is that I was absolutely terrible at making my own paper. The mess I made, the equipment I ruined, and the sheer amount of water wasted made it a poor investment of time, energy and resources. And after a while I quit and ended up with a tub of rotting paper water that sat on my deck for an embarrassing length of time...
But anyways the paintings were kind of fun in a difficult to paint kind of way, due to my crappy paper making techniques. First I coated the "paper" with gesso, then after that had dried I used a bright red marker to draw the initial sketch, then painted it in with some leftover silkscreen ink I had laying around. A final wash of watercolour and black marker for the dropkick painting and Voila! Fine Art!
Fine Art in the sense that it's always been on the verge of falling apart... On the other hand, I've had these since 2005 and they're still holding up, so maybe more durable than I figured. Who knows, maybe I'll sell them someday to someone who appreciates a tragic story...


"Old Warrior"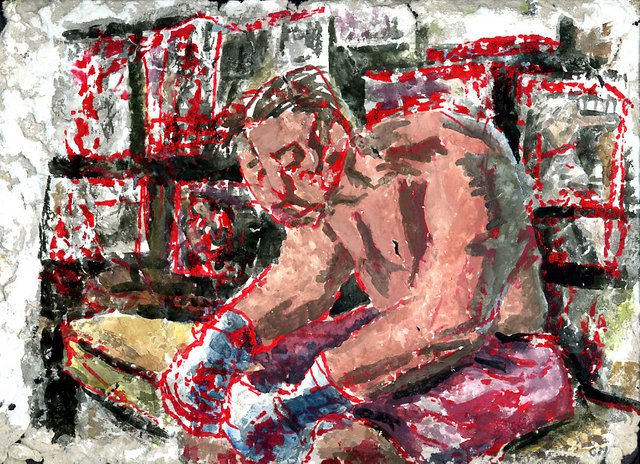 On a positive note, I do kind of miss those messy days of hand making/wrecking things.... It's been awhile since I created anything this way. With the exception of some sketches, the visual art I create these days is digital. Think it's time to get back to my clumsy roots.
Writing and images by Greg McCann, the author of this post and owner of this Steemit Channel. To view more of my work, please visit www.fireawaymarmot.com.