Good afternoon or evening, friends of Steemit!



Today I approach you to present what is being my submission for the contest presented by @anomadsoul and sponsored by @sndbox and @blocktrades because, what we all know is that Steemit is gaining strength more and more, and what better way to demonstrate it by organizing what becomes the Third World Meeting of Steemians, the now famous Steem Fest.
It is then when seeing this great invitation, which deals with the creation of a "fantasy world" of what would be the event steem fest in the year 3000, I was very encouraged to know that I could participate, and who knows, end up being forever. one of the lucky steemians that can go to poland in November?
That's when I come or show you my Poster Proposal of the Steem Fest year 3000 below:

The Idea



It occurred to me that it would be a good idea to create an image of Krakow that was characteristic, and I found this place called "Rynek Glowny Square" and it seemed to me that here could be a great meeting of steemians in the year 3000, a year to make a tributes to the place where so many years ago, the third installment of this great event was held (all theoretically, of course).
I decided in the first instance to make a characteristic picture of a photographic series that has always attracted my attention, from the artist Murad Osmann and his girlfriend Natalia Zakharova which is based on photographs of the two of them, one next to the other always, taking it to him from The hand around the world, and I came up with a great idea to represent this in the illustration with poster effects I wanted to make.
It was then that I decided to take my paper and pencil and start working. It is here then that I will show you my sketching process.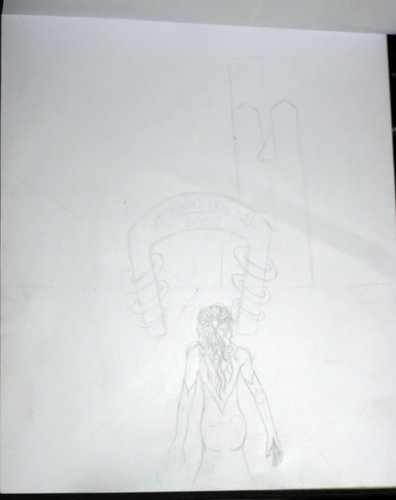 Part 1. Here I started with the idea of the couple, making the girl was the strong point of the image and that's why I decided to start there, in the image you see the base of the girl and some vague details of the place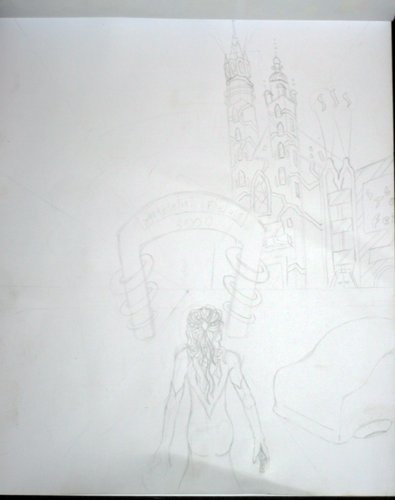 Part 2. I organized and defined a little more the whole right side of the image, although without going into details completely in some areas.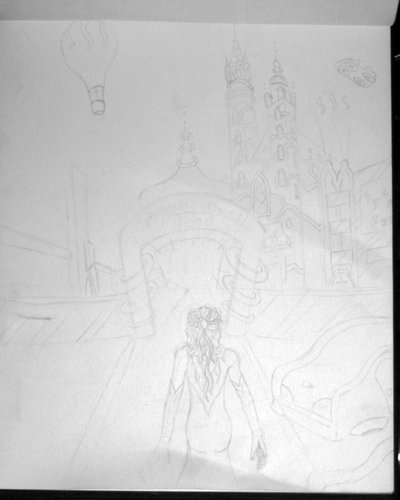 Part 3. I added some more details, such as cars flying (because already at that point, there should be) a balloon floating, and festive symbols around the place celebrating the event.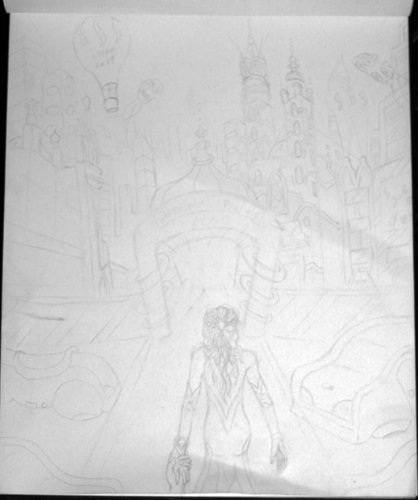 Part 4. Here is already defined the whole idea of the square and the scene seen from my point of view, with some other things that have been maintained and others that have simply changed.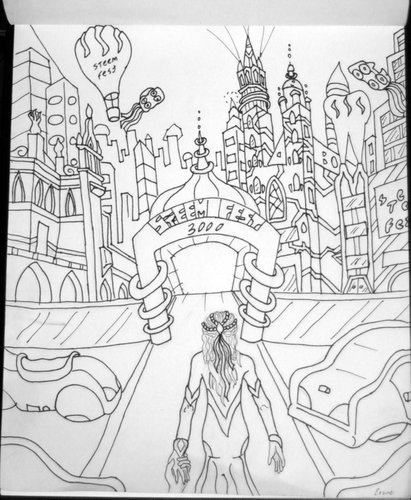 Final part of the sketch. Now defined the details in pencil and then highlighted, this was the result, a series of elements that together form a utopian futuristic scene and that denotes similarities but also many differences, and I hope to continue making evolve. Enjoy the scene!

There ends the phase of sketches, this has power to change several things because the idea is from there, digitize everything and make it a poster worthy of a distant future scene, but everything will depend on the choice of the jury that I will wait with cravings
No more to add for now, I say goodbye leaving a big greeting and hope to go packing my bags to Poland!
| Category | #illustration #graphicdesign |
| --- | --- |
| Tools | Pc, Sketchbook |
| Edition | Adobe Photoshop cs6 (pictures of the process only) |
| Localization | Caracas, Venezuela (for now) |
All the content here have my direct Copyright, so Let's continue!
Follow me on Instagram : @erune_

ilustration/design

and @erunepics

photography
Thank you for your time!