I whipped up some paintings to make sure I was in a position to represent my art classes for Seniors Week and they are inspired by a tutorial which I talk about in a recent post. Our oceans represent a fragile ecosystem and one that in the 60s, seemed like it could never be compromised by human activity. People thought our planets most massive bodies of water were just too great to ever reach the critical point where they are now on our account. For me, it was of great interest to look at the pristine universe which we are loosing day by day thanks to human activity but one might look at the work and it may not cross their mind.
I don't like to preach with my art. If people lack the ability to see what's in front of them, I doubt that pushing some message their way will change anything. In this age of information, we are thrown images of bird carcasses full of lighters out on Facebook without even seeking that information. I like for my art to come from a zen state of mind and to convey a beauty about the world. Whales are extraordinary creatures that have survived for millions of years and no amount of pollution can ever change their triumphant era.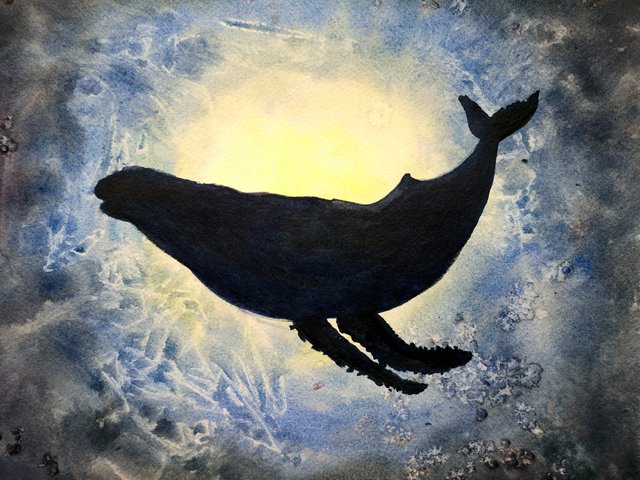 I like these photos of my work but for some reason, more white is peaking through the blues than in real life which gives a very different effect.
I am happy that this deadline urged me to create a little, it was long overdue. I always struggle to feel proud of my achievements but I do get there somehow!
All the compliments throughout the week really help me nurture the desire and passion to create for the public and I know that I will always be creating to amuse myself.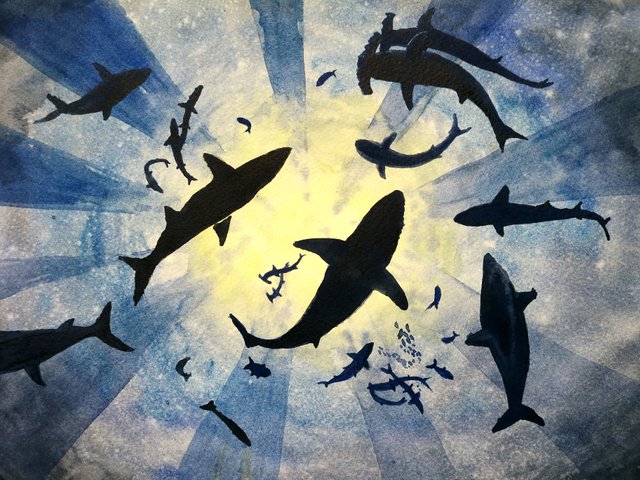 What is happening to marine life is unspeakable, how can we let our great predators fall to the wayside? Sharks greatly help maintain a balance along our exquisite coral reefs. Without them, all is amiss.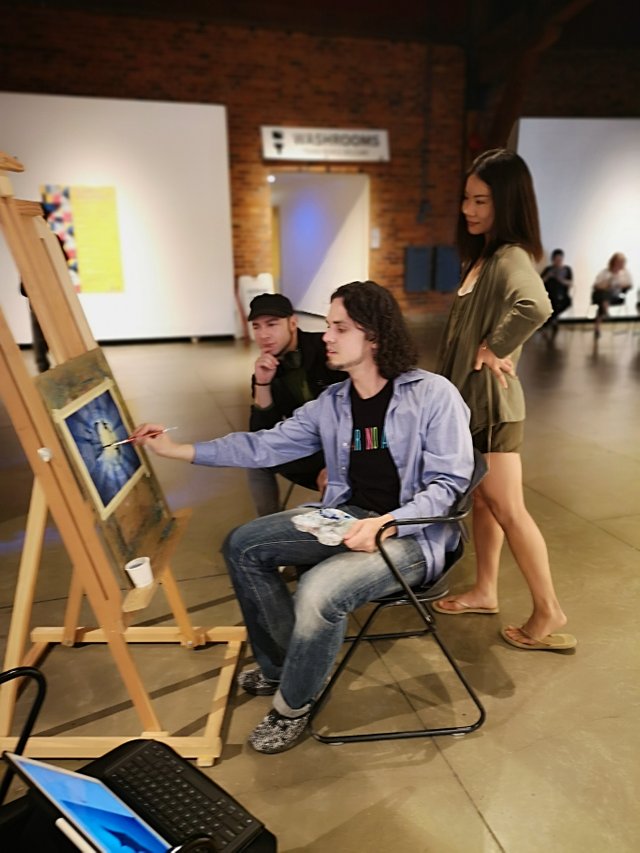 Unfortunately, the turnout for our art opening was the smallest one so far but I had a wonderful experience live painting on a background I had previously prepared.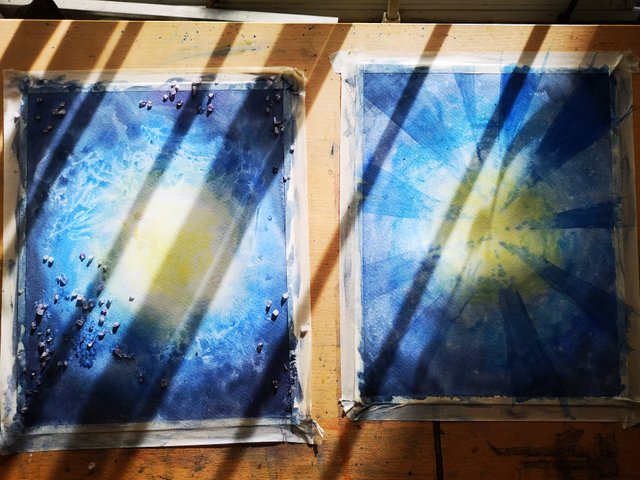 This photo of my under paintings give you a better idea of the fullness of the blues. You can see the rock salt pulling water to create the effects on the whale piece.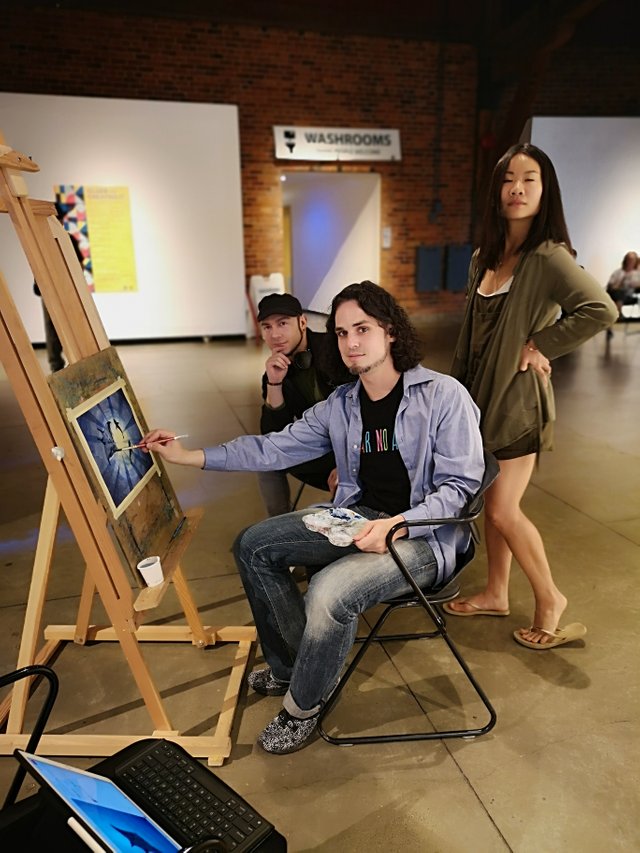 Here I am with my crew pulling a bohemian badass style in the prestigious Roundhouse exhibition hall.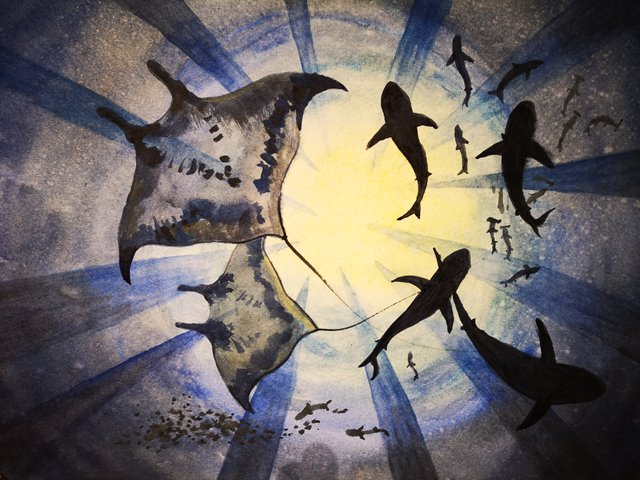 I fully embrace the transparency of my medium of choice, the ocean showing through the sting rays evokes their fragility. Ocean life can only exist within an ecosystem populated by countless species.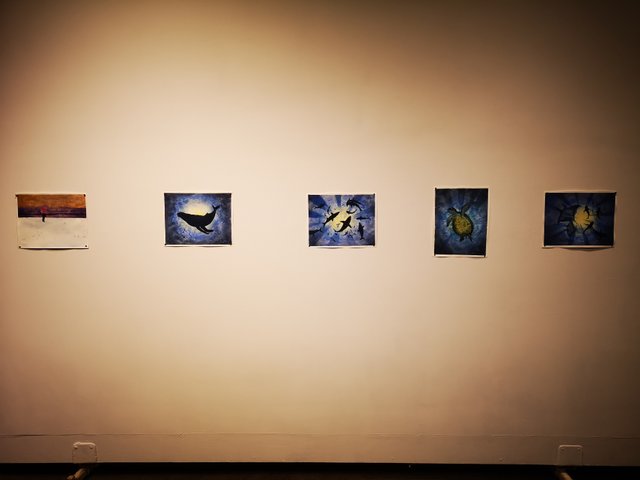 The umbrella girl at the left of my wall, I hope to discuss in an ulterior post.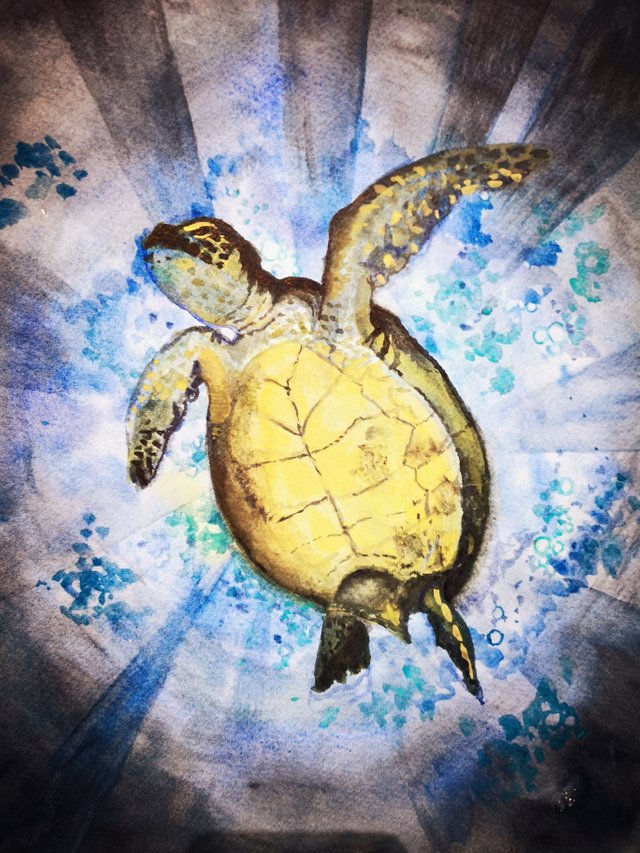 The sea turtle is a fan favourite. I used one of the top results on google photo since I left myself little time to do it. I blocked these compositions with a long liner brush using very diluted paint but in this case I had to lift paint on the sides of the shell for the perspective to make more sense.
I am so happy the Roundhouse takes care of me by offering this incredible opportunity for my work to be up for a week. I love it there, year after year, it brings joy in my life.