Writing My First Press Release!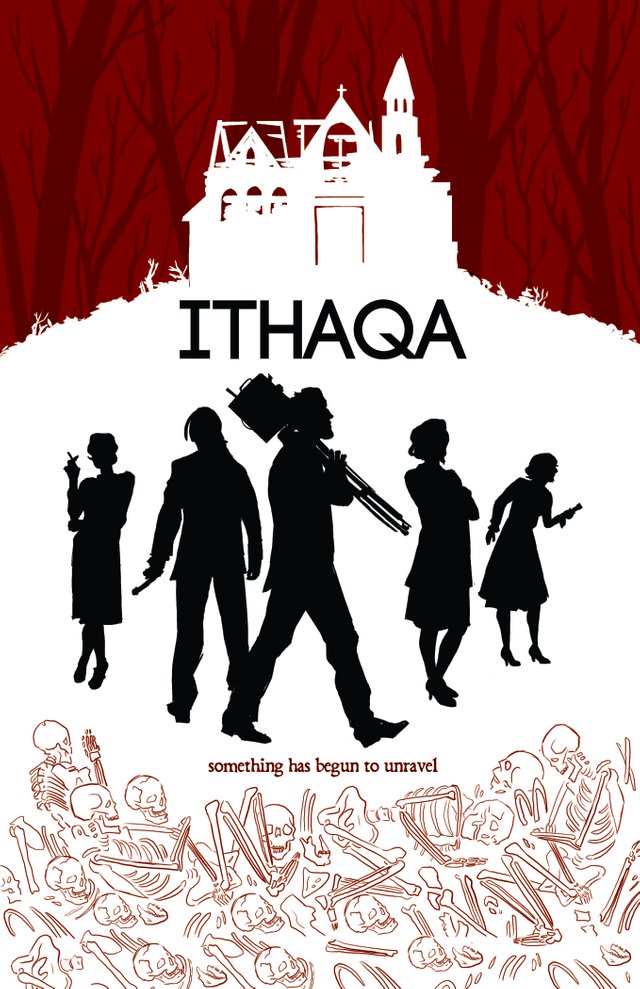 Hey all! First off, so glad to see steem on the rise again, ket's keep posting and keep the trend going!
Secondly, I'm writing my first ever press release for the comic, and figured that my fellow writers and artists on the platform might be interested to see what one looks like. I looked at a bunch of different press releases, and have come up with my own. I intend to start circulating it soon, so if you know of any small comic blogs, youtube channels, or publications, drop them in the comments!
Lastly, this brings me to my next official announcement, which I have mentioned before, but I'm outright saying it now - we're going to launch a kickstarter in order to raise the funds necessary to print 250 copies of Ithaqa Issue 1.
I want to draw in some of the Kickstarter comic-book community so that we can build up a larger audience for our work. Fear not! Steemit will remain the premiere website to look at Ithaqa art, and as you'll see in my press release below, I hope to pique people's interests in steemit, and draw them to our platform.
This thing isn't set in stone yet, so if you guys feel I should promote steemit in a different way through this release, I'm happy to listen!
PRESS RELEASE
"Ithaqa," a mystery turned Lovecraftian horror story launches on Kickstarter and premieres new pages on Steemit.com
Official Website: https://www.ithaqacomic.com/
Steemit Blog: https://steemit.com/art/@drwatson/ithaqa-comic-issue-1-part-1
Hoboken, NJ (March, 2019) - Michael Watson brings "Ithaqa", a 1920's horror comic, to Kickstarter and premieres a digital version on Steemit.com, a crypto-currency backed blogging platform.
Ithaqa is a comedy-turned-Lovecraftian horror story, that will appeal to readers who enjoyed HBO's True Detective, but thought it would be copacetic if it had been set during the roaring 20's.
Mookie Smitts is a filmmaker and conman, who stumbles upon the horrible Eldritch Truth of the cosmos, as a moving picture he's struggling to produce in the 1920's, accidentally threatens to destroy the Spacetime Continuum.

Hazel is an ostracized artist, whose fascination with the booming spiritualist movement gets her involved with a recent string of suspicious deaths. She believes that ghosts are real, and thinks that Mookie can help her find some.

Margaret Murphy is a former suffragette. Now that she's won the vote, she finds her day to day life as a telephone operator to be unfulfilling. Margaret wants to solve mysteries like the hard boiled detectives in the pulp novels she reads. She trusts Mookie as far as she can throw him, which isn't very far.

Ruth Addler is a cynical nurse who's down on her luck. Her no good husband split town, and left her saddled with a lot of gambling debts. Now she needs some cash quick, and an ad in the paper looking for spiritualist investigators seems like just the ticket...

Harvey Bolton is a WW1 soldier gone AWOL. A horrific eldritch experience from his past drives him to abandon the army and seek answers. His quest for the truth is complicated by his former lover, Charles Smith, who has risen to the rank of Lieutenant within the Ithaca Police Department.
These five investigators find their paths intersecting in the city of Ithaca, NY, as a local real estate tycoon seeks to quell the rumors that his recently acquired lands are haunted.
"The Steem cryptocurrency community has been supporting my comic online for two years now, but it's time to launch Ithaqa to a wider audience " says Watson. "I've been waiting to bring the comic to Kickstarter, because I wanted to make sure I was bringing their community a product that was as finished and polished as possible, and I finally feel that that time has come. "Ithaqa" Issue 1, is ready for a physical print run."
If successfully funded on Kickstarter, Ithaqa, Issue 1, will be 40 pages long and kick off an 8 issue story arc. The comic is illustrated by Theresa Chiechi, a graduate of The School of Visual Arts, NYC. https://www.theresachiechi.com/
It is lettered by Lucas Gattoni (Salvation, Kinetic, and Message Sent)
https://cargocollective.com/LG_Lettering/About-me
In order to give potential backers a taste of what they're backing, Watson has uploaded most of the comic to steemit.
"If I was in a comic shop, I wouldn't buy a book without picking it up and flipping through the pages," says Watson. "I needed to give potential backers a way to preview the story and decide if "Ithaqa" is for them."
For more information about Ithaqa, you can check out the Kickstarter campaign at (Link not live yet).
To read the comic, go to https://steemit.com/art/@drwatson/ithaqa-comic-issue-1-part-1.
For press images, go to https://www.ithaqacomic.com/.
Notes to Editors
About Michael Watson
Michael Watson is a writer and video editor who has worked for the Vsauce Network, History Channel, and DUST. He loves reading Sci-fi and playing Call of Cthulhu, so it's no surprise that his subconscious demanded he write "Ithaqa"
About Theresa Chiechi
Theresa is an illustrator and cartoonist based in Manhattan graduated from the School of Visual Arts with a BFA in Cartooning.
With a fascination with history, Theresa loves finding inspiration in fairy tales stories, historical events, and looking to her Italian heritage when creating stories and illustrations. She often finds herself listening to way too many true crime podcasts.
About Lucas Gattoni
Lucas Gattoni is a seasoned graphic designer and typesetter, bringing over fifteen years of professionalism to comic book lettering. He's worked with many indie publishers and is lettering two yet-to-be-announced series for Action Lab Comics. He lives in Argentina with his husband and their four goldenfish (wait, make that three now).
About Steemit.com
Steemit is a social media platform where everyone gets paid for creating and curating content. It leverages a robust digital points system (Steem) to distinguishing works with merit, and dole out cryptocurrency based rewards