STREET ART #56 – The coolest school in Granada, Spain (part 1)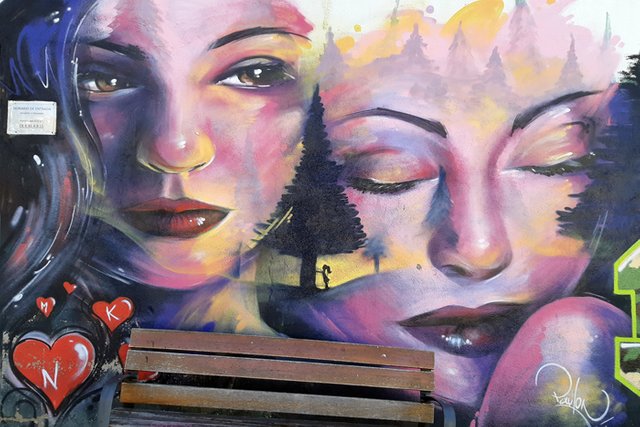 Before I went to Granada a few weeks ago, I knew this city has a large amount of murals done by one of Spain's wellknown street artist – Raúl Ruiz. The old Jewish Quarter, Realejo is home to some of his greatest art. One of the most impressive sights was to see the 800 m. wall with artwork on the walls of the school Colegio de Santo Domingo, painted by both Ruiz and various artists.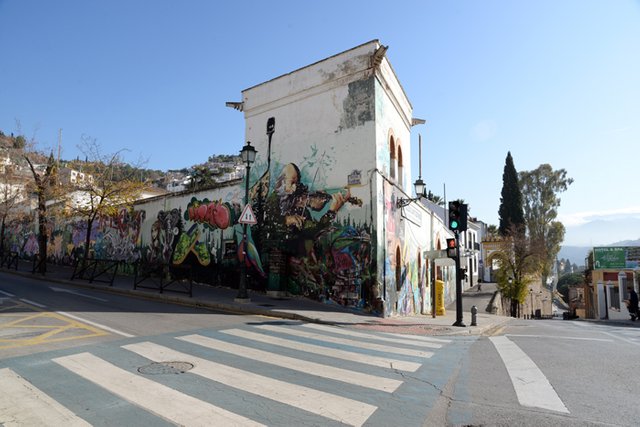 High above the city of Granada, Alhambras mighty red walls rise majestically over the city with Sierra Nevada's snow-capped peaks visible in the background. Alhambra is one of the most beautiful buildings and the reason for visting Granada. Next to visiting Alhambra, the amazing street art scene was a "must see". We started from the city center and simply started to walk along one of the streets in Realejo. That walk introdused me to the work done by Ruiz also called «El Niño de las Pinturaz» («the child of paintings») (check my first post from this walk).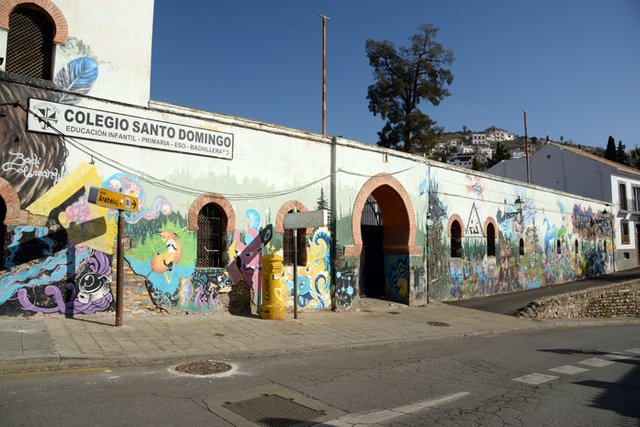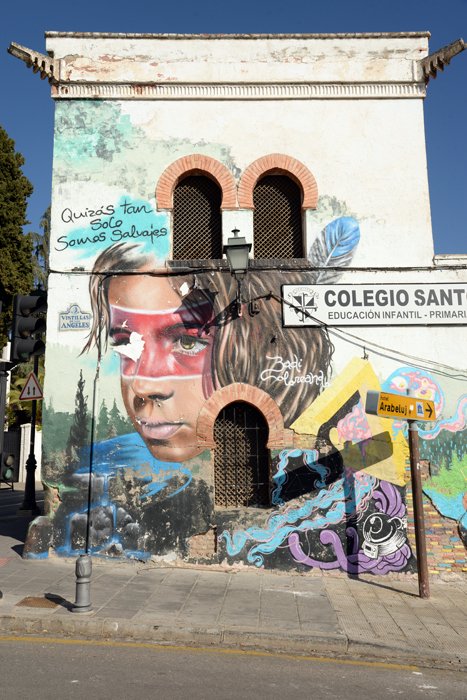 As we kept walking this was the view that met us! At this point we had been talking about turning around and go to see the Cathedral. As far as our eyes could see, the walls to both sides of the building were covered with colorful murals. This is the school Colegio de Santo Domingo.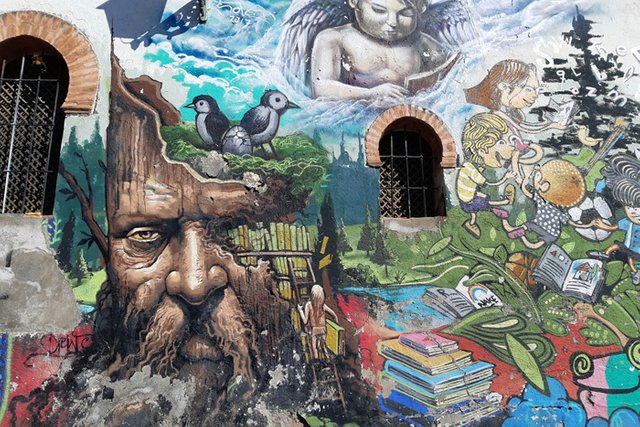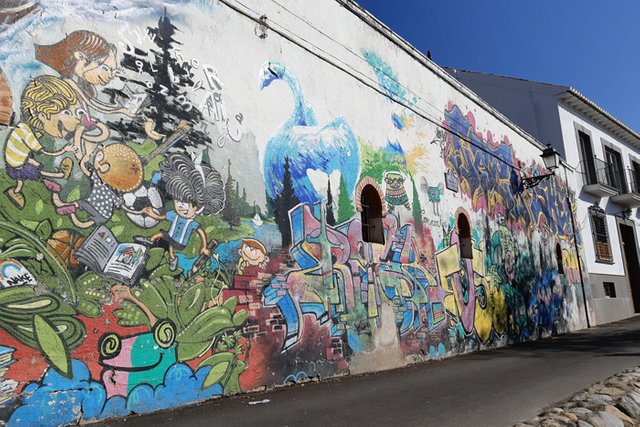 Some of them are already fading, like the murals on this wall. They might have been here for some time.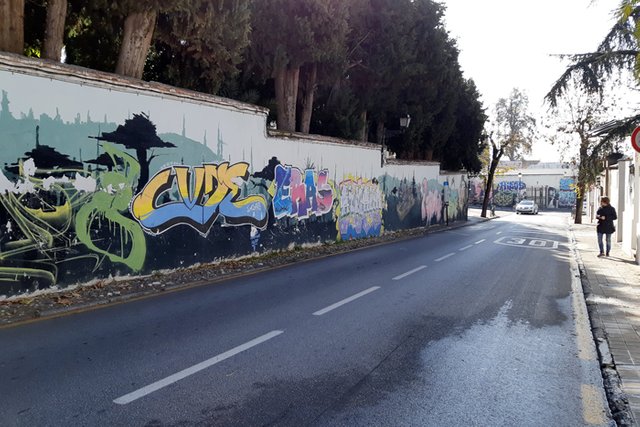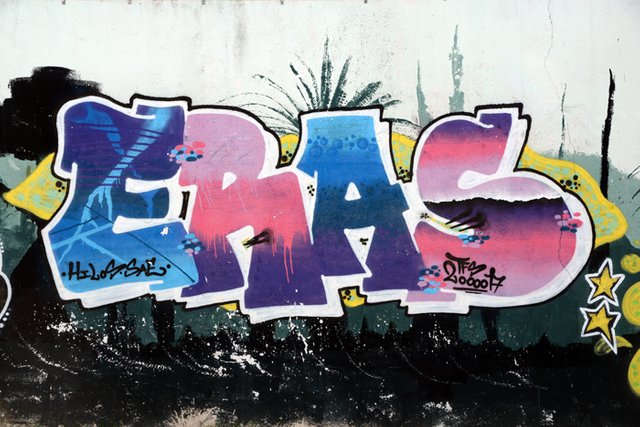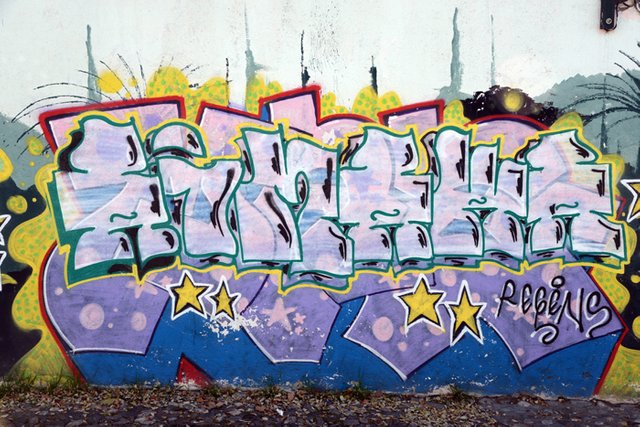 We decided to walk up to one end of the wall and work our way down to where we started. These paintings, where one almost slides into the next, are probably one of the largest and most colorful in Granada.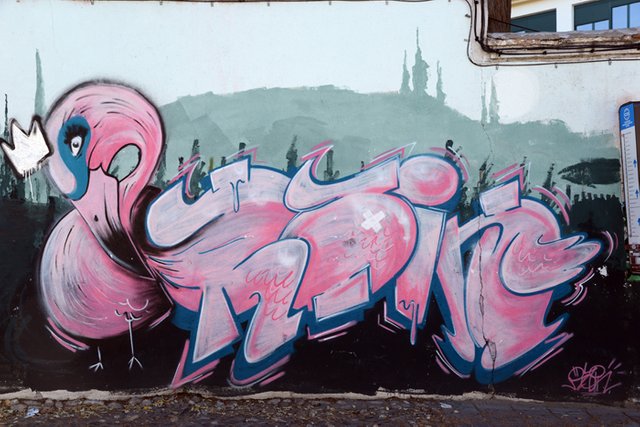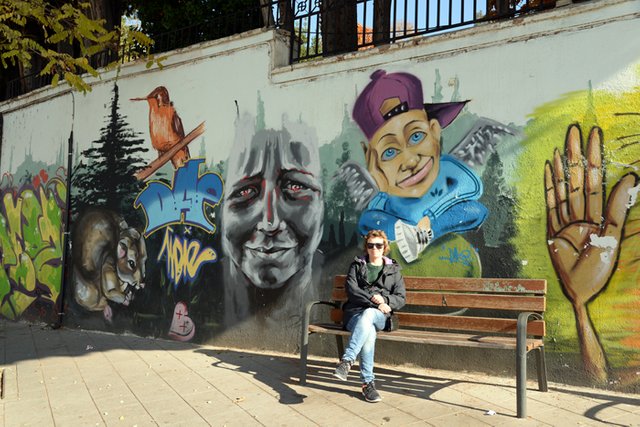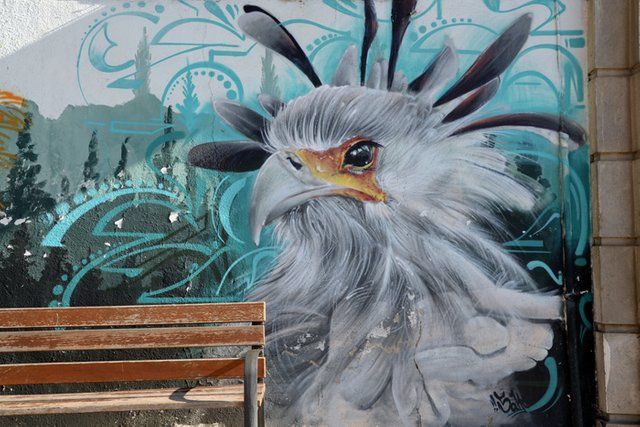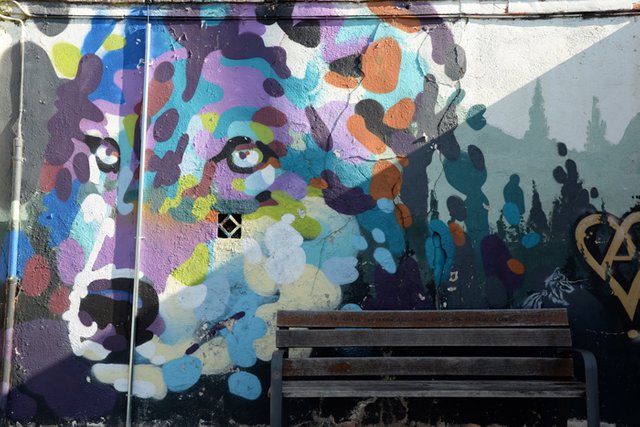 As far as I have managed to find out, the murals were commissioned by and worked on by El Nino, friends and artists who come from all over Spain. A local told us that the appearance of the wall change as they are repainted.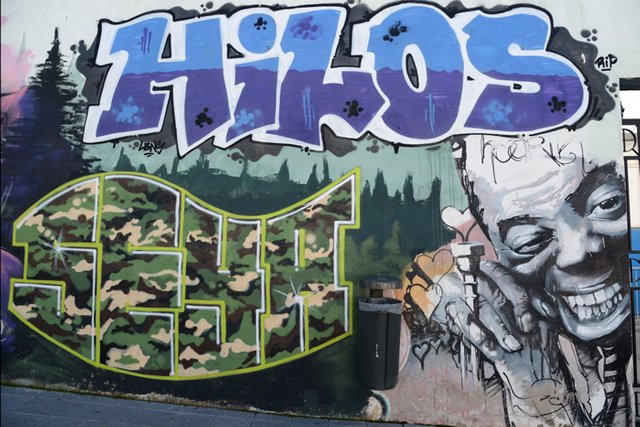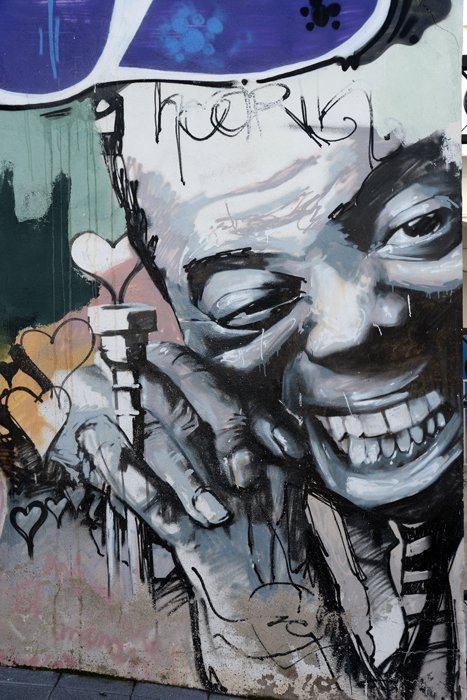 The paintings are depicting many different themes – the styles varies from portraits of Louis Armstrong to cartoon animals, angels, graffiti and beautifully detailed murals. It is fascinating to study the many details, besides looking at the large picture.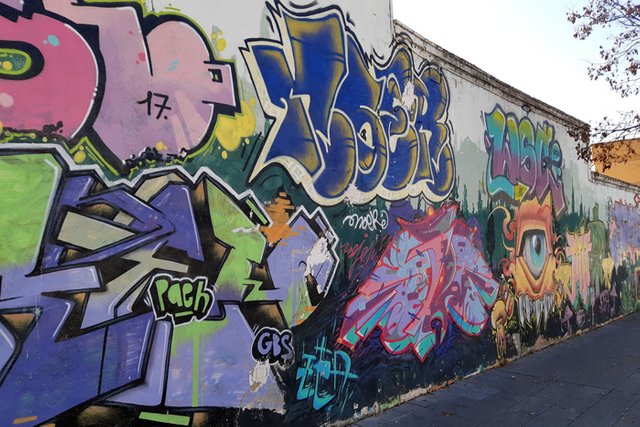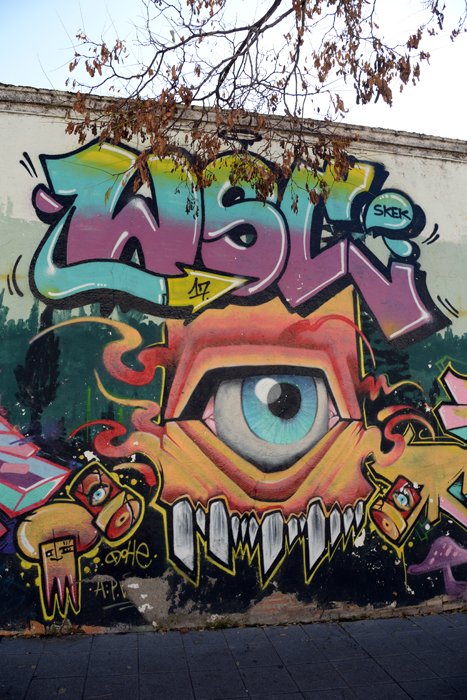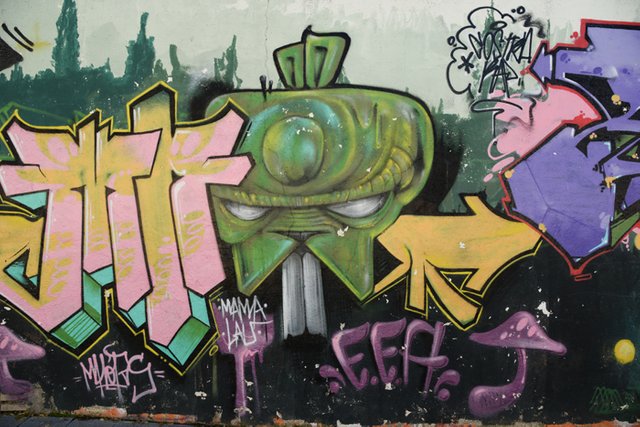 It's an enormous piece of work. I didn't count all the murals but I ended up with more than fifty photos. This is not even half of them!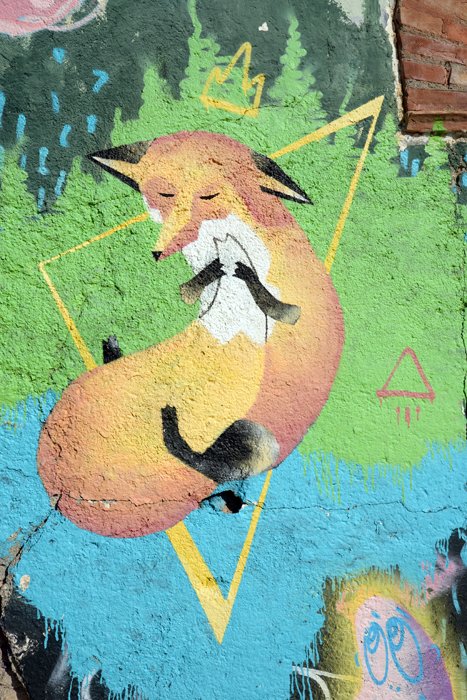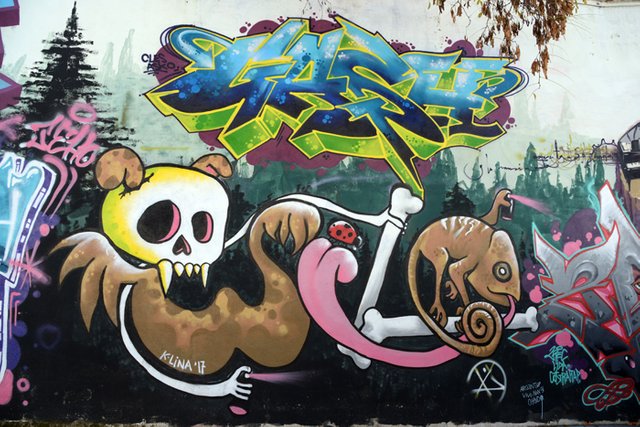 My first post with murals from Realejo:
STREET ART #54 – The street art in Granada (Spain) is a real surprise
Please do follow if you want to keep up with my next street art. Any upvotes or resteems are hugely appreciated!
Latest street art post, check out :
STREET ART #55 – Amazing street art by Okuda ++
U.J
Kristiansand, Norway
All the photoes are mine, Ulla Jensen (flickr, Instagram and facebook)
[//]:# (!steemitworldmap 37.177657 lat -3.598326 long STREET ART #56 – The coolest school in Granada, Spain (part 1) d3scr)
Read about us? // Main page!
Latest content: Travel, Art, Food, Article, Poetry