My Newest Oil Painting - Full Process -
Insta-Painting
This image began as an Instagram photo, taken when I was bicycling past this little shop after work one rainy night. I put my iPhone down to the ground and snapped some photos. Later, I looked through what I had taken and uploaded this one, probably with the Hefe filter. Then, I printed it out on paper, and started to paint.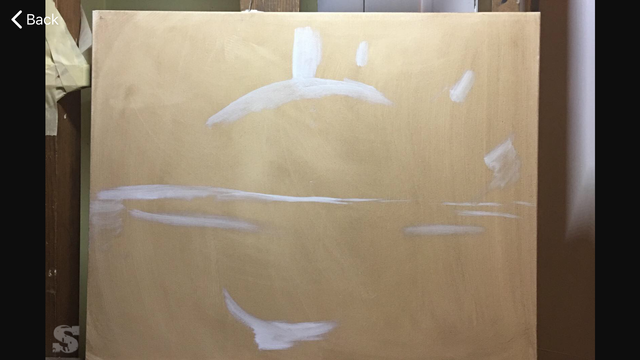 I used a toned stretched canvas, and placed some titanium white to describe the dominant bright areas of the composition. Then, I took some red, yellow, blue and white to make brick color, and placed that in all the areas brick appears. Then I noted some of the darker areas. This forms the drawing and serves as the structure on which to place everything else.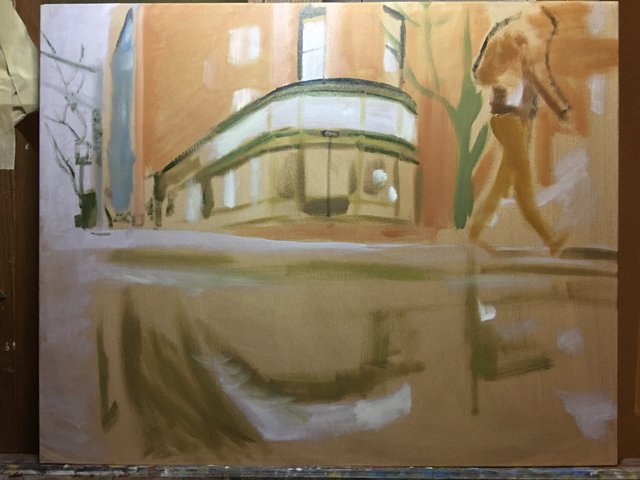 I'm particularly proud of this one. I feel I have perfected my technique, of skipping the basic drawing, and just painting. I had to jam the image, which was square, into the rectangular canvas shape. It took removing some details, but it came together pretty easily.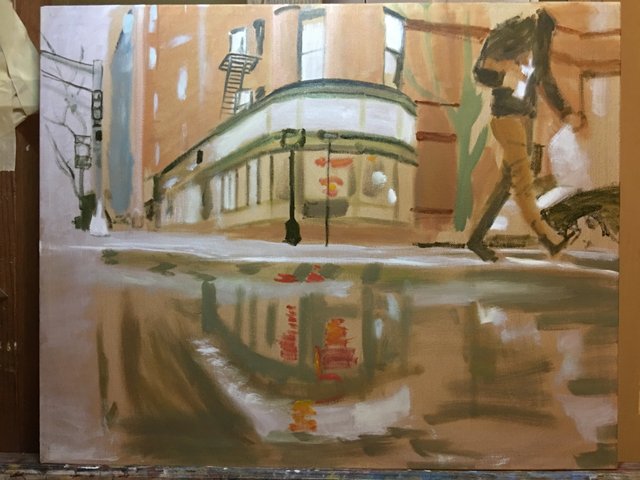 The biggest problem I had was keeping the horizon in the middle, while reducing the reflection's length. I didn't go back to an original photo, because I really liked the composition and the color tones I was able to achieve in Instagram. Since, I have bought a square canvas so I can do another with fewer problems.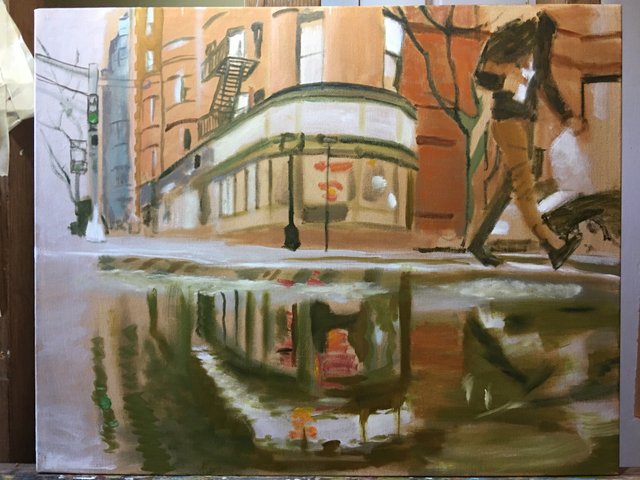 Coming Together
It is at this stage where I simultaneously become overwhelmed at how much detail there is left to do, but also encouraged by the progress and the emerging effect of reality. To some, it may be complete, but I'm not looking to cut corners. I want to see details.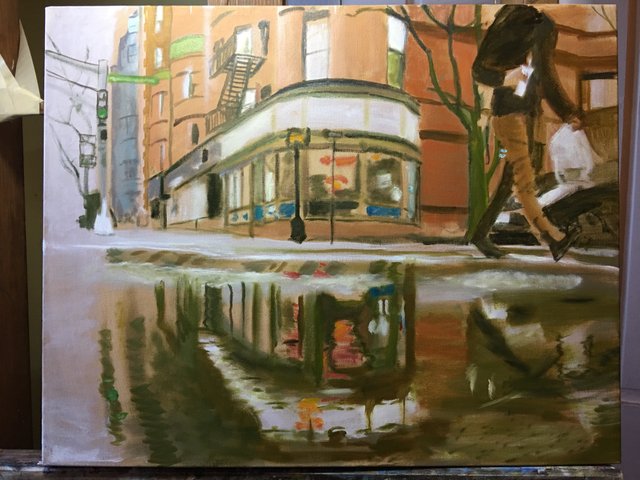 So I struggled some with the perspective of the fire escape. Probably because of the foreshortening of the image, I was left with windows that would be too wide compared to their height. To remedy this I increased the distances between the windows. It works, but isn't ideal if you're a stickler for accuracy.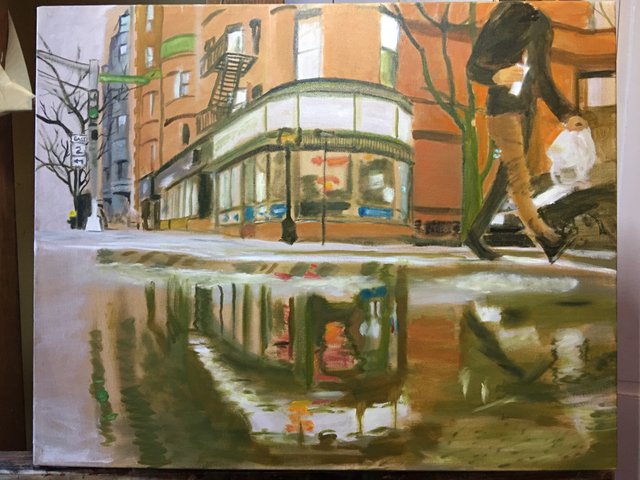 The Home Stretch
Everything is where it goes, and most of the colors and details are in place. I'm going around and refining the lines and angles, making sure the shapes and shadows are all as they should be. The folds in the guy's pants, dirt on the bricks, shadows describing the form of the tree. Whatever is needed to make it look real.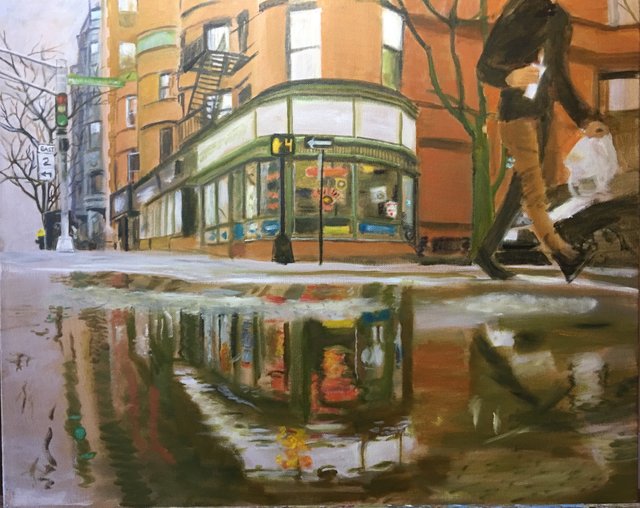 As I'm going around improving things, I keep in mind that I'm not recreating a photograph- I'm painting a painting. It's nice when someone exclaims, "that looks like a photograph!" but I want the next words to show they know it's not, and recognize someone took the time to paint it.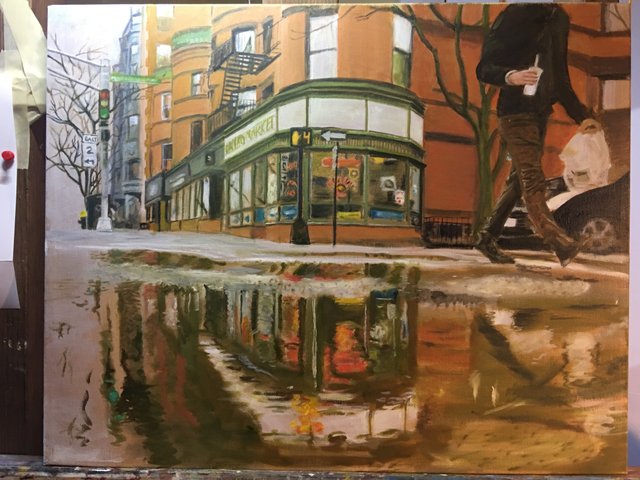 Final Product
So here is the finished piece. It's 16x20, oil on canvas. I haven't varnished or framed it yet since I have been working on my new project. More to come!
I hope you enjoy this post. Please consider upvoting or reposting.