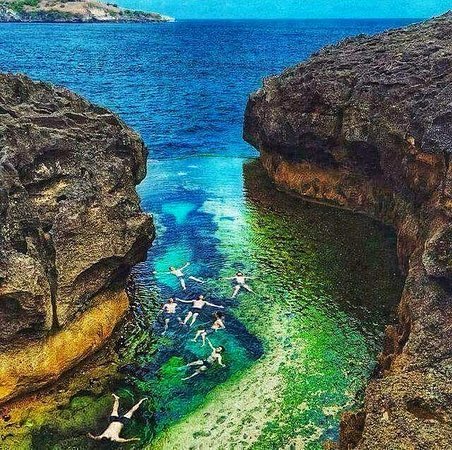 Tempat wisata baru di Bali selanjutnya adalah Angel's Billabong yang berada di Nusa Penida. Wisata ini adalah destinasi yang ramai dikunjungi oleh para wisatawan yang akan menghabiskan masa liburnya. Permukaan air di tempat ini sangat tenang dan jernih. Ditambah dengan udaranya yang segar akan membuat kamu merasa ketagihan untuk datang lagi ke tempat ini.
Kamu juga bakal ingin berlama-lama berendam di air yang ada di sini. Perlu kamu nih, untuk menuju ke sini kamu harus naik speedboat dulu ya, dan harga yang ditawarkan adalah 75 ribu per orang. Wisata ini dibuka mulai pukul 07.30 sampai dengan 16.00 waktu setempat.
(The next new tourist spot in Bali is Angel's Billabong in Nusa Penida. This tour is a destination that is visited by tourists who will spend their holidays. The water level in this place is very calm and clear. Coupled with the fresh air will make you feel addicted to come again to this place.
You will also want to linger in the water here. You need to, to go here you must take a speedboat first, and the price offered is 75 thousand per person. This tour is opened from 07:30 to 16:00 local time.)