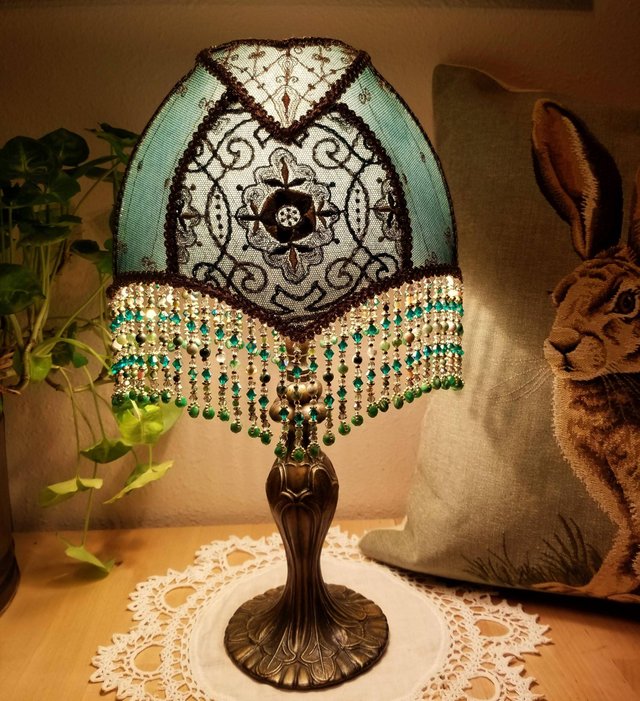 The Project
This project turned out far different than I anticipated--but better! I originally intended to make a small hanging lamp, and instead I ended up with a boudoir-sized table lamp. Such is the nature of art.
Having never made a green lampshade before, this was new territory for me. Surprisingly, green is a very difficult color to create when working with dye and silk.
The Process

Prep-Work
The Victorian wire lampshade frame I selected for this project is called "Victorian Oval Mini". As seen the the above image, it's about 1.5 Coke cans tall and about 4 wide. In the first image, you see the frame after I have painted the steel wire with Rustoleum.
All frames need to be wrapped in order to ensure a surface to which I can sew the fabrics. The second image reflects a fully-wrapped frame.
Some artists line their shades, and some do not. I tend to line them as a best practice to ensue that bright white light is delivered by the lamp, which is especially important when using dark outer materials. In the third image you can see the shade lining in progress. I use pushpins to secure tension on the fabric and I then hand-sew it to the frame.
Working with Silk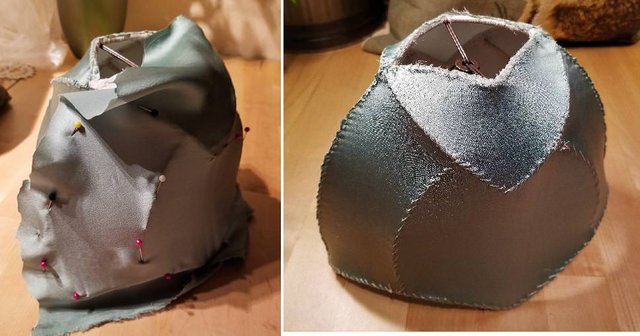 I tend to prefer working with silk charmeuse for most of my lampshades. It has a lustrous texture, it's flexible with stretch, and it usually does not show needle marks. However, it does have a downside...it is very difficult to dye. For this project, I used Procion dye in "Forest Green", and I dyed about a quarter of a yard of pure white silk.
Pictured above, you can see the shade in partial coverage, and then fully covered. It looks a bit "mint" colored in the picture but it is indeed the color of a Spruce tree.
Adding Amazing Antique Textiles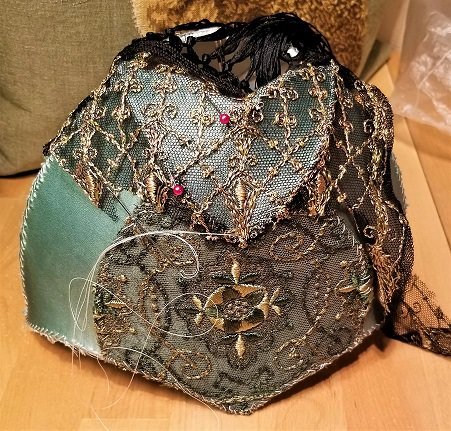 Here, you can see two entirely different textiles used to create the face of this shade. The larger panel is an antique silk embroidery that looks quite Edwardian. The top (V-shaped) panel is being covered with material from an embroidered silk scarf, circa 1910. Though difficult to see in the photo, the embroidery is a myriad of muted colors.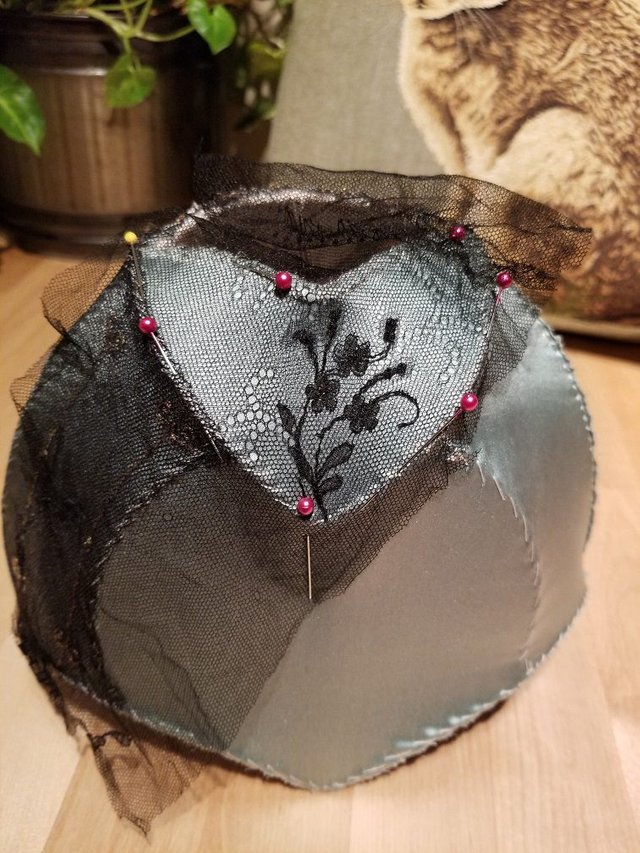 I took some creative liberties on the back of the shade by including a single flower pattern using extremely soft silk netting from France. For the most part, this is definitely a masculine shade.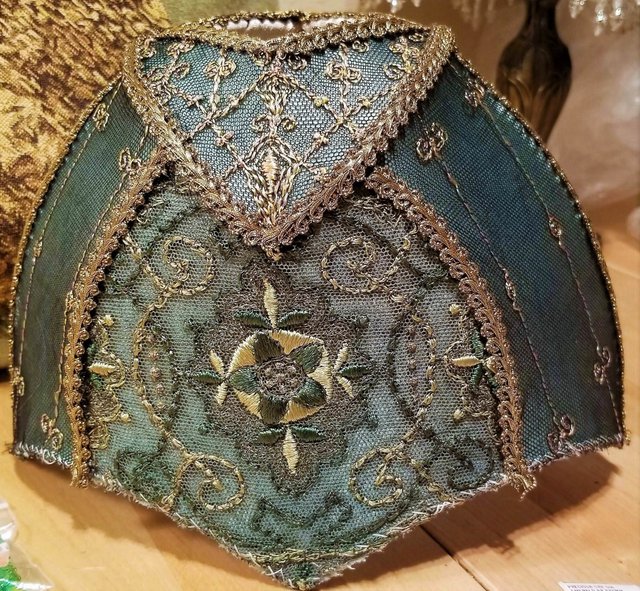 The shade is nearly complete, covered in delicious antique textiles of embroidered silk net, and heavy metal trim in antique gold. The bottom trim is the final addition once the bead strands have been sewn onto the frame.
Making Hand-Strung Beads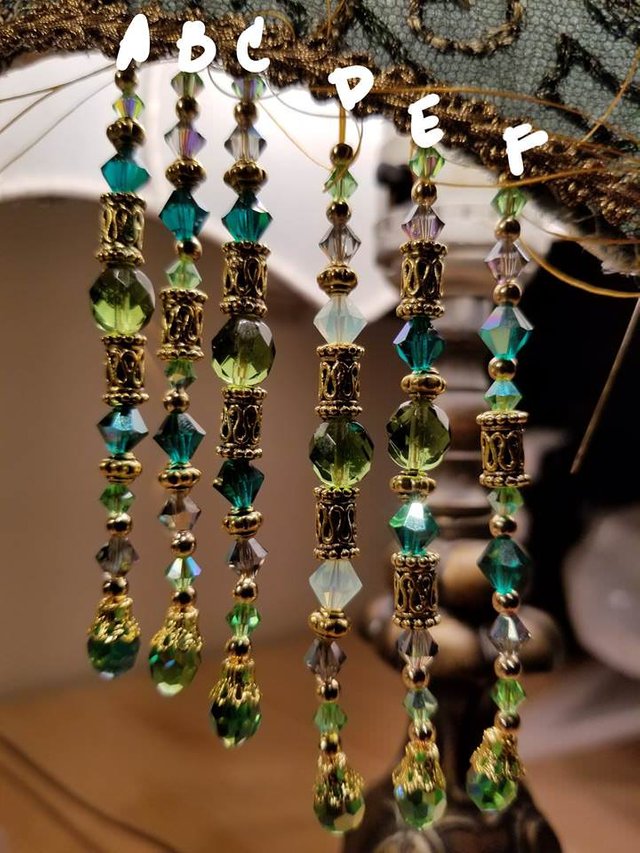 For those of you who saw my post from last week, you will recall that I struggled immensely to create a "master" strand that complimented this shade. I tried at least twelve iterations before I realized that I simply had the wrong beads. Sometimes hand-dyed colors can be difficult to match with existing bead colors, and that was entirely the case. None of the pictured strands were used. I went bead shopping instead.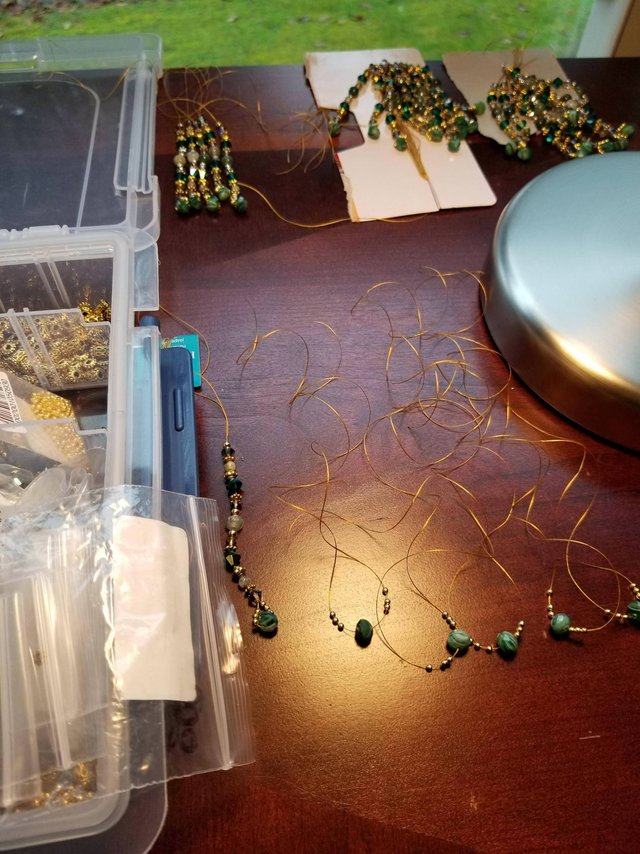 Here's a look at where I finally landed regarding bead selection.I figured that, since I could not find a perfect match between the bead and the fabrics used, I'd just go nuts with every color in the green rainbow. Inclusion of jasper beads was the best way to accomplish that effort. I've never used semi-precious stones on a lamp before so this was a fun and interesting experience for me.
Pictured above, you can see the first twenty-five strands being made. I expected this shade to hold sixty strands but I was surprised by the need for seventy-five strands, and was glad that I had purchased more beads than I needed!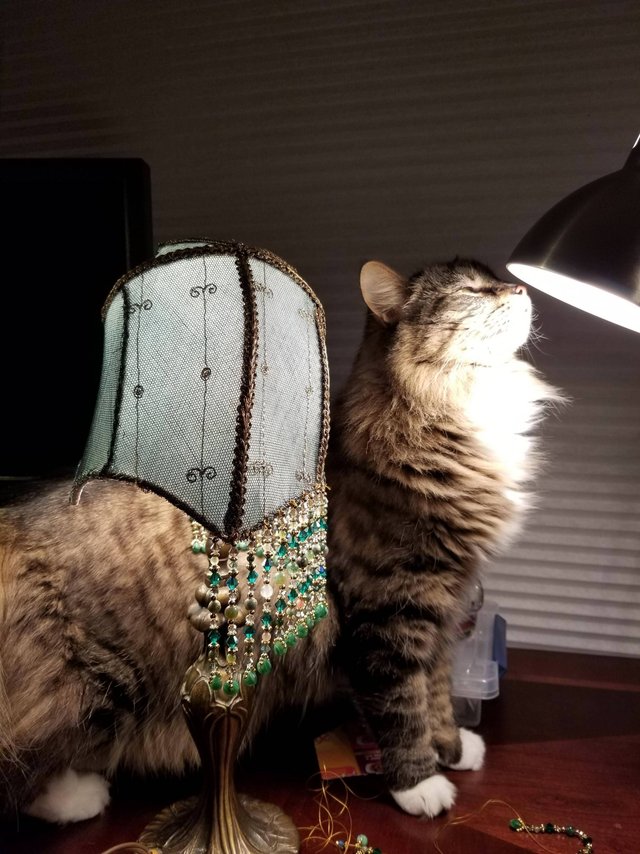 My assistant checks the lighting as I sew on the beads strands.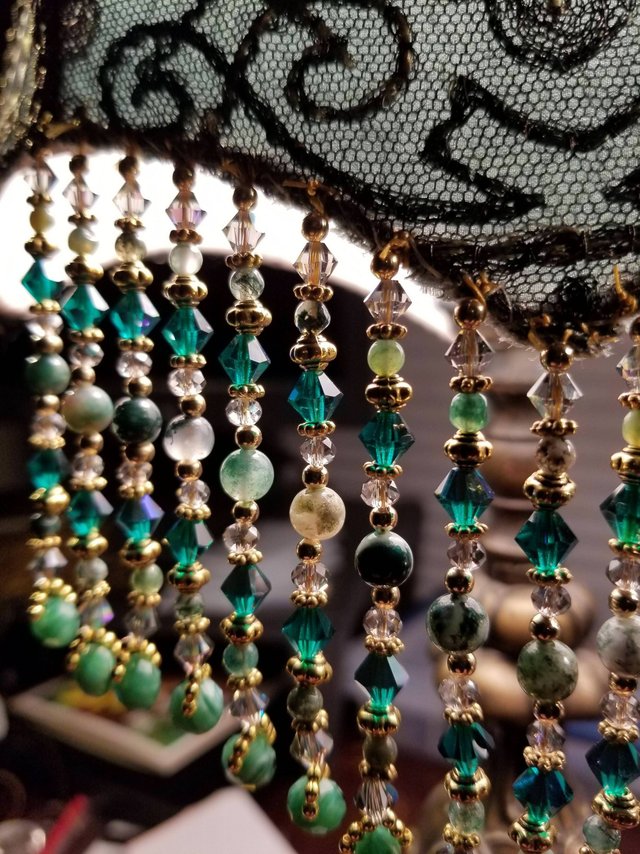 Beautiful jasper in every shade of green. All that remains to be done is to add the bottom metal trim to hide the knots and give it a finished look.
The Finished Work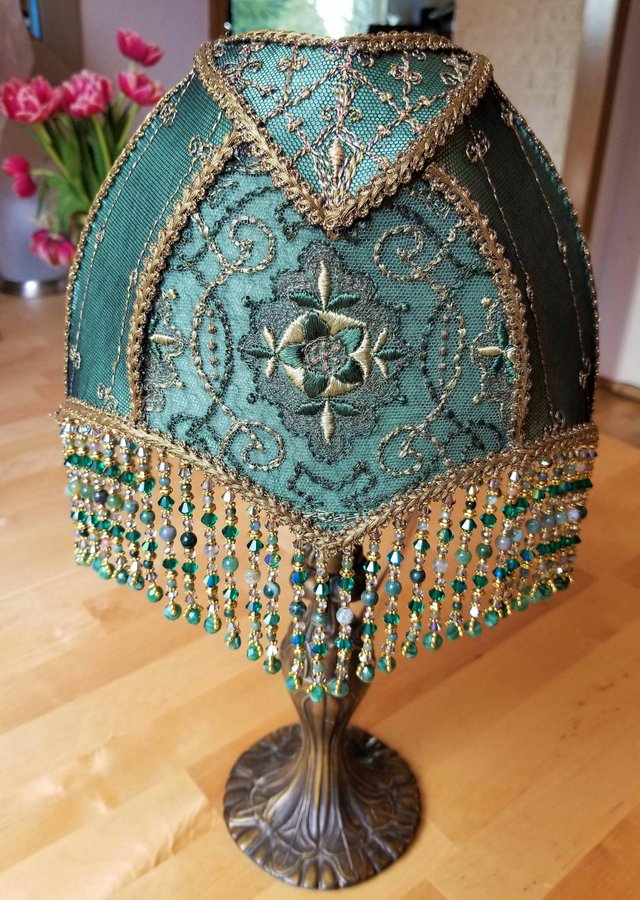 On Saturday, I finished the lamp. Here's a picture of it with the light turned off. The variation in color within the jasper center and end beads is magnificent, while the dark green crystal bi-cones create a gentle chevron.
The base pictured is a small antique replica which is about 30 years old.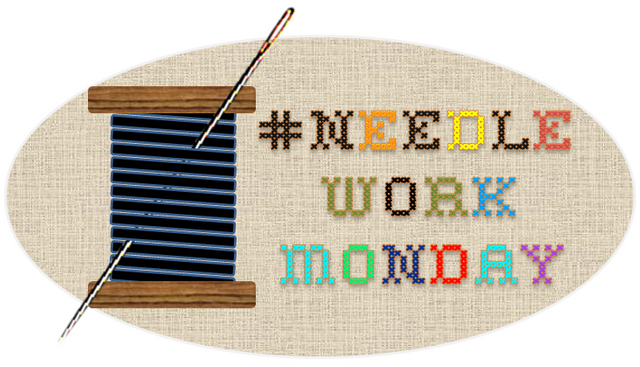 Please upvote, reseteem, and tell your friends about the
#NeedleworkMonday
group. On Mondays, group members share their textile artwork and receive support and encouragement from our wonderful community. Join us!
Steem on...