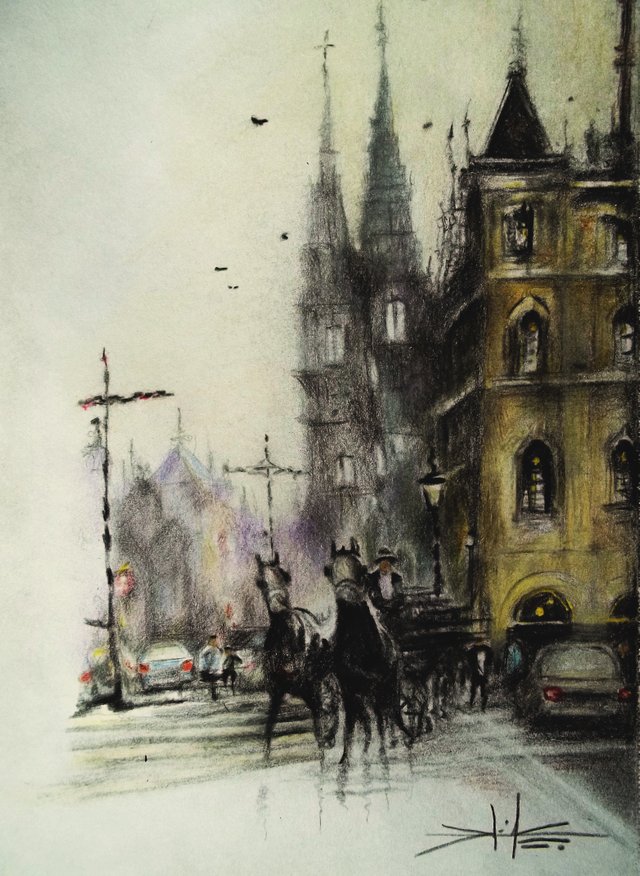 This drawing I did without thinking about photographing the process, I apologize for that, it's been a long time since my last post, I guess I've lost my habit. I'm really not good at writing, this is not a poem, it's just an outlet ...
My mind is in chaos and I have no idea what the fuck I'm doing
the vacuum grows and there is not enough paint to fill it ...
All reality is murky, sometimes I do not remember what I did 5 minutes before
and no, I'm not sick, I'm just tired
I could scream that I feel lonely but there would not be anyone there to hear it
I feel like I'm reaching my limit...
The world is so monotonous, so routine...
I question myself very often What the hell am I doing with my life?
everything seems to return, like a cycle, a spiral in decay
the days went gray a few years ago
everything feels cold, like sitting in the corner of an empty room day after day
year after year...
Life became so boring that I do not want to stay and see how it ends
I feel tired, I feel old, as if the bitterness of life would not let me go
nothing bad happened, just nothing happened, everything lost the grace, the cigarette does not bring me pleasure
pure air does not give me peace
everything is gray, opaque, without brightness...
My reality and my paintings melt more and more, everything is so little worth
my life is worth what one of my paintings, my paintings are worth all my life ...
as little...
My bed is empty although two bodies inhabit it
She goes through the labyrinths of her past and I contemplate the cliff of my future
we are so fucking broken
and we will not heal
we go to different places, there is not much to do
I do not want to see her fall with me to the cliff
with its labyrinth has enough
sorry...
I do not want to fight anymore, I will continue painting until I finish resigning
the phone no longer rings, there is no one ...
Everything is so simple, that damn aroma of routine does not go away
I am condemned, like the rest of the world
but I have a feeling that I will be my own executioner...