Kaleiderotica post #1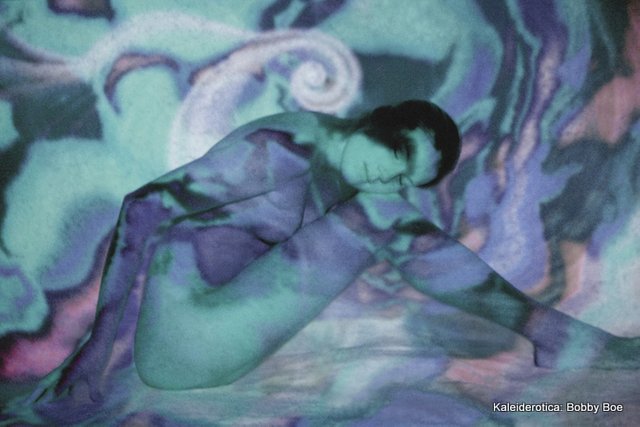 Ende 2001 fotografierte ich die Ausstellungsserie Kaleiderotica.

Modell stand die zauberhafte, geduldige Jenny B.

Am Sonntag den 26.Oktober 2006 schliesslich wurde die Ausstellung im Café am Wieder Platz in München

dem breiten Publikum zugänglich gemacht. Leider war es so dunkel dort,

dass trotz leuchtender Farben die 28 Bilder in den gesponsorten Museumsrahmen

kaum ihr Potential ausspielen konnten.

In der Werkschau Münchener Fotografen, bei denen in ganz München schon 2005 Plakate von

Kaleiderotica verkündeten, war dies eindrucksvoll anders,

da hier die Werke in musikalischer Begleitung, mittels Beamer im K41,

im damaligen Kunstpark München Ost an die Wand gestrahlt wurden.
So wars gedacht:
Der Mensch...

im Einfluß einer Mischung aus Natur und Kultur.

In den "digital-analog" erzeugten Texturen überwiegt mal mehr der

"natürliche" "organische" Anteil,

ähnlich dem Anblick von Zellen durch ein Mikroskop,

mal mehr der "kulturelle" "symetrische" Anteil,

welcher an die Muster in einem Kaleidoskops erinnert.

Selbst Fraktale, die mystischen "Unendlichkeits-Rormeln"

aus der Mathematik leisteten einen Beitrag zu den bunten Mustern,

die schließlich auf den weiblichen Akt projiziert wurden. 
Im post#2 möchte ich Euch näher erklären wie ich es gemacht habe.
Bitte stellt Eure settings für "NSFW" also sozusagen die "Kindersicherung" auf  "always show".

Ihr erreicht die Settings unter Eurem runden Profilfoto oben rechts, dann settings, dann ganz unten.

Ich bin zwar nicht der Ansicht dass künstlerische Aktfotografie Kindern unbedingt vorenthalten werden muss, bin mir aber unsicher wie das auf Steemit gesehen wird und werde meine nächsten posts evtl. damit taggen.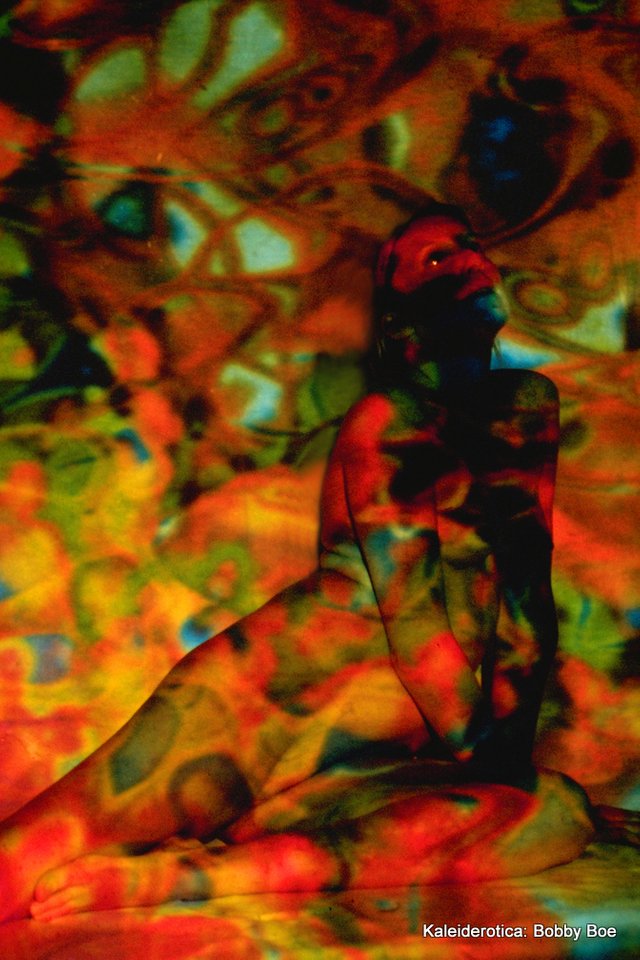 End of 2001 the series Kaleiderotica was shot and concepted as exibition.

My model was Jenny B., a wonderful and patient person.

The 28 fineart-prints later were shown an prints,

in various places in munich (Germany).

The better effect though, was achieved showing the colorful pictures in a

beamer-show in 2005 in "K41" in the series of monthly presentated photographers called

"Werkschau Münchner Fotografen".
The idea behind:



the human beeing ...

influenced by nature on one hand,

and culture on the other hand.

You can make out a mix of textures ...

parts of them seem to have natural organic sources,

like looking on cells through a microscope,

while others are symmetrical like patterns in kaleidoscopes.

Even fractals... the "secret formulars of infinity" can be found in the textures,

projected on the female nude.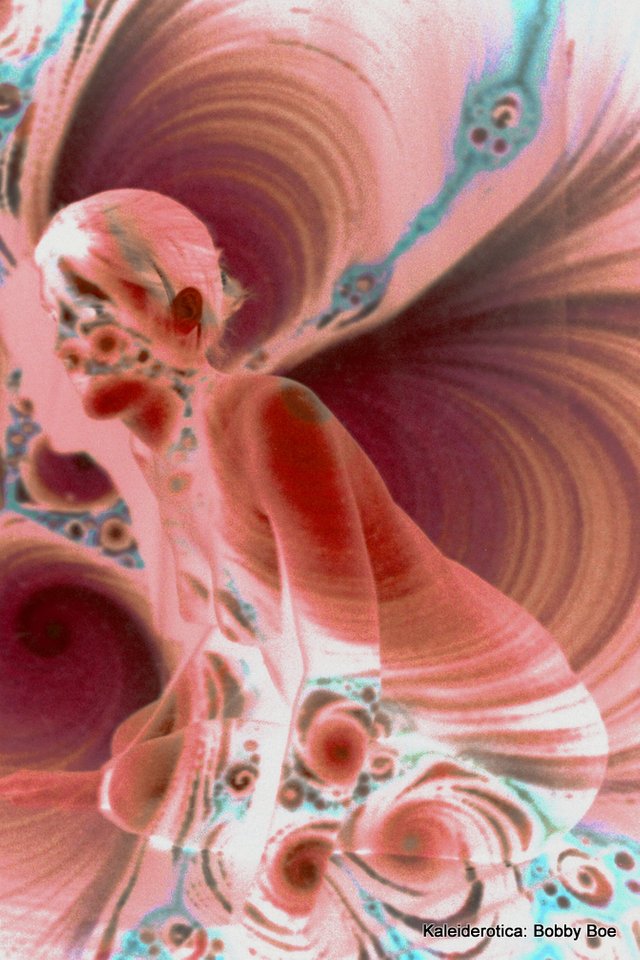 In my next post I would like to show you more photographs of this series

and explain about how it was done.
However, please keep in mind to switch to "NSFW" "show always" in your settings.

I will probably tagg my upcoming posts in order to prevent offending people with nudidity.

In case you would like some fineartprint for your wall at home,
you can order prints of my artwork here.