Analysis of the short fim IN-SHADOW [Part 2]
Last time we left this around the 2:22 minute mark when we saw two masked figures embracing each other. The symbolism suggests that people have to go through two layers of ego in order to genuinely relate to another person. One layer is represented by their own ego, the other belongs to the other person. "We are all searching for someone whose demons play well with ours" says a quote whose author is unknown*. So we are all searching for someone who can accept our distortions, our shadows and the ways in which we have covered them up. Someone whose ego complements our own and doesn't mirror back our flaws.
We are then shown how out of this union, a child is born. The child comes from a place of unity, of perfection, of love. We see how pure the child is, and how perfect he is in his innocence. His connection to the divine is represented through the chakras, the energy centers of the body. These are the first illustrations that are depicted in harmonious colors as opposed to the dark colors that were used in the scenes before. This is in order to show the contrast between nature and nurture. The newborn is an embodiment of creative potential, while society is an embodiment of restrictive control.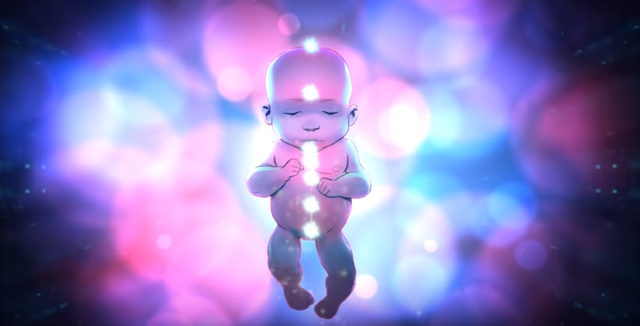 The child is welcomed into the world in a hostile way. We see the mother's legs spread out on the operating table and almost immediately after he is born, he is vaccinated and taken out of that place of perfection. What is supposed to be a miraculous event, is treated like a perfunctory operation. The two figures by the bed seem very impersonal and lacking in any regard for the magnificence of life. The instruments they are holding make the birth scene seem like a horror film. This perhaps suggests the dangers of becoming a personification of the function you perform in society. When you identify with your role in society, you start objectifying yourself. This reminds me of Jean-Paul Sartre's concept of radical freedom. Radical freedom is when you do what you consider to be right, even when your role in society or the standards of the world demand that you do the opposite. Basically you always have a choice and saying otherwise is a refusal to take responsibility for your actions.
"We only become what we are by the radical and deep seated refusal of that which others have made of us." — Jean-Paul Sartre
The birth experience is traumatizing and no effort is made to ease the transition. This is how the infant is introduced to human experience.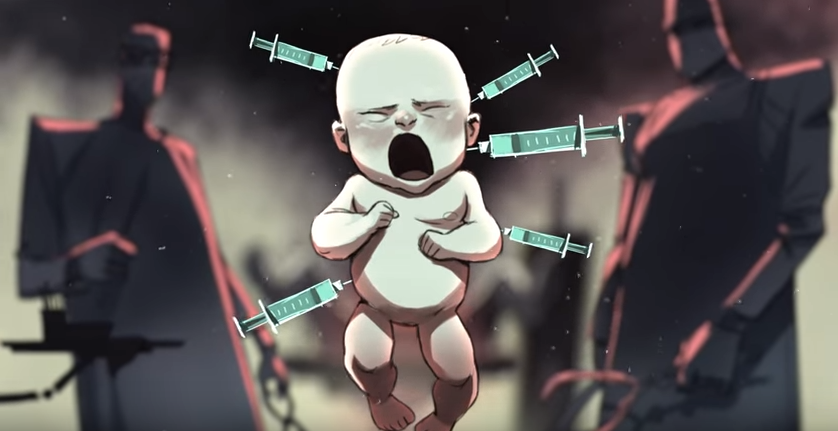 We are then presented with a classroom full of children whose heads are encased in red cubes like the ones we saw earlier in the movie. The child in the center still retains some natural wonder about the world, some original thought, some creative capabilities which is suggested by the colors above his head. The two figures of an academic attire that can be seen in the background give the impression that this is an indoctrination chamber rather than a classroom. Curiosity, the pleasure of exploration, wonder - traits that are innate to every child - are lost here and replaced by dullness, submission and uniformity.

You take children and you make them sit down for half a day, telling them what to believe and not allowing them to explore things in their own way, that is an assault on their spirit. The teachers practically drain the creativity out of their pupils and install a rigid belief system instead. The red cage represents the limits up to which they are allowed to explore with their imagination and curiosity. Infinite possibilities are reduced to a box of beliefs. Like the opposite of "Think outside the box". And there are many ways to prevent a child from going beyond these limits. Ridicule questions, discourage initiative, condemn disagreement, reward conformity, promote repetition, glorify test results.
"I feel very strongly that it is not enough to just live in the world as it is and just take what you are given, to follow the things that adults told you to do and that your parents told you to do and that society tells you to do. I think you should always be questioning. I take this very scientific attitude that everything you've learned is just provisional, that it's always open to recantation, refutation, or questioning. And I think the same applies to society. Growing up, I slowly had this process of realizing that all the things around me that people had told me were just the natural way things were, the way things always would be, they weren't natural at all. They were things that could be changed, and they were things that, more importantly, were wrong and should change, and once I realized that, there was really no going back. I couldn't fool myself into saying 'Oh, I'm just going go work for a business and ignore all that'. Once I realized that there were real, serious problems, fundemental problems that I could do something to address, I didn't see a way to forget that [...]

Even when I was in school I was very frustrated with school. I thought that teachers didn't know what they were talking about and they were very domineering and controlling and that homework was kind of a sham and it was all just like all about a way to pen students all together and force them to do busywork. And, you know, I started reading books about the history of education and how this educational system was developed, and alternatives to it and ways that people could actually learn things as opposed to just regurgitating facts that teachers told them and that kind of led me down this path of questioning things. Once I questioned the school I was in, I questioned the society that built the school. I questioned the businesses the schools were training people for. I questioned the government that set up this whole structure." - Aaron Schwartz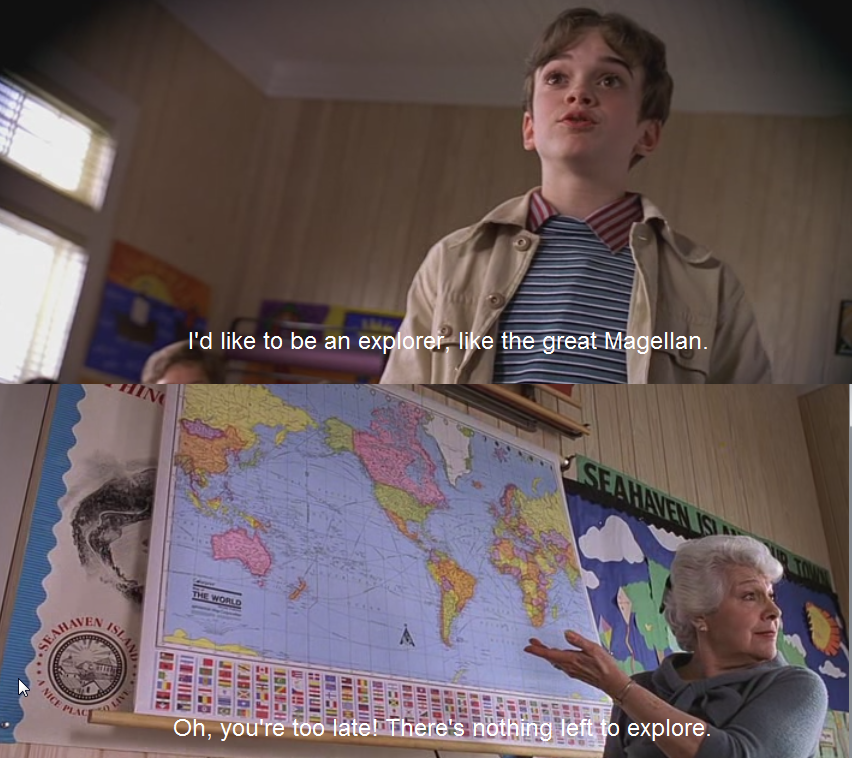 Another aspect captured in these scenes is that schools are interested in developing mainly the intellect. There are hardly any activities that engage the body as well or that encourage creative expression. There is a great quote by Sir Ken Robinson regarding this:
"Every education system on Earth has the same hierarchy of subjects. Every one. It doesn't matter where you go. You'd think it would be otherwise, but it isn't. At the top are mathematics and languages, then the humanities, and at the bottom are the arts. Everywhere on Earth.

And in pretty much every system, too, there is a hierarchy within the arts. Music and art are normally given a higher status in schools than drama and dance. There isn't an education system on the planet that teaches dance every day to children the way we teach them mathematics.

Why not? I think this is rather important. I think math is very important, but so is dance. Children dance all the time, if they're allowed to. We all do. We all have bodies, don't we? Did I miss a meeting? Truthfully what happens is that as children grow up, we start to educate them progressively from the waist up. And then we focus on their heads, and slightly to one side.

Our education system is predicated on the idea of academic ability. And there's a reason for that. The whole system came into being to meet the needs of industrialism. So you were probably steered benignly away from things at school when you were a kid, things you liked, on the grounds that you would never get a job doing that: Don't do music; you're not going to be a musician. Don't do art; you won't be an artist. Then: benign advice. Now: profoundly mistaken.

Our education system has mined our minds in the way that we strip-mine the earth: for a particular commodity. And for the future, it won't serve us."
This quote has been brilliantly illustrated by Zen Pencils:
https://zenpencils.com/comic/kenrobinson/
In the following scene we see the teacher leading the children off a cliff, to their own demise. The children look as though they are in a trance, unsuspecting of the danger that awaits them ahead. Black smoke is coming out of the back of the teacher who does not seem aware of what he is doing, like he is carrying this burden out of inertia, having been subjected himself to the same kind of indoctrination. The smoke and the up and down motion of their march is reminiscent of trains, which suggests the mechanical nature of this behavior. This is also a metaphor for industry which is interested in children getting a particular kind of education, one that prepares them for employment. One that discourages them from pursuing what interests them, because otherwise they wouldn't have at their disposal a working hand willing to perform the boring jobs that they promote as valuable and admirable. One that prepares them for a new kind of submission to authority.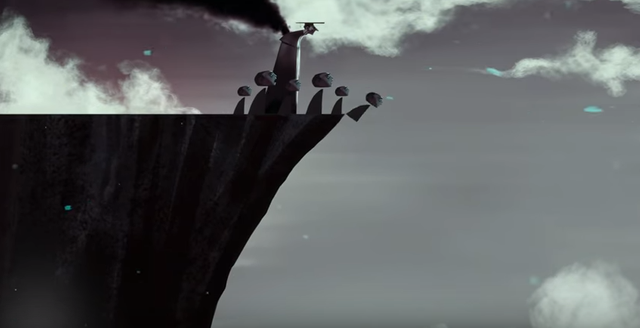 After the industrial revolution, it soon became apparent to those with prosperous businesses that in order to maintain their status, the people had to be kept in a state of subordination. And what better way to do that than to control the things they were thinking about? Slowly they found ways to manipulate public opinion and influence political figures in order for the educational system that they had devised to be widely adopted.
" When you are at the top you spend a lot of time and money making sure you stay at the top and the last things these Robber Barons would allow is for the uprising of the middle class into their hierarchy.

With such large controlling wealth through their foundations came a resilient web of many useful 'friends' in the politically arena and in business. With connections in banking, Wall Street, law firms, media executives and proprietors along with behind the scenes PR firms they could ensure any type publicity and financial backing they wished including the masking of their true agendas. Through the largess of their foundations the Rockefellers, Carnegie, Mellon, Vanderbilt, Morgan and Guggenheim Foundations colluded to begin the process of designing our current public education system." - Jamie Lee
A good article detailing this (where the quote above is taken from) can be found here:
http://www.wakingtimes.com/2014/01/28/untold-history-modern-u-s-education-founding-fathers/
The next things we see is how, during their fall, these children are turning into pills which land in the mouth of a young man. This marks the transition from childhood to adolescence. Between these two ages, the children are medicated and over-medicated as society is quick to label any form of inadaptability as a mental illness. If you have a short attention span in school or you don't conform to the rules or if you just don't find the subjects that are being taught stimulating , the system is quick to pin the problem on you. It's never that the subjects in school really are boring or that they are taught out of context or that they are useless. It's that you have ADHD and you have a problem focusing. So you have an excuse to drug children as early as age 7, maybe even earlier. And then you can watch them become compliant, but also losing their interest in the world around them, becoming desensitized. And that's how they reach adolescence and later adulthood.
"ADHD makes a great excuse, the diagnosis can be an easy-to-reach-for crutch. Moreover, there's an attractive element to an ADHD diagnosis, especially in adults. It can be exciting to think of oneself as involved in many things at once, rather than stuck in a boring rut." - Richard Saul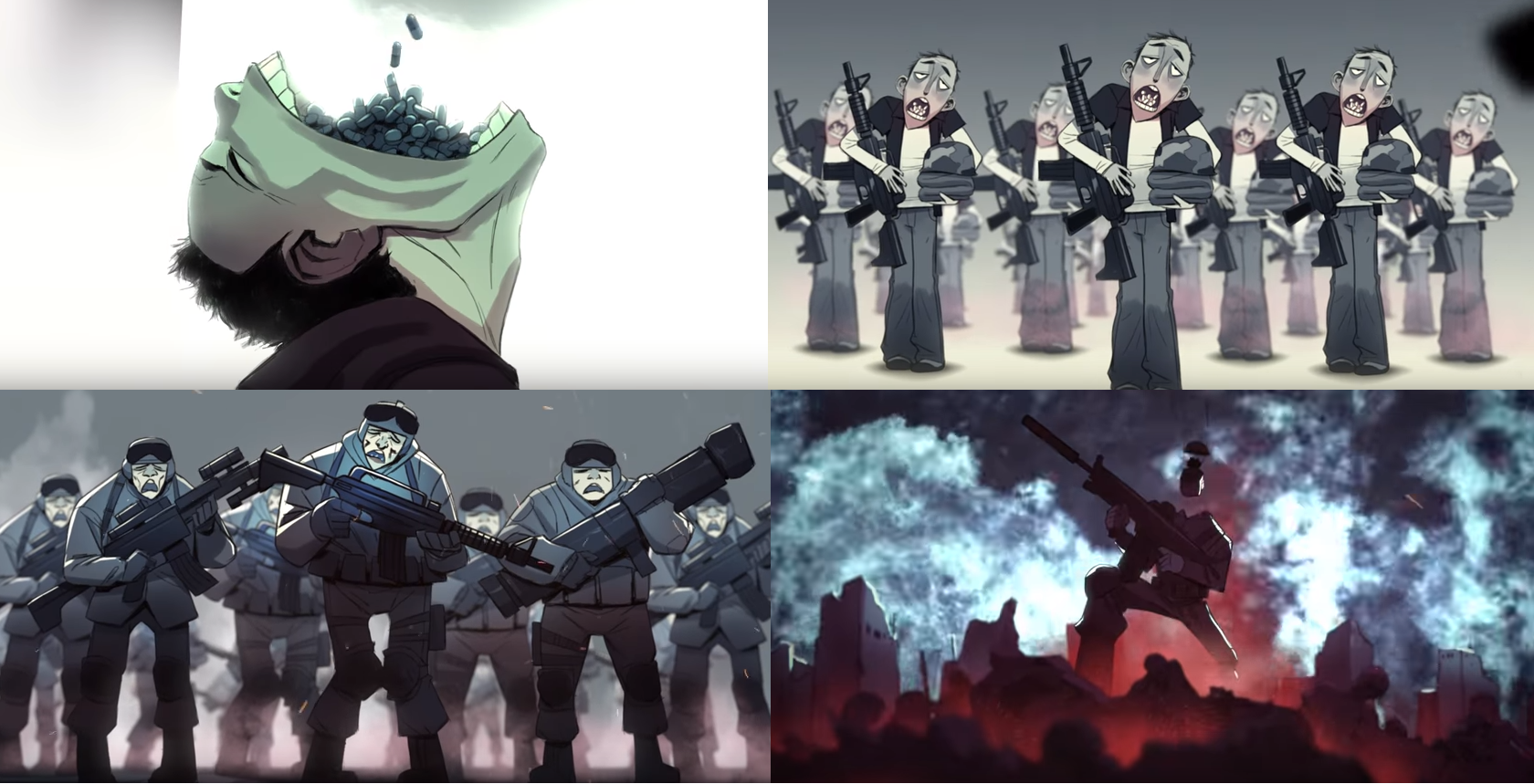 Many of these young men are lined up and sent to war to fight in the name of those same people that have indoctrinated them into compliance. They think they are doing something honorable, that they are protecting ideals and that they are sacrificing themselves for justice and freedom and democracy, but they are mere tools in the hands of those who know how to manipulate words, slaves to language and ideological tyranny. This is subtly illustrated here through the fact that all the young men have the same appearance. Their identity is insignificant to those above, all that matters is that they are able to wear a uniform and hold a weapon. The drugs in their mouths represent submission and renunciation of responsibility, the uniform represents the fact that they no longer belong to themselves and that they have assumed the role they have been assigned and the weapon held in an awkward way represents the lack of awareness of their destructive capabilities. It is only in war that they finally realize what they have agreed to participate in.
While young men sacrifice themselves for their country and bring destruction to others, it is an entirely different scenario for business people. For them it's an opportunity to make money and that's all they need to know in order to get involved in pushing this agenda on people. Whether it's selling weapons, or exploiting resources or any sort of change in the political dynamic that benefits them, they have vested interests in war. This is represented by a smiling man dressed in a suit coming out of a coffin full of money. War is a money machine in the hands of those who have no respect or compassion for the people who have fought in it.
Politicians also benefit from this, as is illustrated through the two figures holding blood money to their chests. Is it just me or does the man on the right looks like Obama? I hear a lot of people saying that he was one of the best presidents America has ever had. And that makes me realize how powerful the media machine is. His policies were just as destructive as those during the Bush administration, if not worse, and yet people believe that he has done so much good. I think it is because he has the gift of charisma and diplomacy more so than his predecessors so that he is able to appear noble in his intentions. What he is really good at is manipulating words so that he can always evade accountability. Plus, of course, having giant media companies behind him, portraying him as a charming saint helps too. I guess it's about knowing how to play a role. Just like Bush played the role of the incompetent fool. Which is another way to evade accountability. But I digress.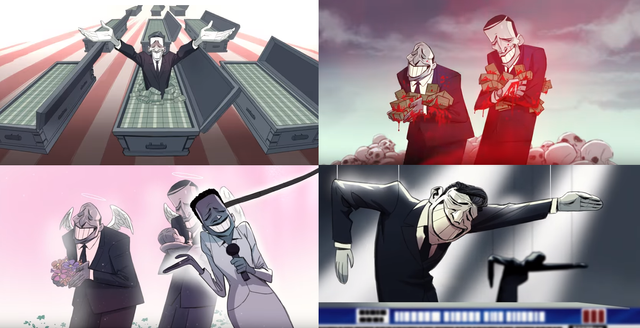 The two figures are standing on skulls, so they are desecrating the memory of those that died in war. The fact that they are smiling shows that they have no integrity or remorse for what they have done. As media shows up, they grow white wings and a white circle appears above their heads, the money turn into flowers and one of the men is holding a baby. That is the power of television, it makes saints out of sinners and sinners out of saints.
Working on this, I have decided not to continue my analysis beyond this part. I think the power of this short film lies in the way it makes you feel and language can limit experience in a sense. This is pretty dark subject matter which is difficult to dive into, even though it has ... I don't wanna say a happy ending, but let's say it evolves towards revealing truth in its purest form. Which is something akin to how Adyashanti describes awakening:
"To be this sincere with yourself may not be easy, initially. You may see things about yourself you don't want to see. You may see the parts of yourself that stand in seemingly stark contrast to everything you have realized. Nonetheless, this is where awakening moves; awakening moves toward and into that which is not awake."
May you face your fears with courage!