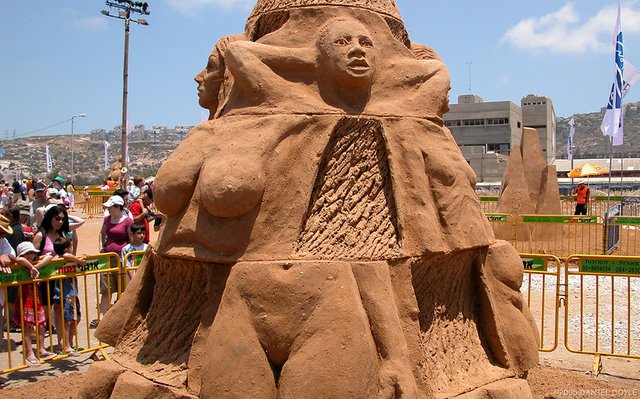 I really liked the idea behind this sculpture. I think it fit the theme nicely and had a certain monumental feel. Unfortunately the sculpture itself was yet another one of my disappointments.
I have yet to repeat carve a sculpture that I've made, preferring instead to try and always be original and move forward with my ideas and approach but this is one sculpture which I want to make again and have it properly realized. Maybe not in sand but a more permanent material.
It was made it in Haifa, Israel. This was the first and the last time I have visited that land. ( I will say more about this at the end of the post) It was an unusual project because it was a promotion for a company called SuperDrug but run as an international competition. I was there to represent Ireland even though no one in Ireland even knew I was there, except me Ma. The theme of 'Beauty' was quite nice as it was wide open to interpretation.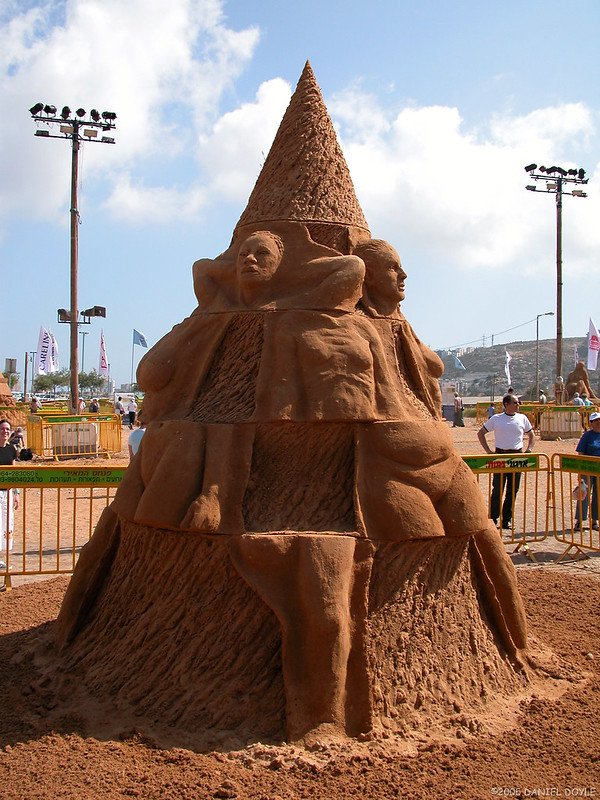 For my piece I wanted to do something about the fact that 'Beauty' is in the eye of the beholder and that there is not one standard that we can all agree on. For me beauty is in the imperfections and even though my sculpture had many of them I still thought it was quite ugly. The concept though, I liked. A conical form was divided into several rings.On each of those rings were heads of different races. and different body parts of different shapes and sizes. I Imagined that you could use the sculpture to select your own personal beauty by rotating the different rings. An Asian with big breasts, small hips and chunky legs, you got it! An Indian with child bearing hips and a little less on top, no problem. You get the idea. I had something for all tastes. (For the girls in my audience one could very easily be made for the perfect hunk but me being a red blooded male I went for the fairer sex)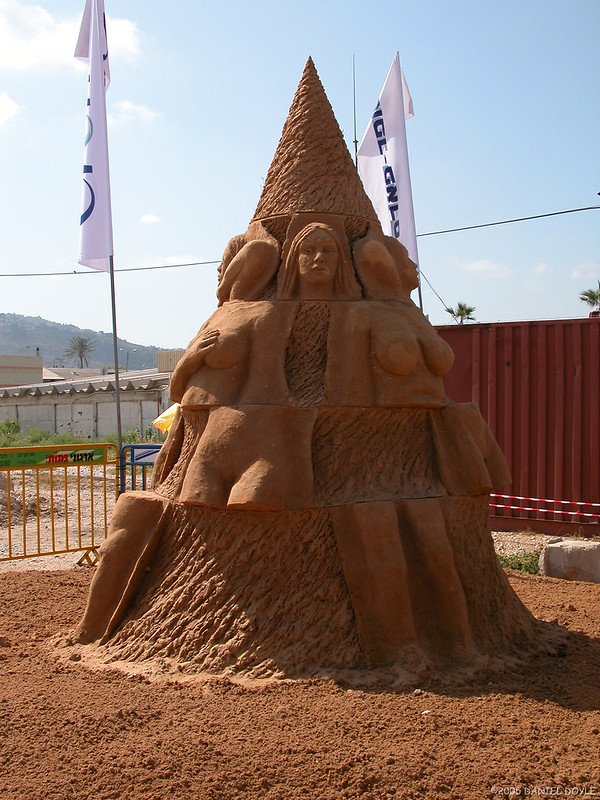 Where did it all go wrong
As part of the competition I had to compact the sand myself with the help of some guys who introduced themselves as Bedouins from Bethlehem. They were nice enough lads but in the heat of the summer sun none of us found it easy to shovel. The sand was not really sand but clay. All through it were rocks as big as my head, branches as long as my leg and other bits and bobs of rubbish. I found two slippers (not a matching pair) an assortment of trash; bottles, cans, wrappers and a few used condoms, nice. This wasn't a great start but eventually we got it compacted and got the organisers to take away our pile of rubbish as it wasn't adding to the 'Beauty' of the scene.
I can't fully blame the of sand because my carving quality still left alot to be desired. Working against the harsh weather baking my clay sand definitely didn't help but I think I would make a better job of the faces and bodies if I was to carve them today with my developed knowledge of figure carving
I'm not going to beat myself up over it but I just don't think I achieved a great job as it didn't say 'Beauty' to me.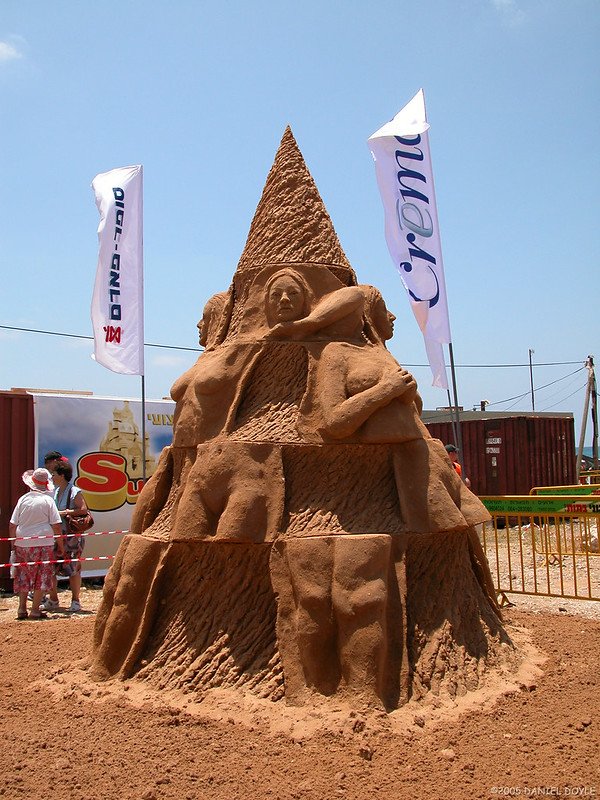 The return of the Luliang pact
A good while ago I spoke about a project I made in Luliang China where the idea was floated to the other sculptors about sharing the prize money between everyone win or lose. Well the idea came up again on this project because we all knew before we started carving that it was going to be a struggle and having to play bingo for our wages wouldn't make for a fair game. Most people agreed and we signed our names before we started carving. You can check out the post where I explain more here.
We were all happy with how things worked out and for me even more so because I was placed, I think third in the competition and I was able to share what I won with all the other carvers in the pact. We really all had a hard time making our sculptures and to get some payment was a nice feeling.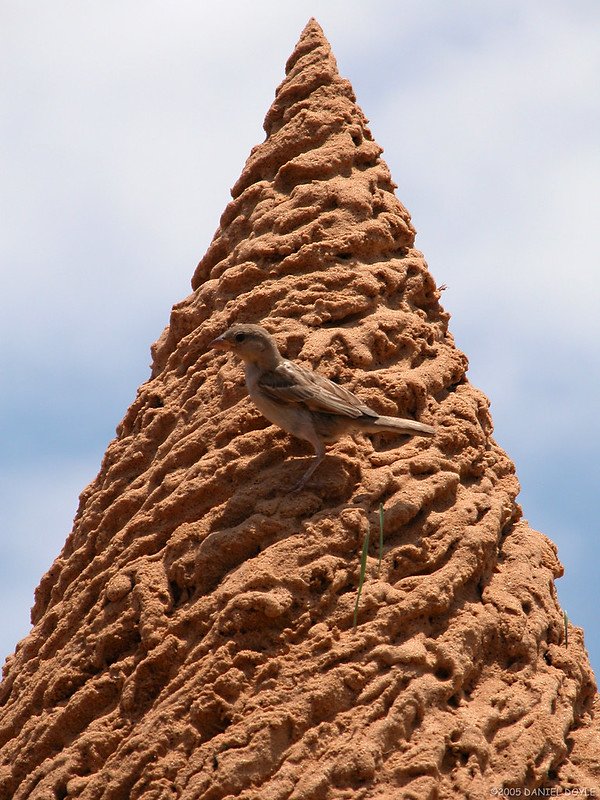 My sculpture was ok, all things considered but for me, more so than any of my other pieces, I look on it as a 3D sketch of an idea rather than as a sculpture in itself. I will revisit the concept one day when a project comes up that it will suit, for now it can sit on the back burner of my mind. The above image shows that I had at least one fan hanging out at my sculpture, I think he was there to eat the bugs and weeds that were coming out of the clay like sand.
I did enjoy the project and the times I had with the other carvers and the locals. Parts of Israel are quite beautiful as are the people but coming near the end I was glad to be leaving.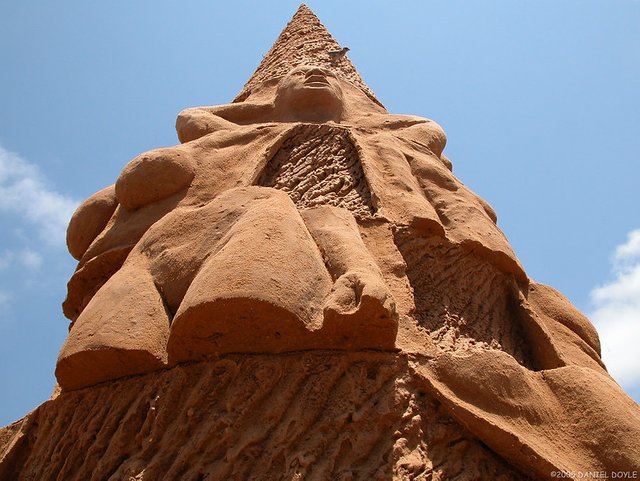 Very thin skin
Although there were many things I liked about Israel and the people I met there. There were certain things which really shocked and annoyed me. In 2005 I was much more innocent of what was going on in the world and I only had a small knowledge of what was going on over there between the Israelis and Palestinians. They we fighting over some land of something, that was all I knew. I suppose my wake up call came the day were were invited to go on a guided tour of Jerusalem. I was quite excited at the idea as I was going to see a place with so much history. I don't remember the name of the tour guide but from the moment it began it felt like a propaganda tour in a dictatorship where every site was illustrated by reasons why the Jews were good and the Muslims were bad. Honestly for me not knowing much of the history it made me feel very uneasy. I held my tongue and tried to enjoy my day promising myself that I would learn more once I got home.
I got to see the Wailing wall and the Church of the Holy Sepulchre and just a trip up the road we saw where the last super took place. It was so interesting to be in an area of such theological history. When I got a chance I broke away from the group and went for a stroll around some of the Arab areas. Had a coffee and some food in a wonderful little cafe and wandered the streets absorbing the culture. It was nice to be free of the tour. I felt no danger and everyone was open and friendly.
Since my time in Israel I have become more informed and I think it is disgusting what is going on over there. Most of the people I met were quite nice but as usual it is ideology and government that are fucking everything up.
What is happening to the Palestinians is heartbreaking. Time and time and again it has been shown to be illegal and against their human rights. But, as we all know their friend on the other side of the world makes sure that there will be no consequences. As one person, I know I can't do much but I can show in my small way I don't support these actions. I have refused to go to other projects and jobs that I have been offered there even though turning down work as a self employed person is difficult.
As an artist in 2010 I signed the IPSC (Ireland Palestine Solidarity campaign) Pledge to Boycott Israel and refuse to create or perform there until things change. I know things have gotten worse since then but I'm sure as the BDS movement gets stronger things will have to improve. like they did in South Africa. In my small way I hope to be part of that change. Boycott was invented in Ireland and it has lead to many changes around the world. It is a way to peacefully protest. Waiting for governments to do the right thing will never happen
[Here} (https://www.ipsc.ie/cultural-boycott/ipsc-irish-artists-pledge-to-boycott-israel) is the cultural Boycott in Ireland now signed by over 600 artists and performers.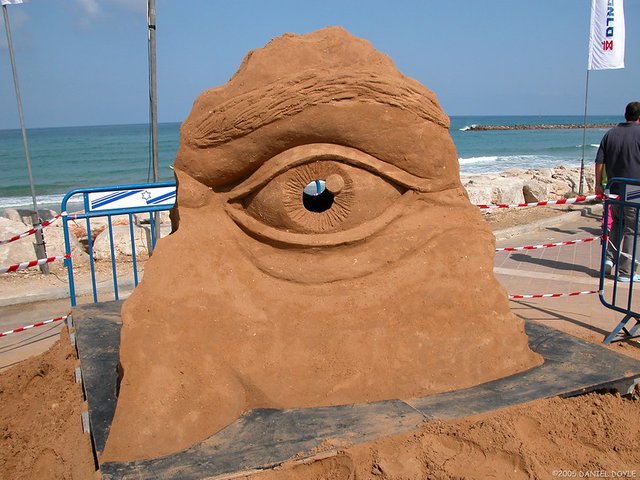 Just before I go here's a little bonus sculpture I threw together one afternoon. We asked to do a smaller piece during a few hours on some special day when there would be lots of people in a park. I made this piece with a man and woman's faces on either side. No great meaning behind it but it was nice t be able to chat to the audience who wandered by.
---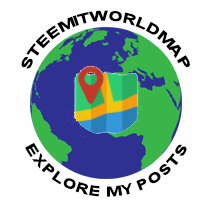 ---
Ps
Thanks for reading. I use Steem to document my work as an ephemeral Sculptor of sand, snow and ice, among other things. This will hopefully give it a new life on the Steem blockchain. Below you will find some of my recent posts.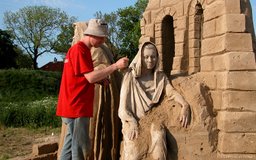 Living statue - sand sculpture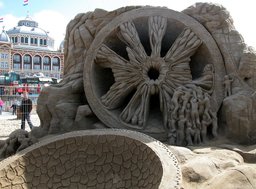 The Royal Orange - sand sculpture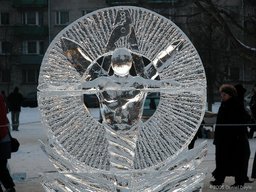 Swiss army man - ice sculpture
I hope you'll join me again soon
@ammonite