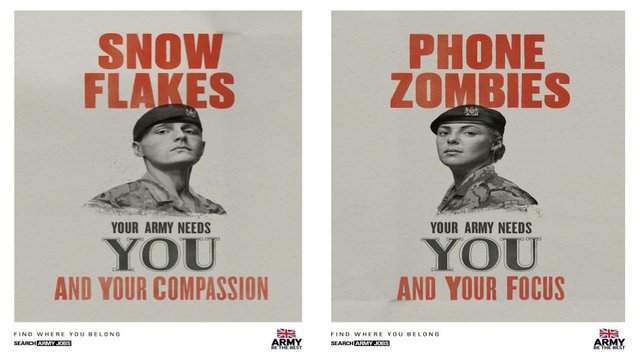 I had to check the date.
I thought it may be April fools day already!.
And also had to check multiple sources to confirm this campaign is "real"...........
The British army is calling for compassionate people to go and murder people for profit!
Not only that, they want "selfie" people, you know them, those interested more in self than others, to be part of their army "team"???????????????????????????????????????????????????
You think I am joking here right? WRONG!. From the source below.
The British Army has launched a new recruitment campaign aimed at the "compassionate" Generation Z.
This generation, those who were born after the mid-1990s, are stereotypically looked upon as being binge gamers, class clowns, phone zombies, snowflakes and selfie addicts.
But the Your Army Needs You campaign has been designed as an attempt to show that the Army can look beyond these stereotypes when finding recruits. Major General Paul Nanson said: "The Army sees people differently and we are proud to look beyond the stereotypes and spot the potential in young people, from compassion to self-belief."
The posters are based on the famous Lord Kitchener-style recruitment posters from the First World War, and call out to "Me Me Me Millennials", "Class Clowns", "Binge Gamers", "Phone Zombies", "Snow Flakes" and "Selfie Addicts", putting across the message that the army needs their potential and assets.
Source here.
What other derogatory terms could they use?
Suck it up buttercup?

Cupcakes?

Libtards?
Are just three off the top of my head I can think of, what about you? What do you think they could use to insult people before they even join.
Honestly I am almost though not quite, lost for words with this, I find it amazing that anyone would be encouraged to join a killing force, whilst being called a snowflake in advance, but hey, what do I know anyway!
@Shepz1 hands the stage over to you the reader, for your thoughts below.
I had to edit this bit in, seems the young also have caught onto the scam that is war.
The campaign comes as the British Army failed to meet recruitment targets as it "under-estimated the complexity of what it was trying to achieve