ARKER weekly #36 / 2018
Down of the last week
– What is the origin of the name of this city...? That is a good question, young man. I'm glad to see that there is still some restless mind in this room that the Arker vapor has not ruined.

The master engineer walks with indifferent eyes through the stairs of the room where aspiring Creatores are accommodated. Only a few give their attention. Most try to avoid their glazed look as if cut. Others simply make out sleepy because of the sedative effect of the teacher's explanations, while others, conjured up in small groups, whisper idiocies as if their lives depended on it.

– I will try to be brief, because there is a high probability that the brain of one of your colleagues explodes with emotion –the old man takes a seat and whispers to himself–. Something that neither the world nor I would regret.
Only one week left for the launch of Arker: The Legend of Ohm in the Play Store and App Store. The mechanics of the game are ready and we are currently finishing the last details so everything is perfect for the launch. The game will have an approximate weight of 200MB (which will vary a bit depending on the platform where it is used) and in the coming days we will proceed to send a first compiled version of the game for review to the Play Store and the App Store.
Trailer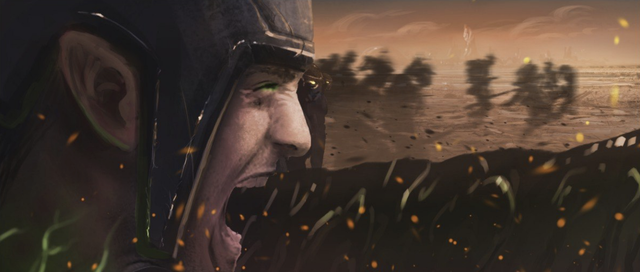 We are preparing a spectacular animated trailer of the game, which will allow the player to immerse in the current context of the world when they begin to play.
This will be the first video of a series that we want to launch where the story will be told of how in the world of Thera  –and the city of Ohm in particular–, at its peak moment, the wars that led the planet to its collapse until the present moment were unleashed: the time of the clans.
New website playarker.com
One week before the launch, we have released the new website of the game already available on playarker.com, although most of the sections are inaccessible until the day the game is launched, when they will be enabled for all the world.
In the same way, once we have released the animated trailer that we are preparing, we will update the website replacing the previous teaser with a new video.
Our intention is for the web to become a content library of the game universe with the arts, stories, videos and music that we are developing for the game; in addition to that, players can access and manage their heroes, abilities and items from the page itself as if they were in the game.