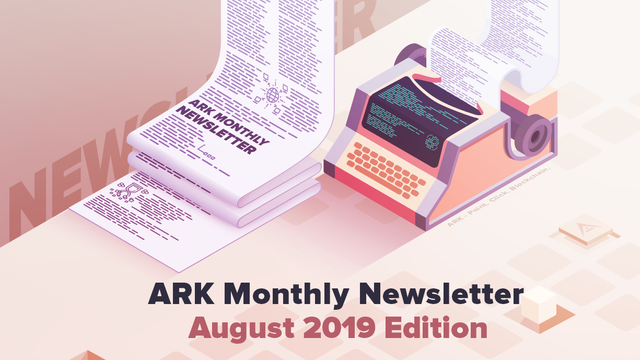 August is in the box! This blog post will cover last months highlights, activities, achievements, and unique content. Let's take a look at what the team has been up to.
AUGUST'S TOP TWEET
https://twitter.com/ArkEcosystem/status/1163460097089200130?s=20
AUGUST ARK TIMELINE
***ArkTimeline.com*** is a community resource built and maintained by the ARK Community Committee. The entire history of all ARK achievements and accomplishments are available there, and they are both sortable and filterable. Here's a quick rundown for August:
AUGUST ADVENTURES
This month, as suggested by ARK community member 'Skeuo,' I traveled to Cedar Rapids, IA to visit Mahalo Dog, home of the famous ARK crypto hot dog from Reddit. I also dished out ARK cryptocurrency and commemorative ARK gift coins courtesy of Delegate ARKMoon in collaboration with Delegate Jarunik. If you missed it, check it out below:
AUGUST POWERED BY ARK UPDATE
The **Powered by ARK Program** aims to help recognize, support and collaborate with projects building on ARK's technology. The first accepted official partner is **nOS**, the virtual operating system for the Smart Economy. Here's a brief update and remarks from Founder & CEO Dean van Dugteren:
" Development is going fantastic! We're blasting through milestones for both nOS Browser and the blockchain. September is a big month as we're preparing to launch our public testnet. One thing I notice that's quite common among many blockchain projects is that the available development tools (SDKs/APIs) are quite limited in functionality, or unnecessarily difficult to work with. I always saw this as a roadblock to developer adoption, which is currently far more important than user adoption. Web developers have Laravel, WordPress, and Shopify. Where are those solutions for blockchain? Well, they're finally here and making the jobs of developers easier every day. ARK Core has been as accessible to me for blockchain development as modern web frameworks are for web development."
Dean van Dugteren, nOS Founder & CEO
You can track nOS's progress via their **blog by clicking here**.
AUGUST AMAs
Ask-Me-Anythings were conducted during this month featuring ARK team members answering questions by the community on Slack.ARK.io. Here's the list:
Follow ARK on Twitter for invitations to join future AMAs.
AUGUST DEVELOPER ROUNDTABLE
The ARK Developer Roundtable is a monthly video call, conducted by ARK.io Chief Technical Officer (CTO), Kristjan Košič. These calls allow a unique opportunity to present information to the community and gain valuable insight from community developers. Here's last month's meeting:
Follow ARK on Twitter for invitations to join future roundtables.
AUGUST DEVELOPMENT REPORT
The ARK Monthly Development Report covers all pull requests (opened, closed, merged) as well as all issues opened and closed in every ARK Ecosystem public repository, the number of contributors during that month, the number of new stargazers, and total lines of GitHub code added or deleted (**check August's report here).**
AUGUST PODCASTS
The ***ARK Crypto Podcast*** releases weekly episodes all about ARK, featuring interviews, monologues, tutorials, reports, presentations, and more. The show aims for a 30-minute runtime and releases new episodes every Friday. Subscribe on iTunes, Google Play, Stitcher, Soundcloud, Spotify, Castbox, and more. Check out the episodes released this month:
https://soundcloud.com/thearkcryptopodcast/ark-crypto-podcast-047-blockchain-legal-roundup-no-2-featuring-ray-alva
https://soundcloud.com/thearkcryptopodcast/ark-crypto-podcast-048-powered-by-ark-program-breakdown-and-implications
https://soundcloud.com/thearkcryptopodcast/ark-crypto-podcast-049-community-services-appreciation
https://soundcloud.com/thearkcryptopodcast/ark-crypto-podcast-50-whats-new-ark-advocate-program-details
WHAT'S NEXT
The following month for ARK will focus heavily on advancing Core v2.6 closer towards release. This is arguably the biggest Core iteration to date, and it will contain big functionality additions for developers. Check **Roadmap.ARK.io for status updates. Also, during this month we will be collecting submissions for the recently launched **ARK Advocate Program. We will also put the finishing touches on a training curriculum that will equip ARK enthusiasts around the world to spread awareness about ARK. **Submit your application here, before September 27.**
GET INVOLVED
Here's a quick list of what your first steps might be to get involved with ARK:
Looking forward to September!
Read our new 2019 whitepaper, follow us on social media (Twitter|Facebook | Reddit ), join our community ( Slack | Discord ) and stay tuned to our blog on Medium and on Steemit.