It's been nearly a month since the Ardor blockchain launched, and I'm sad to say that I just don't get it.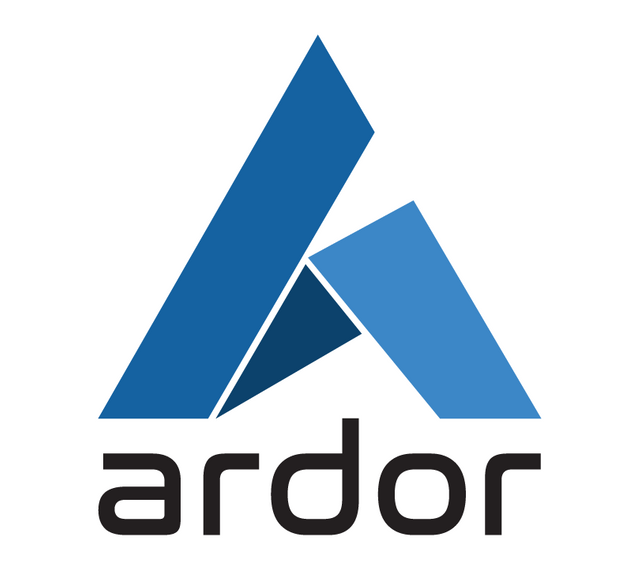 Years ago I was very interested in Nxt, which was one of the very first pure Proof-of-Stake cryptocurrencies and at the time had one of the better distributed asset exchanges. It was created in early 2014 around the same time as Counterparty and several months before the very earliest versions of Bitshares, and it was a vastly superior product in many respects. Fast confirmation times (compared to Counterparty), usable desktop client (compared to Bitshares). Unfortunately my enthusiasm for their products has waned considerably since then as it seems they've lost a good deal of momentum, despite raising millions in the Ignis ICO.
Then Ardor came along. I figured it would be a really revolutionary new platform that would let developers and businesses take their stuff to a whole new level! Unfortunately, now I'm wondering if my hopes were unfounded.
What does Ardor do?
The big selling point is Child Chains. I found this comment on Reddit: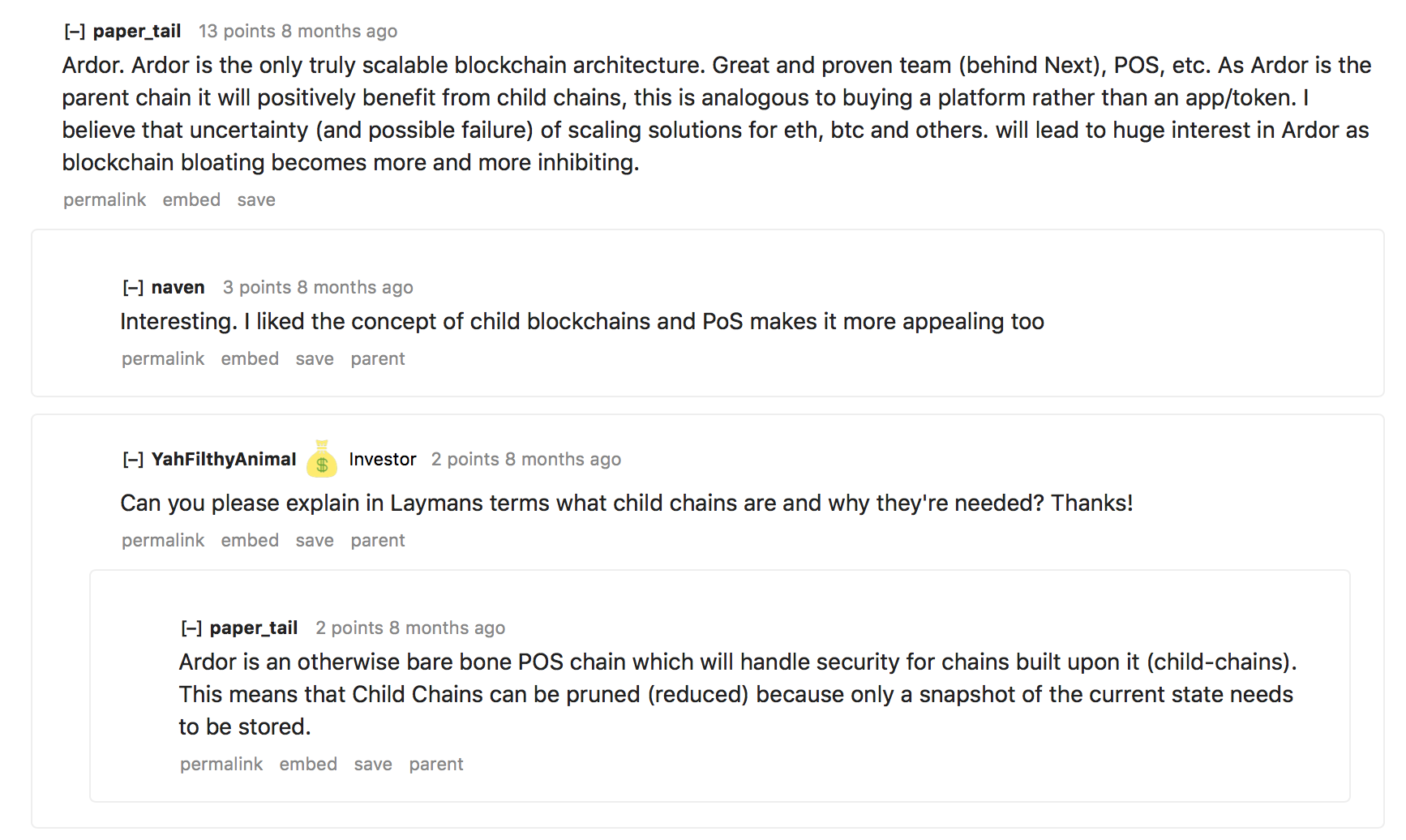 Taken from this thread.
That redditor is claiming that the main reason we should like Ardor is it lets you run your very own blockchain without having to worry about security. Sound familiar? I feel like an Ethereum fan might say that Ethereum lets you do the same thing. The real question is this:
What can a child chain do?
In a very limited sense, DEX platforms like Bitshares and Nxt also let you create something that looks like a cryptocurrency without worrying about blockchain security. In Bitshares, for example, you can pay a small fee and create a User-Issued Asset (UIA), a token that you can then sell, trade, send, burn, whatever you want. There isn't very much you can do with that token, but it's a legitimate and secure cryptocurrency nonetheless.
Here is a screenshot I took of a bit of marketing material that tells us what Ardor child chains can do: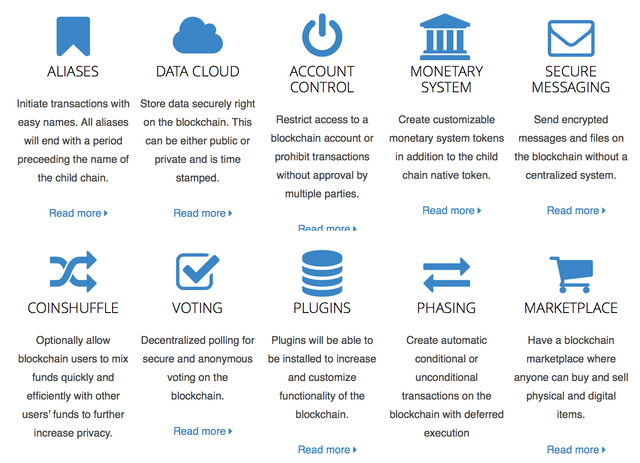 Source
The Nxt people (they call themselves Jelurida now for some reason) absolutely love their opaque names for things. But all of these things they're saying that child chains can do are things that Nxt (and Ignis) can already do. In fact, they very clearly state that Ignis will have all of these (apparently hard-coded) features enabled. So... Why go create our own child chain if Ignis already does it all?
(Maybe because we're ICO maniacs and our business model involves raising funds by selling an extraneous utility token?)
What if I wanted to create a clone of Cryptokitties as a child chain on Ardor?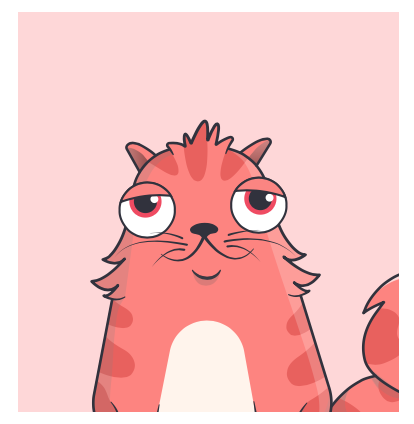 Screenshot from cryptokitties.co
Cryptokitties is a proof-of-concept blockchain application that runs on Ethereum, where you can go buy these unique collectible digital cats, trade them, and breed them. It's a very cute system of digital toys, and I find that it serves as a useful example of a distributed application that needs weird special features. There are essentially two special functionalities that cryptokitties needs:
An algorithm that creates and sells, at specific intervals, unique digital assets (kitties).
A mechanism for "breeding": take a pair of compatible kitties and create a new kitty from them.
It's hard for me to see how those two functions are likely to be special cases of some more-general system, including the hard-coded features that an Ardor child chain is allowed to have. Cryptokitties feels to me like it's a great example of a very simple application that can't be replicated on a blockchain unless the blockchain has some kind of advanced (probably Turing-complete) scripting system.
In principle, I suppose we could create an Ardor child chain that just has "Asset Exchange" enabled, and then start pumping out digital cat assets using some opaque centralized algorithm. We could then use a second centralized algorithm to do the breeding part of it. But unless Ardor has some advanced scripting capabilities that they're not telling us about, I doubt you could do Cryptokitties on-chain on an Ardor child chain.
Parting thoughts
My article is fairly critical of the Ardor platform due to the limited use-cases I see for child chains. However, it's very possible that I've fundamentally missed something important about how child chains actually work. If so, I hope people can point out my error in the comments. I also may post a link to my article over on Nxtforum.org, and if I get good responses I'll plan to write a follow-up article here with some of the feedback I receive.
I certainly don't mean to disparage anybody with all of this; I just fear that Ardor is an advanced Blockchain 2.0 project in a 3.0 world.