Last week we ended on a note that we hope interested you specifically because of the fact that we are a steemit community Powered by blockchain technology and the post spoke specifically to digital planning tools. Within our planning methodology, we have created a micro-financing system shaped by the socio-economic context of Khayelitsha. Recent developments show us that the future of data exchange is evolving rapidly, and as a result traditional models of banking and financing are increasingly being challenged. Because the block chain is a decentralized and transparent system, it has the capacity to re-shift means of exchange in informal contexts, which are predominantly excluded from formal banking systems. In addition, the informal markets and economies in informal settlements are booming and do not particularly rely on formal methods of exchange. The question then arises: how can we hone in on local exchange systems to maximize opportunities for economic empowerment?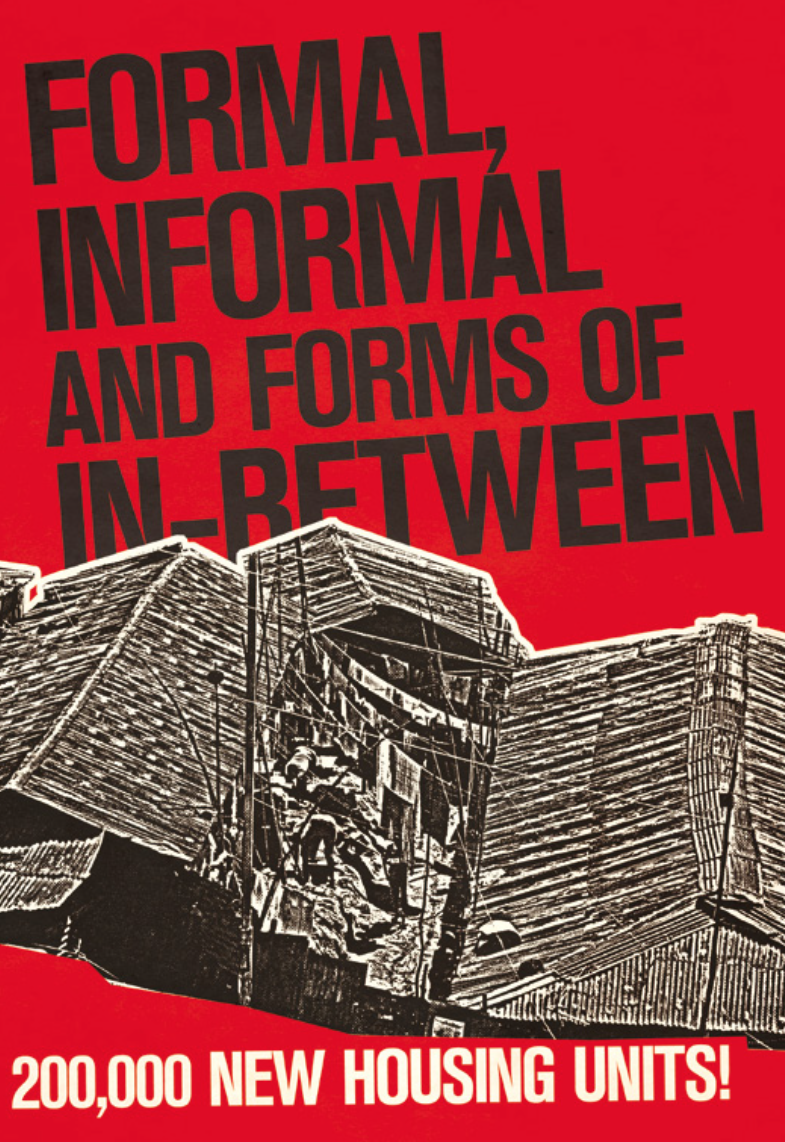 Image showing poster on intersection between formal and informal | S.L.U.M lab 9, U-TT
The EMPOWER micro-financing system is one that was particularly created for the context of Khayelitsha yet aims at being replicable and scalable across sites alike. It merges two forms of subsidy systems, to become appropriate for the financial capacities and rent preferences of community members. The micro-finance system encourages meaningful participation in the financing of the redevelopment of the settlement, it also creates a framework for commitment and ownership . We would like to hear from you on how such a micro-financing system can become even more innovative through block chain technology. Traditionally - how cities interact with each other is highly reliant on a centralized system. Today, at a time of revolution against colonial centralization in South Africa, blockchain technology as a new form of hosting exchange presents itself as one ripe with opportunity for economic models that suit the capacity and behavior of its users.
The Empower micro-financing system
Empower effectively creates a market such that a resident with a large shack but little income can trade with a resident that has surplus income but lives in a shack that does not meet their spatial requirements. A typical example of this would be the case where an elderly resident who occupied the land when it was first available and built a larger shack; could trade his/her m2 footprint to another resident (such as a small family) who occupied the site later. The latter resident was limited to land availability and so this system gives opportunity for trade and expansion. Graph 1 shows the distribution of shack sizes according to the time of construction.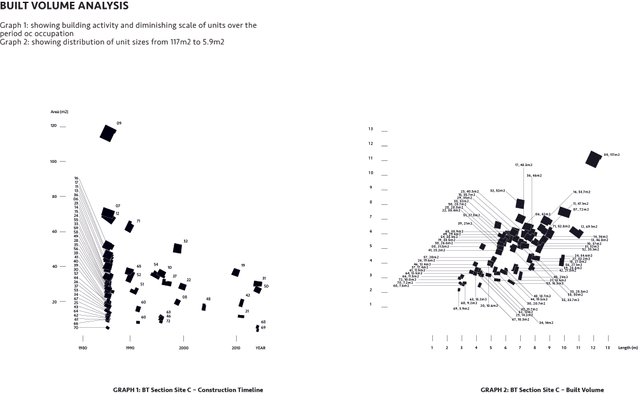 Reflecting on the response, the idea of tying the housing subsidy to a resident's shack size engendered a great deal of interest in the BT community and ensured their engagement in the scheme. Thus, the Land Release Credit (LRC) was born. Image showing land readjustment methodology informed by micro financing system
With the LRC, each resident received R500 per m2 of land contributed to the project as a credit towards the payment of the upgraded home. For example, if a shack of 42 m2 living area participates in the project, the associated LRC will be R21,000. To make sure that all households would have access to at least the minimum units, each household was allocated a minimum of 35 m2 or a minimum LRC of R17,500 per-household.
After careful surveying of what the community can afford and what their rent preferential patterns are, we began to develop a contextually appropriate system. We did this with the help of economist Arturo Brillembourg with support from Ben Nkuna from Ikhayalami. We observed that residents who are largely unemployed with occasional work and government welfare are deemed to be able to afford to pay R300 a month for housing services. On the other end of the spectrum, several residents can afford to pay monthly payments of R3,000 and above. As a base of comparison, households that qualify for the RDP government program must have incomes less that R3,500 or in terms of monthly capacity to pay for housing, R875 (25% of income). Given that the survey shows that mean capacity to pay is R820, only about half of BT residents are poor enough to qualify for the RDP subsidy.
We acknowledge that we were unable to get full participation, however of the majority that did choose to participate, the willingness to pay was two thirds of what we expected their capacity to pay. After the project is completed, the median payment will be just under R500 a month and the median unit size will be 49 m2.
With aims to be economically and socially sustainable, the micro-financing system seems to be viable when looking at feedback from residents who have decided to be involved in the development of BT North. We are also constantly trying to finesse the project and challenge new ways of thinking which brings us to our question for you… what opportunities lie in block chain technology for informal settlement upgrading?
Opportunities of exchange on blockchain
Blockchain technology is a compatible fit for many developing countries, particularly because of its decentralized system. Since we have been on steemit, we've begun to realize that perhaps our digital planning tools can integrate into the blockchain to further fuel the transparency between top-down and bottom-up processes in participation and negotiation. In cities such as Cape Town where inequality remains one of the highest in the world, and government intervention remains slow because of under capacity; blockchain technology presents an opportunity for reliability through active participation and transparency. Additionally, the residents in Khayelitsha are tech savvy and most use social media and smart phones dispelling issues around accessibility. More so, the involvement of governments in such systems can give communities access to government processes whilst motivating governments to deliver. Where authoritative trust remains skeptical, blockchain technology has the capacity to incentivize delivery through transparency eliminating the need for trust based systems.
Initiatives like BenBen are directly reimagining how land rights can be made accessible to the vast majority of people who currently do not have access to land in Ghana. Using mobile devises to register plots of land, file claims or buy and sell land are a few processes presented in the initiative. The blockchain seems to be the perfect interface for participation it seems! As an act of empowerment, incorporating the digital planning tools into blockchain technology hones in on the human resource of the community to maintain project momentum and successful outcomes for implementation.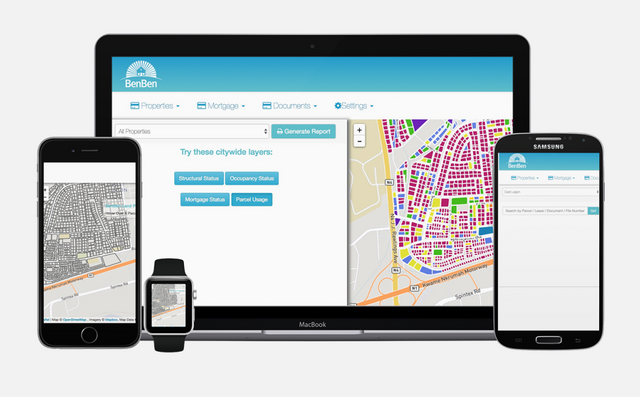 Image showing BenBen blockchain transaction services on various devices | BenBen
Linking back to the micro-financing system, ledger technologies like blockchain can add accessibility, efficiency and transparency to mortgages says Thomson Reuters. Blockchain can make data collection and monitoring an easy and efficient process. With an educated mass audience, this type of system as a foundational means of interaction has the potential to lead to better standards of living and enterprise engagement.
Founder of BenBen, Emmanuel Noah puts it simply, "blockchain technology has the potential to eliminate the many barriers around trust, transparency, and auditability of assets that marginalize groups in the financial services space… Decentralization is key when it comes to promoting access and inclusivity."
What are your thoughts?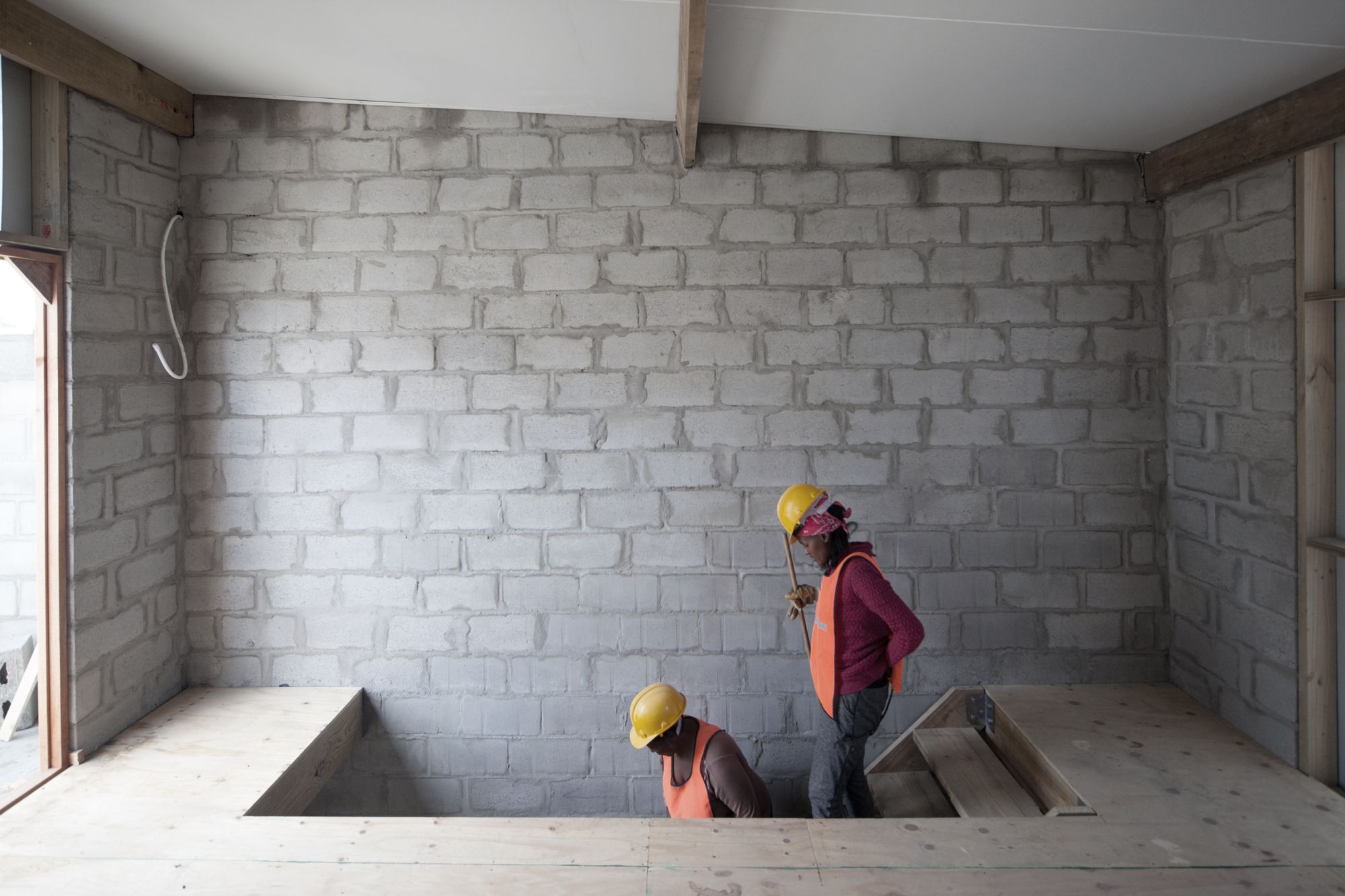 Stay tuned for more posts on EMPOWER…
A QUICK UPDATE on where are we at the moment? The hand over stage for the latest prototype has begun! Stay tuned.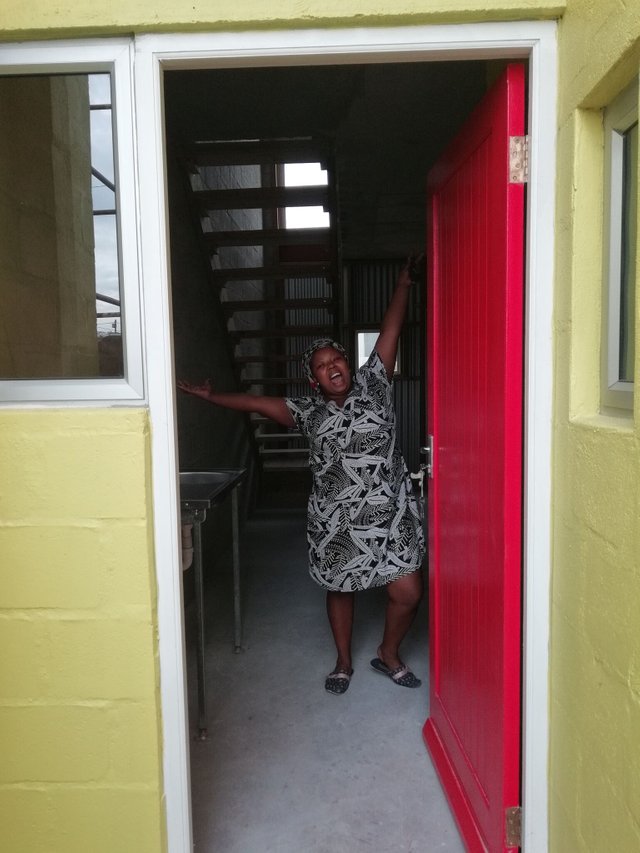 Hand over May 2018. Micro-finance participant receives keys after building completion
Get to know about the project at:
http://u-tt.com/project/empower-shack/