Why all Architecture Students should be using Steemit – Sndbox 006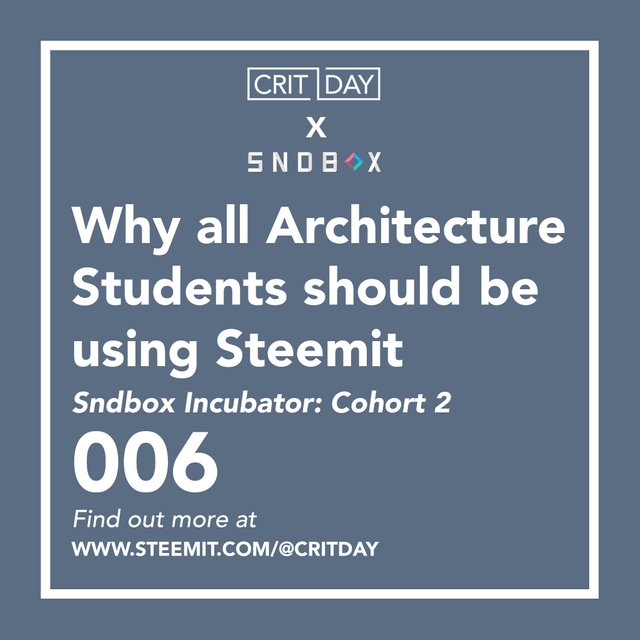 Why all Architecture Students should be using Steemit
Over the last ten years social media has become part of everyday life. Its use has permeated our private and public lives, businesses and universities.
Many architecture students use social media to share their projects, posting images of models, visuals and drawings to Instagram, Facebook, Twitter etc. This has led to the rise of platforms such as CritDay, which share the work of students to a wide audience, celebrating the work and promoting architecture.
Why share?
Whilst operating CritDay it has become evident that social media is used by most schools of architecture and considerable amount of the students within them. The general purpose behind the use appears to be to share. Whether that is students sharing their work or schools sharing the work, or events.
Profiles have become online portfolios, which are easily accessible and free (on the whole). They can be used to show the chronological development of the journey to becoming an Architect or as highly curated profiles with carefully placed images (there are some great examples on Instagram).
A feature across most social media platforms is the like (or love, up-vote, favourite). To some the success of a post is determined by the number of likes it receives. They act as a small reward, releasing dopamine and giving that little buzz, further reinforcing the behavior [1]. Psychology aside, likes offer little in return to the user besides bragging rights. What if those likes had a value?
Well, there is. If you have been following CritDay closely during August you may have noticed Steemit appearing on the Instagram feed and website. If you didn't then now is the time to pay attention.
Introducing Steemit
Steemit is a [relatively] new social media platform, but with a difference. Unlike the household names of Facebook, Instagram and Twitter, Steemit has created a community which can be rewarded financially for content creation and social interaction. It allows the users role to shift from a consumer to a producer, using blockchain technology to incentivise the creation and interaction.
Steemit is run off the STEEM blockchain.
Steem is a blockchain database that supports community building and social interaction with cryptocurrency rewards. Steem combines concepts from social media with lessons learned from building cryptocurrencies and their communities.
Steem Whitepaper[2].
This offers a number of unique characteristics when compared to the traditional forms of social media. Firstly, the network is decentralised, being theoretically unhackable information can be kept safe. As the platform is decentralised it is not run by a group of private shareholders, instead it is owned by its user base. This allows users to determine the direction of development for the platform (if they so wish). A public record of posts are recorded within the blockchain, this in theory reduces the chance of plagiarism, and if this does occur it is possible to trace what came first. These are just a few of the benefits of the platform been run through blockchain technology, more information can be found at www.steem.io or within the STEEM Whitepaper.
There are a number of easy to digest posts about the basics of Steemit and STEEM which will teach you more about the platform as a whole, Steem for noobs and https://steemit.com/steem/@tuck-fheman/what-is-steem.
If you have decided to give it a try head over to https://signup.steemit.com/
So, why should all architecture students be using it?
Well if you are still unconvinced keep reading.
As an architecture student you are already creating, whether it be a model, a render, a detailed section, etc. These tools demonstrate the design process and are the method of a showing how an unbuilt piece of architecture would look and be experienced. These outputs are fundamental to architectural education.
If you are like many architecture students you probably post these on Instagram. This process is already happening so why not extend it to Steemit. Posting your work to Steemit may allow you to build a new audience for your work, and potentially lead to a financial benefit in return for those hours spent perfecting that one visual!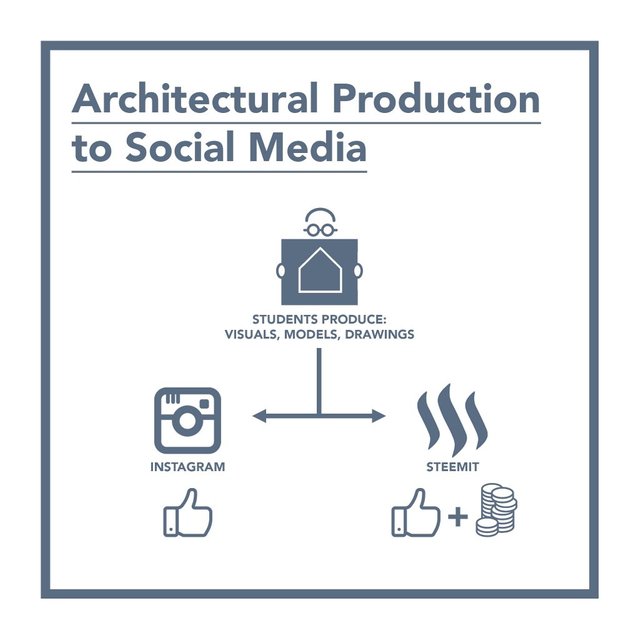 Architectural Production to Social Media - @CritDay
Steemit provides an exciting opportunity to promote architecture in a new way, pushing the boundaries of the traditional social media platforms.
CritDay is up and running on Steemit so if you are interested in using the platform please get in touch to see how it can help you.
Resources and References
---
Posted from my blog with SteemPress : http://critday.com/2018/08/28/why-all-architecture-students-should-be-using-steemit/
---