🍄 Super Mario Bros 🍄 (1985)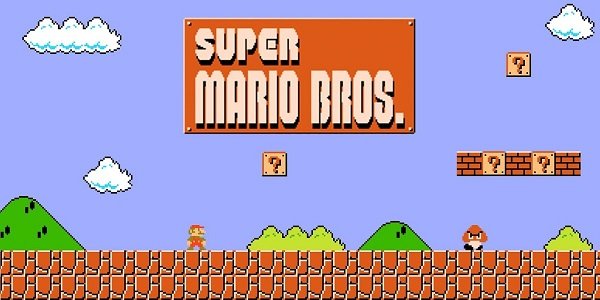 Source
Good Night to all of the Steemit Community!
In this post I bring you the story of a Legend of the 80s and a Super Star that marked my childhood, as the entry of a contest conducted by @archdruid, in which I encourage you to participate, Look Here
My Experience
When I was a kid, the first console I had was an NES, I remember when I got it I was very excited, I played several games, Contra, Megaman, Castlevania, The Legend of Zelda, but there was one in particular that made connection with me and gave me many moments of joys, laughter and sometimes anger hahaha, When I played Super Mario Bros for the first time it was great, the whole game, its gameplay, the worlds, everything that made my eyes shine, and caused him to spend hours playing, Mario became an Idol for me and earned a space in my heart, and I know I'm not the only one, because Mario is the most famous plumber in the world xD, is a super star, makes the profession of plumber looks incredible Haha :).
So with this post I want to pay homage to the Star and Legend of the Videogames that many children frame childhood and I know that he will continue to mark many more.
Beginnings of the Legend
We owe the birth of this Legend to Shigeru Miyamoto and to the Nintendo Company, He was born from the idea of Shigeru Miyamoto because when he traveled on a train he liked to look out the window, and he imagined that he was there jumping out, was released for the first time on September 13, 1985, Its launching was the first great record of sales after the crisis of the industry of the videojuegos of 1983 (reaching more than 10 million sold cartridges), reason why it popularized, in certain way, to the NES console, their Arrival was just like a star to the Virtual World, do not you think?, time later in 1999 was recognized as one of the best selling video games of all time. But wait, remember something, Mario was not born exactly in his game, For those who did not know, Our star appeared for the first time in 1981 in the game Donkey Kong (Also designed by Shigeru Miyamoto) that was inspired by the love triangle of the comics and cartoons of Popeye, the sailor. In this case the princess Vilma, equivalent to the character of Olive, was kidnapped Donkey Kong (Brutus) and had to be saved by "Jump Man", the hero. In the game the character had to avoid barrels, giant hammers and other obstacles to reach the top of a structure where the damsel in danger was waiting.
(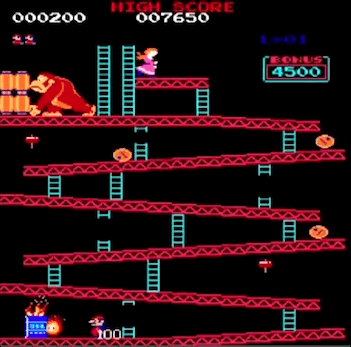 )
Source
After his initial appearance, Miyamoto wanted Jump Man to be a reference character for his next video game and renamed him Mario to introduce him to the North American market. Additionally, he introduced Luigi, Mario's brother, in order to provide users with the multi-player experience.
Source
Curiosities
⚫ Did you know? The reason why Mario wears a cap was that his creator (Shigeru Miyamoto) had problems in drawing his hair, so to save himself the problems, he decided to hide it with a cap.
⚫ Did you know? Before being Mario, the beloved character of Nintendo was known as Jumpman, for his great jumps evading barrels of Donkey Kong.
⚫ Did you know? The reason he is called Super Mario is when he eats a mushroom and makes it grow. By doing it great it does Super.
⚫ Did you know? The character was baptized as Mario by Mario Segali. Segali was the owner of the first Nintendo offices in America and gave the name of Segali to the red plumber because, according to the employees, Segali looked a lot like Mario.
⚫ Did you know? There is a title where Mario plays as the villain of the story and is in Donkey Kong Jr. Mario caught and locked in a cage Donkey Kong, his son now has to rescue his father and beat Mario.
⚫ Did you know? The main melody of Mario is recognized by two thirds of the population of the entire planet. Mario has been received with fame, recognition, respect and love.
Opinion (Point of view as Gamer)
Seen Mario from my point of player, is a very entertaining game, moderate difficulty, besides being one of those typical games that make you want to be a hero and save the princess, this game can give you several messages, one of them can be that sometimes to be a Hero you do not need to be the strongest, nor the most intelligent you only have to have a hero's heart and determination, as mario shows, so we must all be a mario in our lives and save the princess!
It was an honor for me to pay tribute to this great character and I hope the post is to your liking!
Encourage everyone to continue growing the Gamer Community / Otaku here in Steemit
I thank @archdruid for their idea of paying homage to these Legends and @veryspider, @elfranz for their support & @curie for their sponsorship and support for this contest.
And remember being Otaku/Gamer is not a hobby, it's a Lifestyle!
Until next time!