Aquaman has its premiere in the United States on December 21st (or 22nd), but Amazon Prime members have gotten the chance to watch it one week earlier. But, I was still greatly surprised to discover that it came to my local cinema already on December 13th, so I ran off yesterday in the middle of the day to watch it at once! Was it worth it?
Aquaman is the brand new DC Comics movie which is one of the most anticipated movies in all of 2018. But, there are lots of people fearing that it will just be a new disaster from DC Comics. They have had a hard time reaching the masses, and both Batman v. Superman and Justice League didn't bring the big money the way the creators had hoped for. Wonder Woman was an exception (as she was fantastic and received great critics worldwide), but what about Aquaman? Can he also be part of turning the trend for DC Comics, and thus make sure that they have one more character rejoicing in great critics and millions of viewers worldwide visiting the cinema before Christmas?
A short summary of the Aquaman story - without spoilers
The role of Aquaman is played by Jason Momoa. He has grown up together with his father in a lighthouse, but without his mother who was the queen of Atlantis before she escaped. But, to protect Aquaman (Arthur), she returns to Atlantis where she is sent to prison for rejecting the marriage she is forced to. Now Aquaman is left in this world and he doesn't really care about what's going on beneath the surface of the water. He knows that he has special skills, but besides that, he doesn't do much of great importance.
But, when the rulers of Atlantis decide that it is time to attack the upper world, something has got to be done and Aquaman finally decides steps up and fight. But, it isn't gonna be that easy!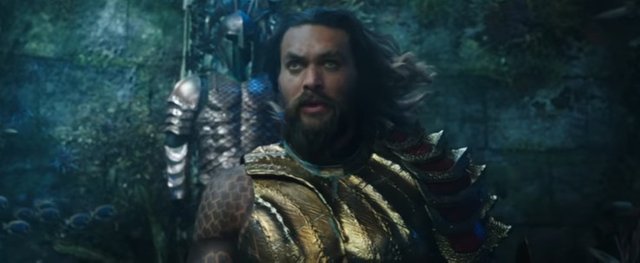 Lots of effects and beautiful imagery
As you watch Aquaman, you will be able to enjoy lots of beautiful effects and images. This is especially true as they visit the world of Atlantis, and it really looks amazing and beautiful. And when the fights begin, if feels like an underwater combination of Lord of the Rings and Star Wars, and I found that to be pretty amazing and cool to watch!
Aquaman is working together with Mera (Amber Heard), and her beautiful red hair is just one more beautiful color in the movie. Together they work, and they are a very nice couple. Aquaman reminds me a lot about Thor, not only because of his voice, but also because of the way he looks, and the way he makes jokes all the time and doesn't seem to be very much afraid of anything.

Aquaman review - worth watching
I had a very good time watching Aquaman in the cinema. The movie lasted for about 150 minutes. That is a long time, but they needed a while to introduce us to the character of Aquaman, and therefore this was expected. Luckily, it didn't become boring, and I did not ever watch my clock to find out if it was soon finished along the way.
Aquaman didn't become a new big favorite, but I still had a great time, and it was the best DC Comics movie experience I have had since watching Wonder Woman! And I believe that together these characters might be able to return some pride and success to the DC Comics movie series!
Have you seen Aquaman? How did you like it? I would love to hear your thoughts!
When will Aquaman make it to Netflix? When can I watch Aquaman on Amazon Prime? Make sure to visit all the guides at fromabroad.org to find out information about all your favorite platforms.