The Pink Night **Harihareshwara Historical Temple** The huge engineered rock temple ...
... built dates back 800 yrs from today. The temple was built around the year 1224 CE by Hoysala Empire in Southern India. The architecture style is of Hoysala style Roof supporting with number of monolithic pillars. And staggered square entrance.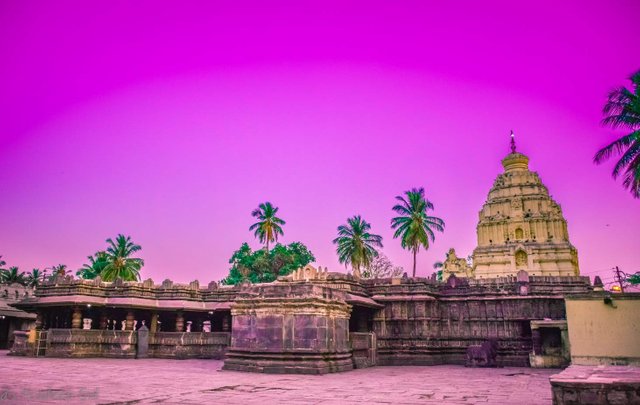 The pillars are tuned to smooth surface by Lathe(In 1224 CE - Engineering Excellence).
The Entrance will have an Mantapa (open hall) supported by the pillars and stone carvings on the walls.
The deity worshipped in the temple is Harihara
Harihara is a fusion of two powerful Hindu gods Vishnu and Shiva. The idol is carved showing the fusion half Vishnu and half Shiva.
Hope this was informative.
Note: photo is enhanced to vibrant pink, in real it was Dark Blue to Purple.