Private Clifford Gilbert the Unsung Hero

source
Hey Steemians,
So today is ANZAC Day and as for many Australians, it is a day of celebration but also remembrance. A celebration of our liberties and freedoms and remembrance for those who had to sacrifice so much for us to experience these freedoms.
In commemoration of those brave soldiers who sacrificed so much, @ravenruis came up with a brilliant idea for Steemians to create a profile post for an ANZAC legend. Giving these legends a story and voice, commemorating their persons rather than their name or regiment number. See his post here.
So with that said I would like to tell you the story of Private Clifford Gilbert. Also known as Fisher Gilbert.
First thing I want to say about Clifford Gilbert is that he was one determined young man who wanted nothing more than to serve in WW1.
Clifford was born around 1897/1898 in, New Castle, Australia. He was the Son of Ida Fisher and Campbell Gilbert (some of the first residents to move to the newly formed township of Griffith, NSW). Unfortunately, not much is known of his family or origins, but Clifford worked as a horseshoer and later impounding officer in this new township of Griffith.
When Clifford was 17 he was determined on joining the Army and travelling to Europe to fight in WW1. Unfortunately for him, his age, weight, height and chest size all deemed him inadequate for service. Regardless Clifford began a 2-year long struggle to gain acceptance into the Australian Imperial Forces.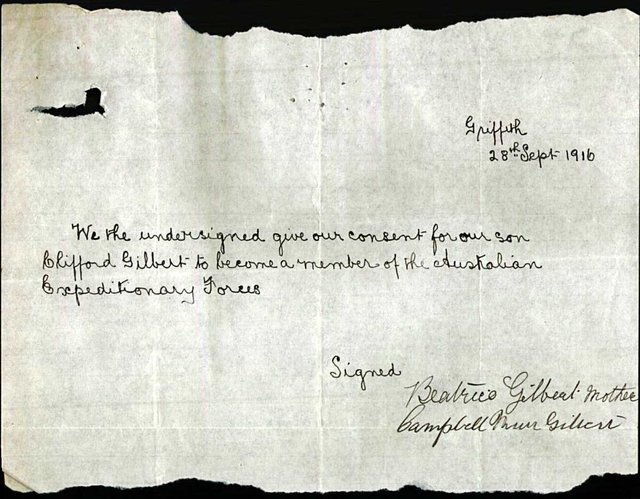 A possibly forged letter from Clifford
To give some context, The minimum requirements for a serviceman in 1914 were the height of 5ft 6", chest size of 34" and weight of 147lbs… Clifford failed all 3 of these conditions. He was a skinny, fair-haired, blue-eyed man with a height of 5ft3", weight of 128lbs and chest circumference of 33"…. Despite this small figure, he was still so determined to fight for his country.
On the 8.6.15, Despite these ineligibilities, he somehow managed to enlist and began training at the Liverpool Military Base in Sydney. For some unknown reason, 10 days after enlisting Clifford deserted his post and a warrant was issued for his arrest. Subsequently, his family were notified and were shocked to discover he had enlisted. With love and concern, his parents penned a letter to the commanding officer at Liverpool military base, outlining Clifford's age and requesting that they discharge him immediately. The administration quickly dropped the warrant and discharged Clifford on the grounds of "request by parents" despite the fact that he was discovered to be ineligible anyway.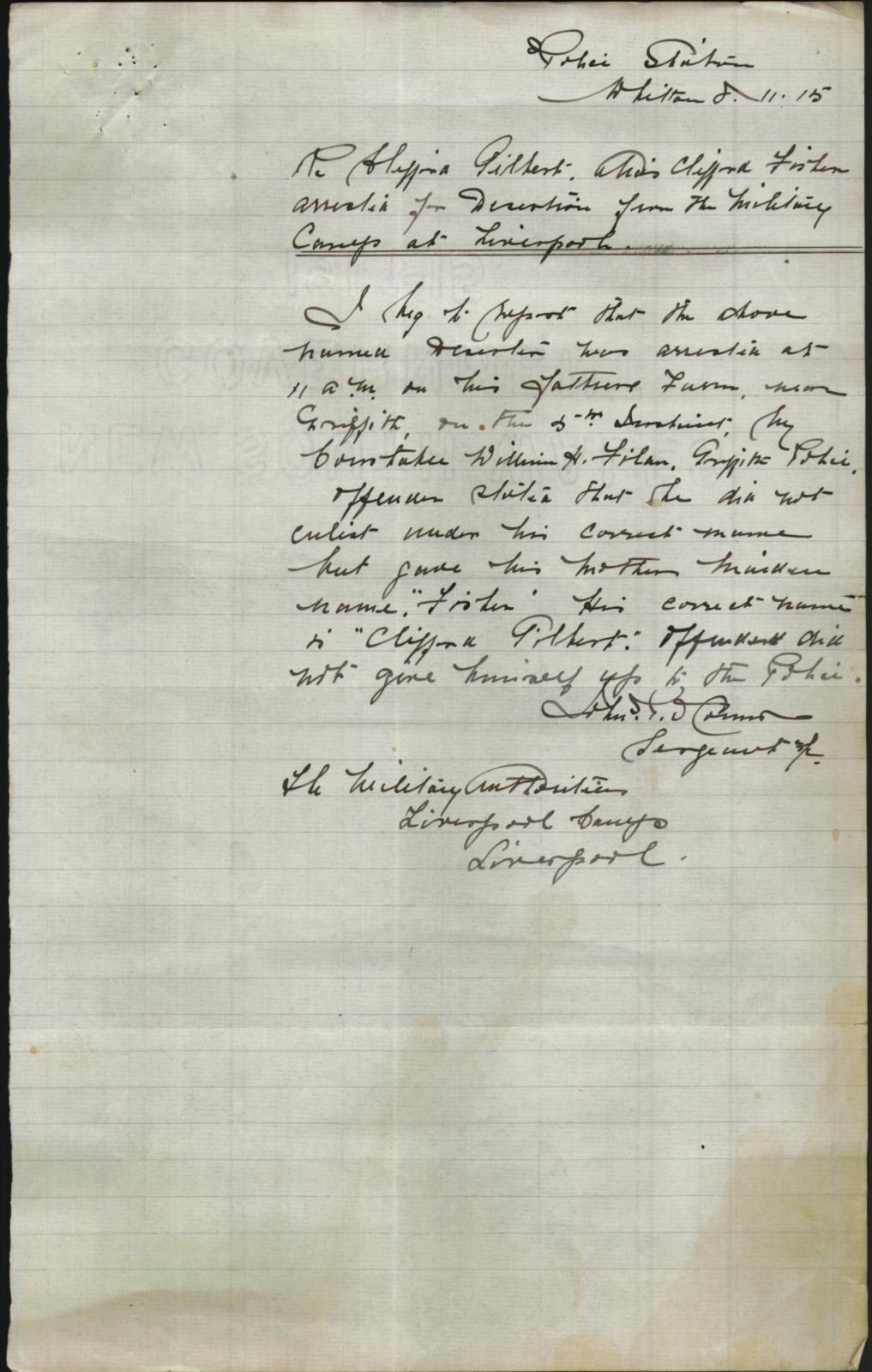 Letter from Cliffords Parents
Clifford eager to join the army again lodged another enlisting application the very same day he was discharged, but was again denied.
Failing to enlist in his home town of Griffith, Clifford travelled to Cootamundra and tried enlisting there, stating that he was 2 years older than he actually was.
Unfortunately for Clifford, the next 4 attempts to enlist were rejected until finally on the 28.10.16 Clifford Gilbert was accepted to serve in the 23rd Regiment of the 1st Battalion of the Australian Imperial Forces. The reason Clifford was finally accepted was due to the Australian Government reducing the eligibility requirements for recruits and most impressively Clifford purposely putting on over 10 pounds in weight in order to pass the physical requirements.
Now he was accepted, Clifford disembarked Sydney harbour on the 9.11.16 destined to Davenport, England on the HMAT A24 Benalla.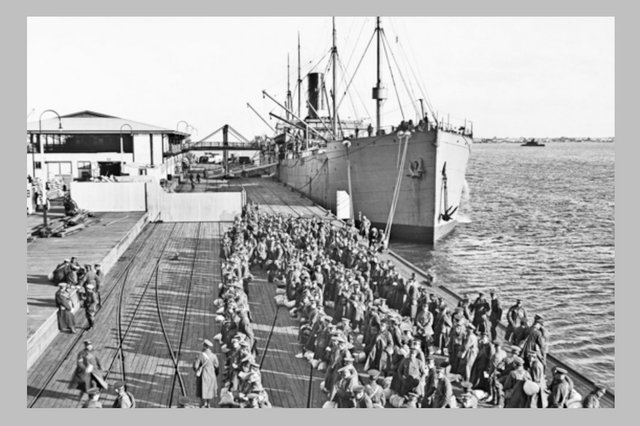 HMAT Benalla
Arriving in England after a 2 month long vouage, Clifford would spend 3 months waiting before being shiped over to the front line in Etaples, France. On the 26.4.16 he was officially marked as "Taken on Strength" in the 27th Regiment of the 1st Battalion of the AIF.
After 10 months of fighting Clifford was hospitalised and spent 71 days sick. The cause of the sickness is unknown but he was finally discharged on the 14.5.18 only to be readmitted on the 25.5.18. Not much is known after this point as his records are unclear but it would appear that Clifford continued fighting until the 3.9.19. Almost 3 years after he enlisted.
Clifford was sent back to Australia on the HMAT Euripides ship, with a 3-day layover in London. After a month and a half at sea, Clifford Gilbert returned to Australia with 3 war medals.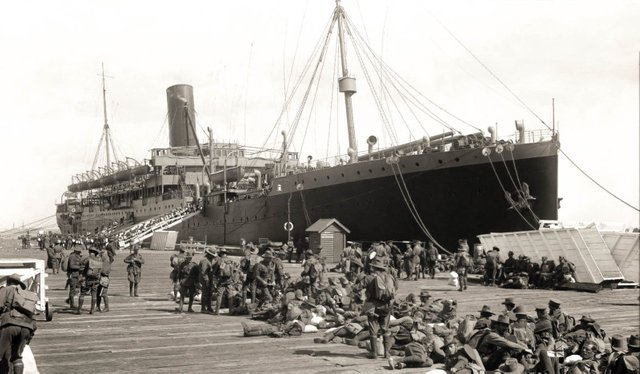 HMAT Euripides
Clifford lived in Australia until his death in 1963. He currently resides in the Eastern Suburbs Memorial Park Cemetery.
Cliffords Medal
---
---
We thank you Private Clifford Gilbert for your service, your sacrifice and your bravery. Lest we forget.
Read other Anzac posts here
Sources used in my research

UPVOTE | FOLLOW | RESTEEM