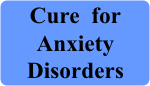 If you suffer from high levels of anxiety then you probably have some kind of an anxiety disorder. I suffered from both Social and General Anxiety disorders for over 50 years until I found out what was causing it. The answer was surprisingly simple. It was being caused by whatever was in my daily soaps I was using. I found this out by going completely soap and shampoo free one day and noticed a huge difference in my anxiety levels.
Week 1:
Anxiety levels dropped dramatically in the first week. No more fainting/dizzy spells, irritability, negative thoughts, fear levels down, racing mind at nights etc. Basically everything related to my anxiety disorders disappeared which also included my depression. For the first week I felt very strange like I was on a high.
After week one of going soap free things started to calm down with a few minor issues of negative thoughts creeping in temporarily but this was only for a brief period.
It's been over 3 months now that I have gone soap free and I can't believe the progress I have made. I still have some psychological damage to deal with having had it for so long but this should heal over time. Also I can think a lot clearer, have stress free conversations with people and cravings for sweet things have been reduced.
Regarding smelling bad due to not using soaps this is just not the case. As long as you bath or shower daily you should be fine and you won't even smell after building up a sweat. I find using a face cloth very convenient to wipe away any excess oils and I use my hands for body parts that are sensitive.
Personally I find diets and exercising only a temporary solution to calming anxiety but not a cure.
Here is an earlier post I did regarding this but I wanted to give you some more updated info: https://steemit.com/anxiety/@readallaboutit/losing-my-social-anxiety-disorder-no-products-required
If you have any queries then please let me know in the comment section.