Saiki Kusuo no Psi-nan - The most ordinary supernatural show
---
Saiki Kusuo no Psi-nan (The Disastrous Life of Saiki K.)
Genres: Comedy, School, Shounen, Slice of Life, Supernatural
Studios: J.C. Staff, Egg Firm
Episode Count: 50 episodes
---
What will you do when you are born with psychic powers and probably is the strongest individual in existence?
A.Become a hero of justice
B.Conquer the world
C.Make your own harem
D.Become a hero for fun
Or
E.Become a normal high schooler and try to live a life as ordinary as possible free from all the troubles and meddlesome affairs that main characters usually have to deal with.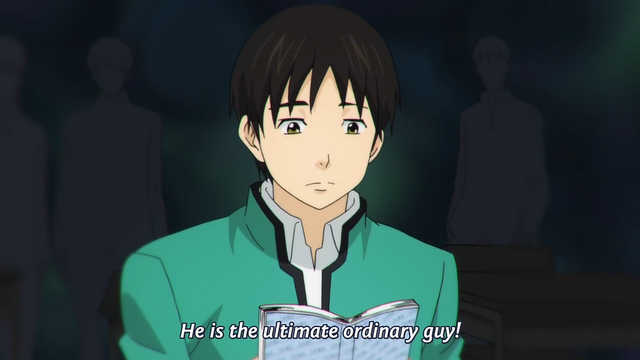 Saiki Kusou no Psi-nan is a gag anime that follows the life of a psychic named Saiki Kusou (he is not the guy above by the way) who only wants to be left alone and enjoy a life of normalcy but that won't do or else we won't be having a show in our hand. As a show featuring a very OP character that can rival most shounen anime characters, Saiki Kusou no Psi-nan surprisingly doesn't diverged from the path of comedy by trying to include unnecessary conflicts and tensions but instead it valiantly walked thru the tightrope that is comedy. So far, this show is my greatest discovery for the year and I managed to crunch thru all of its episodes in a span of 3 weeks and I would boldly claim now that this is among the best when it comes to making people laugh, the last time I had something of this quality was almost a year ago with Asobi Asobase.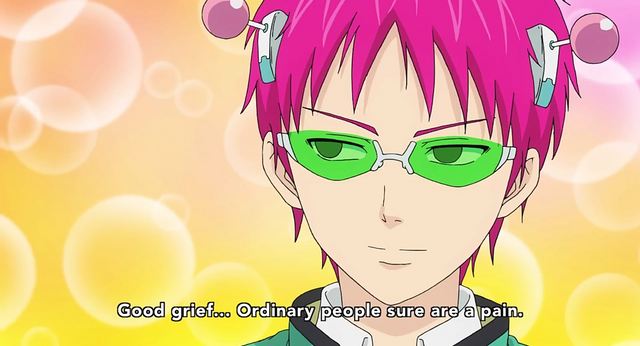 I have already made a simple mention of the premise of the show and that much should suffice for a show like this that doesn't really have much to offer story wise. This is a no brainer show that will just give you a good laugh almost throughout each episode that is achieved by combining various techniques like the use of double act which is especially effective since the straight man is a psychic with the ability to read people's mind so the rebuttals are more on point (Kusou's voice also adds up to the comedic effect because it was delivered in a very monotonous way that contrasts really well with the goofyness and liveliness of most of the cast); references which is a hallmark of modern comedy shows and who doesn't like JoJo references in their shows anyway; wall breaking which is as effective as it used to be since time immemorial; and character tropes that allows the show to experiment around interactions and combinations of characters so as to keep the comedy fresh.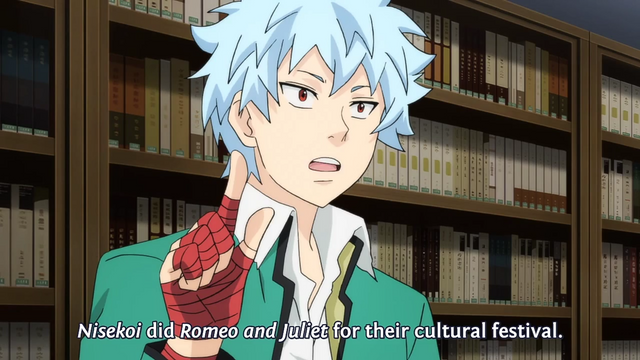 For a show with a relatively long run time it is a great feat to have the audience still laughing till the end and that is one of the best praise I think I could give to honor this series. The show's humor is mostly focused towards the main character, Kusou who, as I have said earlier, is a psychic that has various OP abilities like mind reading, clairvoyance, hypnosis, teleport, thought projection, x-ray vision, pyrokinesis, time control, petrification and even making copies of himself using bilocation. His character is an irony because he is the most out of the norm in the whole series yet he is the one that tries to be exactly as normal as possible that he even go out of his way to place around the middle whenever rankings are concerned to avoid getting attention towards him. Now comes the reason why the show is called as what it is, the people around him that drags him out of his comfort zone. As the title suggest, though there is no doubt that Kusou is a god among men, he is living a life that is anything but ordinary and that is not due to his powers but because of the people that has gathered around him.
First, there is Nendou. He is one of the two people whose mind can't be read by Kusou and that is because there is simply nothing going on in his mind. He is one of the biggest problems for Kusou because he can't exactly come up with proper countermeasures against him since he can't get a read on him. Despite his rough appearance he is actually a very gentle guy and the first one to approach and befriend Kusou.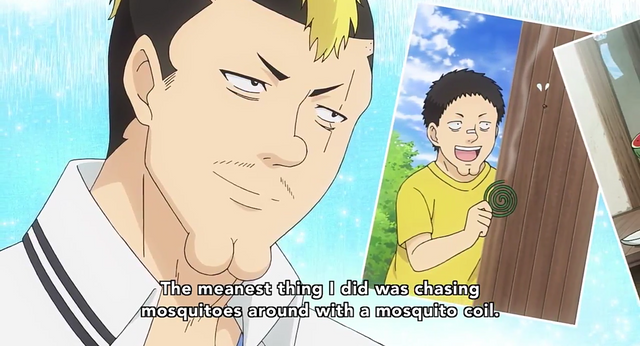 The next one is a character trope that has recently rose to fame, the Chuunibyou character in the name of Kaidou. Those familiar with the trope can already feel the cringe that characters falling under this category can deliver and that is exactly what you'll get. What's funny about his character though is that even though he acts like he is a total Chuuni he still cares about appearances (unlike the total self-absorbed types) and gets embarrassed easily when his childish ramblings are disproved especially when he interacts with Nendou. He also has an accompanying sound track whenever he appears on screen which, over time, became sufficient for me to laugh just by hearing it alone.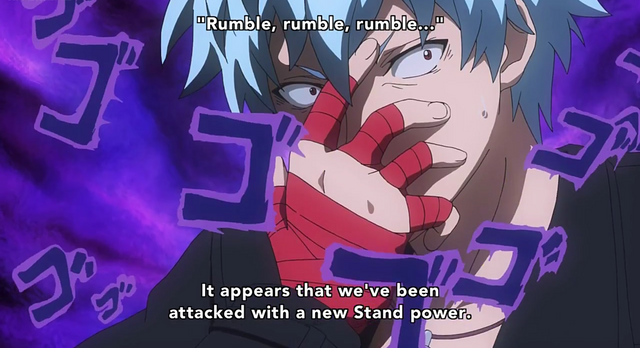 The third character that has the most screen time among Kusou's circle of friends would be the perfect pretty girl named Teruhashi. If Kusou is the established strongest character in existence in their world, then Teruhashi is the most favored and beautiful character in their world. Her interest in Kusou stemmed from the fact that he was not fazed by her beauty so she decided to follow him around and get him to say "oh!" (it sounds like offu! in Japanese though so I get quite a laugh at it because the word "oof" comes to mind whenever I hear it). Her interest in him later on developed into that of a romantic feeling and her desire to make Kusou utter "oh!" was likewise reinforced which is the main driver of comedy between their characters. However, because Kusou can read her plain as day he was able to see Teruhashi's real self which is masked by her outside appearance and demeanor. Being the most favored character in their world though, she was considered by Kusou as one of the people hardest to deal with since almost everyone does her bidding with very few exceptions and that is on top of how high her luck is making Kusou suspect that even the gods are on her side.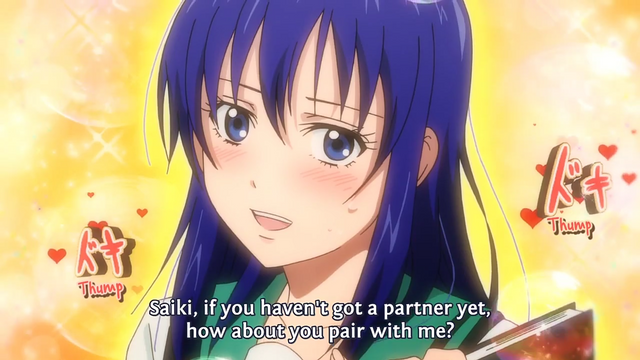 The show has around 10 or so other characters that got their fair share of screen time throughout the show's run but mentioning them all here would turn this into quite the snooze fest so I will limit it with those three since they are the ones with the most amount of screen time aside from the main character.
Now I will be talking about some problems that the show have. First is the ridiculously fast conversation which would most likely prompt you to pause every now and then but that is not even the worst part yet, wait till you got 2 or more people talking at the same time and even Sharinggan won't help you in that predicament. This problem runs throughout the series because Kusou doesn't talk using his mouth but instead he channels his thought directly to the person he is talking to and sometimes he just talks to himself while holding a conversation so it really gets confusing and makes it hard to keep up but rest assured that the show itself took note of this and incorporated it as a joke in one instance when they introduced a character that talks so fast and so much that they subbed his words using conversation bubbles that piles up over the other… deym.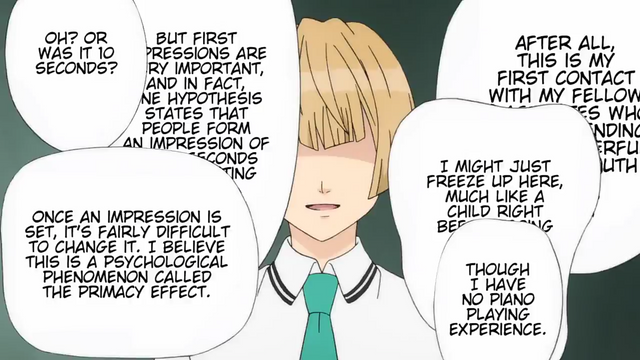 The next problem that people complain about is the incorporation of romance in the show. This is not really a problem for me since I love romcoms in the first place but some people just doesn't like the idea of mixing it with a full blown comedy show like this one and that is more prominent in the comment section for this show, maybe it is because Kusou was being portrayed as guy with no emotions (though he is a really kind-hearted guy that cares for his friends more than he thinks and lets out, yes he is a tsundere kuudere) or maybe they just hate Teruhashi's character that much? There are quite a few girl characters in the show that has developed feelings for Kusou at some point but the real fight started when Aiura was introduced. That was also when the romance part became more distinct because we've got proper love rivals now. First up is Teruhashi which I have mentioned earlier, is the embodiment of perfection but is a calculating woman inside, a fact that only Kusou knows. Her character definitely is not off to a good start because of how highly she thinks of herself and only works as a good comedic routine because Kusou knows it very well, but as the show progressed her character also improved and in the end she became one of Kusou's good friends and some hints were also dropped about him, maybe having some feelings for her, if that is romantic or platonic is anybody's guess since it was not explicitly stated therein. The other one is Aiura a transfer student (number four) that was introduced in the second season of the show and among those few people that knows about Kusou's psychic powers because she herself has some sort of powers that allows her to divine and see the future as well as to see people's aura. She is overall more likeable than Teruhashi because she is not two faced and has helped Kusou several times though her screen time is not that plenty which leads me now to the third problem of the show.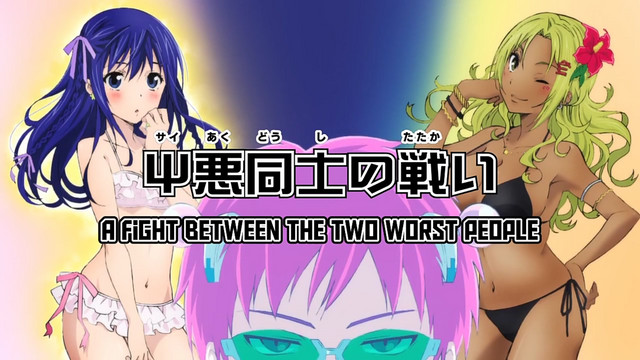 The last problem would be the lack of screen time due to having a very huge cast of characters. The show ran for 50 episodes but there were times that some of the characters that used to get much of the spotlight earlier on the series felt like they hardly exist later on just like Takahashi, Chouno and even Hairo that was once among their circle later on felt like outside of the loop. Well they replaced them with some characters because they have around 5 transfer students in total but I just feel like they are just having a trial and error and using only those that click. Well as long as I get my fill I really don't have that much of a qualm but I just feel like they could have utilized the older characters more rather than just adding up to the head count.
When all is said and done the show did a very well job as a gag anime. This is among those few shows that is guaranteed to make people laugh almost every episode so if you are into that then this is a prime pick for me under that category. The show's opening and ending are quite he remarkable ones too but the second ending song of season 2 definitely takes the cake because we get to see Kusou singing there.
By the way they also did a small cross over with Ginatama.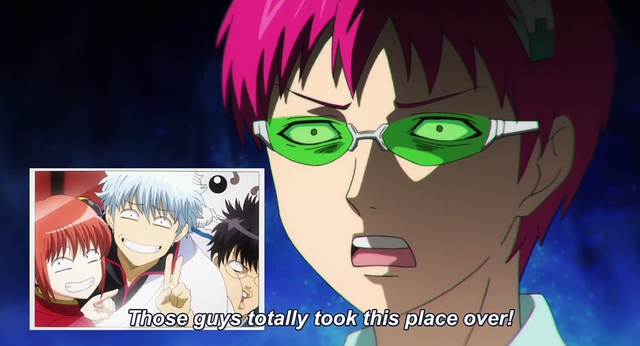 ---
Glad I made it in time for this week's post but I am probably going to have to bail out next week because I am probably going to be busy then. Well finishing a 50 episode anime is something I should not attempt again for now because it seriously drains me of almost all my time that I can't even keep up with the seasonal list. Well I am probably out next week so I guess I will just see you again some other time. Well then that's all for now.
Ciao~