UPDATE: She Didn't Dump Them. We Got Them.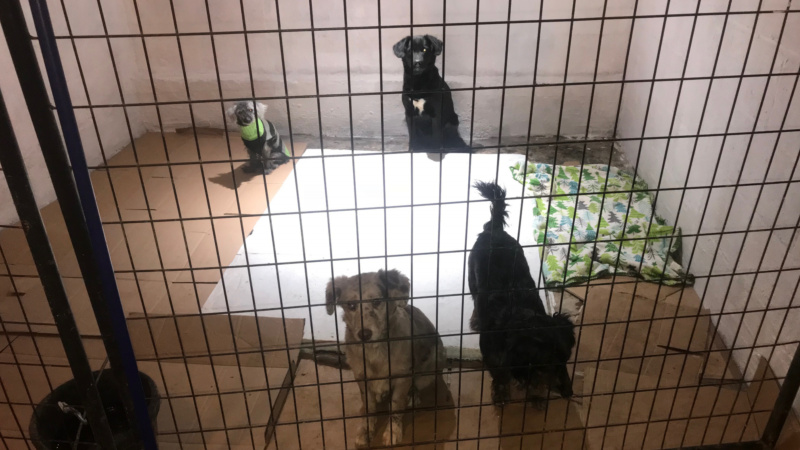 Over the weekend, I posted about a realtor in Tazewell County, Virginia, who threatened to turn a critically ill tenant's pets out of the house. The tenant is hospitalized with questionable recovery potential and has no family in the area.
Since then, I spoke with the Richlands Police Department and learned that the owner had, in fact, surrendered the animals. The sergeant I spoke with was able to make contact with the realtor and establish a time when my rescue could take custody of the dogs. Today, @arrelaine13 provided transport for all four of them and they are safe tonight with me.
---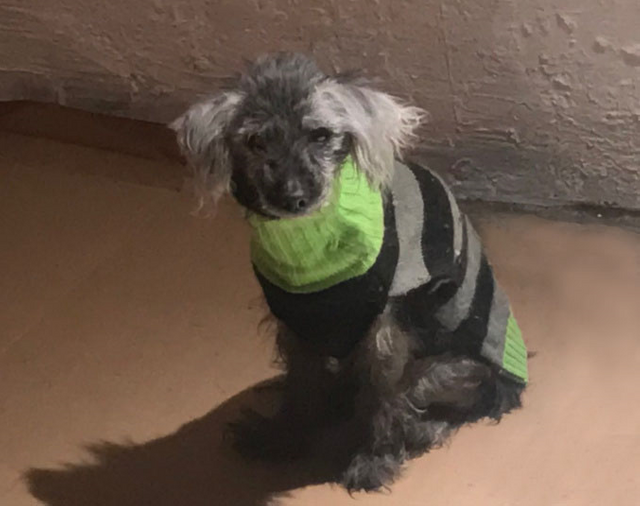 Miss Daisy, the senior poodle, has some form of contact dermatitis, most likely a flea allergy. She will see a veterinarian soon, hopefully tomorrow.
---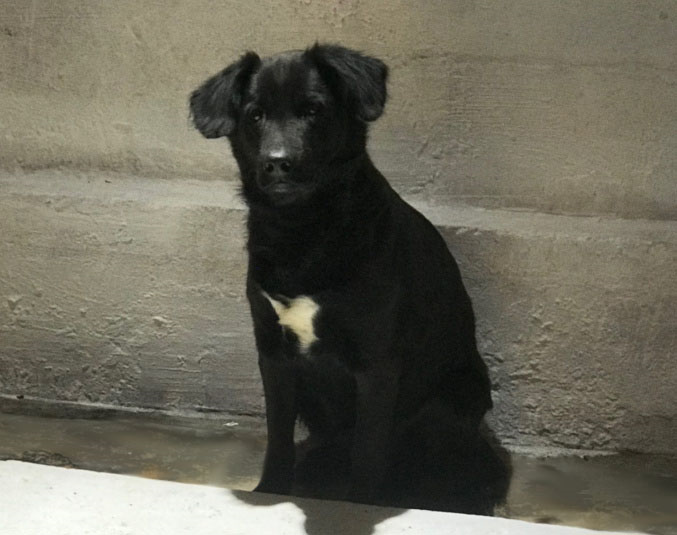 Charlotte is the largest of the bunch, probably a lab mix. She is very friendly, but by far the most circumspect.
---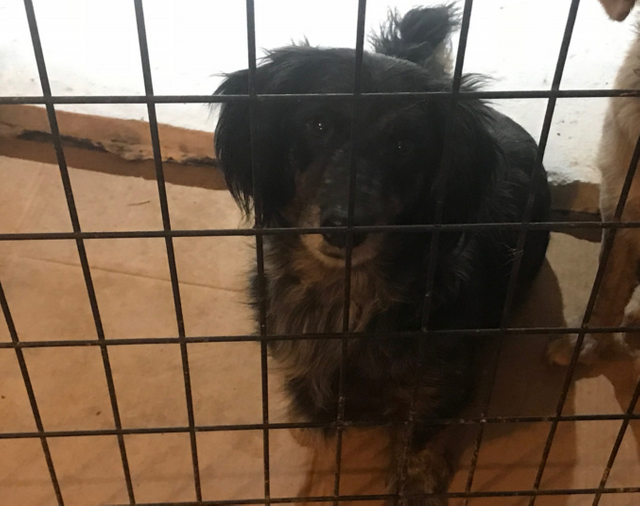 Cleo appears to be a wirehaired dachshund mix. She's considerably larger than a dachshund, but has the low-rider body. She's outgoing and enthusiastic and constantly wagging her tail.
---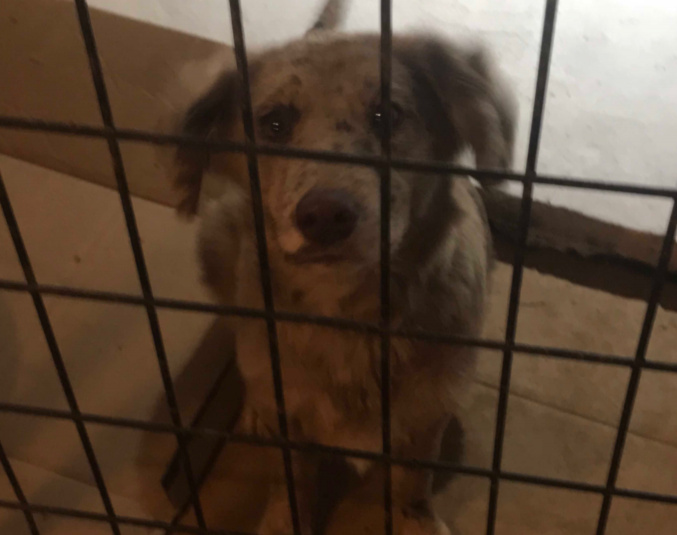 Little Candy is the baby of the bunch, probably around four months old. She appears to be an Australian Shepherd mix, a dilute red merle who may even carry the Isabella gene. I'll have to examine her eyes and nails in the sunlight to get a better idea of that possibility. Her coloring is beautiful.
---
Anyone who has followed my blog here on Steemit knows about the problems I face trying to operate a 501c3 rescue in Central Appalachia. I long ago gave up trying to gain the community's support and cooperation. It's a closed society, hostile toward outsiders.

The screenshots above and below this paragraph show how bold the community is about wanting no assistance, intervention, or attention called to any of the problems here. These things were said to me tonight because I dared speak ill of native daughter Ramona Simmons. It was interesting to me that several residents piled on this conversation, many claiming to be animal lovers. Yet not a single person asked after the well-being of the dogs that Simmons threatened to put out of the house.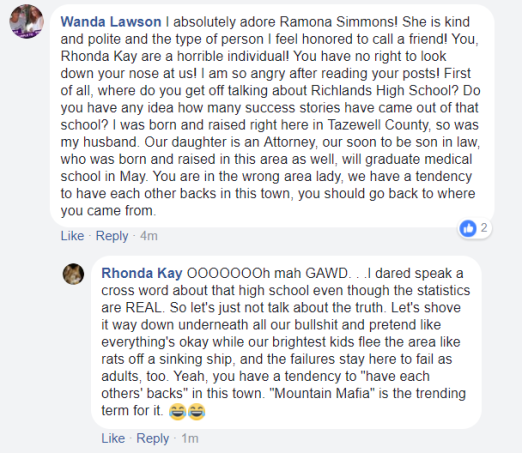 The Tazewell County Animal Shelter has historically operated one of the highest kill municipal shelters in Virginia. The stray problem here can be likened to that of many third world countries. Abuse, neglect, and poor husbandry of pets and even livestock (especially horses) is a way of life in this region. But, just like the high school dropout rate, that is a forbidden topic of discussion. These are issues that members of this community simply do not want to address.
Not long ago, I was featured on the Seeds of Liberty podcast and I talked about the problems in Central Appalachia, Southwest Virginia in particular. Here is a link to a recording of that broadcast. I shared this link with the Facebook users tonight who agreed that I should leave town. From their comments, it's safe to assume none of them could be bothered to listen.
The problems animals face in this region are indicative of social issues that affect children and the elderly, as well. It isn't just an animal welfare crisis. It's a crisis of humanity. My rescue is perpetually in demand when it comes to relieving people of unwanted pets, but the idea of supporting the charity they call on for such help is a concept that has eluded my community for five years. I still want to continue the work because the animals deserve to have a voice speaking on their behalf. This puts me at cross-purposes with a culture that just wants to be left alone. Right now I have 34 dogs in rescue and feed about 30 pounds of mid-grade food a day. I have six female dogs and three male dogs who need to be spayed or neutered, none of which I went out and obtained as pets. All nine of these dogs were accepted by my rescue as a consequence of someone else's irresponsibility. And I'm the one-woman cleanup crew.
Many people on Steemit donate some of their liquid post rewards to my rescue, which is @tarc. Honestly, we could use a lot more help—especially now, with the additional intakes. We also accept FIAT through PayPal. Our ID through PayPal is [email protected] For U.S. residents, donations are tax deductible.
I'll keep everyone posted about how these dogs fare in the transition to their new homes.