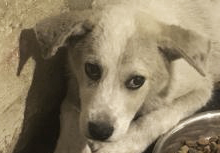 Little Bailey not only made it through the night last night despite some concerns about his heavy parasite load combined with the stress of being abandoned, but woke this morning ready to take on the world! He's eating great, drinking plenty, and starting to complain about quarantine. Perfect! All signs of a healthy, normal pup.
Bailey looks to be about four months old. He's a Great Pyrenees mix, complete with double dew claws on his back legs. He is super-friendly and very well-mannered.
Thanks to @lexiconal and @nikez452, a fundraising effort has already ensured his vetting on Friday can be covered. He has an appointment with a veterinarian I consider to be the best in the area. He should be able to receive treatment for the mange mites as well as his initial core vaccines. @fundraisers has also adopted his cause and will be helping raise money not only for Friday's visit, but follow-up treatments as well. Bailey will need at least two in a series of core vaccines, at least two ivermectin injections to treat the mites, topical parasite control, internal parasite control, a microchip and sterilization before making the long trek north to the forever home we'll find for him in New England. He's too young for a heartworm test, but we'll make sure he gets everything that he needs before adoption.
Upvotes cost you nothing. Bailey's cause is worthy of a click. Please resteem as well so he can get as much help as possible.
Original post about Bailey's situation can be found HERE.
Watch Bailey enjoy his evening dinner!