In typical Southwest Virginia fashion, someone decided yesterday that caring for the real live, flesh and blood puppy they owned was too much trouble, so overnight, they dumped him out on the road near my rescue. Anyone who follows my blog knows this is an ongoing issue in this region of the country. Dogs are abandoned without thought or care, either for the dogs themselves, or for the people who inherit the responsibility of making a choice: do I save this puppy, or allow it to starve to death or be squashed by a coal truck on the highway.
The manifestation of this problem is all the stray dogs that become the county's responsibility to euthanize. The root of the problem is social irresponsibility and moral decay. This is the U.S.A. We have the means and resources to spay and neuter enough community animals to prevent this ridiculous black eye on the face of our society. Many, many communities across America have demonstrated how possible it is to get the homeless pet situation completely under control. So this is no pipe dream. Yet in regions like Central Appalachia, the knee-jerk reaction of so many people is this: "I have a problem. The quickest way for me to get rid of my problem is to make it your problem instead." So today, I inherited some asshole's problem. A sick puppy, eaten up with sarcoptic mange, infested with worms, incubating what may turn out to be an upper respiratory infection. Now he is my responsibility, and I won't fail him.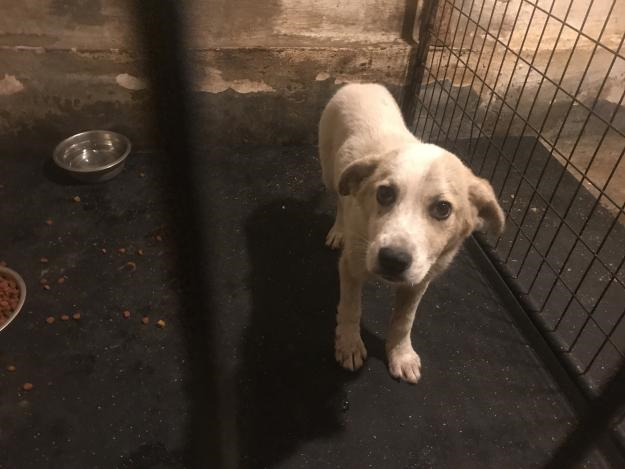 "Bailey" is a Great Pyrenees mix, probably around 10-12 weeks old. He is very friendly, and very heartbroken. Scientific studies using PET scan brain imaging have shown that dogs respond to stimuli with the same emotional patterns as humans. Imagine dumping a six-year-old boy out on the side of the road with no food or water and leaving him to fend for himself. This puppy went through the same gamut of emotions last night, and he will never forget that experience.
He needs to see a veterinarian immediately. My rescue does not have the funds to pay for it. That's why we've been closed to intakes for almost six months. There are limited rescue options in my area. The local kill shelter would most likely put him down rather than provide veterinary care. That is a legal option for them. So what are my choices? The initial vet bill for Bailey will likely be at least $300. This does not include follow-ups. He will need antibiotics and ivermectin injections for the mange mites, plus topical flea treatment. I've started him on oral dewormer (fenbendazole) tonight. He's a sick little boy. He came to me for help, and somehow, I will give it to him.
In the past, when I've posted on Facebook for help, locals attack. "If you can't support a rescue on your own, don't start a rescue" is the prevailing sentiment when we ask for donations. That's a direct quote, by the way. See another post on the problem HERE and other articles on my Steemshelves page. I no longer post about these situations on Facebook. But I'm going to give Steemit a try, and see if we can raise my 501c3 state-reporting rescue enough funds to provide proper veterinary care for this puppy. If we can pull him through this and get him healthy, Bailey's journey from this sad beginning to his new life in a New England furever home can be chronicled on Steemit so all his fans and supporters can follow along.
So please--give Bailey an upvote. Give him a resteem. If you want to donate FIAT to help (unlikely in a crypto community, but nevertheless possible,) our PayPal address is [email protected] . Please put "Bailey" in the memo. Since we are a 501(c)(3) nonprofit, we are also able to offer a tax donation receipt.
Let's make Bailey a pup that Steemit saved!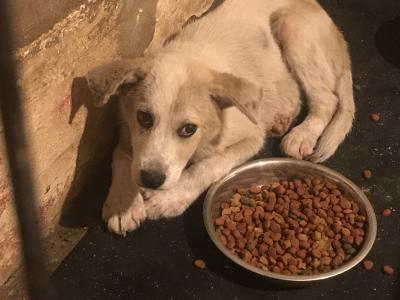 NOTE: Bailey is currently in quarantine due to the presence of contagion. Our quarantine kennel is not very pretty. Who cares. If we save his life and protect the health of other dogs in our care, it can look like refried shit and still be the most beautiful kennel in the world for pups like Bailey who are out of options. With funding, we can make it as pretty as our sponsors want it to be.