So I couldn't stay a longer time away from our steem family, so I am back here guys. So I was thinking to write something about my pet cum brother "LAURE" as I mentioned him in my introduction post.
So here is laure :-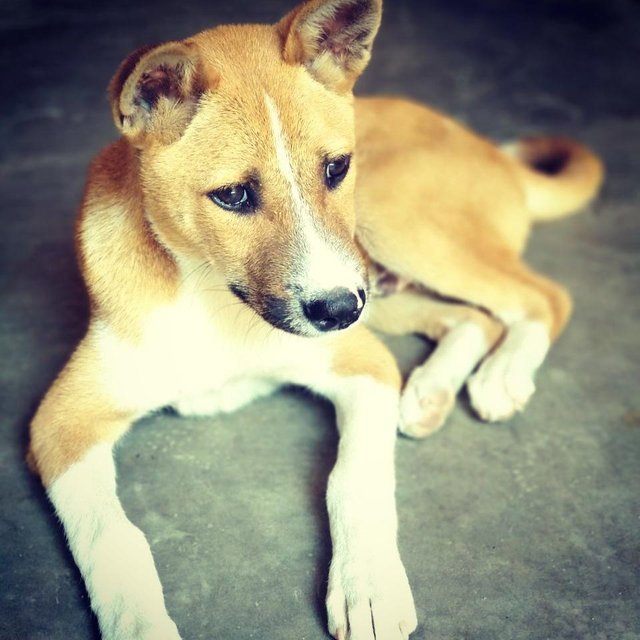 So let me begin from the beginning how I met him and all. He was just 1 week or 9 days old when one of my friend saw him near a railway station laying beside his dead mother. He couldn't see this little puppy in such a hactic situation and he bought this puppy with him to his room. He took the 1st care then me to him. Then 1 day as I was crossing my friends room, I saw this little puppy and I asked my friend to give him to me. Without refusing he gave this little puppy to me. Then I took him to my hostel. And all my friend were happy and excited to see a new member in our hostel family. So now the 1st problem was to keep his name , a perfect one. So everybody started giving suggestions. Some told REX, some came with some common names and then a junior brother in my hostel have a unique name to him, which is "LAURE". LAURE means SOLDIER in Nepali language and yes my pet is a soldier. So keeping his name was over and now we are to prepare for his permanent living with us. He got a small bed like cushion for him. Laure is just very punctual of time as because he used to sleep at 10 p.m everyday and wakes up everyday at 5 a.m and makes me up too. But he is the laziest dog as I have seen till now from my point of view. He just keeps sleeping the whole day and hardly plays for 2-3 hours in daytime. But at the evening time it's his daily routine to go for a walk for minimum 2-4 km. He is helping me out too for maintaining my health by making me walk with him everyday. He usually takes bath 3 times a week.
So this was a short intro session about my "LAURE". Will be updating more about him and other things soon.
Stay tuned.
Thanks for reading.