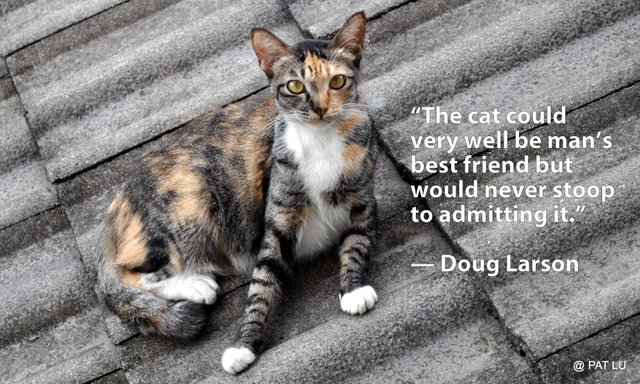 Believe it or not, I can read my cats' minds. Why "catS"? Because I have two cats and neighbourhood cats come home for supper and they talk to me too.
Here is Knight and here is what she has to say...
"I'm not a dog so don't expect me to behave like one. Don't expect me to jump all over you each time you come home. How undignified!
I'd rather quietly roll over just as you enter the door and expect YOU to give me tummy-rub each time you come home. That rolling over, looking into your eyes and purring means I love you.
In addition, after my afternoon nap on our bed, I'll look for you in my loudest voice what humans call a meow but if you noticed, it's a very special meow reserved just for you. And when you answer, I'll follow your voice till I find you and rub against your legs or jump on your lap; that means I love you.
Not forgetting my all-time favourite nightly ritual. I'll jump on your table and plonk myself on your keyboard while you are typing and turn over for another tummy-rub that means I love you. Oh yes, I love that funny look on your face and when you give out a huge sigh same time give me my tummy rub while lying on your keyboard. I guess that means you love me too.
That's not all. When you go for your midnight walks, I'll follow you means I love you.
And not forgetting when you wake up every day, you will find me sleeping by your feet and keep you company in the loo while you do your business and bathe also means I love you.
Adoi, in how many more ways must I show you I love you lah!"
So Steemians, if your cat furkids do the same or if you find yourself wondering why torture yourself by adopting a cat who does not seem to respond to your affections and love... watch out for the signs that simply means cats have more than one way to show their love and affection for you.
I'd love to read your stories how your cat loves you. :)


Cat Mind Reader


Read Whatelse My Cat Said:
My Cat Says #1: Broadcast this...