Although some species are able to eat essentially anything under the sun, does not mean they will thrive doing so.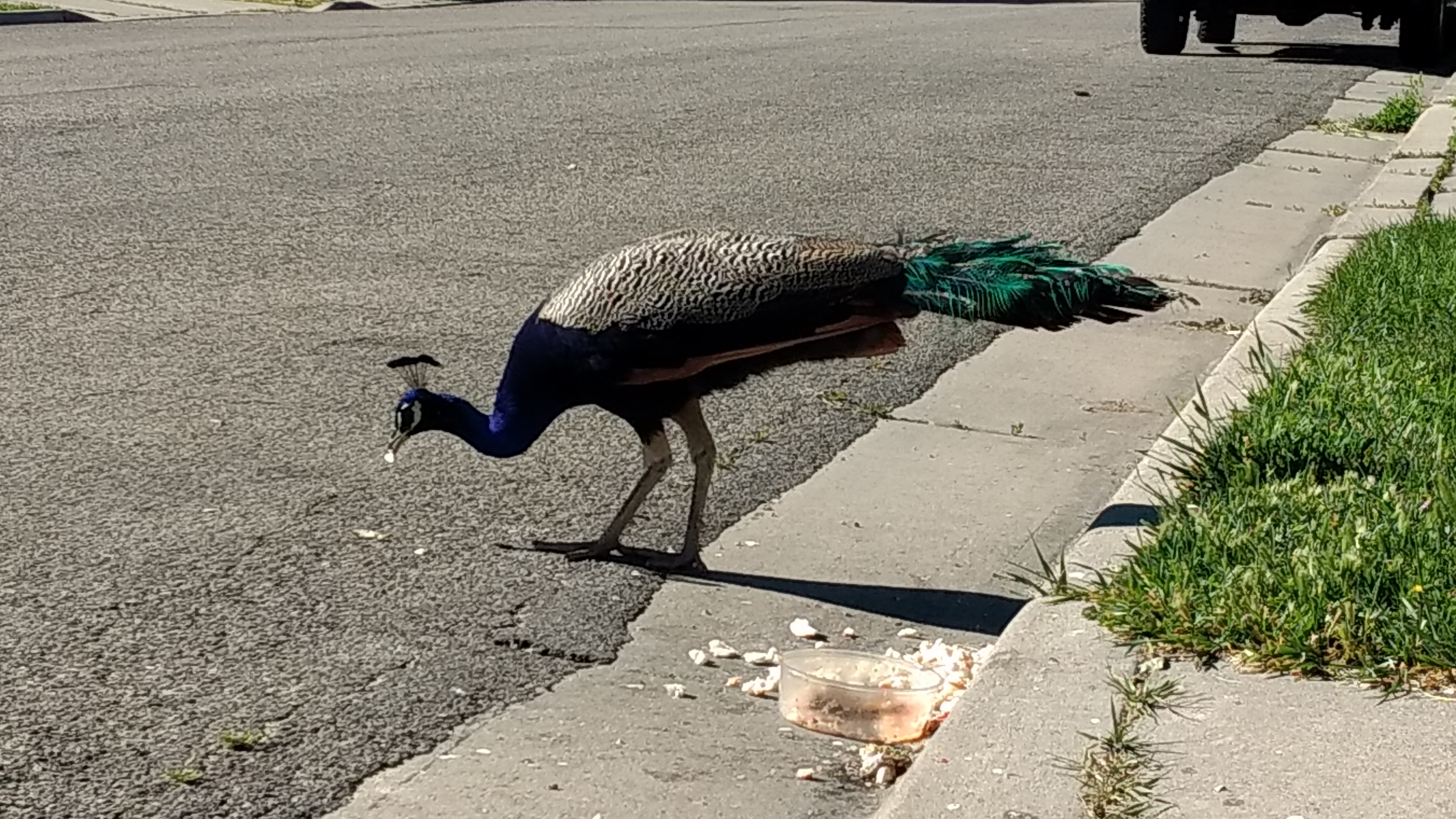 Photo: Mister Peacock eating bread, chips and popcorn the neighbors so "Kindly" left out for him. UGH!
As you know, if you read my intro post, there is a peacock that showed up in my neighborhood recently. One of the neighbors started putting bread, chips, and crackers out in the gutter for him. All I can do is cringe at the sight. That poor bird's digestive system is taking a beating. Additionally the excess food laying out has attracted seagulls and who knows what other animals that don't belong. These actions inspired me to write a post about NOT feeding Wild Animals. If you have a pet, Feed it. If you are a licensed rehabilitation facility, then you already know how to properly feed wild animals the correct diet. That is great. However, Joe Smoe next door, sees a poor helpless animal and decides to feed it. Bad Idea. I know many people have good intentions feeding animals, but in most cases feeding human food can actually cause more harm than good.
Animals should not eat human made/processed food ( I can't stress this enough). Much of the stuff Americans eat is bad; in fact so bad that roughly 33% of adults are obese in the US and half are considered overweight (US Department of Health and Human Services), so imagine what it does to wildlife. Yes, if you toss bread onto a pond, ducks and geese will flock to you like flies to poop. We think it tastes good, and so do they. They will fight for a piece as if their life depends on it. Reality check. Their life depends on not relying on humans to feed them. Birds who consume large amounts of bread or bread-like food sources become nutrient deficient. This causes a serious disease in aquatic birds known as Angel Wing in which the last joint on the wing becomes crooked and the feathers tilt upwards. This disables the bird for life; making it impossible to fly. Imagine the lifespan of a bird who cannot fly away from predators. Miss Whiskers, a feral cat, now has ample opportunities for an easy meal and extra energy to breed. Resulting in more feral cats (which are BAD, and a topic of their own).
Feeding wildlife can not only harm them, but can be dangerous for you too. Wildlife is wild. Just because that squirrel looks cute, does not mean he is friendly. He may become aggressive and bite you. Ever had to get Rabies shots because you did something that had a high risk of contraction (i.e. getting bit by a wild animal)? That isn't a scenario you should put yourself in.
Long story short. Feeding that duck, deer, squirrel, bear cub,or any animal is not the right thing to do. Those animals can and will find food on their own. If they are incapable then mother nature will take its course as it is suppose to. Human foods are harmful and have negative impacts on wildlife (just like they do on humans) that so many people are unaware of. So if you want to help that sweet animal, Do not feed it! Take your kids out for ice cream instead. If you really have a powerful yearning to feed an animal then get a pet or go to the zoo. Many zoos, aquariums and aviaries offer the opportunity to feed their specially formulated food to the birds, fish, or ungulates (these pellets are different for each species and different zoos will have different opportunities to feed different animals).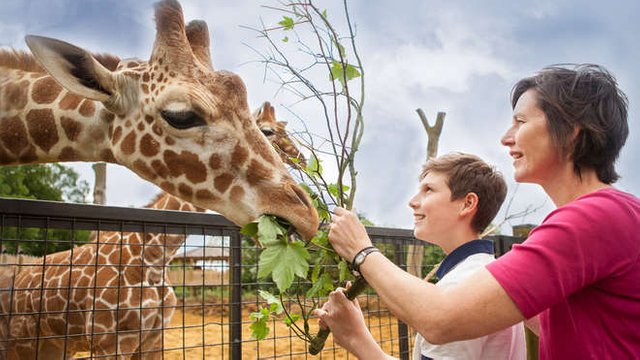 Photo Credit: Whipsnade Zoo
Thanks for reading and please share this info with others, especially those you know who think they are helping wildlife by feeding them.