The Dialectics of Liberation: Anarchism, Existentialism, and Decentralism

Index and Conclusion of part 1- Anarchy
"Anarchy is an "anti-cracy" and a "no-cracy". "- charlie777pt
1 - Conclusion of part 1
This first part about Anarchy in the essay on the Dialectics of Liberation, that was the first illumination, I had in my middle adolescence that contributed to my path for freedom when I passed through the middle of two real revolutions, one in Africa and another in Portugal.
After a crisis of 50 years of fascism and imperial colonialism, finally the empire was crumbling, and I was fascinated by the extreme left ( against Bolshevism and Maoism), but soon I could feel that even leftist political philosophy, was as dangerous as capitalism leading also to centralized totalitarian regimes.
And when I was fed up with leftism, an old syndicalist passed me some little books of Bakunin, that enlightened and showed me the infinite possibilities of people living their lives without being ruled and constrained, enjoying a total individual freedom.
As a compulsive reader I was, I went in a frenzy of reading several times, and soon I decided to abandon any political organized activity and transformed myself in the white wolf, that hunts and live alone in the prairie.
I soon found out that people were really scared, angry and even violent when I tried to talk about anarchism, and at the time everybody was strictly left or right wing.
At the time there was a bunch of guys that frequented the Republic Journal in Portugal that were anarchist dissidents from the left in Portugal and Spain, ranging from peaceful individualists to anarcho-syndicalists and some extreme violent anarchist terrorists.
I still remember like a group of real crazy anarchists (because their terrorism was directed to the figures of power and not the people) that were organizing there a cellule to try the assassination of Franco, that was still in power after the dissolution of fascism in Portugal.
It was also fundamental to contact the concept of Ernst Jünger that describes the "normality" and "straightness" of the "Anarch", and the opposite of the Anarchist, that can not hide the behavior and discourse of freedom and individuality.
The "Anarch" is more resilient to survive in the newly emerging world of totalitarian states and multinationals domination, using anonymity and privacy, like the Anonymous, acting like moles that corrode the system from the inside instead of the attack from outside.
The discovery of existentialism, psychedelics, anarcho-punk, anti-psychiatry as the dialectic of liberation and the restructuring of Being was fundamental in the middle of my adolescence, and will be the next three parts of this essay will be about.
"We are here to share Mind and not Matter" - charlie777pt
I hope you have enjoyed this first part on Anarchy and opened your appetite for the next issues, Existentialism, Decentralization and Self-Liberation.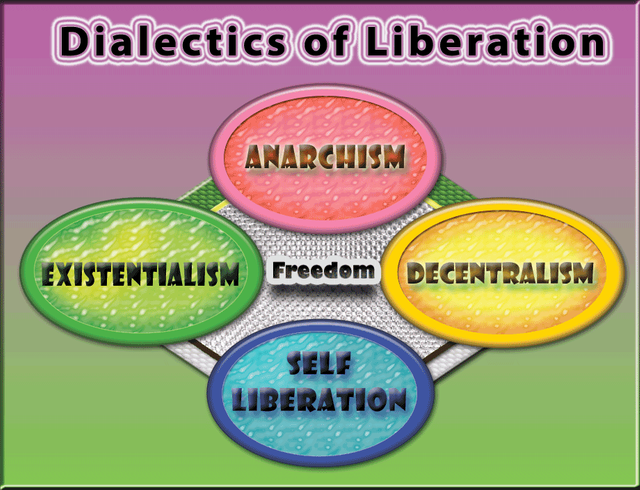 2 - Index of part 1 - Anarchy
The Dialectics of Liberation: Anarchism, Existentialism and Decentralism.
Published Posts:
Introduction to the Dialectics of Liberation: Anarchism, Existentialism and Decentralism
I - Anarchism
What is Anarchism?
The History of Anarchism
Anarchy: Revolution Against The State
Anarchy Today

Index and Abstract of part 1 - Anarchy- This post
Next posts on the Series:
II - Existentialism
What is Existentialism ?

Part 1 - Unplugged Introduction to Existentialism
Part 2 - The Short History of Existentialism
Part 3 - The Philosofy of Existentialism

The "Existentialims"
Humanism and Existentialism
Existentialism and Anarchism
III - Decentralism
What is Decentralism?
The Philosophy of Decentralism
Blockchain and Decentralization
Anarchism, Existentialism, and Decentralism
IV - Dialectic for Self-Liberation
The Dialectics of Liberation Congress

Psychoanalysis and Existentialism
The Anti-psychiatry movement
References:
- charlie777pt on Steemit:
Books:
"Psychology, Ideology, Utopia, and the Commons" - Dennis R. Fox (1985) American Psychologist
Bey, Hakim (1991) 7:A.Z.: the Temporary Autonomous Zone, Ontological Anarchy, Poetic Terrorism, Brooklyn, NY: Autonomedia.
Byas, Jason Lee, Toward an Anarchy of Production - Parts I and II
Marshall, Peter, Demanding the Impossible A History of Anarchism, Fontana Press (1992 )
Oizerman, Teodor.O Existencialismo e a Sociedade. Em: Oizerman, Teodor; Sève, Lucien; Gedoe, Andreas, Problemas Filosóficos.2a edição, Lisboa, Prelo, 1974.
Rothbard, Murray N., The Ethics of Liberty (1982)
Rothbard, Murray N., For a New Liberty The Libertarian Manifesto, Revised Edition
Tucker, Benjamin, Individual Liberty, Selections From the Writings
Pierre-Joseph Proudhon , What Is Property?
Bakunin, Michael , Bakuninon Anarchy: Selected Works by the Activist-Founder of World Anarchism
Crypto Anarchy, Cyberstates, and Pirate Utopias, edited by Peter Ludlow