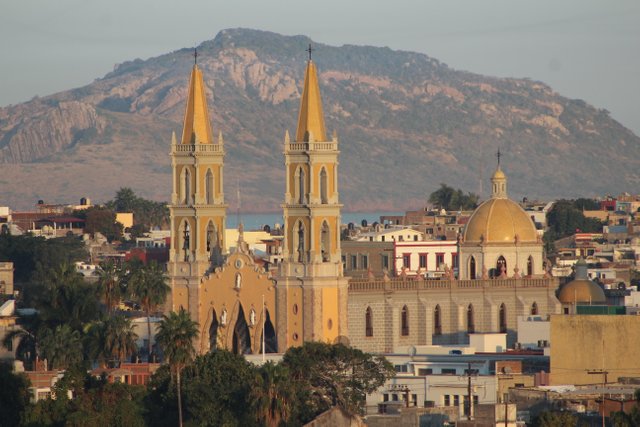 Source: Shane Smith [CC BY-SA 3.0 (https://creativecommons.org/licenses/by-sa/3.0)]
The tour of the city of Mazatlán is incomplete with a visit to the Mazatlán Cathedral. The Cathedral was built on the site of an ancient Indian temple in 1856. Inside the Cathedral, the image of the city's patron saint, the Virgen de la Purisima Conception is placed over the main altar. The overhead, soaring rounding Renaissance domes and glided Gothic arches creates an airy and spiritual place. The building has Moorish, Gothic and Baroque influences which represent the architecture of that period when the cathedral was built. This place is also the home to a grand organ built in Paris by Aristide Cavaille-Coll who is considered as one of the greatest organ builders of the 19th Century.
The Cathedral is located on the Plaza de la Republica which is a short stroll from Olas Atlas Beach, the Plaza Mochado or other locations in the Centro Historico. The Cathedral remains open daily from 6am-1pm and from 4pm-8pm, and there are no entry fees for the visitors. This Cathedral is the youngest cathedral which is dedicated to the Immaculate Conception and is also the main religious building in Mazatlán. It is the world's only Roman Catholic Church with the display of the Star of David in each one of its 28 stained-glass windows. The visitors can also admire and explore the 14 religious sculptures that beautify the interiors of the church. The offices of the sacristy and the ecclesiastical authorities are located in the back of the cathedral; on the second floor that is located above the sacristy, there in the bishop's waiting room, you can admire four excellent oil paintings by parents Lacarra, José Ruiz and those of bishops Lino Aguirre and Miguel García Franco.
Currently, extensive remodeling and architectural and ornamental restoration work are underway, in which the original guidelines are being carefully observed. Already in these moments, you can see how little by little, the cathedral is recovering its beauty and grandeur, thanks to the enthusiastic collaboration of the Catholic flock of the Port.
It is the most beautiful cathedral in Mexico which is situated in the heart of Mazatlán. It is the crown jewel of Mazatlán, which depicts the historical significance and provides an insight into the amazing architecture of the time of the construction of the cathedral. It is recommended to visit the park across the street of the cathedral where there are local musicians and a variety of street vendors.
ambulorbis is a team of writers who want to walk the world and experience everything this amazing blue marble has to offer. If you'd like to support our efforts leave an upvote! Keep calm and steem on.
Today's author is Apeksha.
All media are open source.
---