7-Day Music Challenge: Your Top Albums #3 - Run Devil Run by Girls' Generation (SNSD)
Let's continue the fun. We are on Day 3 of this 7-Day Music Challenge that I was challenged to by @nolasco.
DAY 3: ALBUM #3
Run Devil Run by Girls' Generation (SNSD)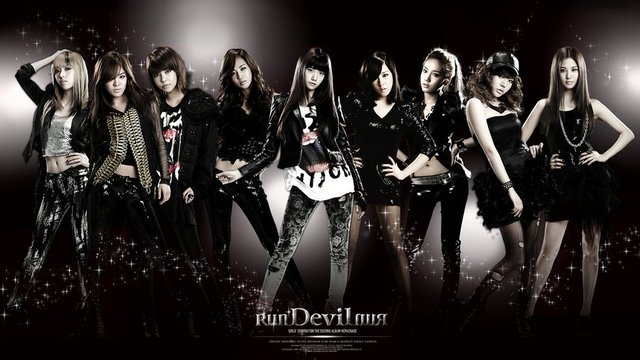 Image source
This is Girls' Generation, also known as SNSD. This particular album was released in 2010, but because it is typical of K-Pop groups to release singles or mini albums, some of the songs on here were released prior to 2010, so this is considered a repackaged album. The older songs may also be covered in this post simply because they are also part of this album, and this is one of my favorite albums. I have this entire album, so it just shows how much I like the songs. Girls' Generation was comprised of 9 girls at the height of their popularity and were an extremely successful girl group. If you know K-pop at least relatively well and do not know the name Girls' Generation or SNSD, then you are one of the only ones. Like I said, this group was extremely popular.
Let's check out some of the songs that I love from this album. Here is a picture to show I have the album in my playlist.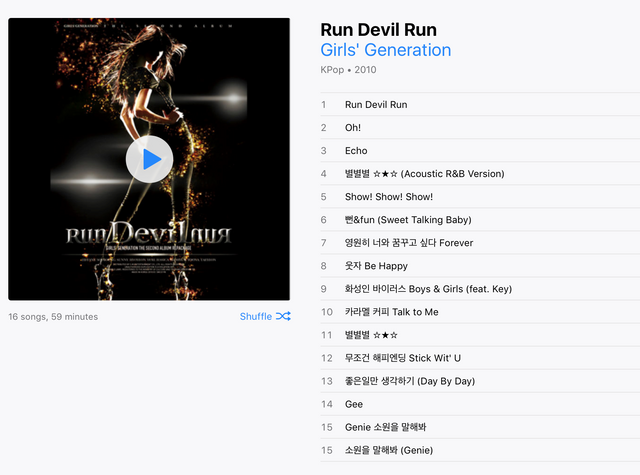 Run Devil Run
Original Music Video
This was an easy decision to name my most favorite track of this album. I chose the flagship song of this album for a reason, which is because it is awesome. I remember when I originally saw the teasers for this video and I heard some of the beat, I was utterly excited what it was going to be. I was not disappointed. This is still one of my all-time favorite songs from this group. I feel like this song is great for their voices and the chorus is quite catchy. The music video also does not disappoint either as it shows most of the choreography and plays between the black and white theme (which is actually part of a story carried around from some other music videos).
Oh!
Original Music Video
This is a song that was released on its own full-length album but was added to this repackaged one. This is a super fun and cute song. It has you singing the catchy chorus everytime you hear it. It gets even better if you watch the choreography because then every time you hear it from then on you will likely dance at least a few of those moves while listening to it the next time. The music video is fun and cute. This is definitely a great song to have been included on this repackaged album.
별별별 (Star, star, star)
Original Music Core Performance
This is another song that was on another album but ended up on this wonderful repackaged one. This song is beautiful. You get a chance to hear some of their vocal range and you can clearly hear some beautiful emotion during this song. There was no particular music video that I found for this so I decided to show you one of their wonderful Music Core performances. It truly is a very touching song.
Genie
Original Music Video
This is again another one that was released earlier than this album. I cover this because it is an amazing song and was an extremely popular one as well, especially due to the meaning and the dance. Genie had its own mini album and it was also on another album before this one too I believe, which is no surprise, as like I said, it was very popular. I like this song for a few reasons. It has a different sound, it's catchy, and it's upbeat. The music video, of course, is super cute as well and fun. It is no surprise this song has made it onto this album.
Gee
Original Music Video
You may be starting to see a trend here, as this song is again from earlier. I still say it is fair game though since it shows up on this album. This is one of the well-known original songs. This song helped put Girls' Generation (SNSD) on the map! If you know these girls then you definitely have to know Gee. The music video is super cute as they start out as mannequins, have cute facial expressions and of course their colorful jeans and the cute dance that is in-sync. Most K-Pop fans will at least know some part of this dance if they are real K-Pop fans.
There are many more songs on this repackaged album, but these are the ones I wanted to cover today as they are my favorite from it.
BONUS
I absolutely love this song, even though it's not included on this album because it came out later in the same year and it was instead added to it's own mini album, I still wanted to share it as it was in the same year as Run Devil Run and I really did enjoy it. So, enjoy this extra little Girls' Generation (SNSD) song:
Hoot
Original Music Video
This was another of my favorites that came out in late 2010. This song is fun and has you dancing along with it. The chorus is really catchy. The dance is fun and the music video is super cute and feels like it is 70's spy-themed. Hope you enjoyed this bonus even though it was from a separate album.
I hope you enjoyed exploring this album with me. It really is one of my all-time favorite albums.

7-Day Music Challenge Rules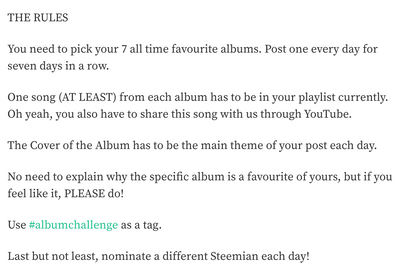 Snapped from @nolasco post here
That means I should also be nominating someone, but I really just like leaving it open. So, if you are reading this and you haven't yet done this challenge, you are now officially nominated.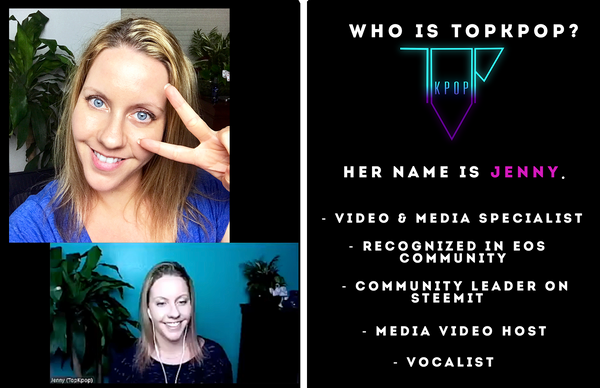 Where else you can find me:




You can also find me on WeChat (left) & ONO (right):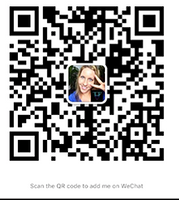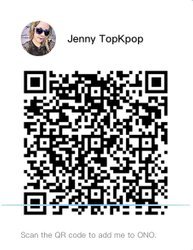 Are you from or living in the USA? Come join SteemUSA, the group that represents the proud USA.


Thanks for checking out my post and for being the awesome person you are!