A newbie's guide to getting started properly on steemit - Episode 1
Hello steemians,happy new week. Trust you're enjoying it.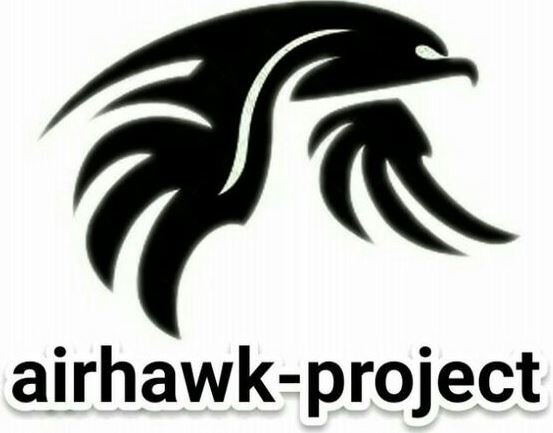 @diskorvery here with some discoveries you guys, especially the new guys should implement just before they launch fully out into their steemit blogging adventure.
---
Among the visions of @airhawk-project is to serve as a channel for transmitting worthwhile information in and outside the ecosystem and it has been living up to this vision as seen in it's last post here.
---
It is on this premise it has set out again to bring this informative post to steemians and potential steemians alike.
---
This has become necessary as new steemians join our telegram group everyday via our online and offline steemit campaigns.
---
Ok. So you recently got your steemit account approved or you're just about to make your first post but you are just thinking about making the money.
---
What can I write about to really make big dough here? Where is the money on steemit?....are probably some of the questions running through your mind right now.
---
Yes, it's true we make money on steemit by putting forth quality contents but your earning potential can be very much enhanced by doing first things first and well.
---
---
So among the very first things you want to do as a new steemian is to add some life and beauty to your profile area which looks so pale at the beginning.
---

---
Steemit offers the opportunity to choose your display name other than your username which displays by default immediately your account is approved.
---
So, get to your profile page with the url below. www.steemit.com/@username
Replace "username" with your username.
---
Click on "Settings"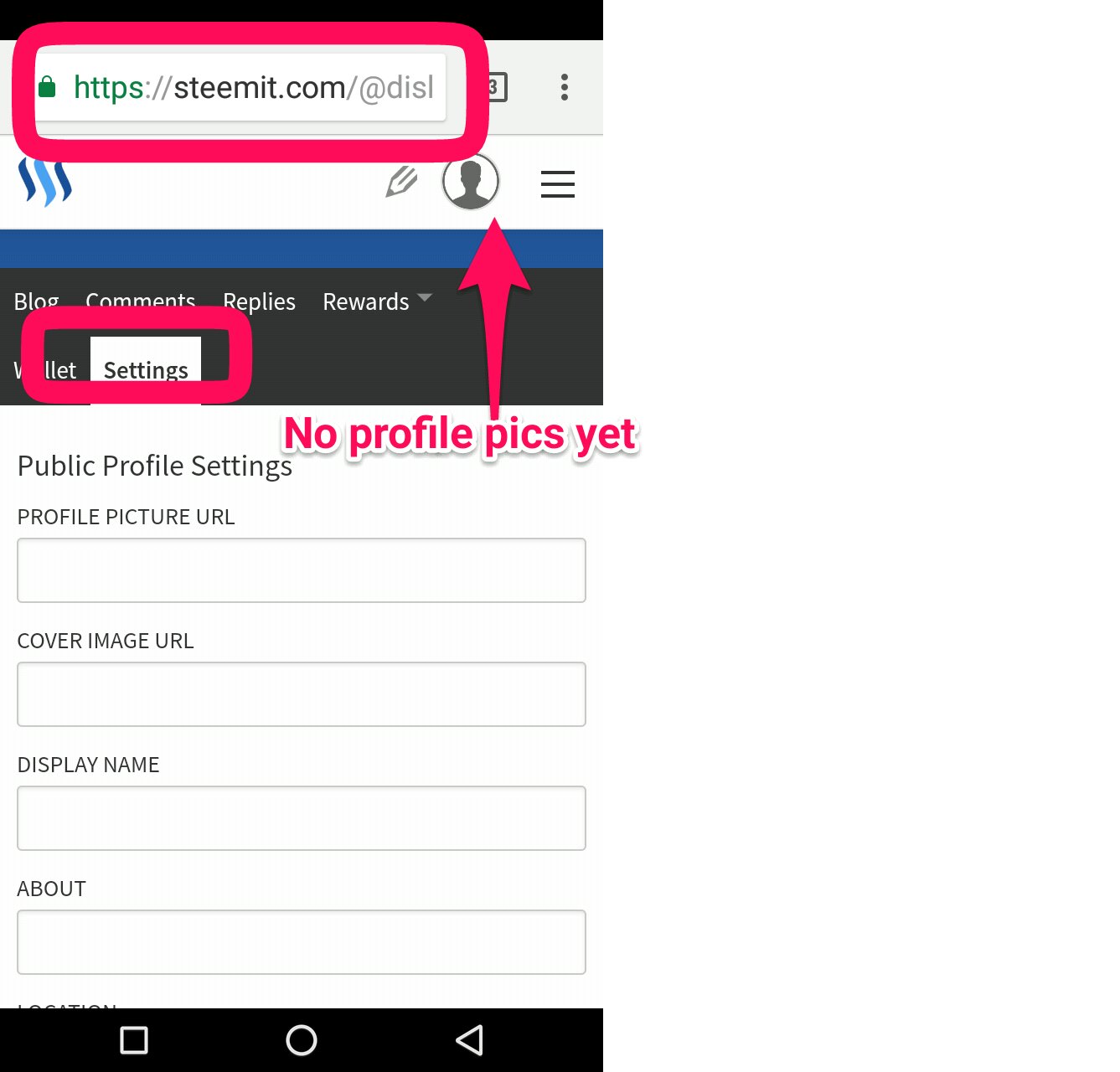 ---
Imput your desired display name in the "display name" box as shown below.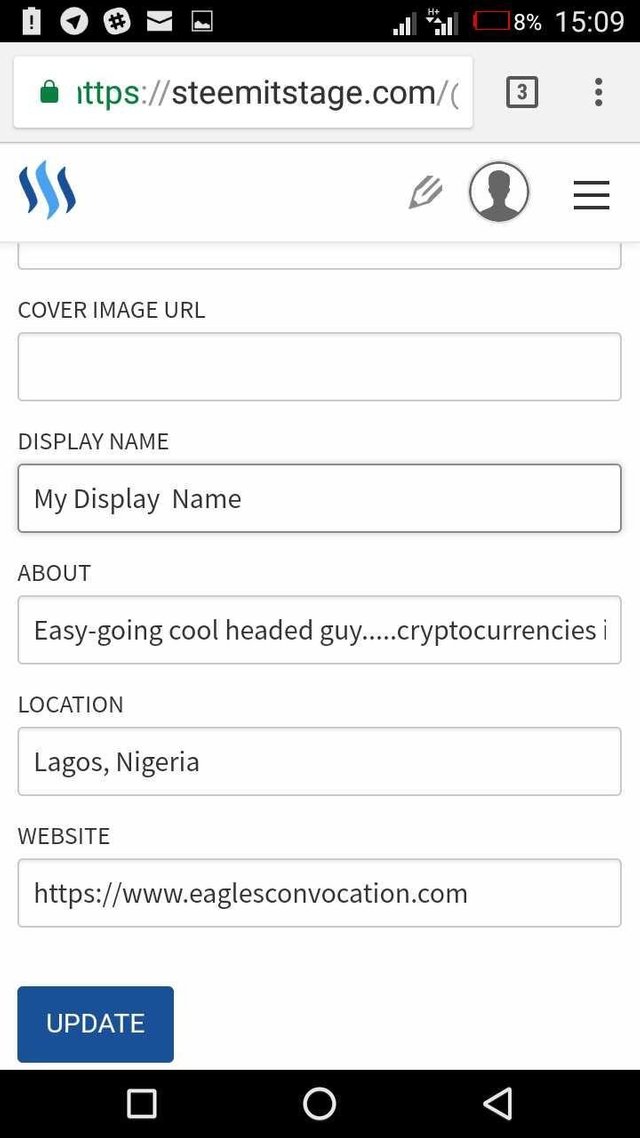 ---
You are also able to add a brief Bio, website and location to your profile. A bio consists of who you are, what you do, your hobbies, passion and the likes.
So, make it brief and enter it into the "About" box as shown above.
---
Click "update" and it updates your information giving you the picture shown below.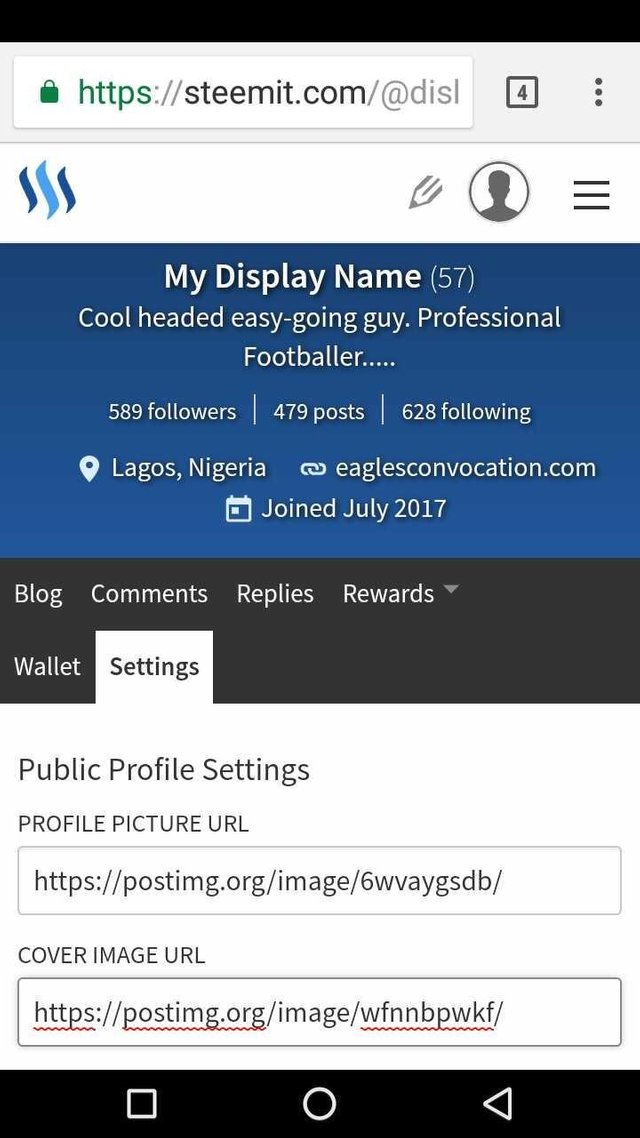 ---
Adding display picture and background image gives an extra life and beauty to your profile so it's one of the things you'll want to do first as a new steemian.
---
Here's how to do that from your phone:
---
---
Take cool pictures you want to use as profile and background pictures on your phone.
---
---
Head to www.postimages.org.This is a portal that allows you upload your pictures and then you can copy the link to be used anywhere you want to. You'll need to register here if you want to keep a collection of your pictures probably for future use. If not, just…
Click on "Menu" straight away.
---
Click on "Choose image"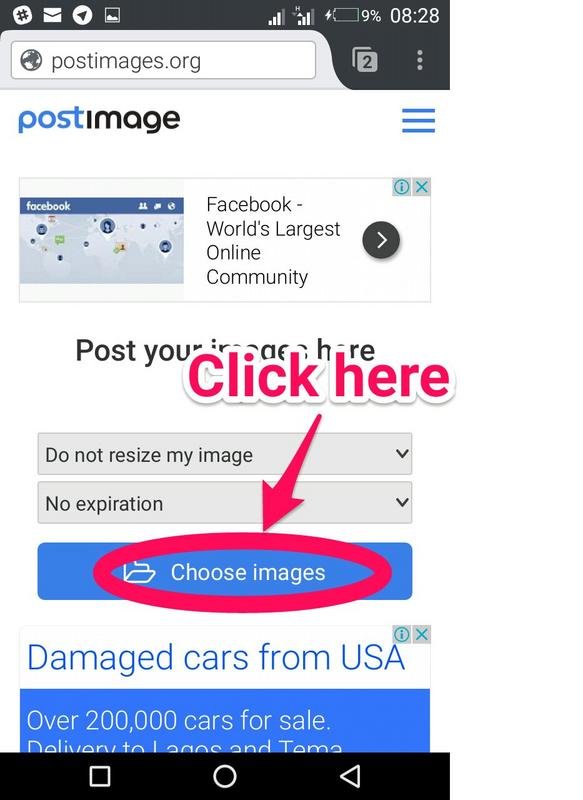 Select "gallery" then select pictures
Once you select picture, it will begin uploading automatically.
---
Once fully uploaded, it generates public url for your picture.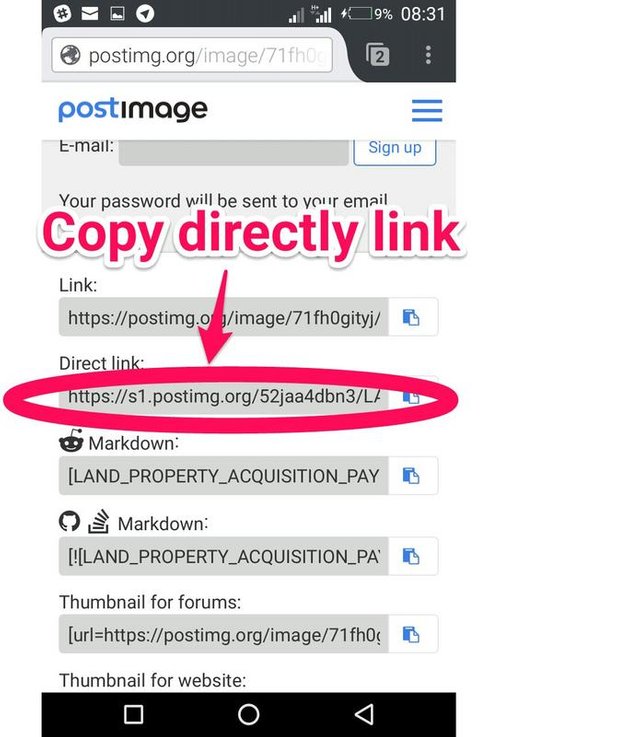 ---
Now, copy the direct url and paste into the profile picture or background picture box (depending on what picture it is) on your steemit public profile settings.
---
Save all the information you entered and voila! Your profile Takes a new look.
---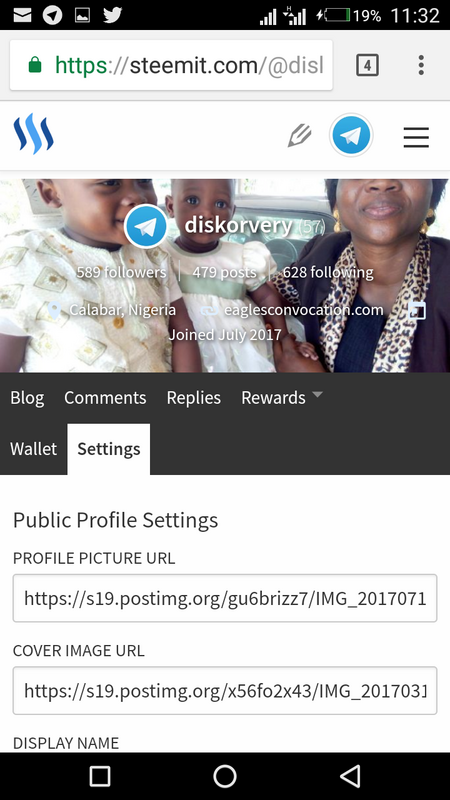 ---
---
An alternative way to generate your pictures url is through the @tlgurbot on Telegram.
So download Telegram here.(This would also give you an opportunity to join us)
Send your pictures to @tlgurbot and the bot instantly generates a link to your pictures only usable on profile settings and not on posts.
---
So, now your profile is set and carrying more life. Everyone who visits has an idea of who you are, what you do and probably the reason for your type or niche of blog.
---
Please stay tuned to this blog to for the second episode in this series which is going to be talking about what your first post on steemit should really look like.
---
From all of us @airhawk-project do have an awesome week ahead and a sweet steemit experience.
To stay abreast with our goal and mission, Follow @airhawk-project.
---
To support our endeavours, kindly UPVOTE and RESTEEM this post.
---
The Airhawk-project – Relating, Informing, Sharing, and Supporting One Steemit.
---
---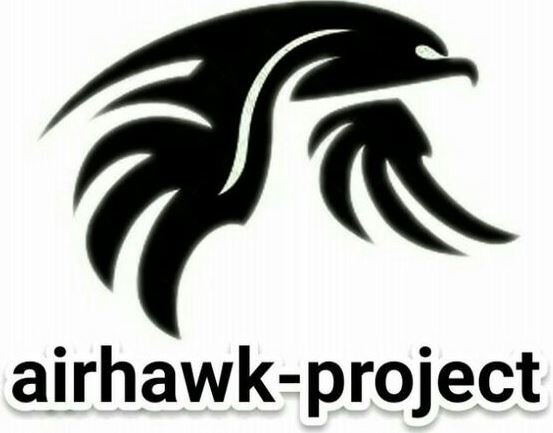 ---