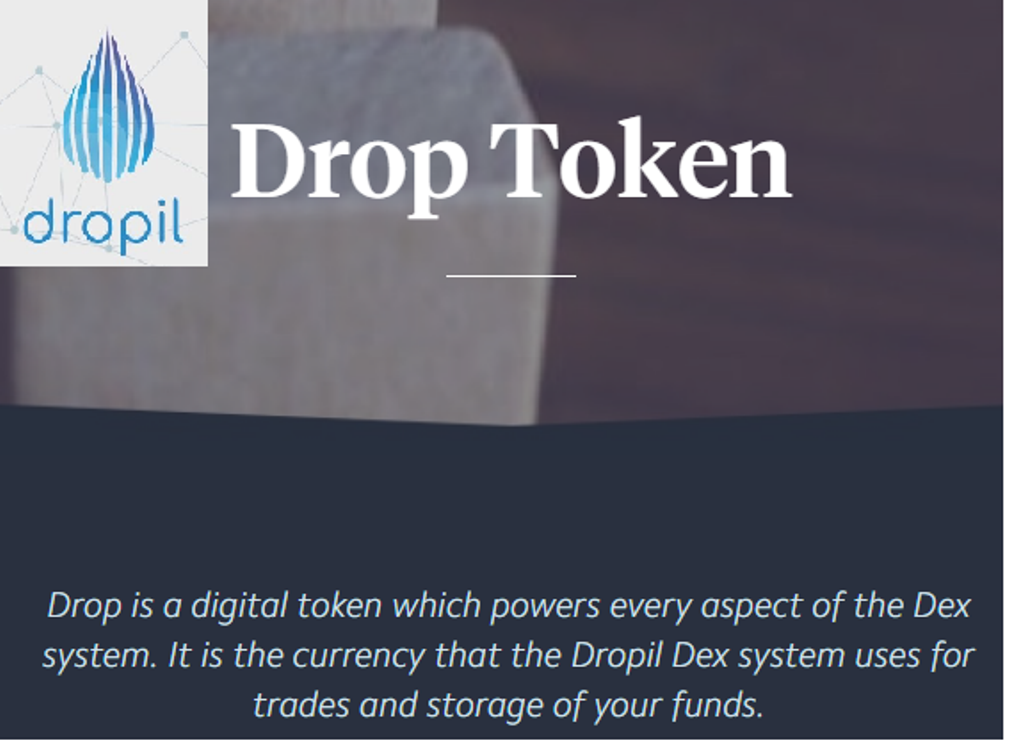 Hi all
The crypto market is finding it's feet now, but, whenever its try to be steady, some big gun pulls its legs and we all had to smile like an idiot blaming our own faith.
I was in this crypto market with Tron and then my journey starts with Davor, Bitconnect, EMcoin, Bitglare etc. Expect Tron (TRX) all others just hit me hard like a Fully loaded missile just fire from millimeter behind my ass.
Tron was not so fair, but I recovers my loss and also accumulate more. I knew that it will take years to make some profit on Tron (TRX) (maybe 3Yrs).
But one coin!!!!! which gives backs my investment and also giving me more returns is none other than Dropil!!!!!!! I am not making any false statement or just to get referral rewards idea. My steemit friends, Its a truth!!!! A perfect coin to have at every crypto lovers portfolio.
Why I am so excited about Dropil?????
It was started in March 2018 and going nicely.
Dex is an Autonomous trading Bot which trade for us in this complex crypto market.
Steadily giving 8% returns per month i.e. a 100 dollar will yield you $8 per month.
You can withdraw your investment at any times. No lock period for investment. (Only you may lose your 15days interest).
Your interest is distributed as Drop's token in every 15 days of your investment in Dex.
You can choose the Safe, Moderate & Aggressive mode of investment for your fund.
The liquidity of drops at the exchange.
Arthur platform for Arbitrage lovers (I never use this, but my friends who are expert in Arbitrage loves this)
An insights information of all Dex activities (Live)
Free transaction of drops from Dropil to exchange or our personal wallet.
The best, a full bunch of loving community who always help you 24/7 and fully cooperative admins in Dropil official telegram.
What are the future vision of Dropil???
A wallet is been on cards for complete crypto assets for Dropil investors having improved and advanced tools.
KYC for all to minimize fraud and fake ID's
A big listing (now listed at Idax & Tidex) is on the cards ( Very big news within 06 months)
For more information please follow the link
https://dex.dropil.com/signup?aff=jB2EvSoH34D1Fx0mo0NJkUzIqhe3Mn
(its a referral link, which both will get $5 each after 15 days successful investment at DEX )
Just register and invest at least 10% of your assets in Dropil and within one year you will feel the pleasure of actual returns that provided by Dropil.
Now the price of one Drops is $0.0040 on 05/08/2018, once it hit the hearts of Americans, Indians and Chinees!!!! Who know were the price will end.
Disclaimer:
Please consult you're professional financial, investment, and tax advisers before making any investment in Dropil. I do not provide investment or financial advice and does not endorse or recommend investment in any token advertised on this site. The content on this site is provided for informational purposes only and should be supplemented with independent research and factual verification.